PAPER has always been a place of opportunity, a place that spotlights new talent and people who are doing tremendous things. We've spent over 20 years bringing you the Beautiful People issue, which identified amazing people who were doing things differently and using their creativity, ideas and success to transform culture and create new opportunities for artists, audiences and fans. This year, we have decided to rename the portfolio and call it exactly what it is: PAPER People. — Drew Elliott, Editor-in-Chief
Matthew Musto, aka blackbear, has collaborated with pop stars like Justin Bieber and G-Eazy but it's his own music — a blend of R&B and pop punk — and his no fucks attitude both IRL and on social media that have attracted more than three million followers across Instagram and Twitter. Now, with a new album on its way and his own social media app in the works, the 27-year-old musician is gearing up to take over all of our screens.

How's it going?
I'm really good. I have a tattoo appointment because I'm about to get my throat tattooed.
What are you going to get?
I'm getting a dagger with a cross.
Tell me about your new single, "The One."
I feel like it's a step in a new direction for me. It's a little more grown up and my fans are growing up with me. I mean, it still has the blackbear angst, but it's the kind of music I've been wanting to make my whole life. It'll be the first single off of my new album, Anonymous.
How would you describe your sound?

I love to work with producers who are very good with their chord progressions. As far as the lyrical content goes, I think for a long time I was very jaded and very sarcastic, and just very angry. But lately, I've been really happy. I took a little minute to make healthier choices and I think it's showing in my music.
Do you consider yourself a hip-hop artist?

Oh, no way. I tried to play [hip-hop festival] Rolling Loud last year and came out like, 'What's up fool?' and everyone was just like, 'Who? What? Why? Where?' Like, 'This is cool but it's for my little sister.' I accept that and I'm not trying to push myself into the community of music that I listen to. All of the artists that I played with at the festival, that's the stuff I listen to in my car. But I don't think they're bumping blackbear in their car, and that's okay with me.
I hear you're a die-hard Blink-182 fan, though.

Seriously a die-hard Blink-182 fan. But I'm an even bigger Alkaline Trio fan, so when I found out Matt Skiba was going to be singing with them, I threw all my pants out because every time I put them on they were just soaked.

So if you grew up listening to pop punk bands, take me through the development of your own sound.
I think the 13 to 16 year old me would probably be like, 'Dude, your music is cool but where's the distortion?' That's what I would say to myself for sure. But with circumstantial things that have happened in my life and because I'm so open to new opportunities, I let my life take me to Atlanta where I found R&B and fell in love with Sade and Craig David. Maxwell, Jon B — that had a huge influence on me, too. So, you can hear that I grew up listening to Saves the Day and The Movieline and then Maxwell came along — it's just this weird romantic pop punk thing. I've stayed pretty true to that until now, but I think it's just that I'm growing up. But also, I just have a niche for writing songs for the radio. That's what I did for a job before I started blackbear. blackbear was really supposed to be just my [experimental] project, but now that I've gotten all my experiments out, I'm making songs I feel can branch out, songs that the rest of the world will like, too — not just your little sister.
You were the first artist to monetize your SoundCloud and it seems like you pay more attention to branding and the business side of music than, perhaps, most other young artists. Do you feel that you do?
I just really love being the first to do something and that drives me to think, 'What are people not doing right now and how can I be the best at it?' Everyone knows musicians get paid pretty shitty, and I'm always thinking, 'How can we make this more fun for everybody and generate more money?' I mean, I'm not always thinking about the money, but it's nice to pass down those skills to other people and create an avenue. That's what gets me off — if I can create a way for the struggling artist to make a little money. For example, video games bring in billions of dollars. An album will bring in a million dollars, maybe, and that's only if you do really well.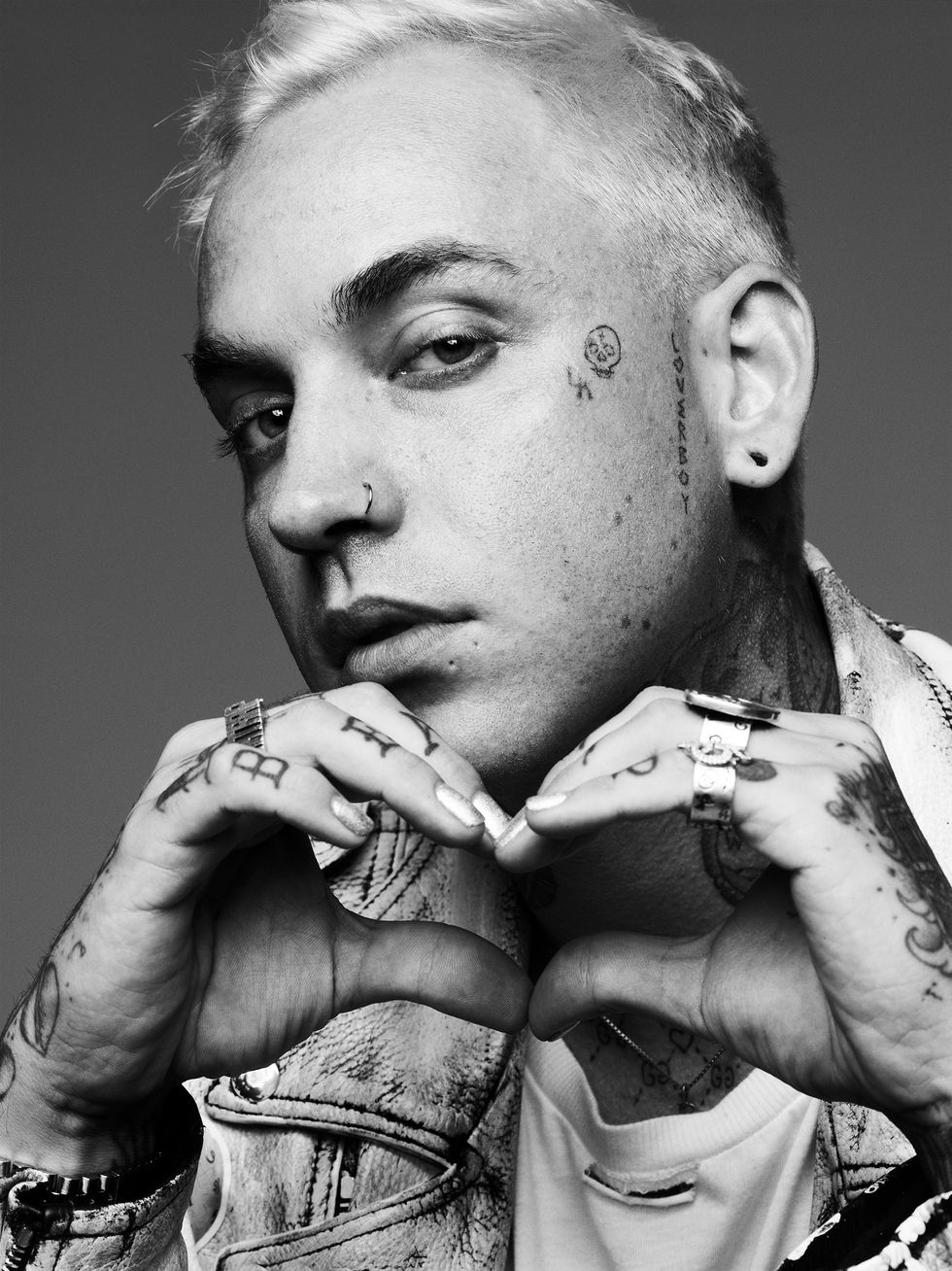 T-Shirt Enfants Riches Déprimés
Jacket Enfants Riches Déprimés X blackbear
Right, and the artist doesn't get make that money — it goes to the label and whatever else.
Yeah, so when I structured my label deal out, I made sure that they leased the rights to my album for a certain amount of time and couldn't touch my merchandising. The touring money, I don't really care about that. I can't even do that to the artists on my label, bear trap. I just make sure that their albums come out and that they have the dopest versions of their music and they're dopest versions of themselves possible. As long as my mind's there and not on how do to make more money. The money will come. It's a byproduct.

I heard you were also working on an app. Can you tell me about it?

I was for a minute, and then it kind of took a backseat. But I think we're going to get back into it. I was looking at my tattoo artist just now like, 'We should do that again.' I forgot about it. But yeah, it's going to be called bear trap and I really want to make a little social network just for people to talk and be able to have all the feeds of one of their favorite artists — like a social media content site just for your favorite musical artist.

Earlier you said you feel like you've grown up a lot, but how do you think you've grown as an artist?
I'm just piecing everything together and trying to make better decisions with my life. Waking up earlier in the morning and caring about my fellow people. I think that will show in the new music. There was a time where I was really confused about who I was and what I was doing and I was just kind of depressed. Of course, I still have my days when I feel shitty, everybody does and, if you don't, you're a weird human being to me. But I just want for people to see who I really am — I'm blackbear and I'm ready to have the world look at me, and listen to my music, and not feel like they're going to judge it like, 'This is some weird internet shit I don't get' or whatever. I've taken the time to learn things from other people and use that in my life and my music, for sure.

Has being happier and making better decisions for yourself affected your music? There's often this misconception where you have to be getting fucked up, or you have to be miserable, to be making good art.
Totally, and I do get that one hundred percent. I think that is true to some extent, but at the same time, if you're comfortable with who you are and where you came from, you can tap into all those places more consciously. I was very afraid for a long time.

Of what?
I hid behind whiskey before doctors told me I couldn't drink anymore. After I quit drinking, I made Digital Drug Lord and Cybersex — some of my best work. That's why I know it's not true. And when the party's over, and literally everyone is gone, but you're stuck there trying to make a good song with dead balloons on the ground and flies around the cake — that's not a good environment to be doing anything. Now I realize that when I'm feeling good, I'm making better music, and right now, I'm feeling the best, so I think I'm going to make the best music I've ever made.

What do you want people to take away from your music?

Hopefully they take away the sense of not being afraid to be themselves and say what they want to say bluntly, no matter what. People beat around the bush so much, and I try to be really blunt in my music. That will never change. So, hopefully people get hope and courage from my work. Even if they're depressed and going through something, hopefully they can just be like, 'Dude, I'm depressed and I'm fucking going through something, but I'm going to actually use it to make this painting or design this dress,' Whatever your thing is, you know, use it to tell your story.

What do you see for yourself going forward?

I'd like to see myself looking back on this and being like, 'What a fucking ride.' I really just want to be content and happy, like everybody does. My goal is just to change the way people think and push some buttons, and stop some of the bullshit that's going on by calling people out on their bullshit. I think of great people in music, like Paul McCartney or Dave Grohl, and those people are hopefully looking back like, 'I persevered through the hardest time and I did even better when I persevered.' I just want to know I did that.

Photography by Ben Hassett
Styling by Mia Solkin
Grooming by Arlen Farmer
Digital Tech: Carlo Barreto
1st Photo Assistant: Roeg Cohen
2nd Photo Assistants: Eric Hobbs and Chris Moore
Sign Up For The Morning PAPER