PAPER has always been a place of opportunity, a place that spotlights new talent and people who are doing tremendous things. We've spent over 20 years bringing you the Beautiful People issue, which identified amazing people who were doing things differently and using their creativity, ideas and success to transform culture and create new opportunities for artists, audiences and fans. This year, we have decided to rename the portfolio and call it exactly what it is: PAPER People. — Drew Elliott, Editor-in-Chief
"I love sexy, vivacious, confident, strong, ferocious women," Anna Trevelyan says. To that end, the fluorescent-haired mega-stylist is the fashion brains behind eye-popping photo shoots with some of the most ferocious women in entertainment and modeling, like Kim Kardashian, Bella Hadid, Lan Del Rey and more. Based in both New York City and London (the latter of which is home to Machine-A, a boutique in Soho where she serves as fashion director), Trevelyan got her start assisting Nicola Formichetti back when he was Lady Gaga's creative director before setting out on her own. Her training at Haus of Gaga and its love for the outrageous clearly left an imprint, as seen in her current work with regular collaborators like London designer Ashish and photographers Nick Knight and Ben Hassett (who shot her for this portfolio). "I love bright colorful clothes... and glitter," she says. "They bring me joy." She adds, "I can be minimal, too, but my natural thing is over-the-top drama."
Do you remember what was the thing that first made you interested in fashion?
It was actually a picture of Devon Aoki by Nick Knight wearing Alexander McQueen, I think. I was probably 15 or 16. She's got the safety pin on her forehead and the cut on her forehead as well. I just remember seeing that and being like, "Wow. What is this? Oh my god!" and that was what led me into fashion. I didn't know anything about fashion — I grew up in a very suburban place. I didn't even know it was a thing but I always used to dye my own hair and make my own clothes but without any concept of what this really was or that it was an industry. I had no idea about it at all. It's so crazy because now I work with Nick all the time who's my icon and I still can't believe it. I just think he's brilliant and a genius and I have so much respect for him and his vision.
What came first — did you start styling and then open the store or vice versa?
I've been styling the whole time and then basically the store used to be a different store under a different name. I used to go in there and I said, "You should get this designer, that designer." The founder, Stavros Karelis, and I started working together and changed the name and then the store closed down for a bit and then re-launched in the perfect way we wanted it to be.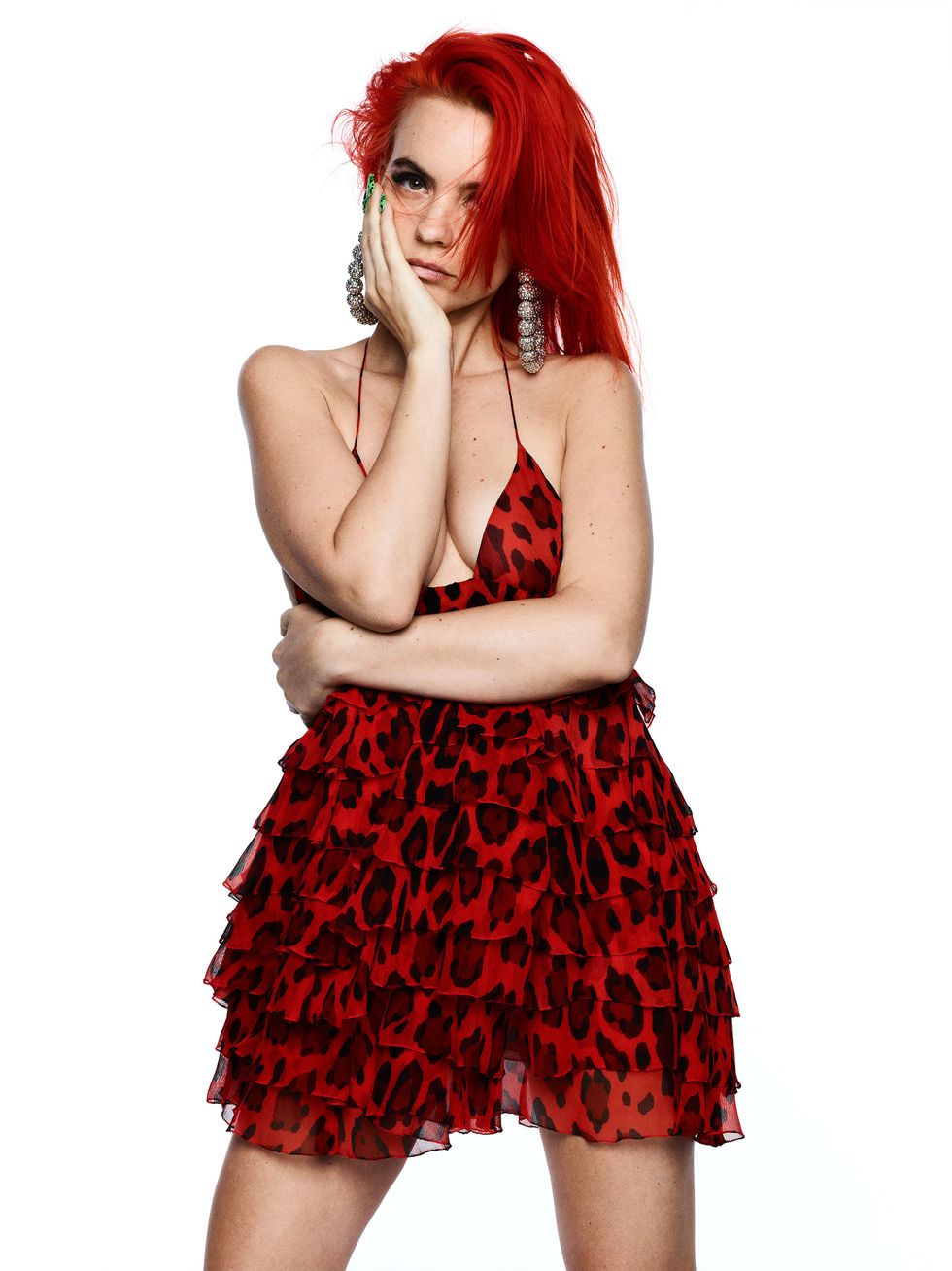 Dress and Earrings Tom Ford
You live in-between New York and London but travel all the time for shoots. Are there any cities right now you're particularly inspired by?
There are a few brands in Spain and Mexico that I've been really into. I love Sanchez Kane from Mexico — I think they're completely genius. I love Palomo Spain so much and there's a brand called ManéMané out of Spain I really like.
What is the most rewarding part of your job and what is the most challenging?
I would say 2% of [styling] is glamorous and 98% is not but I just love it. I'm so grateful to have a job where I get to be creative and be light and be fun and create things that inspire me and hopefully inspire other people. I just want to spread fun and happiness and joy. I love that. That's so rewarding. I love being with different people every day. I love getting to travel the world and learn so much. I'm constantly educating myself by traveling and experiencing other cultures.
What have been some of the most memorable trips or shoots you've gotten to work on?
I was in London and I shot Kendall Jenner with [photographer] Sølve Sundsbø for the cover of Harper's Bazaar. We had her in a tank full of water, splashing water at her all day. She was so cool about it. I also did a shoot a month ago in Tokyo with these biker crews that I've always been obsessed with. They're called Bōsōzoku. And I love to be in Jamaica. I have so many people who I love there. I took a shoot to Jamaica and shot around my friend's neighborhood in Kingston and around their homes. It was really inspiring to me.
Do you see yourself ever launching your own label or creative directing?
I definitely want to get into creative directing and I actually would really love to get into costume and character design for sci-fi films. That's my end game goal at the moment. I change my mind all the time.
Photography by Ben Hassett
Styling by Mia Solkin
Hair by Rudy Martins at the Wall Group
Makeup by Eric Polito at Art
Digital Tech: Carlo Barreto
1st Photo Assistant: Roeg Cohen
2nd Photo Assistants: Eric Hobbs and Chris Moore
Sign Up For The Morning PAPER