As 2017 comes to a close, we've predicted 11 names you'll undoubtedly know in the New Year. Between art and fashion, music and film, discover who'll be on fire in 2018.
Kim Petras drew roller coasters as a kid, aspiring to what she calls a career as an Imagineer, Disney's word for the creative engineers behind their theme parks. As a pre-teen in Germany, after discovering her hand at writing songs and studying a documentary about Swede-songwriter Max Martin, she began instead to imagine her own pop career. Nearly a decade in the making, this past year saw the 25-year-old star achieve the skyrocketing success she's been engineering since her adolescence.

First, Petras' debut single "I Don't Want It At All" arrived this summer and sent her to the top of the Spotify Global Viral 50 Chart. The song's video, which surpassed a million views on YouTube, features Petras with a side-bun summoning Paris Hilton for a bedroom dance party. Her subsequent singles evoke the spirit of a Los Angeles where Hilton could still reign — songs like "Hills" ("Rollin' through the hills on drugs") and "Hillside Boys" ("Oh, it's over in your, in your Range Rover"). All three songs were co-produced by Dr. Luke (real name: Lukasz Gottwald), whose ongoing litigation has given listeners pause. Regarding this decision, Petras says, "It's complicated, but I have no reason not to work with him."
Related | PAPER Predictions: 11 Names You'll Know in 2018
Earlier this month, she was featured on the track "Unlock It" from the latest mixtape by Charli XCX, prompting Pitchfork's Meaghan Garvey to dub Petras a "Hollyweird-via-Cologne pop conceptualist." Petras also released a new track, "Faded," which details a world where she stays high, but keeps her expectations low ("They crowd around you when you up/ Then disappear when you get stuck").
Reflecting on expectations over the phone, Petras says, "A lot of people didn't believe that I could be a great songwriter, or be super talented, and be transgender. I feel like a lot of people felt like 'transgender' would set you up to not be able to do that. I just want to prove people wrong. I want to get a Number 1 on the [Billboard] Hot 100."
Is there a resolution for 2018 you don't mind sharing with us?
My resolution is to get better at everything that I do. Also, to be happy. I guess that's always my resolution, no matter what, to have fun and be happy. I definitely want to make better songs, make better performances, make better music videos.
How is your personal style different from your video style, if it is?
Right now, very different. I wear a lot of Goodwill stuff. I kind of mix it in with stuff that's older from Germany, or I mix it in with stuff from Urban Outfitters. With music videos you get all the glam shit, stuff that I don't have. I feel like especially "I Don't Want It At All" was a character. It was more like the LA girl that goes shopping all the time and wears crazy outfits. The next video that's coming is more my personal style.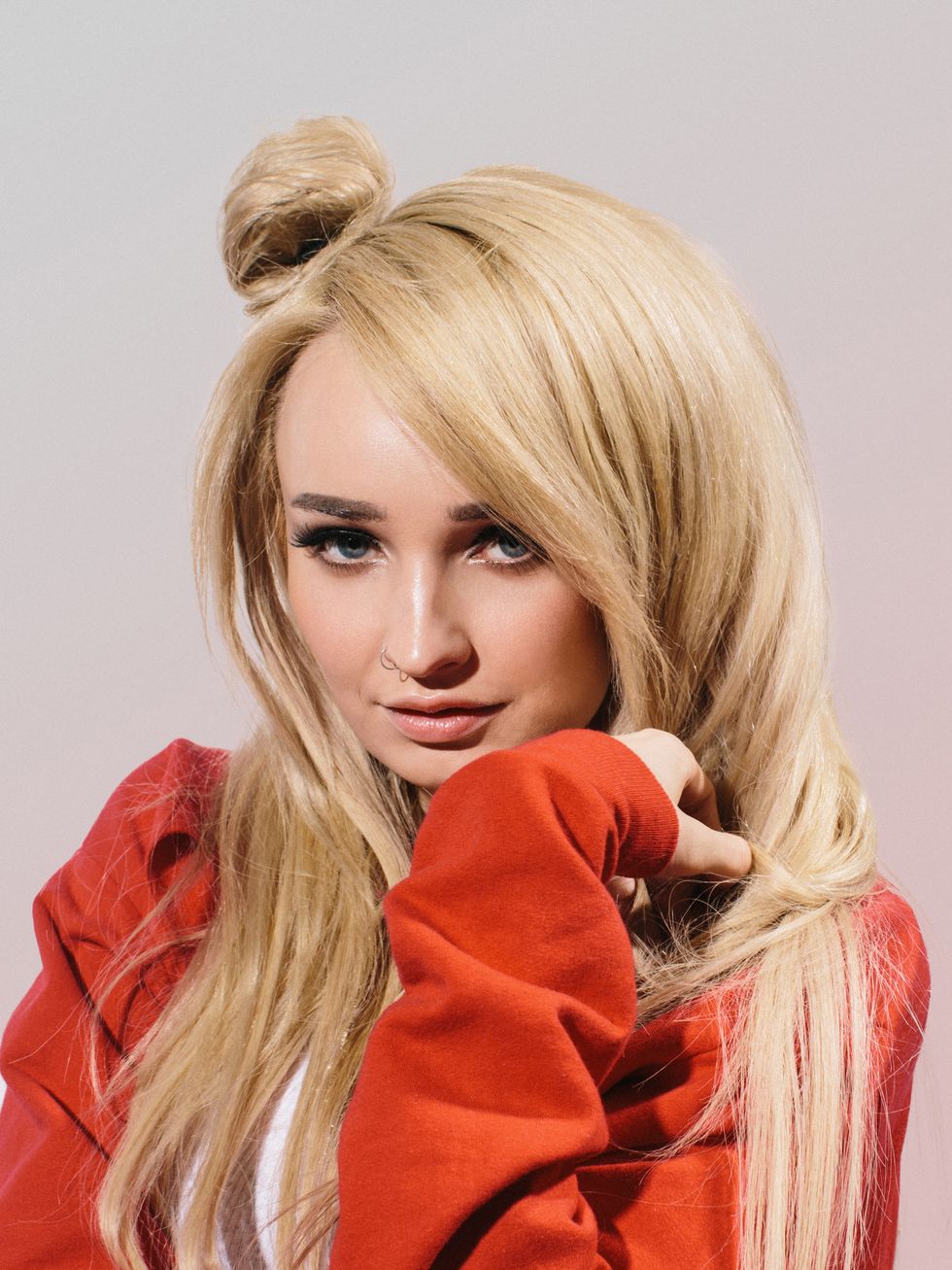 How would you describe your forthcoming album?

It's the last five years of my life on that album — my experiences, my heartbreak, my fantasies. It's very inspired by nostalgia, by nostalgic pop. I love Queen, The Cardigans, a lot of Italian '80s disco. Also living on Hollywood Boulevard for awhile, struggling in LA, songs that match where I go out at.
What was the first pop culture moment that made you want to become a popstar?
The Spice Girls. That Spice World album, and the movie. I know it has the worst Rotten Tomatoes rating that any movie can possibly have, but that was my jam.
Has anyone reaching out as a fan of your music particularly surprised you?
Honestly, everybody kind of surprises me. I've been buried in the studio for so long now that it's crazy that people are still checking for me. Right now, every single person that writes me something. I'm still able to check every single message. Troye Sivan surprised me. I've never met Troye, but he was supportive and cool. I'm a fan of his, too.
Related | Troye Sivan on His First Pride Parade and Superhero Dad
What are some ways you get into the headspace of performing live?
I really try to shut everything off. I try to not go on social media. I try to not look at my phone. I just breathe in deeply and do my warm up. I tell myself to have fun right before. That's the essence of a good performance, to have fun doing it, no matter how much you rehearsed or how hard it was. I think fun is the main ingredient of any good performance.
Who are some of the most fun performers that you've seen?
I've seen Charli XCX. She's super fun and I love her. Lunchmoney Lewis is a great songwriter, and his performances are fun. My homie lil aaron, he always has the coolest performances. My favorite performance I've seen in L.A. was SOPHIE. Oh my god, that show was incredible.
I think we need a SOPHIE and Kim Petras collaboration.
I completely agree. We just need to get together and do it. Friends of SOPHIE and friends of mine have talked about it, and it's going to happen.
Click here to discover 10 more PAPER predictions.
Photography: Ryan Duffin
Sweatshirt: Christian Cowan
Beauty: Clelia Bergonzoli (Utopia)