Nicky Champa and Pierre "Boo" Amaury Crespeau are the kind of people that probably look at least vaguely familiar if you're at all active on social media these days. On TikTok especially, where they have a combined 26.4 million followers and consistently see their videos go viral, the LA-based duo can seem omnipresent.
The pair's content straddles the always-popular line between wholesome and thirsty, though the former more often wins out. Now that they've been together for going on six years — and tied the knot last autumn — they're all-in on the couples' content.
For Valentine's Day, PAPER caught up with the influential couple to shoot some photos around their California home and ask a few questions to gauge how well they really know each other.
Who takes better selfies?
Nicky: Pierre, for sure. He's a master at lighting and angles. He also has bountiful amounts of patience that I do not have.
Pierre: Hm, what do you mean? Is there such a thing as a bad selfie?
What's his go-to Sunday night rom-com?
Nicky: He's obsessed with Titanic. He's also always watching something Disney.

Pierre: Nicholas goes for Real Housewives, The Kardashians, Million Dollar Listing or Below Deck on a Sunday night. A guilty little pleasure for him, but I also enjoy watching with him.
Which one of you would do better fending off a bear attack?
Nicky: I think unfortunately we'd both be laughing and panicking at the same time, and would have no idea what to do and be eaten. I'd probably try and TikTok it, too.
Pierre: I believe you can consider us both dead the day this happens. Or maybe Nicholas will have a genius idea that will save the damsel in distress that I usually am in those situations.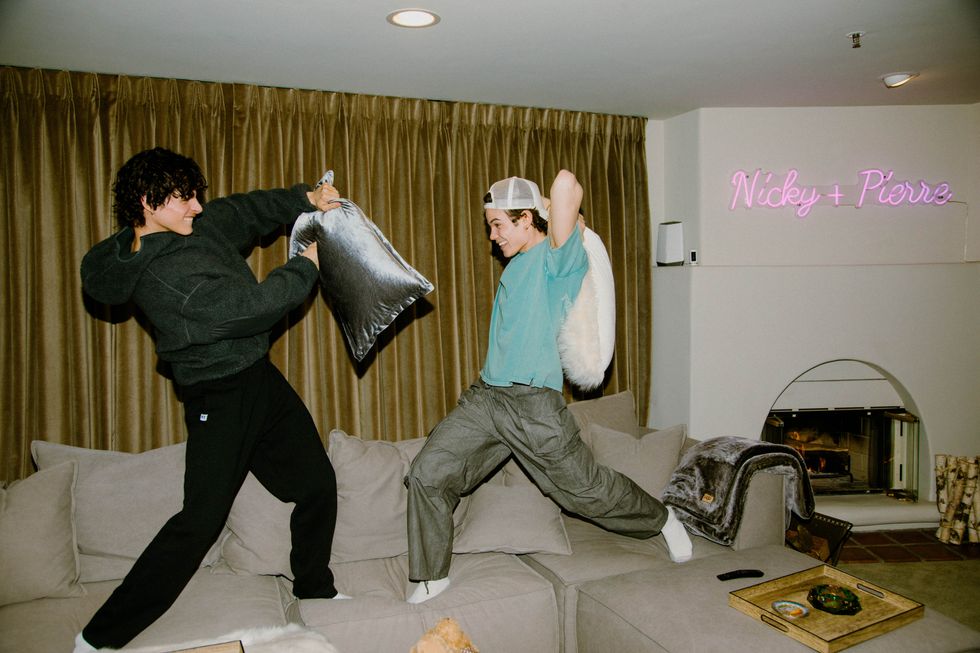 (On Pierre) Hoodie: Entire Studios (On Nick) Pants: Entire Studios
What's his fantasy sex location?
Nicky: Pierre is a romantic, so I would say on a furry comfortable bed in a chateau in the south of France with candles everywhere and piano playing in the background with bottles of Blanc de Blancs champagne and my body smothered in chocolate.
Pierre: Shower. 100% the shower. And Paris.
What's his favorite couple's activity?

Nicky: We love traveling together and exploring, but also staying home and doing absolutely nothing together. For him I'd say it's just to cuddle on the couch and do nothing.
Pierre: I'd say his is traveling together. Shopping, going on fancy dates, or imaginary house hunting, too.
What would he say is his worst habit?
Nicky: It's not really a bad habit — more just funny — but Pierre can tend to forget people's names, and when he tries to remember them, he'll replace their name with a French one. For example, Stephan can become Cristophe.
Pierre: To not finish cans of soda, ever. I believe the first few sips is it for him.
What's his biggest turn-on?

Nicky: In this order: cuddles, saving money, my butt, massages, naps, chocolate, building stuff.
Pierre: Don't tell him I said this, but I believe spending money — I don't blame him, though, this is a thing for me, too. I'm sure for many of us. Oh, did you mean sexually? I think ambiance.
Who would last longer without checking social media?

Nicky: Pierre, for sure. I think it's because I've had it my entire life, so it's just part of my life. I'm always checking it.
Pierre: I would say me, just because I grew up without it.
Who's his biggest celebrity crush?
Nicky: Maybe Leonardo DiCaprio? He also loves Celine Dion. But she's a bit of a cougar.
Pierre: He mentioned to me that his sexual awakening was due to watching Bradley Cooper in American Sniper. And now I believe it would be either Lana Del Rey or Harry Styles.
Who would he say is the most iconic celeb couple of all time?
Nicky: Before Brad and Angelina, but now I would say he's aiming for Beyoncé and Jay-Z. Ever since the "Apeshit" Louvre scene he's been turned on to them.
Pierre: I would say he loves Brangelina, but we also like to talk about how fun it is that Melissa McCarthy and her husband Ben Falcone often work together.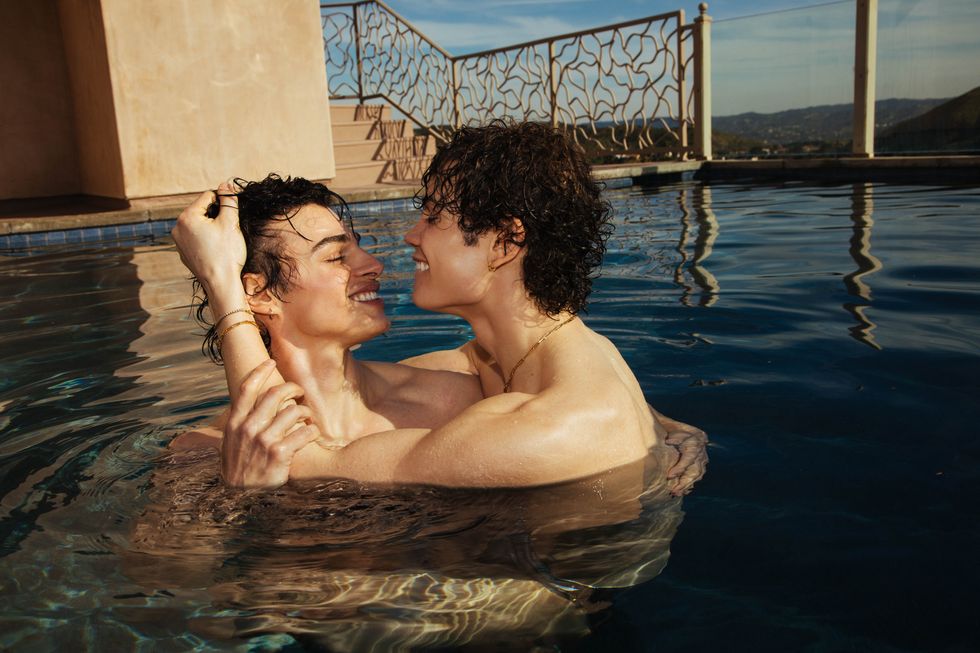 Sign Up For The Morning PAPER