M.I.A. is doing it wrong. For years critics and marketing execs have been telling her that if she were to choose a single medium — art, music, politics, whatever — she'd be more successful. But that's success on their terms, not hers. And above all else, M.I.A. has made a name for herself over the past seven years by not caring about their terms. This is a woman who is deep-down, ground-in, almost genetically punk rock. She's perhaps the most fiercely political performer active today, and that creates friction when the mainstream comes courting. The mainstream wants the music, not the message; the pretty wallpaper, not the hard questions; the style, not the substance. And even if M.I.A.'s substance is, at times, thoroughly inscrutable, there's no questioning she presents herself the way she wants to, not the way she's been told she needs to. She's not safe. You don't know what she'll do next. Unlike many of her celebrity contemporaries, she refuses to fade into the background, and she's been rewarded for her temerity. M.I.A. is the only artist ever to be nominated for an Academy Award, Grammy Award, Brit Award, Mercury Prize and the Alternative Turner Prize. More importantly, she's raised awareness of the strife caused by the civil war in Sri Lanka — the conflict that displaced her family and precipitated her move to the U.K. as a child refugee.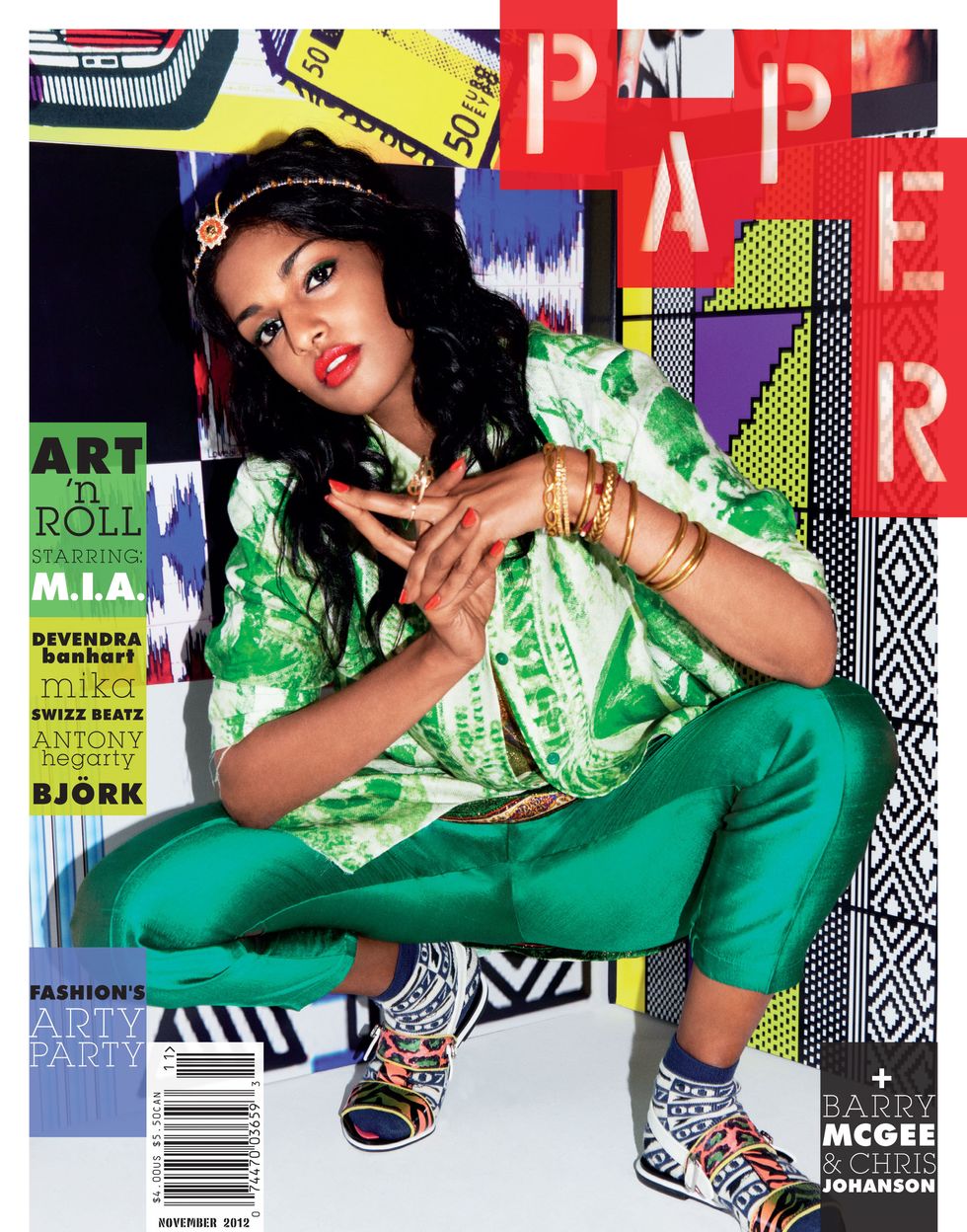 Tops by Acne and Creme de Silk, Headpiece by Tom Manaton, Ring by Delfina Delettrez, Custom-Made Pants by M.I.A., Shoes by Kenzo
The 37-year-old provocateur (aka Mathangi Maya "M.I.A." Arulpragasam) has released three full-length albums and a handful of mixes. (A recent mixtape, Vicki Leekx, is available for free on the Internet. At one point during the half-hour mash, she quips, "I'm not saying it should be freer, I'm saying music should be free," which, one imagines, was met with tight-lipped exhaustion by the suits at her label, Interscope.) She's also a visual artist, famously having gotten her start by designing album covers for Justine Frischmann of Elastica, and selling some of her early work to Jude Law. It's that part of her career — although, speaking with her, you get the sense that she'd never call what she does a "career" — that she's concentrating on now. "People have heard the journey through music," she tells me one recent evening over coffee at a hotel in TriBeCa. "Now it's like exploring the journey to this point through visuals."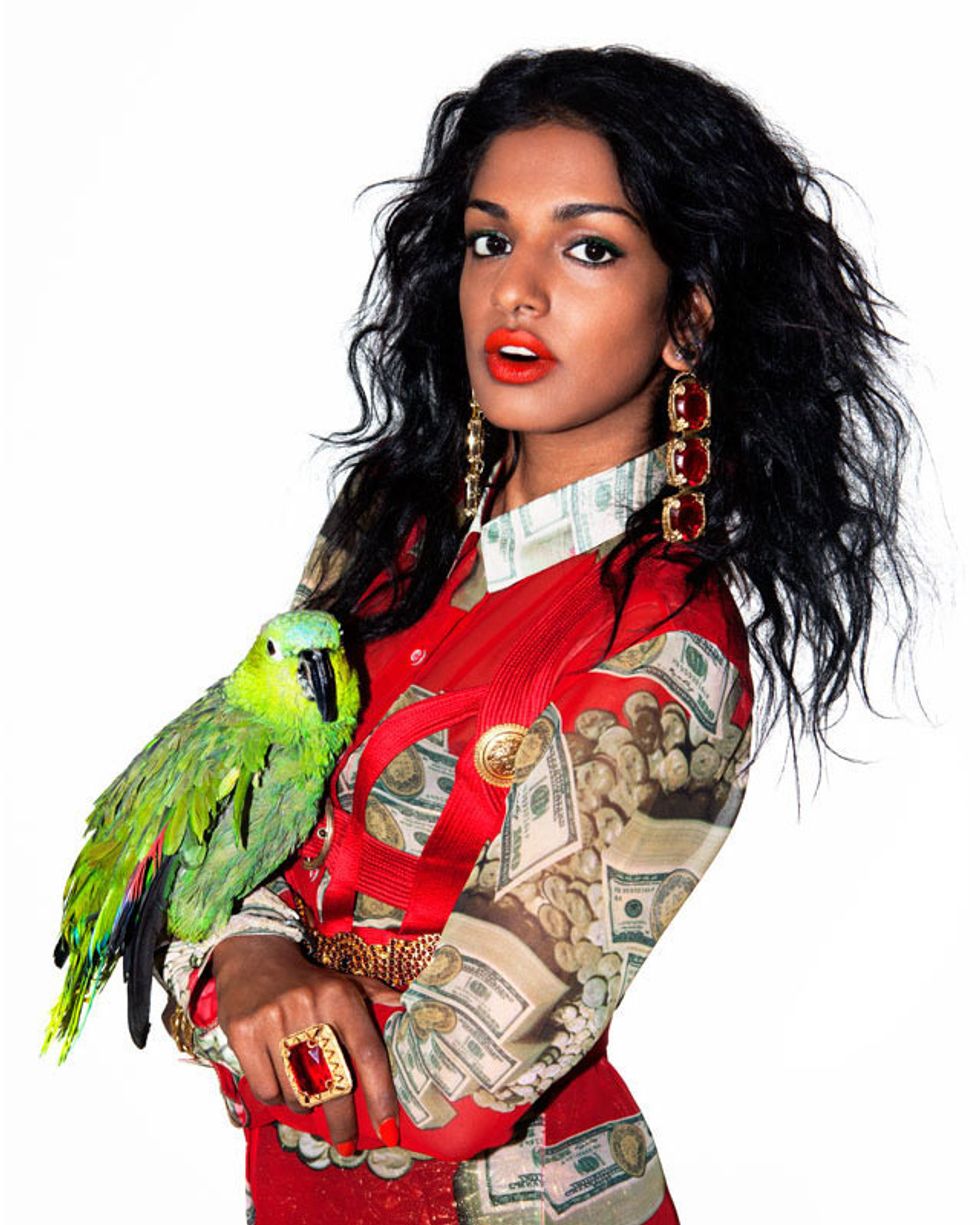 Custom-Made Shirt by M.I.A., Vest by Versace Archive, Belt & Jewelry by Tom Manaton
So, the coffee-table book. M.I.A., out now from Rizzoli, is a gorgeous collection of the artwork she made to accompany each of her albums — Arular, Kala, Maya — as well as the Vicki Leekx mix and her record label N.E.E.T. (The acronym, commonly used to describe impoverished young people in the U.K., stands for "not in education, employment or training.") The art follows the narrative of her releases: the Arular stuff is all spray-painted Tamil iconography and photographs taken in the jungles of Sri Lanka; the Kala work is a riot of colors and plays on hip-hop lyrics like "Goat Rich or Die Frying" and "It Takes Immigration of Millions to Hold Us Back"; while the Maya pieces display a chopped-and-screwed obsession with the aesthetics of the Internet. There are lyrics, short intros to each section and an essay written by Steve Loveridge, a filmmaker and M.I.A.'s frequent collaborator and old friend who is currently working on a documentary about her. The two met while they were students at Central Saint Martins College of Art and Design in London in the late '90s. The school's fashion program is hailed for producing alums like Alexander McQueen and Stella McCartney. Loveridge and M.I.A. were in the school's less-celebrated film program. (Among the revelations in Loveridge's piece: M.I.A. wrote a script for a film called Gratis, a look at her younger brother's experience in a British young offender's institute. It was never shot. Loveridge writes that the script was "the best thing I had ever read.")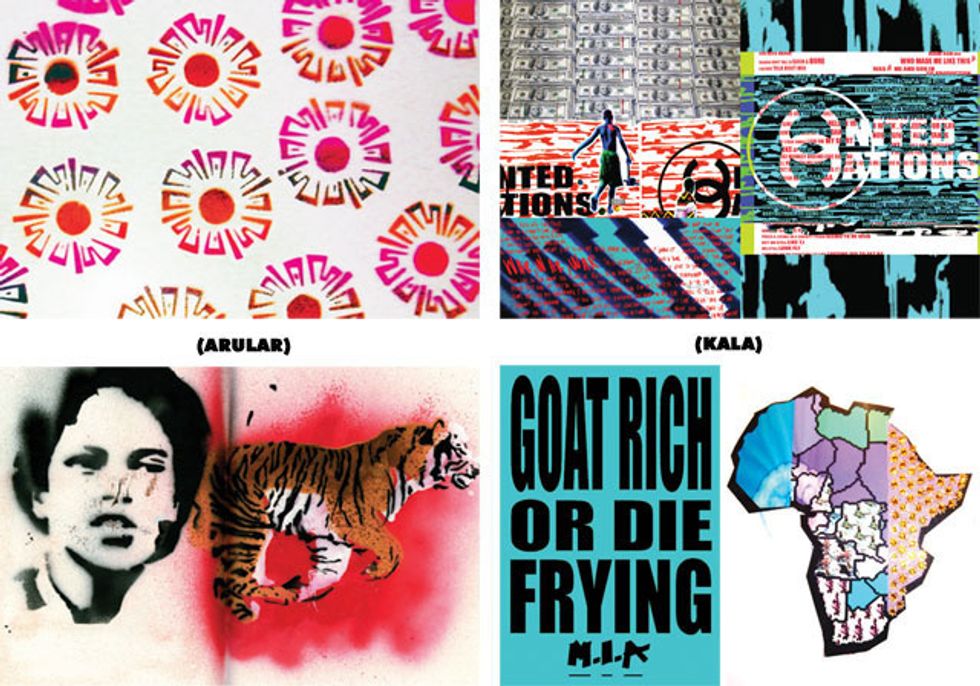 Artwork from the book M.I.A. is grouped by chapters corresponding to musical periods in M.I.A.'s life.
Born in U.K. but raised in Sri Lanka, M.I.A. moved with her mother and siblings back to London at age 10. They were fleeing the political turmoil of the island nation, where among many other struggles, her primary school was destroyed in a government raid. When the family arrived in England, they moved to a rough neighborhood in London. M.I.A. barely knew any English. All those cultural and social factors — her South Asian heritage, her adopted Western home, Third World unrest, her refugee status, what it meant to be young and in London and reading The Face — are represented in her art.
If M.I.A. feels like a best-of book, that's the point. The idea was to show fans how the work came to be, as well as to help the artist figure out what she wanted to do next. "Even though kids embraced [my art], and people started making crappy fashion GIFs on the computer and disgusting websites and wearing weird leggings, there never was a place where people could go to be like, 'This is where it came from,' she says. "I didn't really care. Some of the pieces I made, I don't know where they are now. I would just go and live in a place and leave them. Then they would get lost. That's how it was. It's all recyclable and out there." The ones she didn't leave behind are reproduced throughout the tome, works that are as much about energy as they are about composition.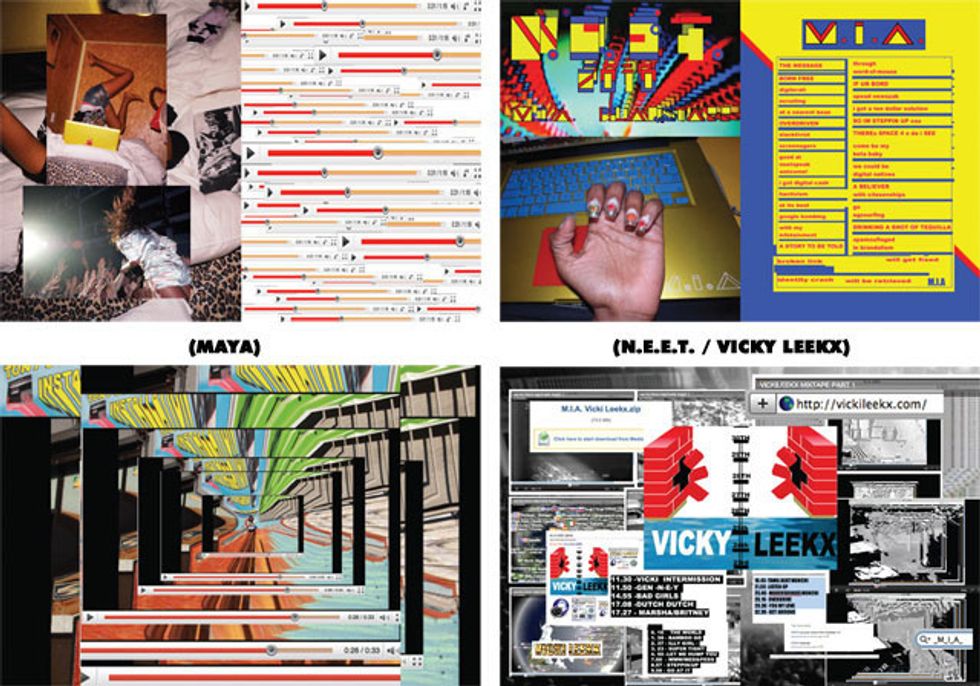 Artwork from the book M.I.A. is grouped by chapters corresponding to musical periods in M.I.A.'s life.
She describes herself as an intuitive artist who doesn't belabor her work by self-editing. Loveridge agrees. "Maya works in single sessions of activity. There's no coming back tomorrow to rethink it, or add final touches. Either it works or it doesn't. If you need three weeks to gently craft and build something, then it's not right for M.I.A.," he says. "I think it's symptomatic of the environment she grew up in as a child. She works as if the computer or the camera might not be there tomorrow. There's a real sense of urgency to get the idea out there before the opportunity is snatched away from her."
On a macro level, M.I.A. is a wonderful pop star for the modern age. She's versed in the means and ways of hardcore rap, rave and punk rock, quoting from a variety of influences (like sampling the Clash on her biggest hit, Kala's "Paper Planes"). And M.I.A. brings an attitude to her music and artwork that totally redefines worldbeat. Her version comes without any of that pandering Sting funk — the post-colonial sense of pity that's come to characterize that very tired genre. Hers arrives on the heels of tribal yelps and gunshots — provocative enough by themselves, but when combined with her politics, her work is explosive.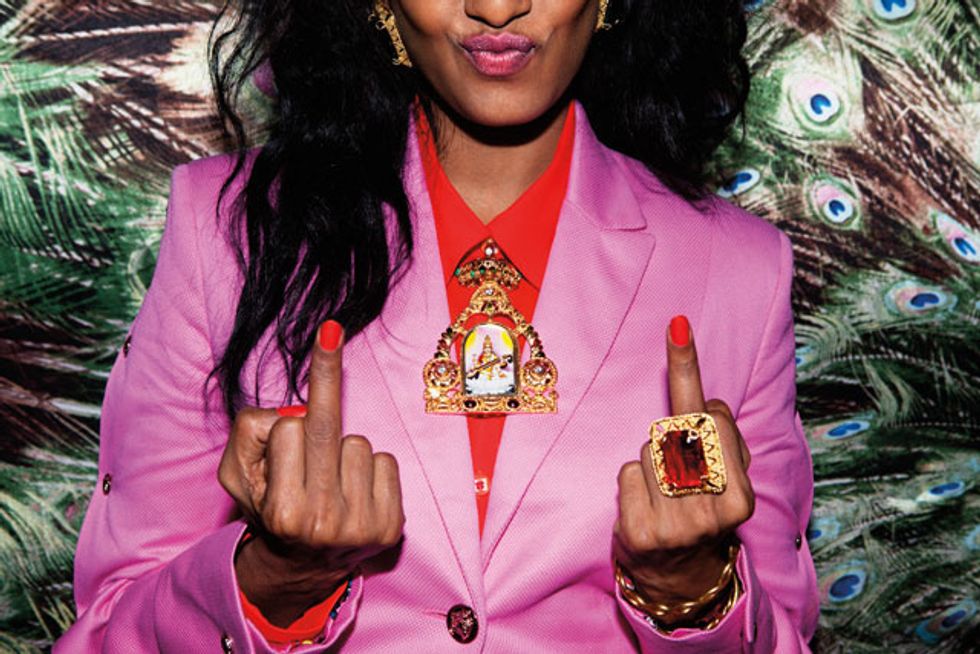 Jacket by Versace, Jewelry by Tom Manaton and Delfina Delettrez
M.I.A. hasn't had an easy go of it these last three years. She had a son, Ikhyd, with former fiancé Ben Bronfman in 2009, but ended the engagement with him last year. She moved from Bed-Stuy in Brooklyn to Brentwood in L.A. — about as wild an oscillation on the socio-economic scale as you're going to get in the U.S. — and finally to London, to be closer to her family. Her third record, Maya, released in 2010, courted controversy for the redhead genocide depicted in the video for "Born Free," directed by Romain Gavras, which was pulled from YouTube the day of its release. That year she was the subject of Lynn Hirschberg's deeply unflattering profile in The New York Times Magazine, which she claimed to be innacurate after its release and was awarded a printed correction for having been misquoted. She remains a vocal supporter of Julian Assange and WikiLeaks, composing the theme song for his television show, The World Tomorrow, and attending Assange's press conference in London last August when he was granted asylum by Ecuador. She's spoken out on a number of hot-button issues, from the violence in Sri Lanka and the plight of Palestinians to the U.K. government's response to the London riots of 2011, and she's gotten more than her fair share of hate mail because of it. The lady has opinions, a Twitter feed and a platform — and she isn't afraid to use them. "Maya breaks rules, and I think people celebrate that and get really excited, until she breaks one of theirs," says Loveridge.
Which is what happened at the Super Bowl. Last February, M.I.A. helped the NFL further its tradition of halftime media debacles by flipping America the bird on live TV. She was performing "Gimme All Your Luvin'" with Madonna and Nicki Minaj — perhaps the most inoffensive song Madonna has ever recorded — when M.I.A. raised her middle finger to the crowd. She has not, to date, explained her actions. When I asked her if she ever would, she shook her head. (For more on the subject, see music critic Sasha Frere-Jones' blogpost for The New Yorker from February 6, in which he explains that M.I.A. was just replacing the gunshot hand gesture she makes in the video for the song, and that, let's be honest, there are far more important things to worry about than M.I.A. upsetting football fans.) "I feel like people being reactionary to what I do is really on them, not on me," she says. "The media freaking out is always going to happen. It's cultural, you know. If I stick a middle finger up in England, it's not shocking there. It's shocking here."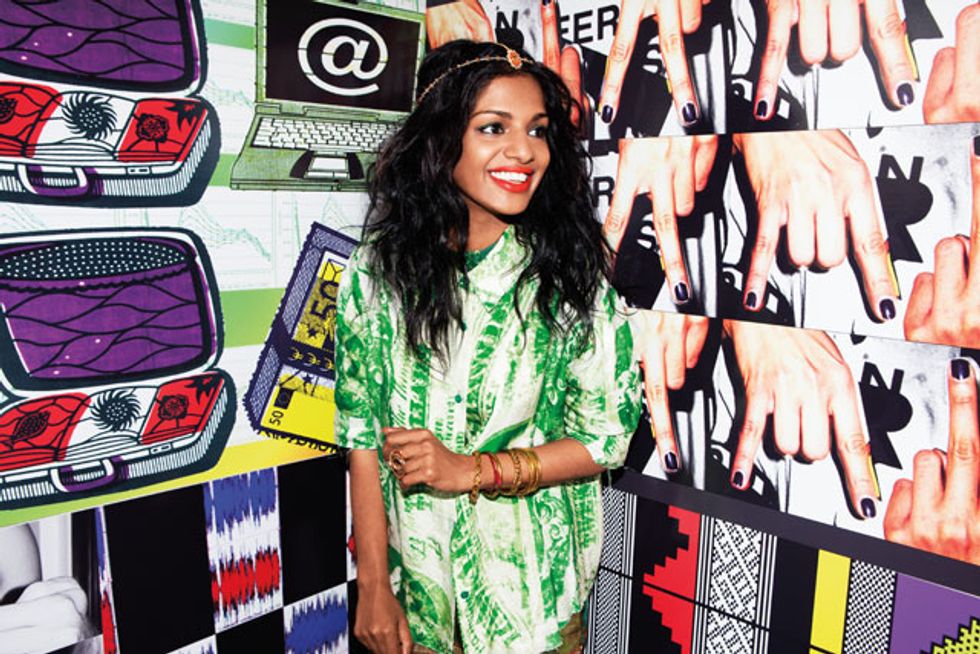 Tops by Acne and Creme de Silk, Headpiece by Tom Manaton, Ring by Delfina Delettrez, Custom-Made Pants by M.I.A., Shoes by Kenzo
In putting together the book, M.I.A., she says she was forced to examine the last few years of her life. It was a valuable exercise: she went backward to move forward. "The first album is about dealing with these voiceless people in the jungle in Sri Lanka," she says. "The second one was the same situation, just extending it out to the rest of the world...and putting them on the map. The last one was me engaging with the Internet because that's how our generation deals with shit now." In August, she took to Twitter to release details about her fourth full-length album, due out next year. Along with some invectives against critics and those who have done her wrong, she wrote that it sounds like "Paul Simon on acid." (Two tracks are already on the Internet: "Bad Girls," which was on Vicki Leekx, and a preview of "Come Walk With Me.")
But before the new album, there's the art show. M.I.A. is creating an architectural piece for the first Kochi-Muziris Biennale in Kerala, India, which opens in December. She says she plans to turn the work into the stage set for her next tour, and that it was working on this piece that gave her the clues to what she would do next. "When I went to India, I was looking on Google for stuff that was the color of a certain green, and that's when this green goddess, Matangi, popped up. I was like, that's weird, the whole time I've been alive on this planet, my mom never mentioned where my name came from. Matangi was the goddess of knowledge and the arts — music, art, dancing, spoken word. When they invented this mythology 4,000 years ago, the concept of someone being about all those things was normal."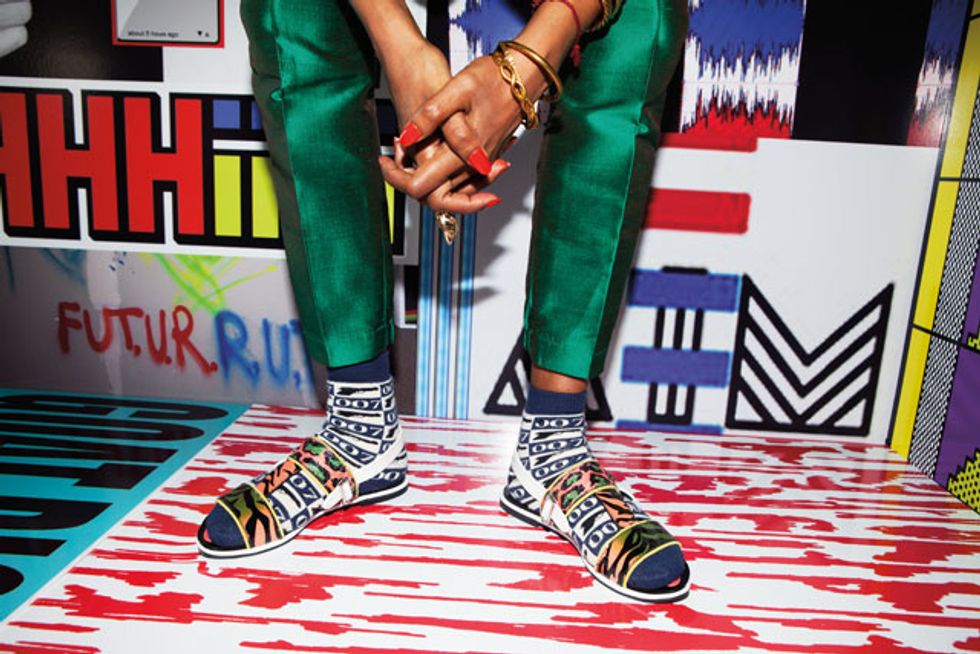 Tops by Acne and Creme de Silk, Headpiece by Tom Manaton, Ring by Delfina Delettrez, Custom-Made Pants by M.I.A., Shoes by Kenzo
The album is titled Mathangi, after M.I.A.'s given name, and in tribute to the goddess. M.I.A., who was raised with no specific religion, notes that there are more than a few unnerving similarities between herself and the Hindu deity. Matangi's mantra is "Aim," M.I.A. backward; she's the patron goddess of outcasts and the disenfranchised; and "her Mudra," M.I.A. explains, "which is basically like all these yoga movements on your hands, is the middle finger — to top it all off." For M.I.A., the discovery taught her that her sense of herself as an artist — someone who is able to create, no matter the medium — is time-honored and respected. Not weird. Not wrong.
"I felt like people put me down because I did too many things. Like, 'You put so much effort in so many directions that there's not enough yield. You don't focus on money. But you put all these things together and you don't make it work for you. You don't sell shit. Why don't you have your leggings line at American Apparel?'...I love that the freakiness [about Matangi] happened on the most mundane tool I have, the Internet, and I didn't have to go climb a mountain or anything like that." She continues: "I always stayed true to myself. Even on my last album when I got criticized, I knew I was sticking to something I needed to stick to. Whatever the consequences that led me to that point, the concept of somebody who fights for the truthfulness of words was my thing — telling the story, getting it out, questioning it. Information — that's what I fought for."
Photography: Jessica Craig Martin
Styling: Tom Manaton
Hair: Bok-Hee at Streeters
Makeup: Mike Potter at De Facto for Chanel
Animal services produced by Birds of a Feather Animal Rescue
Backdrop images from the book, M.I.A.
Manicure by Angel at De Facto for Chanel
Fashion Coordinator: Kelly Govekar
Photographer's Assistant: Lauren Caulk
Stylist's Assistant: Alex Boureau
Hair Assistant: Marissa Bollman
Interns: Tara Homeri, Kevin Breen, Camille Kail, Attia Taylor
Sign Up for the Morning PAPER