Endearingly femme -- both for its sparkly, pink-purple aesthetic, and for the voices it champions -- Isis Nicole, with features highlighting some of the coolest innovations in style, fashion and art, is the rising youth zine you need to know right now. The Chicago-based zine was birthed in 2013 from Isis Nicole's keen interest in journalism, graphic design and business. After a chance meeting, Hannah Black joined in 2015 as creative director, and the duo fast became not just collaborators, but friends. And despite starting as just a tiny project, they've turned it into a biannual print operation with an international audience -- all within five issues. Their fifth and most recent Infinity-themed issue features the likes of ABRA, Fabiola Ching of the WOC-centric Coalition Zine, photographer Anna Fearon and writer Tanisha Pina. We spoke to the women behind Isis Nicole about what they aim to achieve by producing this space for a new generation.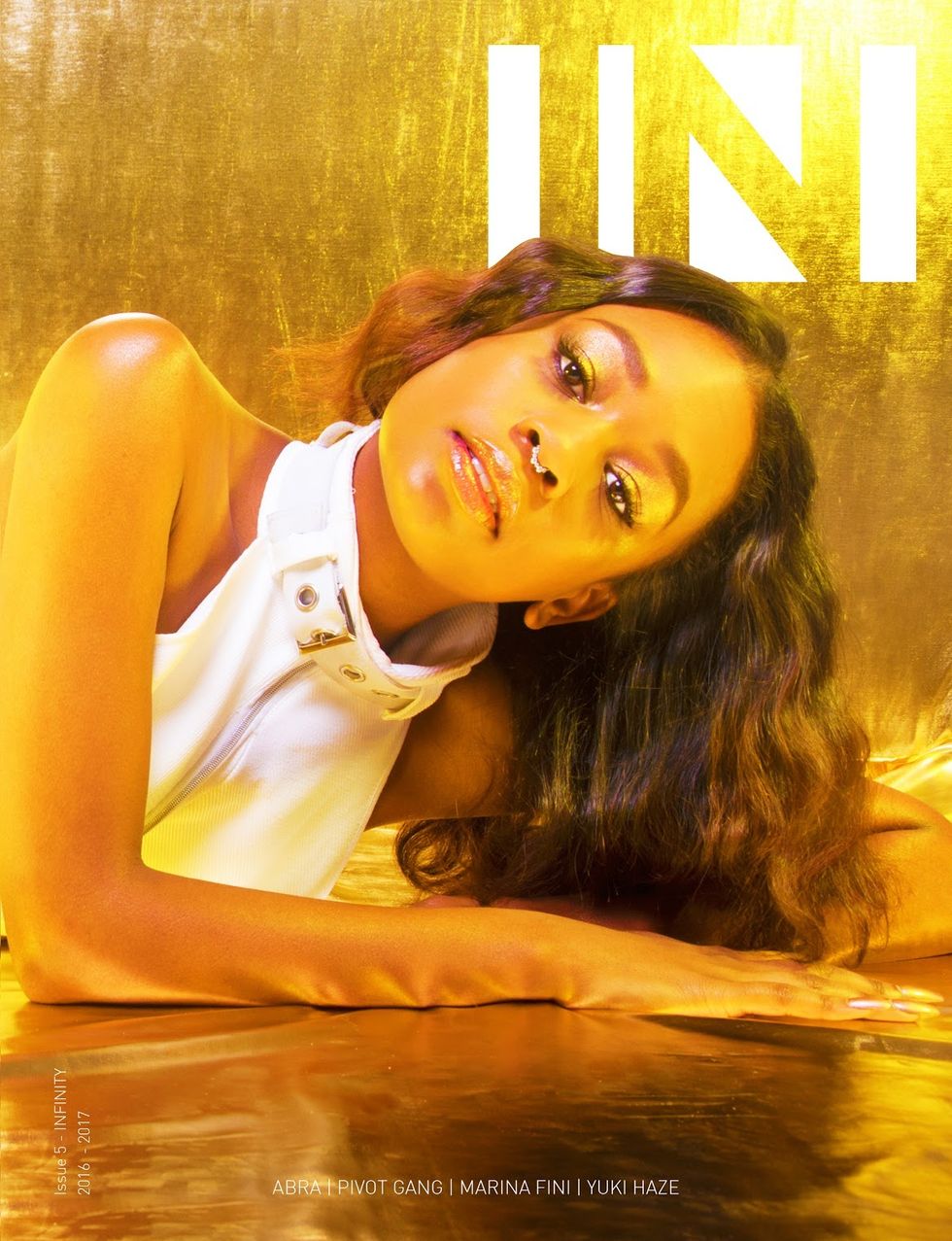 Tell me about the vision you've had for a magazine since you were a kid.

Isis: I got my first typewriter in 1999. Then in 2000, my parents got me a laptop and the house a computer, which I claimed as mine since I used it the most. Or at least it felt that way. I wrote short stories, played a lot of solitaire and CD-rom computer games, and then used AIM to talk to people. Over the years, being online on things like The N (before it was rebranded as TeenNick), Xanga and Myspace is what introduced me to new music.
I also grew up reading a lot of fashion magazines. My parents subscribed me to catalogs like dELiA*s and Alloy. Whenever we'd go grocery shopping, I'd buy copies of Teen Vogue, Nylon, Complex, XXL, Vibe, Vibe Vixen, Giant, and Interview with their money in the early 2000s. And then How To Lose a Guy in 10 Days came out, and I knew I wanted to write fun articles like Kate Hudson's character (even though she hated it) but I also wanted to be the boss like Bebe Neuwirth. I was also fascinated by Oprah. She's phenomenal and one of my many inspirations. When I fantasized about being an editor-in-chief, I imagined having a cool magazine, plus a show like Tyra Banks and interviewing Beyoncé and Ameriie. I mean in those times, that's the sort of entertainment I was taking in and I loved it. I was born and raised in Ohio. It was pretty boring, so magazines and music became my way to escape. When I turned 15, I turned my room into an editorial moodboard. I started writing for my high school paper as the music columnist and fashion police -- I was the first to review a rap album in my high school and not shit all over it. It was Kanye West's Graduation. I moved to Chicago to study journalism at Columbia College Chicago, and started blogging/interviewing on Tumblr in 2009. My first interview, at 19, was with designer Melody Ehsani, and then radio personality Angela Yee. I was also interning online at M.I.S.S. and on the Dimepiece LA street team. All of these things have been essentially shaping what is now The Isis Nicole Mag as a publication.
Hannah, how did you get involved with Isis and the magazine?
Hannah: I met Isis by chance at a Glossier event two days before Christmas in 2014. I had a bag packed full of magazines just purchased to read on my trip home to Iowa, and some prints of design work I was giving as gifts to family, and she had a copy of [Isis Nicole] in her bag. It had so many people I recognized from just being online and following the stories of people on Tumblr who were pursuing music, fashion, and art. I was really excited and taken aback like, "How are we just now meeting?" She was in need of a graphic designer for the upcoming issue, and we went from there!
At first it was just me laying out the content she produced, but by issue four we were producing all the content together and shaping what we felt was a gap between the online world and the print world. We always want to produce content that's inclusive and vibrant, work that's fresh and new, but people can see themselves in. That is fun to read, and empowers others to create, conquer fears, and value vulnerability.
What's it like running a magazine as two women? As friends?
Isis: It's always fun even when the pressure is on. There's always so much going on, there's always more to be done and more to learn, so we find humor and relief just checking in each other with each other every day. We encourage one another always, and our yin and yang really just balances the vibe of the magazine and strengthens us in our daily lives.
Working with Hannah is the ultimate experience I could ever wish for. Our friendship is hands down one of the most serious friendships I've ever had in my life because we're invested in each others hopes and dreams. We discuss all the F words: our fears, our failures, our faults, our finances! And we do what is necessary for us to develop into better versions of ourselves in order for the magazine to do extraordinary things. Running a magazine together as friends and professionals requires us to learn quickly as possible. We don't get a lot of time to live in a mistake, which is wonderful for our personalities. I think Hannah and I make a great team, and sometimes in the past I would be like, "Hey what's the catch, this is too good to be true." She put me at ease when she said she is committed to our project. The sincerity and warm confidence in her voice was all I needed to calm my ass down and accept that this is real and we're in this together long term. I love us!
What's the upcoming issue going to be like?
Hannah: Have you ever seen 13 Going on 30? The magazine that Jennifer Garner puts together at the end? That's kind of what's it's like. It's us celebrating the influences of the pop culture of our youth, but in a loving and honest way. We're not very ironic; we're all about love and corny stuff like growth, healing, asking for help, and self discovery. Learning to be your best self, balancing work and personal relationships. Stuff we hope people relate to and can learn from, like we did through the process of making it. And lots of beautiful editorials. We're all about escaping into a magazine. Curling up with a magazine is always my favorite part of any day, and I hope we can be that solace and happy place for others too
What are the pop cultural artifacts you really appreciate?
Isis: I would say movies, music and magazines.
I appreciate CD's, movies on VHS or DVD, and magazines. For my birthday this year Hannah got me an old issue of The Face from the 1980's plus an old issue of Rolling Stone with Beyoncé on the cover from the early 2000's. We both have a large magazine collection from the past and present. I would say the same is true for our contributing photographers and stylist. We learn, critique, and improve from what we love.
Hannah: Growing up in small towns in the dial-up age, we frequented Blockbuster, Barnes & Noble, and our local library, and were obsessed with absorbing all the info we could. Sometimes we can reference certain Blender or Vibe covers from 2003 and know exactly what the other is talking about. We hope to imbue the magazine with that kind of tactile, magical quality you got when you found the perfect pick at the movie store, or the book you never knew you needed on a lonely library shelf. Just the feeling of finding something new that feels like it's made just for you and the self-discovery that it can inspire. Another shared pop culture touchstone would probably be mid-2000's reality TV like America's Next Top Model. The dream of the fashion and print industry became more of a reality to me when that show came on. I kind of got a language for how to critique and create editorials.
What tips would you have for young women who want to make zines?
Isis: I would say if you want to make a zine, consider its theme and cycle. A clear idea of the content that you want to produce and how often you want to distribute helps.
Hannah: Ask your friends for help, be open to criticism, and create from the heart! Create the content you wish you had growing up.
Images: Abra by Anna Fearon, styled by Hannah Grunden courtesy Isis Nicole
Sign Up for the Morning PAPER