Since decamping to Durban, South Africa from Los Angeles in 2005, Liza Lou has been relatively absent from the New York gallery scene. The artist's hiatus has officially come to an end at Lehmann Maupin's new, Peter Marino-designed space in Chelsea. Titled Liza Lou: Classification and Nomenclature of Clouds, the gallery's inaugural show and Lou's first solo outing in the city since 2008, explores the transient beauty that's always floating overhead. Though it sounds academic, the exhibition is incredibly emotive and reverent of handcraft (Lou's chosen medium since the 1970s has been time-consuming beadwork).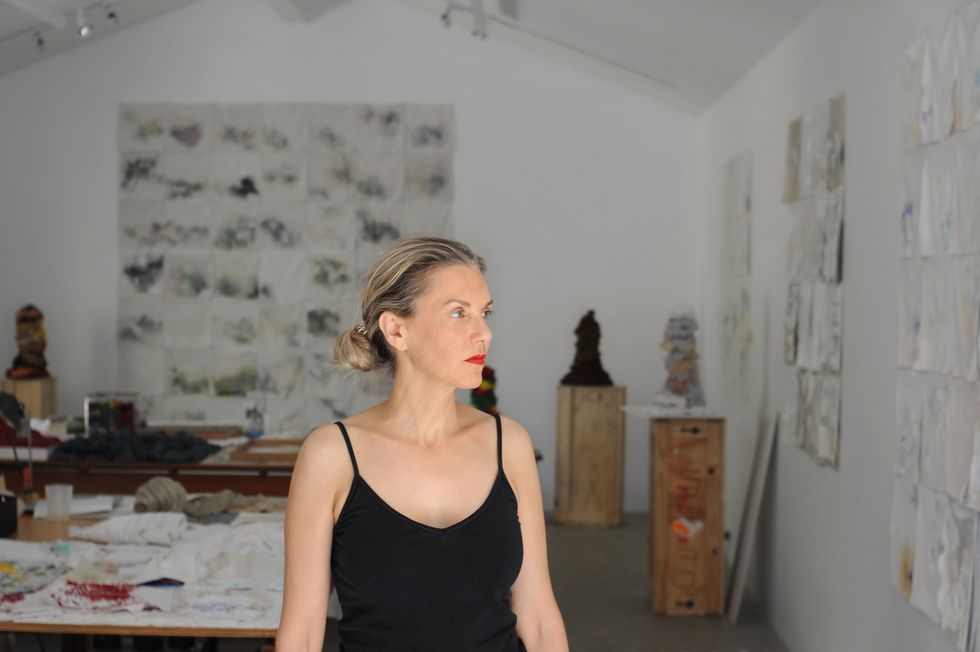 Lou in her Los Angeles studio. (Photography by Mick Haggerty)
The ethereal works in this show, the largest of which is The Clouds at 100 feet long and dotted with thousands of glass beads, are a testament to decades of daring, dedication, and growth. When dissuaded by her professors at the San Francisco Art Institute for continuing with her decorative medium, Lou dropped out and forged her own path. Eventually, that led to her debut at the New Museum in 1996 with Kitchen, a room-sized installation that mimics a functional cooking space. "I come from a long line of frustrated women, as we all do," she says. "I wanted to make a monument for these forgotten women who had no other option but to make pie — the best damn pie ever!"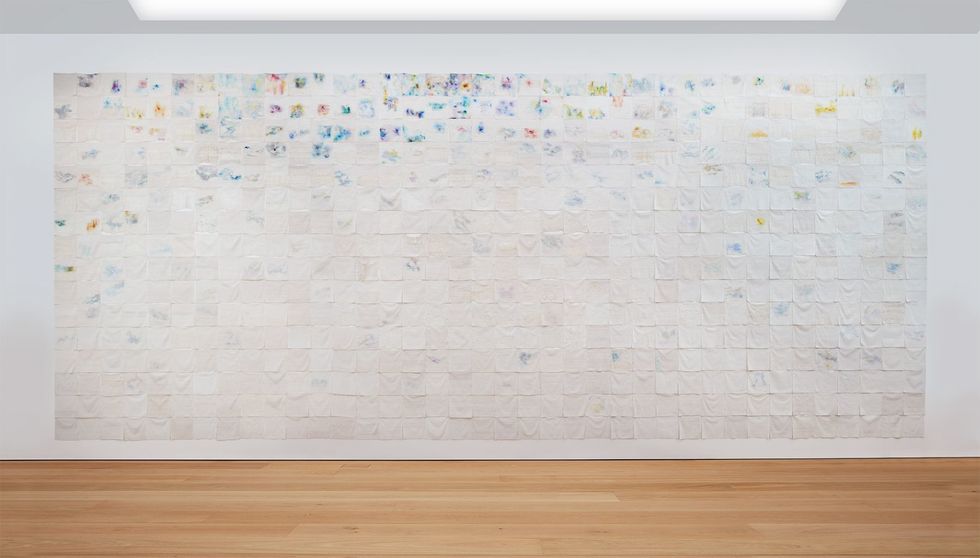 The Clouds, 2015-18, installed at Lehmann Maupin. (Photo Courtesy of Matthew Herrmann & Lehmann Laupin)
As her practice grew (Kitchen was followed by an equally intricate Backyard), Lou began working with Zulu women artisans and female prisoners in an outreach program in Belém, Brazil. With collaboration, repetition, and perfection as the tentpoles of her practice, Lou's oeuvre grapples with the definition of women's work and celebrates human hands. From her Los Angeles studio, Lou spoke with PAPER about the evolution of feminist art, the importance of acknowledging labor, and the guiding force behind her new show.
Were you exposed to handcrafted early on in your family? Is that how you land on your choice of medium?
My grandmother used to try to teach me how to sew and I hated it. I wanted to build, sculpt, and paint — when I did I made a huge mess. I hated anything crafty when I was younger, mostly because it was fussy and slow, and I was super impatient.
When I went to art school, I chose that material [beads] as a deliberate gesture. I began to understand that it was a very loaded craft. I liked that it was disturbing to people, especially some of my professors, and wasn't considered serious. To me, that was an interesting beginning.
Why wasn't it taken seriously?
They didn't like it because it was decorative and feminine. I was going down the road of feminism and there was a big backlash about Judy Chicago at the time. She was the artist that everyone loved to hate. It was very uncool. You didn't want to go near anything that was icky feminism.
Apart from deep-rooted sexism, why was it so unpopular?
Because it [feminist art] was shrill. Back in the 70s it had to be real and raw and furious because it was the beginning. It laid the groundwork so that younger artists, like me, could come along and fill in the gaps. Women working in a craft métier with humor, hadn't happened yet. There hadn't been a sexy take on feminism, where you could seduce while critiquing.
When I left school, I was thinking about the fact that what I was doing was disturbing people, but it wasn't being taken seriously. I wondered, "How far do I have to take this until it is taken seriously? How far do I have to go with this material?" So, in some ways I have the San Francisco Art Institute to thank because it was interesting criticism. It wasn't the mindless I-don't-like-it commentary, it was a clear, "You're going down the wrong path, this is a mistake."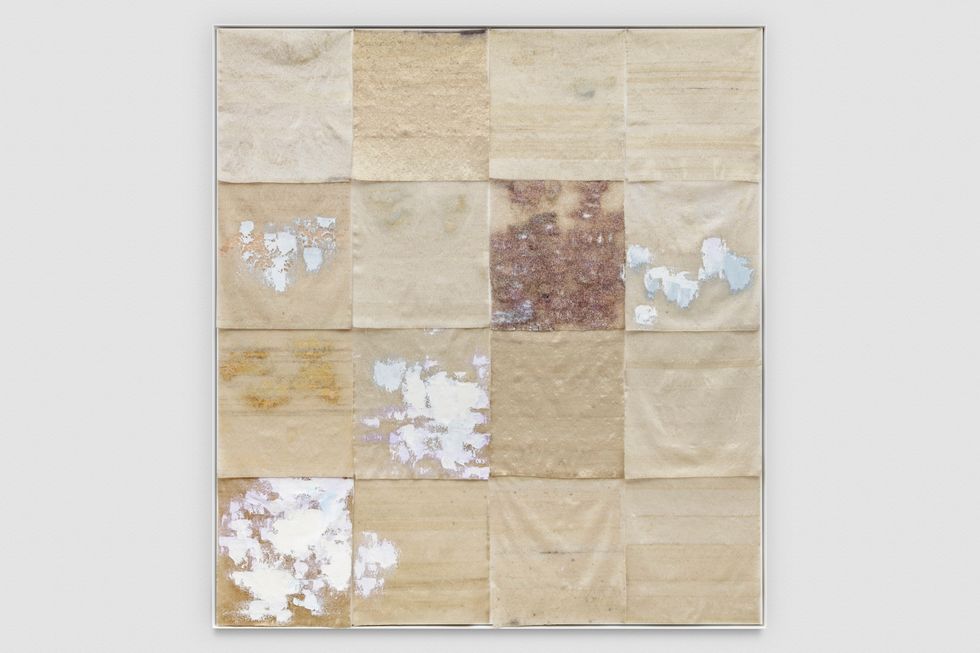 Translucidus, 2018.
(Photography by Joshua White)
You really went all in with an entire kitchen made of beads.
I sat down to cover a soup can in beads thinking an hour. Twelve hours later, I was still there with the tweezers. I realized that making one soup can wasn't enough. It was a tchotchke. It didn't look like anything special. We live in a "show-me" society. Until you build a world, no one believes you. People want to see it. It's not enough to allude to something. You have to go through the trouble. So I went all the way — floors, curtains, dust balls, broom, the whole thing with beadwork. When you stand back, you realize that the labor has its own meaning. You're no longer just depicting a kitchen. It's the magnitude of one women's labor.
After Kitchen you decided you wanted to create Backyard. Your process had to inevitably incorporate more than one woman's labor.
Right. My idea was to make a quarter of a million blades of grass out of wire and beads. I would take the materials everywhere. I was at a bar with a friend and she was keeping time while I made one. She asked, "How many do you need?" and did a quick calculation and she was like, "It'll take you 40 years to finish."
I realized that if I spend five years on the next thing, by the end of my life, I'll only have three things made. I'll never be able to realize something huge like the backyard if I don't bring people on. I began to think of innovative ways to engage with different communities.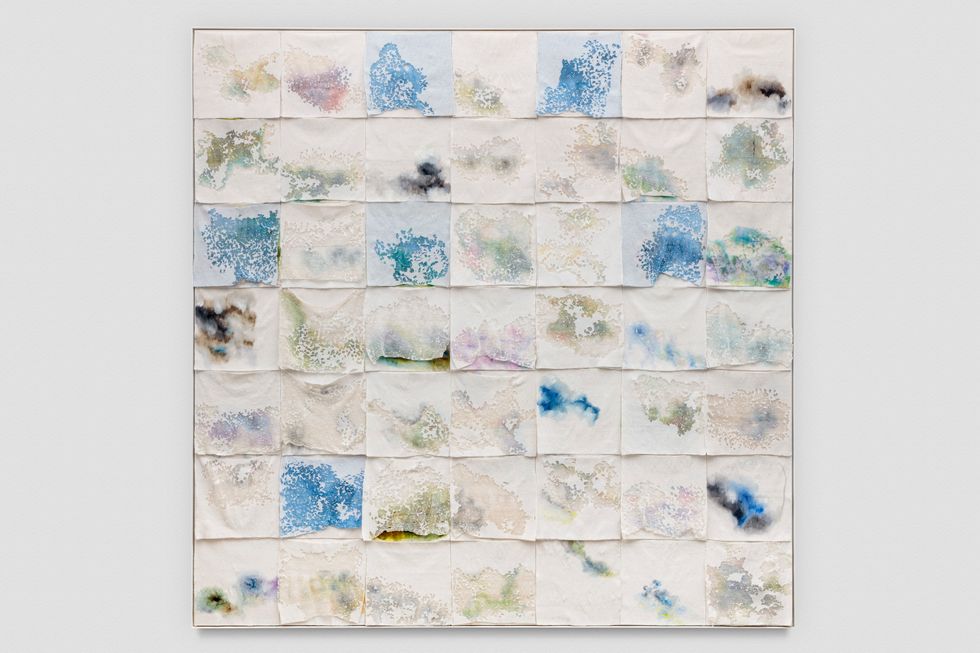 Noctilucent, 2018.
(Photography by Joshua White)
How did that manifest?
I worked with the Santa Monica Museum, where we held "lawn parties." We invited the public in to come in and make blades of grass with me. I then started worked with homeless groups and women's shelters, which helped me realize that how important it is for people going through a lot go pain to have a common activity. It's not all about helping or healing. It's just about sitting down, chatting with each other, and creating. Outside of religion, there aren't many places where you can just sit and do something together.
I eventually wanted to work with people who had a serious background in craft and understand beads from a deep place. That really got me thinking about traditional beadwork across the world. I wrote some letters to a few nonprofit groups, asking I could be of service and if there was somewhere I could go to hire women with these skills who need work. I was put in touch with someone in South Africa who deals with craftswomen.
Going off a deep instinct, I packed up a crate of beads and personal belongings and moved there. It started with twelve women and within minutes of meeting them, I felt at home. It was so profound because the connection between survival and skill was so palpable. I felt so privileged be in the room with people that I didn't have much in common with or have a blood tie with, but we had this deep mutual shared love for a practice.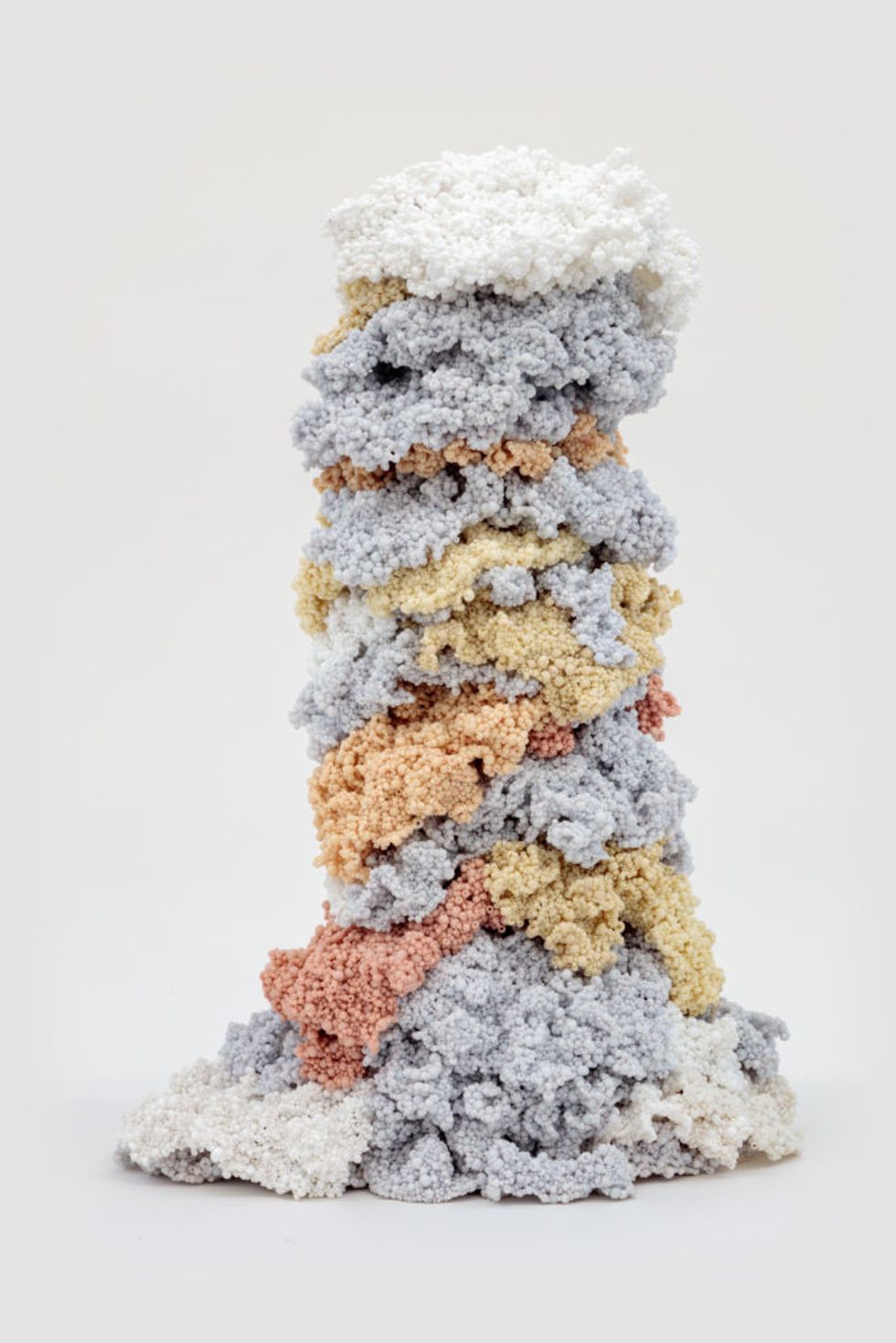 Aggregate: Mushroom, 2018.
(Photography by Joshua White)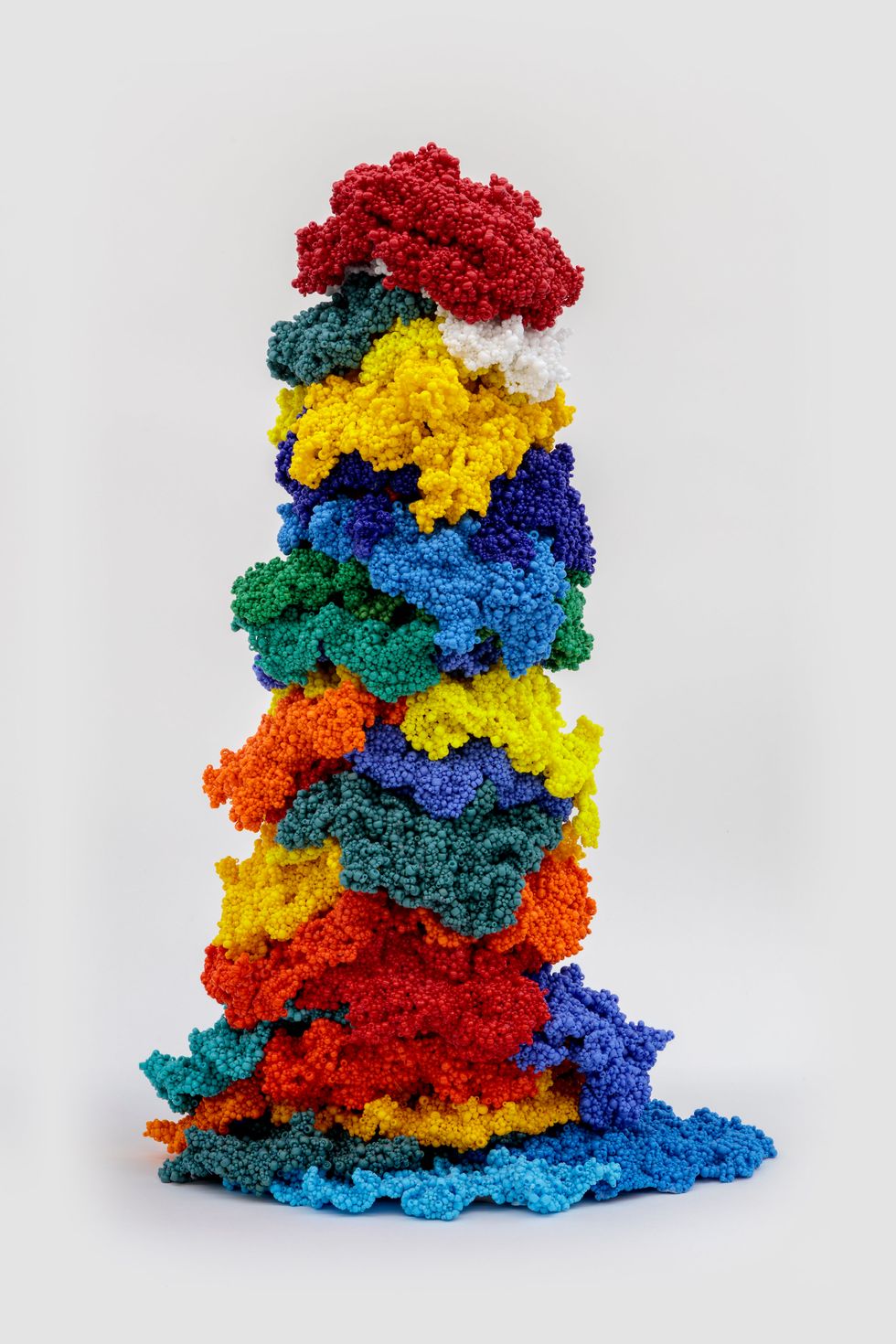 Aggregate: Primary, 2018.
Classification and Nomenclature of Clouds at Lehmann Maupin is your first New York gallery show since 2008. What prompted a return from your hiatus?
I've been busy doing other things in other parts of the world for the past ten years, so it's nice to come back to New York— which in a way is home — with new work that shows my hand.
Working with other people, is revelatory in terms of what my gesture is because I am painting on top of the materials. There really is a lot of individual gesture in this work that I would not have allowed in my work before. I've always liked the anonymity of the hand and being lost in a tsunami of labor. You wouldn't know, out of the thousands of blades of grass, which are the ones you made.Having a show in New York gave me an interest in pushing that gesture.
What common theme, through the sky and clouds, does this show address?
It's a meditation on this ephemeral beauty that exists over our heads. In South Africa, there's a lot of beauty, but also a lot of difficult things going on. The only place you could look sometimes is up at the unbelievable cloud amid urban distress — you would pass a child on their hands and knees in the middle of traffic wearing rags. Seeing that suffering every day and looking up at the clouds, I began to paint them on cloth that we were weaving in the studio. That was a starting point for major piece in the gallery called The Clouds.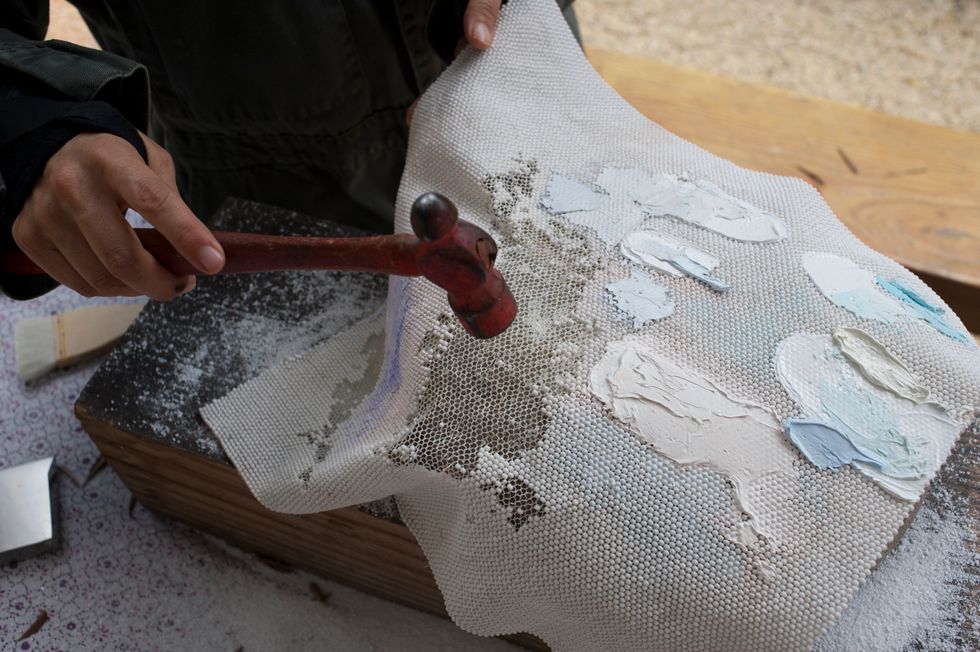 Lou smashing beads in her Durban, South Africa studio.
(Photography by Mick Haggerty)
Why are certain sections of beads in The Clouds smashed?
I wanted to see the beauty that exists in some of those beads. For years, I was really contemplating what it was that we were doing under those beads with this thread.
For years, we've been making this incredible grid-like structure with thread, but it's covered in beads. I always wondered what it must look like under there. One day I thought, "What the hell?! Let's bring out a hammer." I was astonished by what that opened up. Once you take the beads off it shows the labor even more. In some ways it reveals, rather than destroys.
We're so used to repetitive labor, but we don't see it. We walk on beautiful carpets and aren't thinking, "Oh no, better not walk on that." We put our clothes on, but don't think about how they're made. My work from the beginning has been about making labor the subject. Caring about the process and finding the beauty in it is important for me.
Lead Image: Photography by Mick Haggerty; All Images Courtesy of Artist & Lehmann Maupin, New York, Hong Kong, and Seoul.
Sign Up For The Morning PAPER
Nightlife
Intro by Alessandra Schade / Photography by Andrew Tess
Music
Interview by Troye Sivan / Story by Bradley Stern / Photography by Maisie Cousins / Creative Direction by Michaela Stark