Beyoncé is pop music's reigning queen, and like a truly benevolent ruler, she bestows gifts upon her adoring subjects. Hot on the heels of her iconic Grammys performance last night, fans were given a bonus treat. DJ Khaled dropped a new track, "Shining," featuring Beyoncé and husband Jay-Z bringing their indelible power to a song together for the first time since "Drunk in Love." Bey opens the song strong, reminding us all that money won't make you happy, and you most definitely don't need a dude to make you fancy.
This is certainly true. and her woman-centered performance proved it pretty definitely. There was plenty of speculation swirling around in advance. Would she be able to live up to past show-stealing spots? Would being 5 months along with twins impair her ability to perform, as science has proven pregnant women are physically incapable of doing anything more than smiling beatifically and stroking their stomach?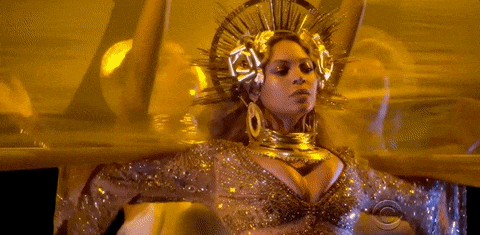 With an intro from one Tina Knowles, Beyoncé took the stage for a visually lush celebration of motherhood and women, launching with a trippy, kaleidoscopic video of herself and various women dancing before emerging in a beaded gown and full golden halo to perform "Sandcastles" and "Love Drought." Her choreography might have been more sedate (focusing mostly on ceremonial pacing and gravity-defying chairs, but it was still an epic spectacle that brought the audience to its feet.
[youtube https://www.youtube.com/watch?v=W3XS2gkhtYE&t=189s expand=1]
Beyonce has a lot of referents: Empress, orisha Oshun, Virgin of Revelations, her familiar love of Jacobethan/Louis XIV masque. #Grammys pic.twitter.com/AKIte7MckM
— MAX IM A KOOPA (@meakoopa) February 13, 2017
Though Lemonade was shut out of the top awards by Adele's 25, it did win Best Urban Contemporary album, giving Bey the chance to stun, again, with her acceptance speech. "We all experience pain and loss, and often we become inaudible," she read off a (of course) gold placard. "My intention for the film and album was to create a body of work that would give a voice to our pain, our struggles, our darkness and our history. To confront issues that make us uncomfortable."

Oh, and did you think that was enough? It's not. Just for you, the official Lemonade videos for "Love Drought" and "Sandcastles" are up on YouTube now. No problem. Just another little gift for you.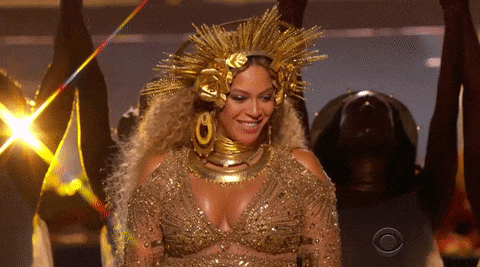 Sign Up For The Morning PAPER