Enioluwa Adeoluwa, otherwise known as "Lipgloss Boy" or "Beauty Boy," holds many titles.
The influencer, public speaker, media specialist and writer is also the host of The Late Night Show With Eni, a talk show he began last year. In November 2020, Adeoluwa took the internet by storm with a video he posted, which came with a message to admirers who keep admiring, rather than shooting their shots. It went viral, with the internet rightly supporting him, including re-posts from some of Nigeria's biggest celebrities. Since then, Adeoluwa's rise has been unrivaled.
For those living in Nigeria under the age of 30, Adeoluwa needs no introduction — and that's on periodt. At just 22, he sits pretty at the seat of a social media empire, with his crown ever-glowing. He's well-beloved for his hilarious and outrageous videos, where he's seen applying his lipgloss and offering commentaries on his day-to-day life in Lagos. Sometimes, he loves to spill his thoughts on relationships, among other things.
Adeoluwa isn't just expressing himself online like every other influencer, he's also breaking boundaries as one of the very few Nigerian men in the makeup and beauty industry. Currently, he has amassed nearly half a million Instagram followers and even more on his TikTok, including major brand partnerships with Fenty Beauty, MAC and more.
Below, PAPER caught up with Adeoluwa as he discusses life as "Lipgloss Boy," his interest in advocating for other femme boys like him in Nigeria and why makeup on men shouldn't be something unique in today's social climate.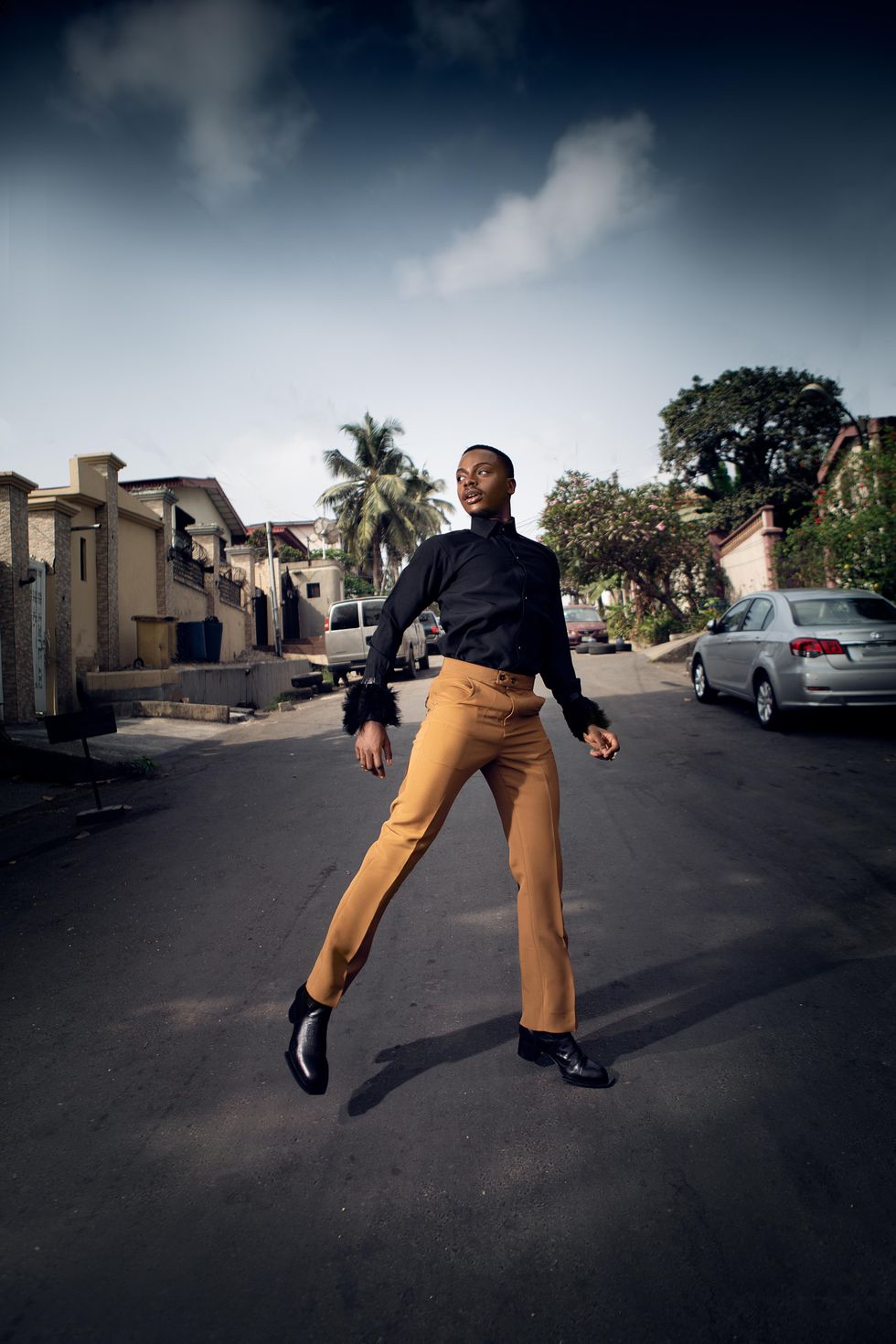 What was growing up like for you?

I grew up in Akure, Ondo State, Nigeria. Akure is a very beautiful place filled with very beautiful people with great hospitality spirits. Everybody's nice and that's different from Lagos. I grew up in a family of five, with three children, all boys. Then I went to school, primary school, secondary school and it all shaped certain aspects of my life. I was also in the church choir at some point because I loved to sing.
How did you first get into the beauty industry? Was there an epiphany that set you off?
The very first time I ever had makeup on was in my second year at the University. Friends of mine were playing with their makeup and I was interested in it. Although, makeup on boys was not a popular thing back then and, even if you knew about it, it was most likely because you saw it on TV. So I kept on trying makeup; I used to watch Jackie Aina a lot, too. But I've always been into skincare since I was a little boy. Growing up, there were times when we'd have visitors around and they'd all admire my beauty because I had really clear skin, and my mum used to think I was using a certain cream on my face [laughs]. I used to play with my mum's skincare products; she had different products and, at that time, skincare was not like what it is now.
For you, at what point did you realize it was unique?

I feel like people who are in it don't see it the way every other person sees it. When people see me and say, "This is unique," it feels as though makeup is such a new thing. So I've never seen makeup for myself as something unique or different, but I always have to remind myself that makeup on boys is not something everybody does. But people have made it so normal for me and that itself is a sign.
What exactly do you think is responsible for the stigma surrounding men's makeup?

There's a reason why everybody says representation is important. When you don't see certain things, the first time you see them they may look weird. This goes even beyond men's makeup and cuts across so many other aspects of life. Once you start to see things and see other people, you start to feel like there are people that are like this. Although, it's becoming very normal. Even when I go out with makeup on, people are no longer shocked; most people even think it's cute. That's the reaction now because there's this representation on social media. You're now seeing boys that wear makeup and other young boys can also see boys like them that exist. That's why representation is so important.
Since you entered the public eye, you have done and continue to do a great job using your platform to advocate for femme men, especially in Nigeria. How did it all come about?

I'll be living in denial if I say I'm not femme. I am and I'm proud of myself. I live on my femme side cause she's pretty, she's smart, she's intelligent, she's powerful and nobody can talk to her. Again, representation is so important. When people saw femme boys in the country, they saw trouble. But femme boys have created such a huge platform; they are breaking doors for other people that look like them. I came in through that door and people knew me to be that boy on Instagram who uses makeup, but then that boy is also successful in school and this is something Nigerian parents like.
As long as you have the degrees, it's the only thing that matters to Nigerian parents. And so I feel like that excuses a lot for me and that becomes a different representation. I'm now at a point where I have to show out and inspire other young boys because they're people like me in society. If I didn't see someone like Denrele Edun, I'd be so scared to do what I do, right now. And that's why I must continue to use my platform to tell the world that boys like me exist.
"Success for me is seeing all these young femme boys coming after me and being able to live their lives effortlessly."
Why do you think it's important that we continue to have these conversations?
Imagine if Black people never saw a Black person becoming president in America. But now, because of representation, if we have a Black person as a president next, it becomes normal. Nigeria is still a conservative country and that is why we all must continue to have these conversations, so that a young femme boy would know that's he's beautiful, he's normal, he can be successful and he can exist in his own space.
With Nigeria being a conservative country, how are you able to deal with negativity on social media?
I do not yield to negative comments; it could be happening on blogs, but I don't check blogs. The only "negative comment" anybody can say is, "Oh, he's gay." But I don't think that's a negative comment. I mean, gay people have proven to be very successful, powerful, loving, leaders of the fashion industry, leaders of the beauty industry, CEOs and billionaires, so why should I go into my room and start crying because someone calls me gay?
People always love to get this idea that I must be getting negative comments or trolls. No, I'm not getting any of those [laughs]. I'm flourishing and I'm living excessively. Whether anybody likes it or not, I'm going to live my normal life and I'm going to be successful about it. I'm not going to be problematic, I'm not going to act depressed on Instagram and say, "Oh, there's so much negativity." No, there's no negativity where I'm at. We all need to stop pushing that stereotype on young people and making them feel like they're going to face so much negativity for being themselves. So really, I don't spend any time thinking about any negativity or what anybody has to say about me whatsoever.
What has been your strategy to stand out in today's overly saturated influencer market?

Consistency is very important. Not just consistency in creating content, but consistency in being who you are. Enioluwa is always going to use lipgloss and he's always going to make his videos short. I've hardly done a one-minute video before and that's because I want my videos shared on WhatsApp. I just use relatable stories to create short videos people can recognize.
Having worked with loads of brands over the years, which partnership has been your favorite to execute?
Most definitely my Fenty collaboration. I mean, it's Rihanna. When I got my Fenty message, I was crying. There's also my MAC partnership too. I've also partnered with a lot of Nigerian brands and that's why I keep saying representation is so important. When I started, everyone was so scared that no corporate company was going to work with a boy from Nigeria that wore makeup. When I got my first collaboration from a corporate brand, although the pay was very low, I did it because I wanted to get it done. From there, I went on to collaborate with a bank. Banks are like the most conservative people in this country, but I did it. I am so grateful for all these partnerships because I can always be myself. I can be in a bank campaign today and be in a makeup campaign tomorrow, and still be a femme boy. It all went from, "Nobody's going to work with Enioluwa," to, 'If you don't work with Enioluwa, your product wouldn't be relevant to Gen-Z."
What does success mean to you?
Money [laughs]. I love to sound deep, but I also love to be able to pay my bills. There's nothing more beautiful than being able to afford all the things you never thought you could afford while doing something you love. That's why a lot of Nigerian influencers don't get paid enough because a lot of them love to avoid that conversation. Some of these brands expect you not to like money. I love the numbers, I love the following and everything, but I need you to pay me so I can afford my bills. When you're broke, nobody's going to smile at you and give you free food [laughs]. But beyond all that, success for me is seeing all these young femme boys coming after me and being able to live their lives effortlessly. That's one of the most beautiful things for me: seeing all these boys live their authentic lives.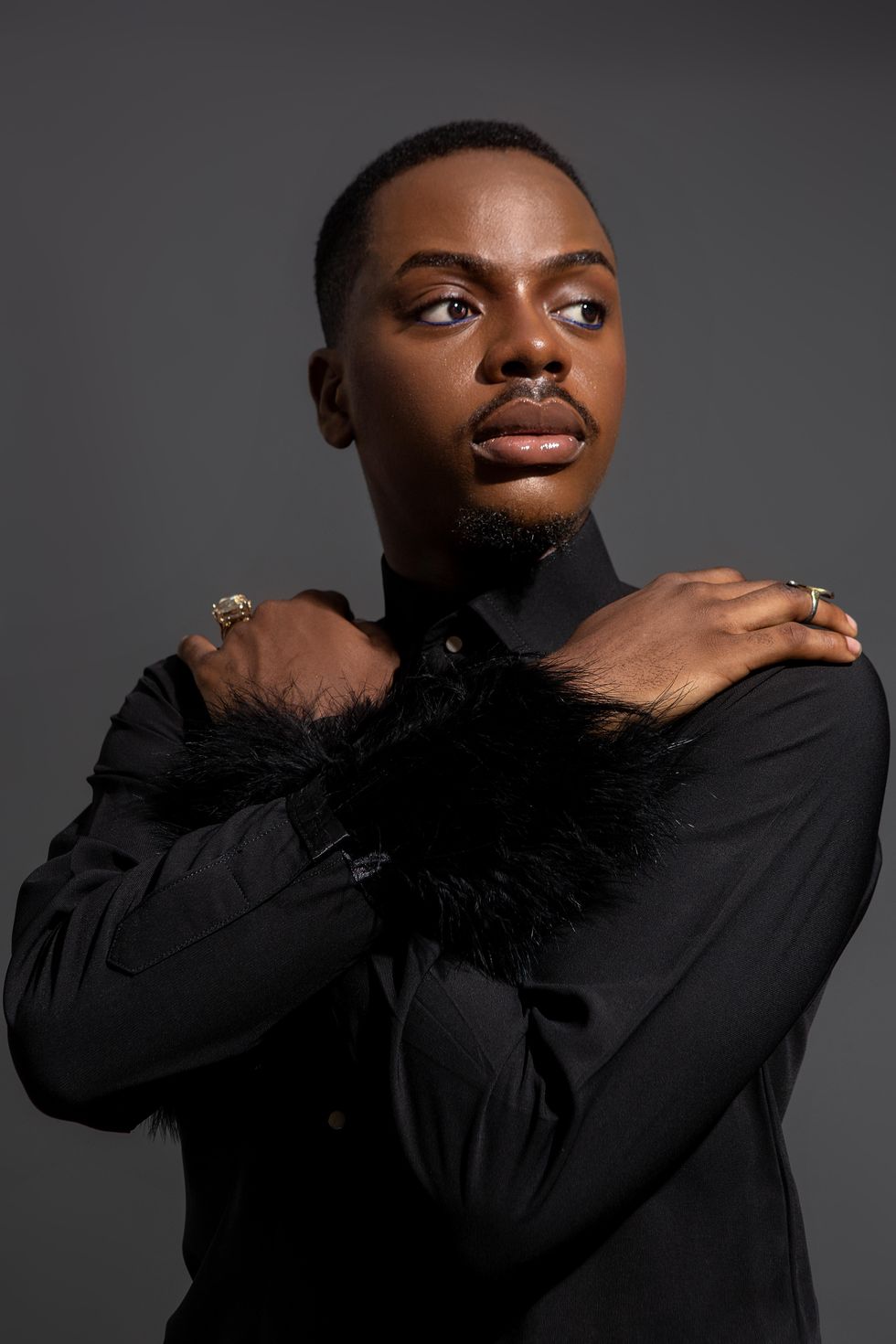 Photography: Morgan Enyeribe
Styling: Emmanuel Goodnews
Makeup: Alao Oluwakanyinsola
Sign Up For The Morning PAPER