After Lamar Odom, Kris Humphries, James Harden and Scott Disick's failed relationships with the Kardashian clan (and occasionally, subsequent downward spirals), there has been talks a "Kardashian Curse:" the lifestyles of the famous sisters prove too much for their paramours and prompt the men's careers to flail.
While, thus far, this has only been addressed on the family's reality show, GQ has asked new parents Kylie Jenner and Travis Scott in a new cover story how they plan to beat the odds. Scott is quick to claim that their relationship works because "Kylie actually likes me for me" and is "different" to her sisters, but Jenner herself credits their relationship's longevity and the flourishing of their respective work lives on successfully keeping things separate.
Related | Travis Scott Is Hip-Hop's New Rock Star
"I don't think he's really cool with [the attention]," she says, "but he deals with it, because we love each other and we have a family. For sure, I know he doesn't like the attention. That's why we just go the extra mile to keep our relationship super private, or like, if he has events or something, I won't come. Because I want him to do his own thing. I want him to be him. I don't want it to be Kylie and Trav. If people don't ever see us together, that's okay with me, because we just do our thing."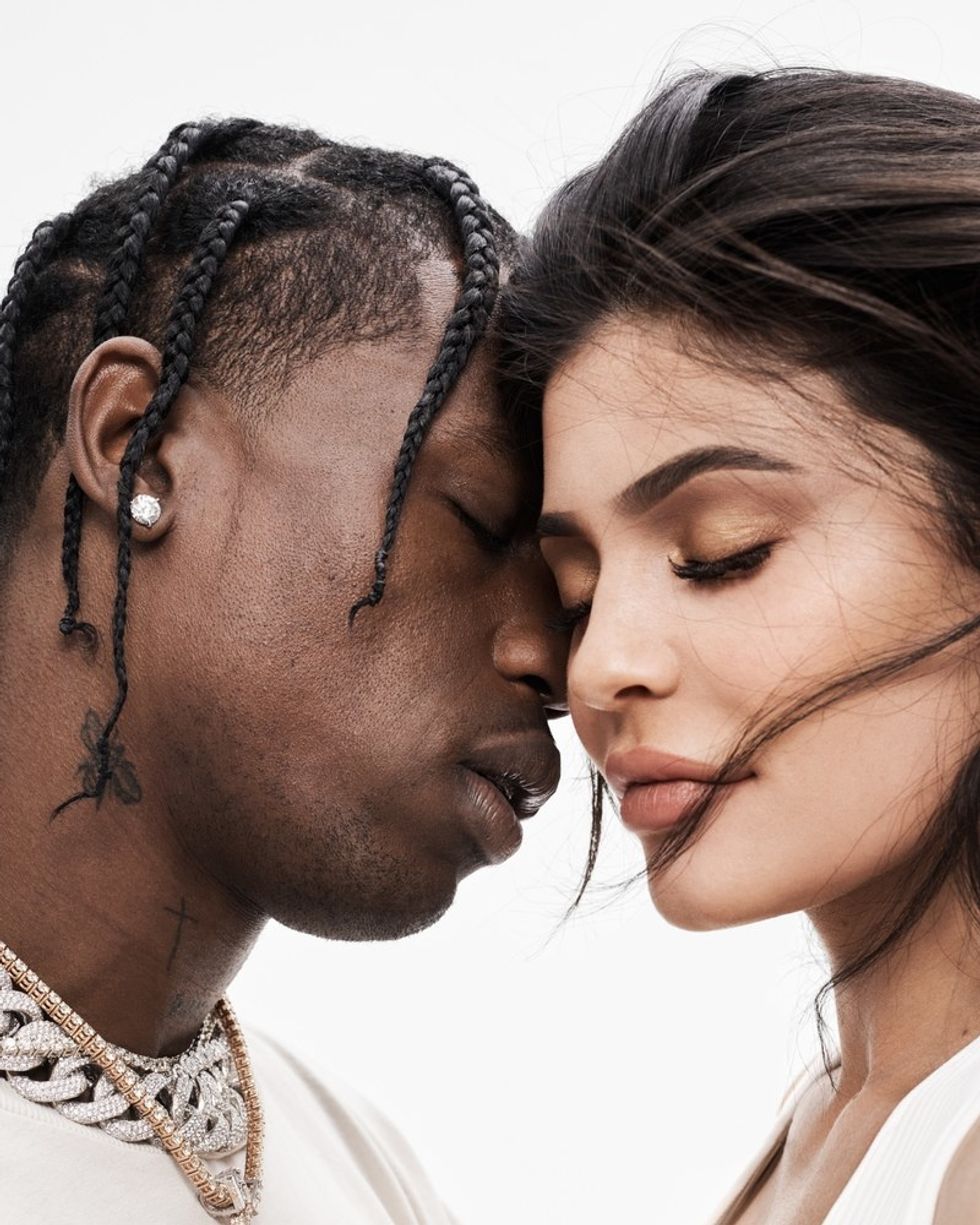 Photography: Paola Kudacki for GQ
Jenner also explains how she survives with the intense media scrutiny she deals with on the daily. Scott, she reveals, is easily frustrated by false or exaggerated news, but the young makeup mogul has come to realize stories come and go.
"Trav, for example, he's like, 'Wait... but how do you just get over this?' He gets more angry about things," she says of Scott's approach to the news cycle. "It's not just him. It's Jordyn [Woods, Kylie's best friend] who I've seen affected. It's everyone around us that aren't used to it. And we're just like, 'Oh, that'll go away in a day.' I know these stories aren't going to matter, so don't even let them affect you, you know? I think you're correct. But it's not just men—it's friends, it's people who come and just don't know how to handle it. It's the negative. There's a lot of people who love us, but there's also a huge handful of people who don't like us."
The pair also took a "Kylie Quiz" for GQ, which had Scott tackle Kylie Jenner trivia such as how many tattoos she has and what they nicknamed Stormi (Storm-Storm, burrito, peanut). Watch, below, and read GQ's full cover story here.
Photography: Paola Kudacki for GQ
Sign Up for the Morning PAPER