Between SoundCloud, Instagram, and Tumblr, it's easy to feel that, as a generation that lives on the internet, we've hit a self-made saturation point; artists are going beyond their home Wi-Fi network, infiltrating hard drives internationally. Mass awareness has almost contributed to an overall loss of awareness — to stick out, you've got to have something new, something for stans to rally around. Simply making home-brewed chill trap beats won't give an internet-made artist a long-term career.
Keshi is one of the artists that's making it big, emerging from the post-"SoundCloud artist" era with his sights set on success.
A unicorn of the self-publishing music industry, Keshi knows a thing or two about getting noticed. He just signed with Island Records and is about to embark on his first tour for his EP,Skeletons, that will span from Brooklyn to San Fransisco, beginning with two sold-out NYC shows starting tonight at Rough Trade and tomorrow, September 3, at Mercury Lounge.
It all started on GarageBand for Keshi. He's undeniably a part of a growing "laptop producer" monolith; he's a part of a wave of artists who write, create, and publish their own content all on their personal computers. It is a distinct form of production that allows artists total autonomy, and as labels have seen, it shouldn't be written off as less-than.
While Keshi's self-reliance required a great amount of discipline, it also granted him the freedom to explore his own style, resisting any single genre. His sound hinges on lo-fi hip-hop, a genre that combines traditional hip-hop and jazz styles. He's joining an all-star roster of artists by participating in the lo-fi discourse currently flanking pop music; he's now part of a peer group consisting of Flying Lotus and Joji with his new project, Skeletons, and has proven to be a key voice in the internet-led genre.
PAPER sat down with Keshi to talk about Skeletons, life as a registered nurse, and, surprisingly, John Mayer.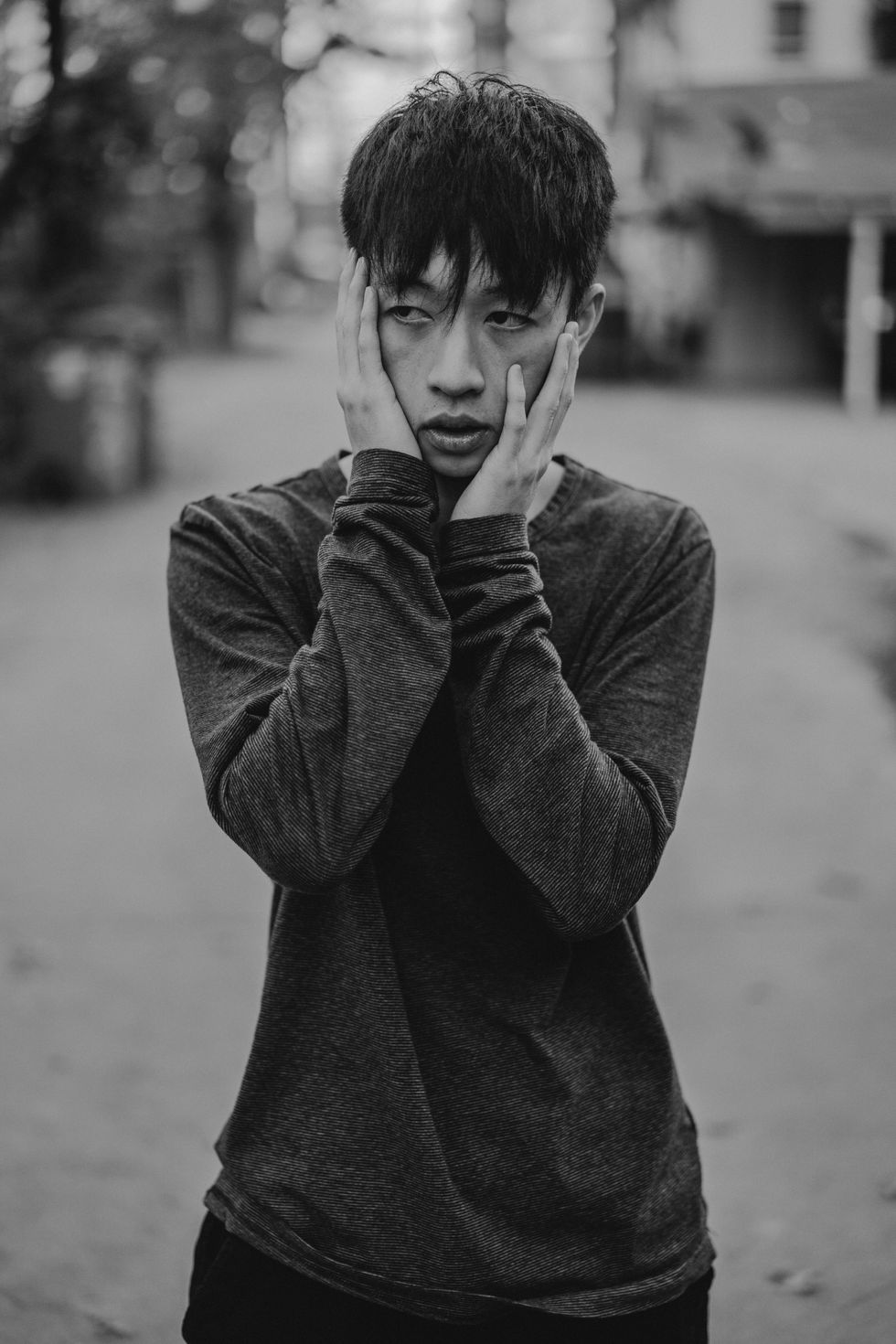 Tell us a little about your Skeletons tour, which I heard you needed to add dates for because the show sold out so quickly.
It's so mind-blowing. There were five cities at the beginning, which all sold out the first day. And that blew my mind, I had no idea they would sell out that fast. I'm just stoked to go out and play, to see the fans face-to-face.
I can imagine. You haven't really done a lot of performing in-person, but you've also done a lot on your own. You're a self-taught "laptop" producer. Can you tell me a little bit about that and what some of the benefits are to being able to self-produce?
I feel like it's something that's become much more commonplace. Like you said, "laptop producer." It's so accessible now, having all the tools within your reach. And it's so powerful. As long as you know what you're doing, you can make a professional-selling track without outside help.
Now that we have SoundCloud, artists have a greater ability to self-publish.

Exactly! I feel like there's a marriage between production and songwriting. To me, they're inseparable. It's been convenient to not have to wait on anybody else.
Not only is it convenient, there's something artistically salient about it that can't be accomplished by huge pop stars.
I totally agree. There's an integrity to it, that you get to maintain exactly what you want to convey. There's no watering down of anything, and that's the most important thing to me. I write, sing, produce, record everything and that way I get to be completely honest in everything that I convey.
Many artists have to make those constant compromises and sacrifices, but it seems that for you, you've been able to forge your own path without having to compromise a ton — it just may have required more labor.
Yeah, labor is an interesting word. I love this. It's always been so much fun to do. I remember I asked my mom when I was little to get me a laptop because GarageBand was on it, and I knew you could make music on GarageBand. So you record a bunch of layers on the microphone and you don't really know what you're doing, but you're producing.
That's funny because I remember doing that with my friends when we were kids, but at that point it was just play.
You put it perfectly. It really is just "play" at the beginning, and then you get a knack for it, and you're able to actually articulate what you want to say. Then you upgrade from GarageBand to Logic, and then the rest is history.
On that note, you just signed with Island Records! Congratulations. What's that been like?
Thank you. Yeah, I did. I think what I'm most excited about is that it's an opportunity for me to do music as a career. I don't know if you know this, but I was a nurse. I went to nursing school at UT Austin as an oncology nurse for two years, and I remember this sense of dread every time I went into work. I felt depressed, because I wasn't doing what I really wanted to be doing. Every day I was at work, I was just dreaming of going home, and I was always thinking, "Man, I should be writing." I think the greatest opportunity in all of this is that I can hole up in my little studio and just create endlessly. That's my job now. I get to create. And it's a dream come true.
I heard that there are some aspects of Skeletons that were inspired by your work as a nurse.
So it's not that the experiences I encountered on the floor influenced any songs that I made. I actually keep it very compartmentalized because I like to keep my life very separate. But the fact that I was doing something that wasn't music, that wasn't my passion, did inspire me to write the song, "Skeletons."It was that dissonance in my own head, "Why aren't I doing something that i'm actually good at?" I remember producing in my room one day, thinking, and not to toot my own horn, like, "Man, I'm good at this! Why am I not doing this, why am I just doing something that I'm faking, and just going through the motions?" So there was a sense of repression. And it really fueled a lot of angst, I guess.
Well, when you're young and you realize that you're good at something, but you're doing something else, it can feel like the worst thing in the entire world.
Exactly. I totally agree.
Why don't we talk a little bit about your genre, which some people have called lo-fi hip-hop.
I don't even really know how to "genre myself." I guess I'll just start at the beginning: I really started to learn how to produce when lo-fi hip-hop had its boom because it breaks the elements of production down very simply, into a boom-bap sort of beat with like, a kick and a snare, and then a sample. Then it's very easy for your brain to pick it apart. Contemporary production is a lot more subtle, but there's so much going on. So I did start by producing lo-fi hip-hop, listening to artists like Joji, New Javez, that sort of thing. And I thought it was so cool because they took these unconventional sounds and put them at the forefront. After a while, I realized that not that many people were singing or writing to it. Everyone who writes lo-fi, they're producers. And I actually had my start in singing when I was very little and I'd do John Mayer covers. I'm a huge John Mayer fan.
Aren't we all.
I know, right! I was originally just a singer-songwriter, like acoustically. I listen to Jason Mraz, Ed Sheeran, and John Mayer, so I've been writing songs way longer than I've been producing music. So it was like a meeting of both worlds: the old, songwriting world and this new production that I've learned from lo-fi. It was like a gateway drug of sorts. So, when things merged together I really started finding the sweet spot in creating my sound. And I really craved, throughout the years, making music. Even just acoustic stuff, because I didn't have the ability to do what I want in Logic quite yet, or in GarageBand quite yet, I was restrained to just singing in my guitar. And I was like, this isn't quite what I'm going for, but this is all I can do, so I'm going to do this. And now, with the Reaper EP, I listen to so many different kinds of music. I love hip-hop, I love R&B, I love pop music, I love rock. The 1975 has this fusion of pop and rock, all these elements, all of my favorite things about music is kind of what The Reaper was. And the Skeletons EP, they both are expanding more into this discovery of my producer self and my songwriter self. Being able to have them meet and shake hands is what it is.
I was about to ask if you think the ability to merge genres would be possible had you not been producing your own work. It seems like the answer is no.
Yeah, actually you just made me realize that after talking about it. I realize now that I don't think I'd be able to create so many different sorts of sounds if I didn't know how to put things together in Logic first. I would have to rely on somebody who specializes in the specific sort of genre, and it would kind of box me in. But I'm really glad that I have different brushes and different colors at my disposal.
That's a really good way to put it. Tell us a little about your new EP, Skeletons, which you produced yourself. What excites you about performing it?
This album was already in the works before I partnered with Island Records. It was basically ready to be released by the time I signed with them. Everything was written and produced by me, as I hope it remains for the most part. I always want to have a hand in how it sounds, because that's one of the most fun parts for me. Skeletons is long, long overdue to be released. It's been sitting on the shelf for a long time. I feel like The Reaper has this longevity to it, and we really wanted to let it breathe. We started to hit a point where the fanbase grew exponentially and once we hit a sweet spot, we decided, you know, it's time to let these babies out.
How do you get past the issue of becoming numb as a self-producer, where there's nobody to stop you?
You walk away for a bit. There's literally no one stopping you from slamming your head against the desk for hours. Usually what will happen is I'll write the song and get the vocals down the day that I write it. I leave those vocals there so I can go back later and remember the melody and everything. With "Skeletons," I was feeling so bad that day that you can just hear this solemn feeling. I remember listening it to it a month later, and I thought to myself, "I don't think I can rerecord these vocals." It just captures how I felt that day so accurately. I wrote that song after I fought with my dad. This whole music industry business started to creep into my life, I was having meetings with record labels and things were just ramping up. I approached my parents about going part-time. It was an argument about appreciating the opportunities that were given to me. From his perspective, he was like, "Anyone would die to have a solid education. Why would you throw it away?" I went upstairs afterwards and I was just feeling pretty bad, so I wrote "Skeletons" and another song that's not out yet but will come out later.
That's exciting!
That one was also written and recorded in the same day.
It happens like that sometimes, where things just pour out and you don't know how to explain it.
It's honest. You don't realize it, but it's honest.
On the note of diverging from the path that you had been on, what would you say to young people who are struggling with the same thing? What has it been like to carve your own path and have to prove that something like this is possible?
That it's possible? Man, that's like my life struggle in summary. If I could say one thing, it's just to fucking do it. If you're good at it, do it. If you like it, do it. I remember when I turned in my resignation letter to the hospital, and I'm saying to my manager, "I'm going to do it, I'm going to do it. I've only got one chance to do it and if I mess up I can always turn back." If you love something, make sure you have a plan B and then chase it, because miracles happen.
What keeps you up at night when thinking about the tour?
To be honest, it's not nerves, it's really pure excitement. I actually performed live quite a bit when I was in high school and college. I would do these gigs and I would play for no one. God, I remember that. And now it's crazy because I had a show in Houston and I sold out. It was crazy. It was a small room at Warehouse Live in Houston, with about 160 cap, and I remember getting out on stage for the first time and I was really scared, like "Man, what if I mess up or something goes wrong?" But then you realize it doesn't really matter because everyone is there to see you, you know? Everyone is there to listen to you and watch you perform, and they paid money to go and watch you. There's really nothing to be afraid of.
Stream Skeletons by Keshi, below, and follow him on Instagram (@keshi).
Sign Up for the Morning PAPER