Jarina De Marco is a woman on a quest to make sure your 2018 and beyond is filled with empowering bops.
We were first treated to "Bilingual" this summer, an upbeat song she wrote as a way to overcoming heartbreak by getting back into the sex and dating pool with all the "fishes." The video made literal her positivity and sense of humor, while contestants pole-vaulted over a giant rendering of an ass.
Now, De Marco is back with the deliriously catchy "Face," the latest in a string of coming singles from her forthcoming EP, slated to be out early next year. The song, again sung in Spanish and English, pulls from her life's colorful experiences and cross-references. De Marco was inspired by vogue culture's vibrant ballroom scene for "Face," particularly the "face" category," and how inclusive it is. "It's a selling point of confidence that doesn't focus on what the rest of you looks like," she tells PAPER. "All faces are welcome at the ball."
De Marco's continued message of inclusion and self-love, handled always with a sense of ease and lightness, is so needed right now. Listen to the PAPER premiere of "Face," below, and read on as De Marco talks about the importance of creating upbeat protest music and what we can expect from her new EP.
PAPER: When you think of one's face, it's the thing we're uniquely identified by. What has your relationship been like with your own face over the years?
Jarina De Marco: Wow, I've never thought about that! Well, I think that out of any part of my body I am happiest with my face (laughs). I sound crazy but I don't think I've ever had a moment where I was like I don't like what I see when I look at my face because I see my mother and I see my father. It is where I express so much emotion constantly. I'm always laughing and smiling but you can't tell that from any of my pictures.
Because you're always mugging!
I'm always mugging (laughs). My father would walk past a mirror and make a mugging face and I do that, too. My face has been a source of confidence for me, I think, when maybe other parts of my body I have struggled with. I try to be gentle with myself there. You know you have to kind of stand strong with what you already naturally stand strong with, and I've always felt good about my face.
How does this tie into your love of the "face" category in voguing and ballroom culture?
It's this selling point of confidence and one's so-called money maker. People can win a whole competition over their face. Sometimes you have to have a poker face to navigate certain situations and other times you can't hide. I think that this is an interesting thing about this song. In the song, I name different kinds of faces, because we all make every face. In a way, it's something that makes us all connected as humans.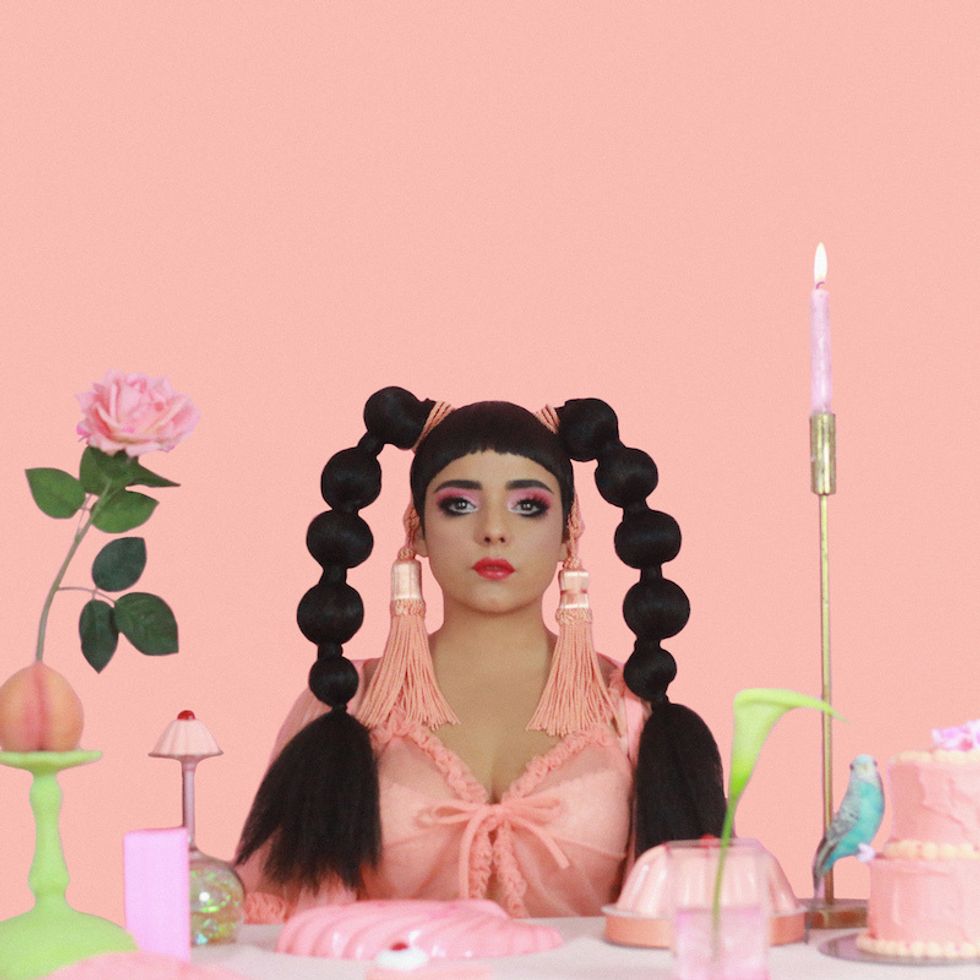 The song pretty much speaks for itself, but I think that it's interesting when you consider this with your other releases, especially songs like "Bilingual." How do these songs fit into a larger message you're getting out with your new music?
At very moment of time, musically, we need to be backing progressive issues and taking care of ourselves as far as lyrics are concerned because of what is happening politically right now. If you think about the Sixties and Seventies, when the Vietnam War was happening, all the musicians gathered and started putting out very important musical works that were supporting resistance. I think that right now all the messages of positivity and also anger are important. That's the body of work I'm trying to gather little by little: Starting with self-empowerment, self-care, and loving ourselves which are things that I'm working through myself.
My EP is coming out next year in February. We have to talk about what's really going on. We have immigrants coming in and people are calling them illegal aliens and putting them in cages, and that shit is fucked up. I have a song coming out next year about that, too. I have another song about colorism within cultures where people are different skin tones. I'm Dominican, and it's an issue in Dominican Republic, all of Latin America, and here. The song addresses how we discriminate based on color within [groups of] people of color. That's a big thing in my native country, and I'm on the privileged side of that spectrum [as a person with lighter skin]. But I refuse to part of that system. So even that song, is also a bop. You don't notice that these songs are protest songs because the lyrics are fun and the production is dope, but these are issues I'm giving voice to.
"We need all the Cardi B's and the M.I.A.s of the world, and we also need someone with a spear, a message, and an ill face beat. Here's where I come in."
That is so smart, and a surefire way to reach a bigger audience.
Yeah, you're giving them a little sugar on top. That's the way it is. Someone who is really good is this, in my opinion, is Bob Marley, because he really was the master of being able to make something danceable and fun while putting a message across that's super important. M.I.A. is a more modern example of this. It's music you can put on in the morning or in the club, and not feel like you're being preached at, while also getting a message. I'm trying to heal myself and my listeners through music, and empower them to have a good time while listening to it. I want to get people thinking about things negatively affecting the world, and to fight them, because we can't always just escape everything. Like yes, we need all the Cardi Bs and we need all the M.I.A.s of the world, and we also need someone with a spear, a message, and an ill face beat. Here's where I come in.
Photography: Elise Mesner
You May Also Like