James Franco, Hollywood's former golden boy, is slowly being cropped out of the industry like a bad ex. After a very clear Oscars snub for his role in The Disaster Artist (despite already winning the Golden Globe), James Franco has now been cut from another inner circle honor — Vanity Fair's award season issue.
The outlet recently released cover of "12 Extraordinary Stars," though there were originally supposed to be 13. After being accused of sexual misconduct by five women, Vanity Fair opted to digitally edit James out from the "Hollywood Portfolio" cover, the publication toldThe Hollywood Reporter.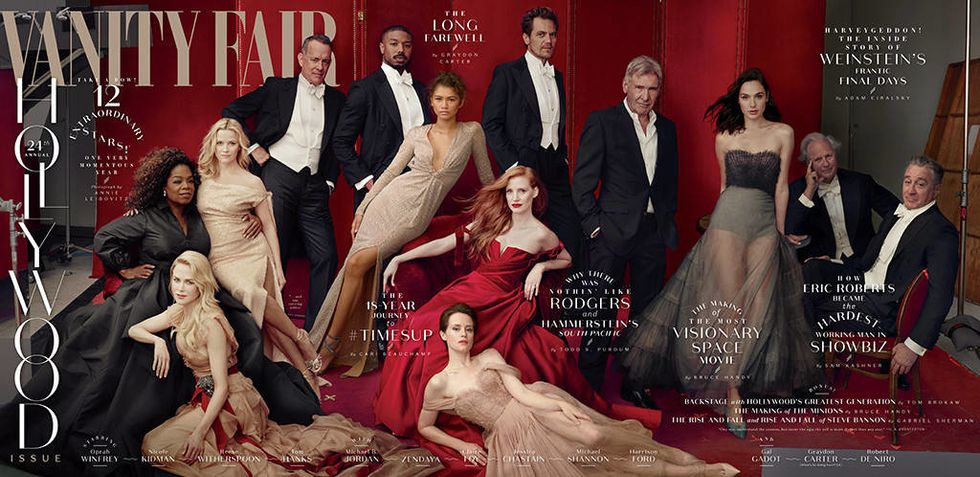 "We made a decision not to include James Franco on the Hollywood cover once we learned of the misconduct allegations against him," a Vanity Fair spokesperson said in a statement.
Related | Twitter Calls Out James Franco's Shady Past in Wake of Time's Up
Franco was intended to appear next to stars such as Oprah, Nicole Kidman, Reese Witherspoon, and Robert De Niro in the Annie Leibovitz-shot cover. While Vanity Fair should certainly be applauded for their editing-for-a-cause, it's also worth mentioning their designer gave Oprah a third hand, and potentially Reese Witherspoon a third leg — but hey, at least their was none of James Franco.
While Franco has yet to address his accusers beyond his recent interview with Stephen Colbert (during which he labeled his allegations "inaccurate"), his sister-in-law Alison Brie was forced to bear the brunt of the tough questions as she walked the SAG Awards red carpet.
"What we've always said is that it remains vital that anyone who feels victimized should and does have the right to speak out and come forward," the GLOW actress told Guiliana Rancic. "I obviously support my family and not everything that's been reported is fully accurate, so I think we're waiting to get all the information. But, of course, now is a time for listening and that's what we're all trying to do."
Listening, and editing.
Image via Getty/Vanity Fair