Life is lunch. Life is a stroll through the neighborhood. Life is resting on a selfie stick pointed 60 degrees south to a stunning black 30-inch wig. At least, this is life according to one Jae Gottlieb, an uncannily entertaining TikTok livestreamer who records her life, eight hours a day, for an audience of thousands of observers.
What they adore about her is probably perplexing to those outside the sister circle. What they are watching is mundane, after all, but, somehow her inane activities are quietly thrilling to watch. Her strolls through SoHo, her lunches at The Smith, her giggling banter with friends and fans are all made tantalizing by Gottlieb's ever-confident aura. She has a supernatural way of lulling you into the vibe, as she punctuates remarks with breathy "babes" and lilts words in a vaguely pan-European singsong. It's the idiosyncratic voice of someone who's already famous. But then again, many people put on such a voice, one that veers towards iconography. How is it that Gottlieb then, who has no large career in fashion or culture, makes people feel so compelled to view? She has a theory. ​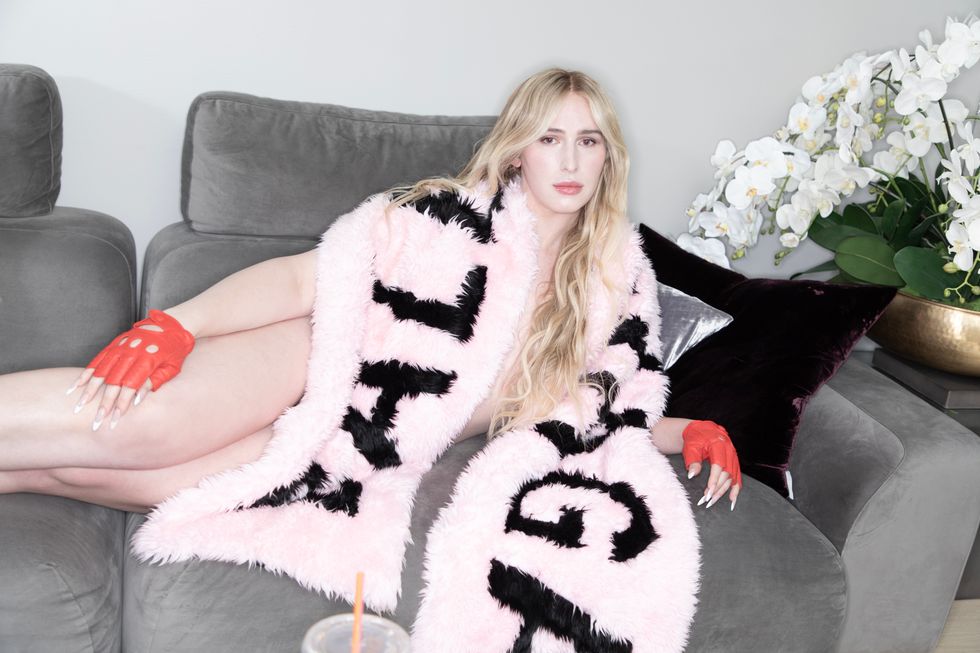 Scarf: Balenciaga via Marty Mc'Fresh, Gloves: Talent's own
"People think it's interesting seeing a trans person literally do anything," she says.
"I do mundane tasks, but they like watching a trans person just because it's different." Cisgender voyeurism, or maybe: public service. "It's also relatable to people who want to transition, but haven't gotten there yet." Either way, Gottlieb doesn't mind. "I always felt like I wanted to be a girl on camera," she says, flashing her icy blues. "I'm not a narcissist. Maybe I have narcissistic tendencies, sure, but anyone who's on fucking camera loves themselves." Maybe it's that self-love that beckons the masses. What would it feel like to move how she moves? What would it feel like to live life as Jae Gottlieb?
I first saw Gottlieb on TikTok a year ago. It was a clip, a byproduct of her 8-hour streams that highlighted the peak of her days. I was immediately struck by how she seemed already famous, even though I had no idea who she was. Gottlieb's first viral video was of a clip of her responding to a homeless man asking for money. "I don't have any cash on me, babe," her voice drawls. "You're asking me for two dollars? Babe, your hair looks expensive!" She laughs in black fur ear muffs. The interaction then somehow evolves into a fraught, flirtatious banter. "You think I'm pretty?" she asks. To which the man responds: "You're a bad bitch."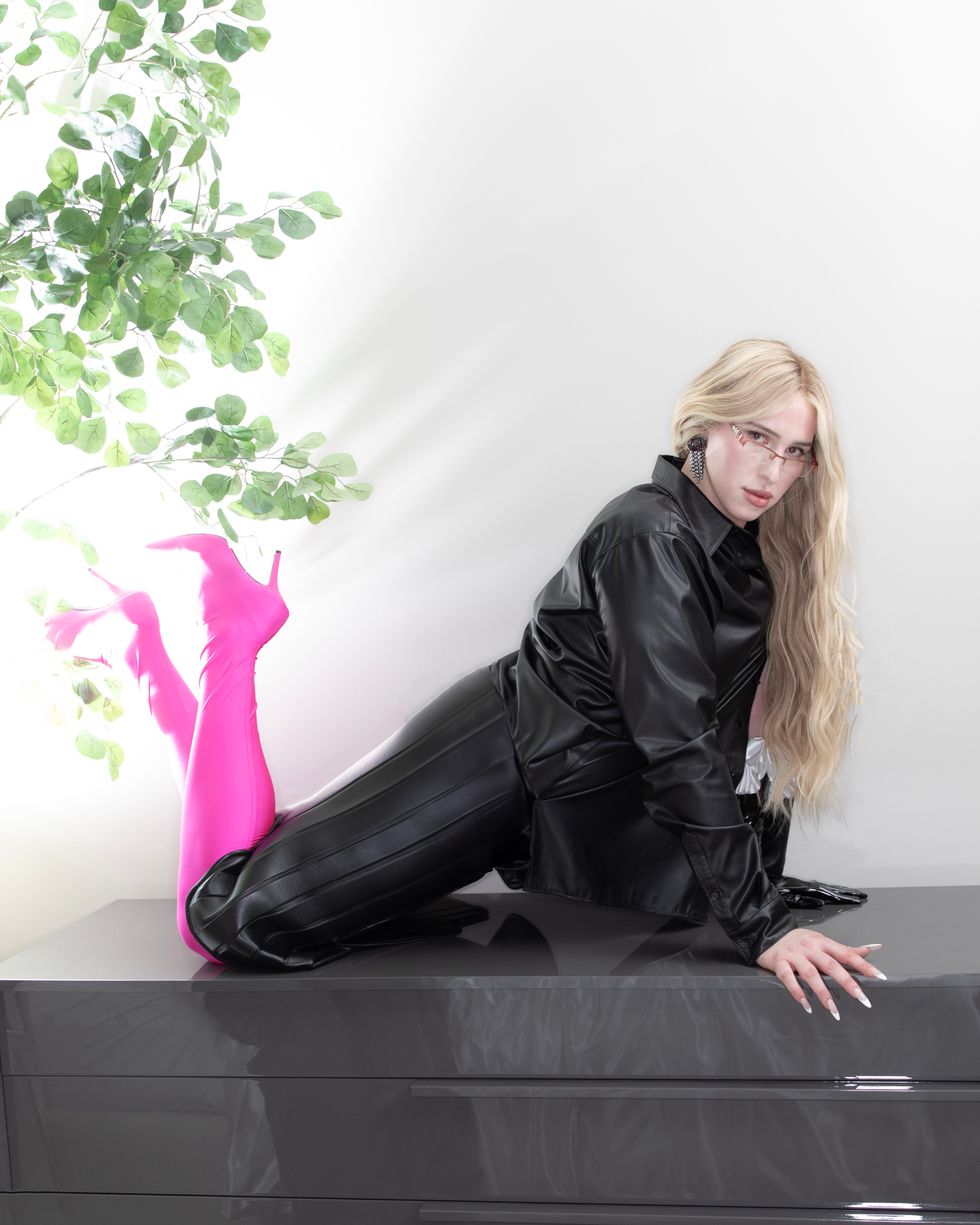 Shoes and skirt: Balenciaga, Shirt: Luu Dan, Earrings: Useless Objects
The video went wildly viral, with millions of views and more than 400K likes. But it also set off a necessary discourse on Gottlieb's questionable response. Obviously, an appearance of comfort does not negate someone's need for resources or shelter. But the much-discussed moment, and the fact of her filmed life, holds her naturally accountable, she says. "There were some people who were like, 'Yo, that's really fucked up. Obviously, [homeless people] can have nice hair or nice things,'" she recalls. "I've definitely changed for the better from the live streams. It keeps me accountable."
Recording your days for consistent feedback is a unique strategy for self-improvement, but any moments of potential social mishap are likely softened by her charmed and floaty affect. "I feel like at this point, people know: no, that's just Jae. She's being silly. Because I am a good person. And I know people can see that."
Today, hundreds to thousands tune in every day to watch Gottlieb putter around downtown. And they support her financially, too. Her full-time job is now to live her life and film every moment. Through TikTok gifts from viewers, which translate into real dollars, and TikTok
paid subscribers
, Gottlieb makes what she coyly calls "good money." But then, too, it's money, and the appearance of having much of it, which gives her that aspirational, entertaining sensibility.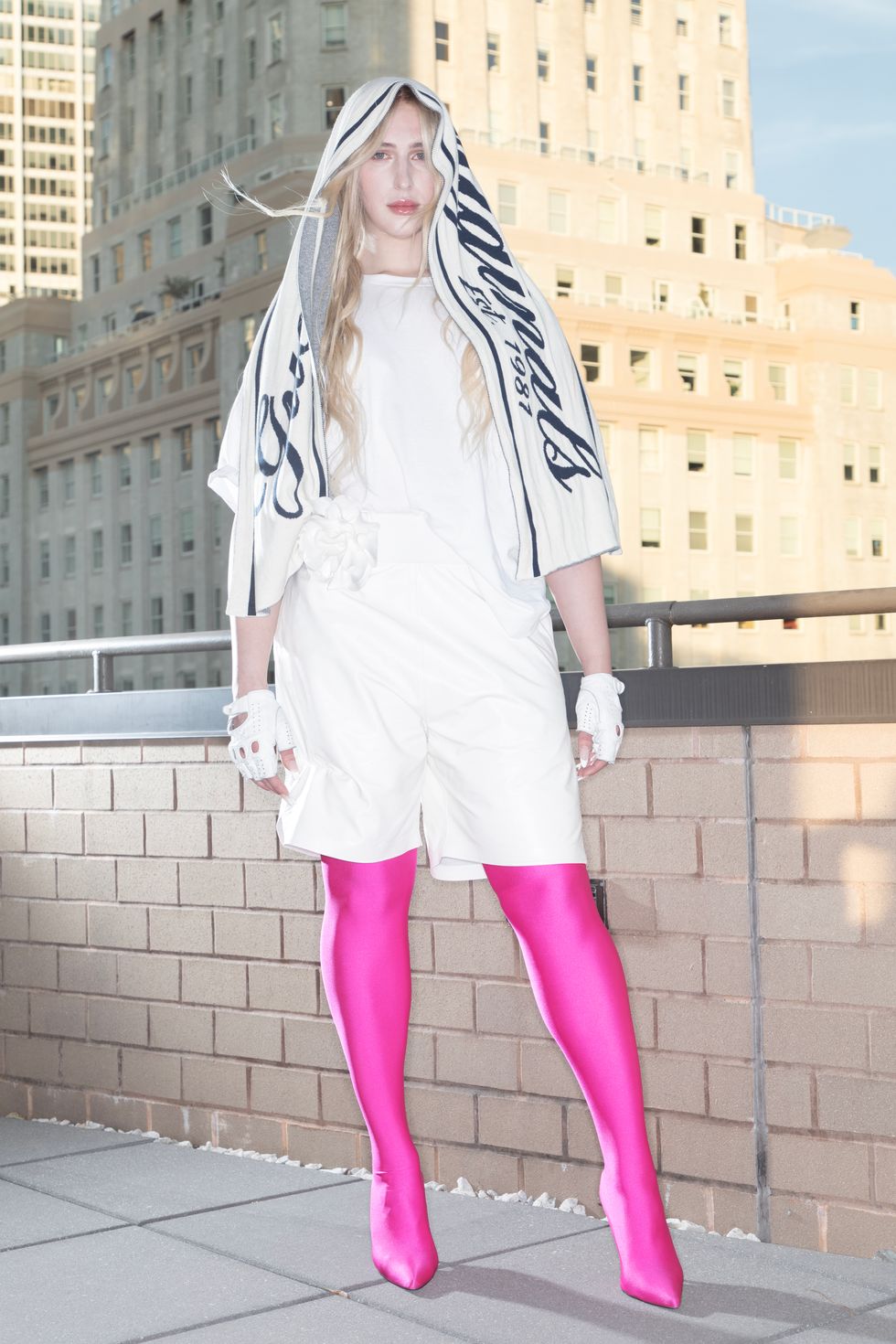 Scarf: Guess, Shirt and gloves: Talent's own, Shorts: New Bottega, Shoes: Balenciaga
Gottlieb's apartment was already opulent when she moved in, but she remodeled it further to fit her tastes. She added a sumptuous tub, picked the best marble for her countertops, but she was sure to lay down plain laminate floors. When I came over, she served me soda water out of crystal glasses. I appreciated those less haute details as somewhat relatable, but still my eye couldn't help but wander towards the more aspirational elements: the Tiffany and Baccarat glassware, the mirrored bar and electric fireplace. Her guest bathroom, a pitch black void of dark, reflective marble. Her sleek bedroom, basked in sunlight, casting a golden glow on sumptuous white sheets that sit under a sprawling plastic tree. Every room and crevice has a detail I found surprising, overwhelming, fierce.
Her parents helped buy the apartment. "That's not like, normal," she offers. "But it was my normal." The luxury and glamor, the ease with which she moves, that's a big draw for her fans and voyeurs. "People think I'm a billionaire because they see the nice apartment, but I'm really not. The lifestyle people are watching is aspirational.It's more fake it 'til you make it." The apartment, though, is real.
"I have to help pay my fucking bills and stuff," she adds. "I don't have disposable income. I don't have unlimited funds, but I try to give off that vibe because that's what people like to see. That is the life I want. That is the life anyone wants."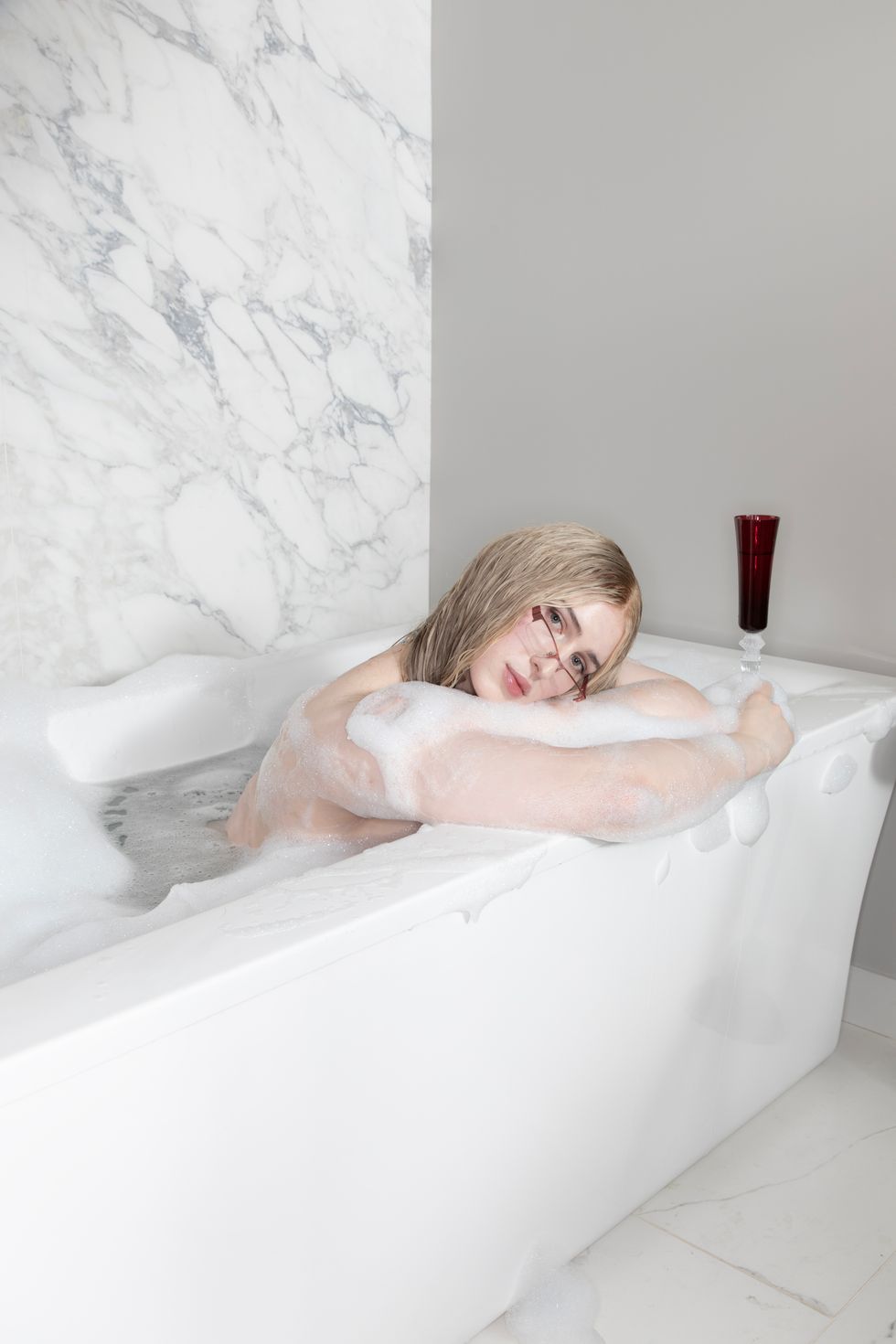 Wealth, and the appearance of it, is key to her performance and mystique. It's also an incentive for her to perform her brand of luxury. People love a rich girl. She is a wealthy girl. She wants to be a wealthier girl, though, so to manifest that, she acts like the richest girl alive.
There are, of course, costs to all of this. Emotionally. Physically, potentially. She's been harassed and threatened by violent, transphobic trolls. "[One day], I woke up to my inbox and I had pictures of people being buried," she remembers. This anonymous troll then sent her address and said that he was going to come "to pour battery acid" on her. This was all made worse by the fact that she reveals where she is at almost all times due to the nature of her content.
"I'd be going to nail salons and the fucker is calling every nail salon in the neighborhood that I'm in, saying 'Is Jae there? I'm looking for Jae.' Literally scary.'" It got so bad that she had to go to the police and then the FBI. They were of no help. It was her dedicated viewers in the end who found the location of the troll, but it's a long road before she gets any justice. "My TikTok viewers did more for me than the police. Miss Maggie at the FBI, where are you? She tells me she's diligently working on the case. I'm still patiently waiting."
Despite the threats and challenges, Gottlieb says she will keep filming. "I'm really still in the beginning of the livestreams," she tells me. "It's only been like a year and a half." And she's built a community. They've seen her grow up, watched her transition.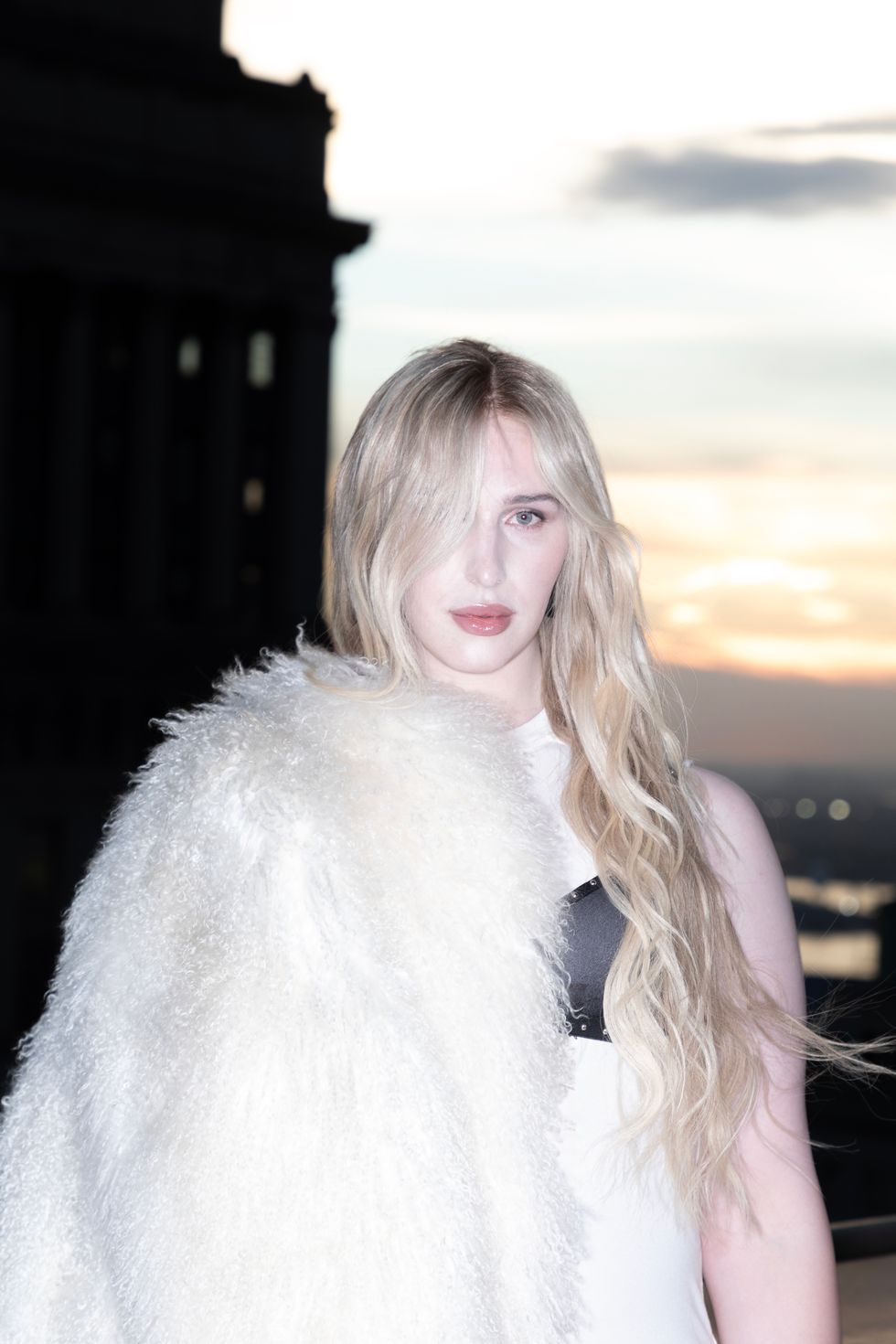 Dress: Rick Owens, Jacket: Talent's own
"I started taking estrogen maybe a year and a half ago, but I've only been on testosterone blockers for like two months." To be so public, to record the minutiae of this deeply personal transformation, is an act of sincere vulnerability. And Gottlieb is proud of what she's built. I mean look at it: there's her community of fans, her nascent career, magazine features (hello), but all of that almost pales in comparison to one special fan she's earned.
"Lana Del Rey's team contacted me and they had me eat a cake on camera to celebrate the 'Candy Necklace' music video," she beams. "And three days ago, she fucking DM'ed me." Gottlieb was in one of TikToker Ted Zhar's videos — he's the guy who asks people on the street what they do for a living. She responded to him in classic Jae fashion. "I live for the camera. Look at my face! The length of my hair. The shape of my body." Showing true knowledge, Lana DM'ed her those very same words.
Gottlieb also received a massive poster of the album art for Did You Know There's a Tunnel Under Ocean Boulevard? It looms large in her sunny living room, Lana's forlorn eyes watching over us as we speak. And even as we move into her kitchen, or her bedroom, where she shows me her newly remodeled bathroom, I feel Lana's gaze linger. Big Brother. No, Big Sister. She's always watching. But it feels kind of nice to be watched sometimes.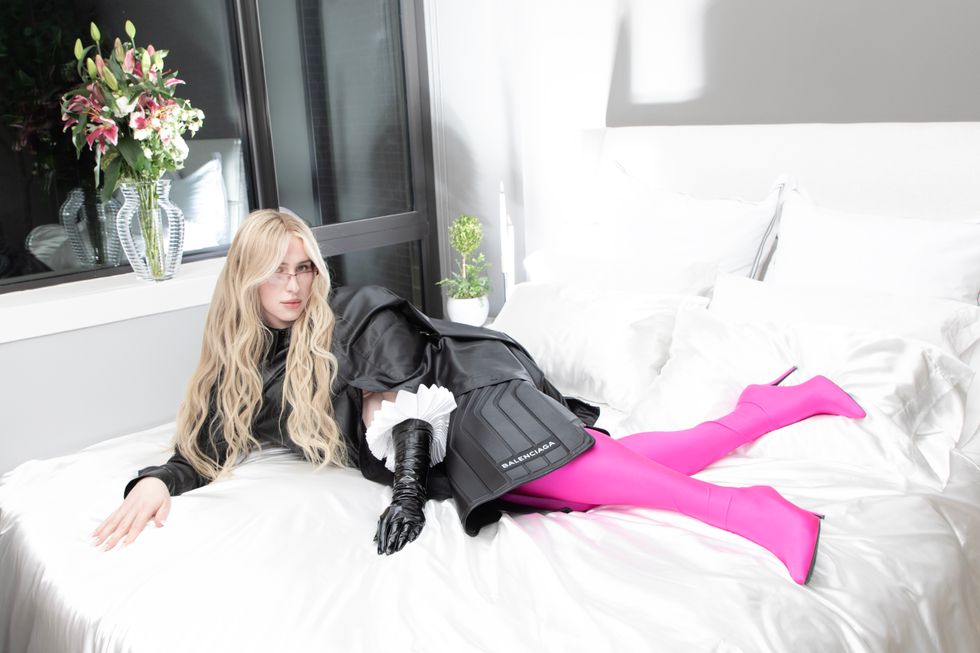 Shoes and skirt: Balenciaga, Shirt: Luu Dan
Related Articles Around the Web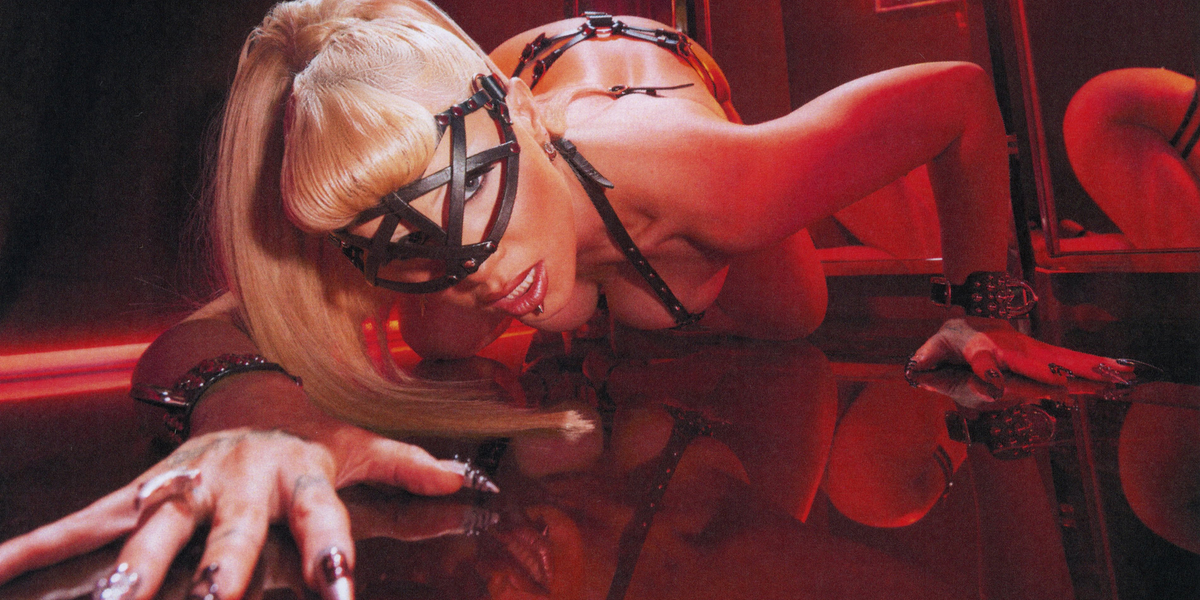 Music
Story by Ivan Guzman / Photgraphy by Breakfast For Dinner / Styling by Malcolm Baron Smith
Story by Ivan Guzman / Photgraphy by Breakfast For Dinner / Styling by Malcolm Baron Smith
10 November