Sadaf sits completely still in her new music video for "History of Heat," although the song itself is everything but calm. A mix of staccato drum beats, uneasy violin and the New York-based musician's distant vocals, her track builds into a manic finale with screams and heightened distortion. As a self-declared "maximalist," any type of "restraint" is difficult for Sadaf, but she decided a seated performance would be a beautiful challenge here.
Lifted off her latest album of the same name, "History of Heat" was filmed in collaboration with Guille Santos, a Brazilian director who now resides in Hollywood. The visual was shot in both Los Angeles and Valencia, Spain, and features spliced together clips of flamenco dancers to "weave a sensual narrative around dance and storytelling," according to Santos. They were inspired by televised live performances from the '70s and '80s, which is felt in the grainy, disorienting cuts featured throughout.
Previously speaking to PAPER, Sadaf described History of Heat as "abstract and open-ended in ways that allow for personal reflection and multiple readings." Her noise music specifically on this project traces a relationship by mixing real life with "imaginary or exaggerated retellings and inventions." Its 12 songs, including the title track, are intentionally "confusing" and "complex," much like love. By reconciling with her own self, Sadaf ultimately hopes the album "encourages a transformative introspection" in her listeners, as well.
Below, Guille Santos interviews Sadaf about "History of Heat" and her tendency to lean towards "dizzying decadence" — a perfect descriptor for the exhilarating, indulgent film they created together.
Guille Santos: After working together on our short film, "Ditectrice," which was a much longer shooting process, as well as now on "History of Heat," what was your experience working with a mostly Brazilian crew. Did you learn any new words?
Sadaf: [Laughs] Yes, it's true, even the American crew members ended up secretly knowing Portuguese. It was a great experience. I loved being on set and now I really want to visit Brazil. For directing purposes, I'm super happy everyone spoke English, otherwise things would have gotten really difficult. I sadly only learned one word and that is Fogo (fire). I remember wanting to name my future dog Fogo. I still think it's a great idea.
Guille Santos: One of my favorite lines from your last album is "Ok, I wrote a film and now I want to burn it." I think your music has a lot of cinematic aspects. How do you relate your album, History of Heat, to film?

Sadaf: I have always been obsessed with film more than any other medium because of its dynamic quality. It's also such a young art form and for this reason, it has so much potential. My album, Shell, was all about a failed film script and the figurative film was burnt. There are no music videos for that album because I wanted the cinematic aspect to be solely communicated through sound. For History of Heat, however, I always saw the album with a film accompaniment. I wanted to pair the songs with images as a way to strengthen the narrative. The video for [title track] "History of Heat" is a teaser for the longer project that we directed together, "Ditectrice," which was shot entirely on 16mm and super 8 film. In "Ditectrice," I think we both wanted to marry sound and image outside of the conventions and constraints of a typical music video, and we see hints of that in "History of Heat."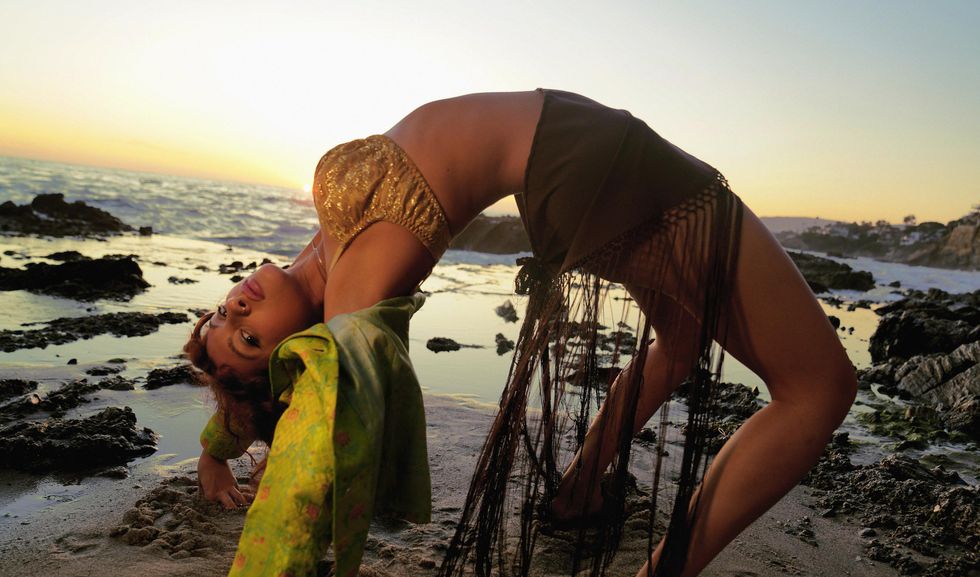 Guille Santos: I see you as a glamorous film noir Detective Columbo. How does this character speak to your public persona?
Sadaf: I'm a big fan of Columbo and Peter Falk, and I also love Agatha Christie's Hercule Poirot. I really relate to these characters somehow. The song "Ditectrice" is a word combination of "detective" and "director." I see it as a person who directs the truth.
Detectives in general have a huge appeal for me. Maybe it comes from an obsessive need to know and to uncover what is hidden. I don't like to keep secrets and I like a confessional quality in others, especially in children. Most children can't keep secrets, unless they are emulating adults. These kinds of stories are very satisfying since in real life a lot of times the truth of a matter is convoluted, complex and difficult to ascertain. I think I am definitely a better detective in my work than in my life.
Guille Santos: We both love TV performances of musicians from the '70s, which were common in Brazil and Iran where the performer is very static and usually sitting in front of a live audience. For example, Caetano Veloso or Googoosh. This was something that really inspired both of us to create the video for "History of Heat." What about this aesthetic appeals to you?
Sadaf: There is something about the composure of a sitting performance that can be very beautiful. I think it's an interesting contrast to what is popular today, which is overproduced, over choreographed with generally too much going on. For this project I wanted to go towards something a bit simpler since the music itself is everything but that. Of course, as a maximalist this kind of restraint is very difficult for me. I really want to do everything at the same time and I'm drawn to a dizzying decadence. In my daily life what I enjoy watching the most are these old classic romantic performances and I think that together we brought a bit of that feeling into this video. At the end through the editing, we could not help but bring back a bit of that maximalist indulgence.

Guille Santos: We traveled to Spain together in order to gather the flamenco footage. I think that your music is somehow connected to Flamenco, maybe not directly but through the intensity of feeling and your way to deal with rhythm. What is your connection to the artform?
Sadaf: I have always loved flamenco. My father played it a lot when I was young. I am very flattered for the comparison because the way that flamenco deals with rhythm and the ways that the musicians create it organically is truly inspiring. The sound of feet, of hands, of voices and castanets is a simple combination that is able to create such a complex structure. Recently, I have been revisiting Carmen Amaya, Antonio Gades in Carlos Saura films and Tony Gatlif's film Vengo. I am always touched by the incantations and the gut feelings they produce. I think anything that is emotionally authentic has this effect regardless of style or training. Another part of flamenco that I relate to is the room it leaves for improvisation and verbal ad libbing. If you have a chance to find subtitled performances, it is really interesting to see the voices sing about super mundane things like putting the cat outside to very serious laments like mourning the loss of a loved one. There is no hierarchy of subjects, and I agree with and appreciate that principle.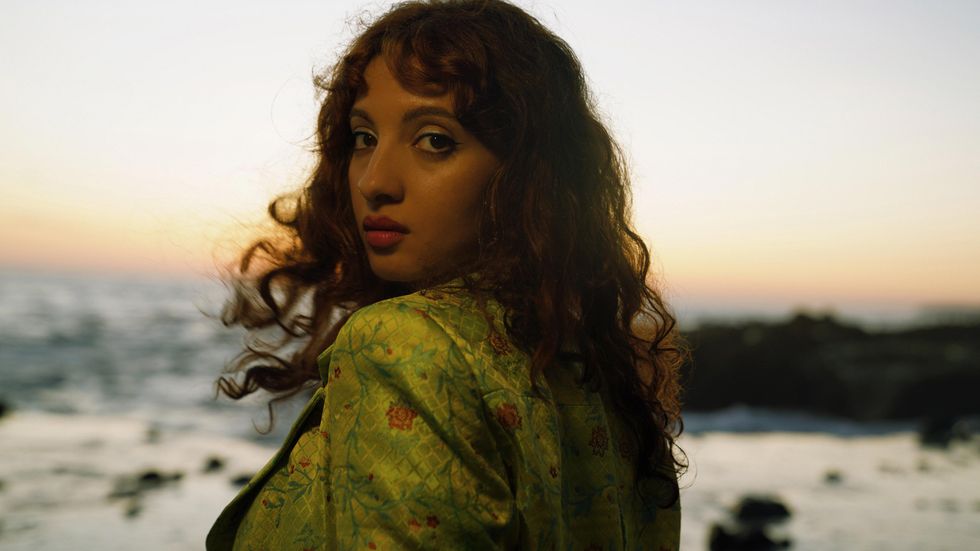 Guille Santos: We stayed at the Tablao until 5 AM where our entire crew ended up on the dance floor. How was this communal experience to you?
Sadaf: It was wonderful, so warm and welcoming. The energy in the room is something that you have to experience in person. It is such a celebration and in our experience, the role of the audience and the performers was very blurred. There was a spirit of inclusion and sharing and bringing even the most reserved folks out of their shell. After the meal, people got up from their seats and the performers moved onto the floor. I was a bit too timid in retrospect, and I wish I had paid more attention during the few flamenco classes I have taken. I am determined to come back with some new skills for next time!
Guille Santos: We could talk about intense love stories in films for hours. The kind of movies that I really love are thrillers with strong female leads in pursuit of an ideal. Could you see yourself as playing in the role of say... Beatrice Dalle in Betty Blue?
Sadaf: I watched it a long time ago, but I really liked it. Of course, we have to keep in mind that it is from a very specific time period that has its own baggage. I think I would have difficulty being fully directed by someone else. I am too much of a control freak when it comes to film. I can do a co-direction as we did, but I would have difficulty putting myself entirely in the hands of a director. I really don't see myself as an actress for that reason. I would rather write and direct the films I would star in.
Stream Sadaf's History of Heat, below.
From Your Site Articles
Related Articles Around the Web