Since taking the reins at Gucci, creative director Alessandro Michele has found several new and interesting ways to reinterpret the brand's signature monogram print. The latest comes in the form of rainbow interlocking GG logos with the addition of tiny stars grouped together.
Seen on everything from luggage to ready-to-wear and accessories, the pieces from Gucci's new GG Psychedelic collection are a throwback to the glamorous heyday of the '70s disco scene. The decade is often a reference point for Michele's runway collections as well, with vintage-inspired prints and bohemian blouses among his usual go-to's.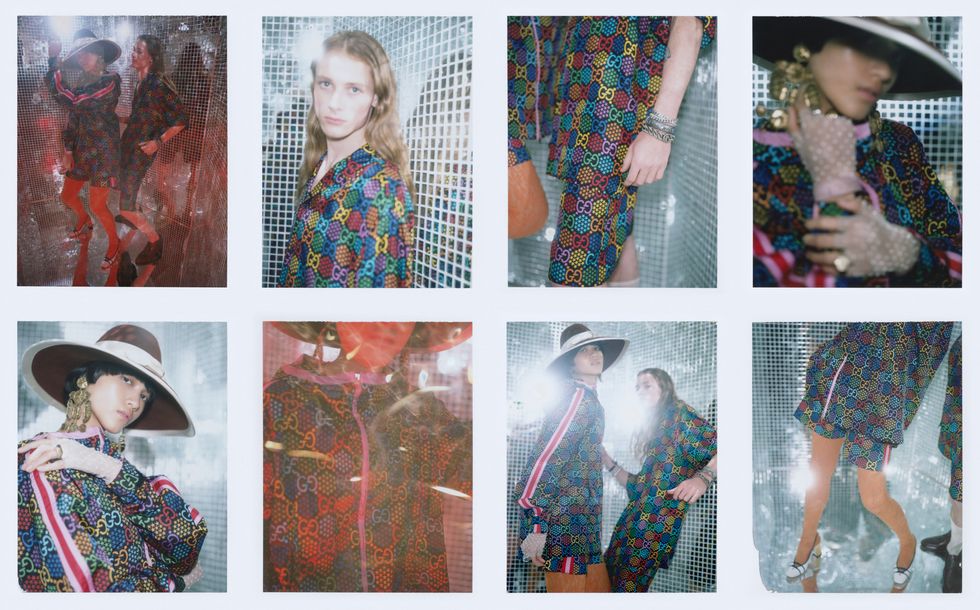 The accompanying campaign images, shot by Jordan Hemingway at the PRYZM nightclub in London, are laid out in a polaroid style and depict a heady night out reminiscent of scenes from Studio 54 — including everything from dance floors to mirror balls.
Gucci will promote the collection at select stores worldwide through window displays and digital channels. It will also be available in the brand's "Gucci Pin" pop-ups after past themes centering around the Year of the Rat and gifting season. See below for a few of the pieces from the collection as well as the dreamy video tied to the campaign.
"TAKE A CHANCE" Bizzy & Co.
(A. Martinelli / A. Carrasco)
© 1982 Warner Chappell Music Italiana S.r.l. / Universal Music Italia S.r.l.
Courtesy of Warner Chappell Music Italiana S.r.l.
℗ 1982 D.J'S GANG S.r.l.
Creative Direction and styling: Alessandro Michele
Art Direction: Christopher Simmonds
Location: Pryzm, London
Photography and Directing: Jordan Hemingway
Hair Styling: Alex Brownsell
Makeup: Thomas De Kluyver