Exactly five years have passed since the world caught a first glimpse at what the new Gucci would look like under then-new (and unknown) creative director Alessandro Michele. Famously put together in a matter of days, the collection shook the fashion landscape to its core, ushering in a new era of gender fluidity and romanticism for menswear.
So for his Fall 2020 men's collection in Milan today, Michele boiled down his vision for Gucci to its essence. He wanted to capture the purity of childhood, back when carefree days weren't tainted by societal norms, particularly those relating to masculine ideals.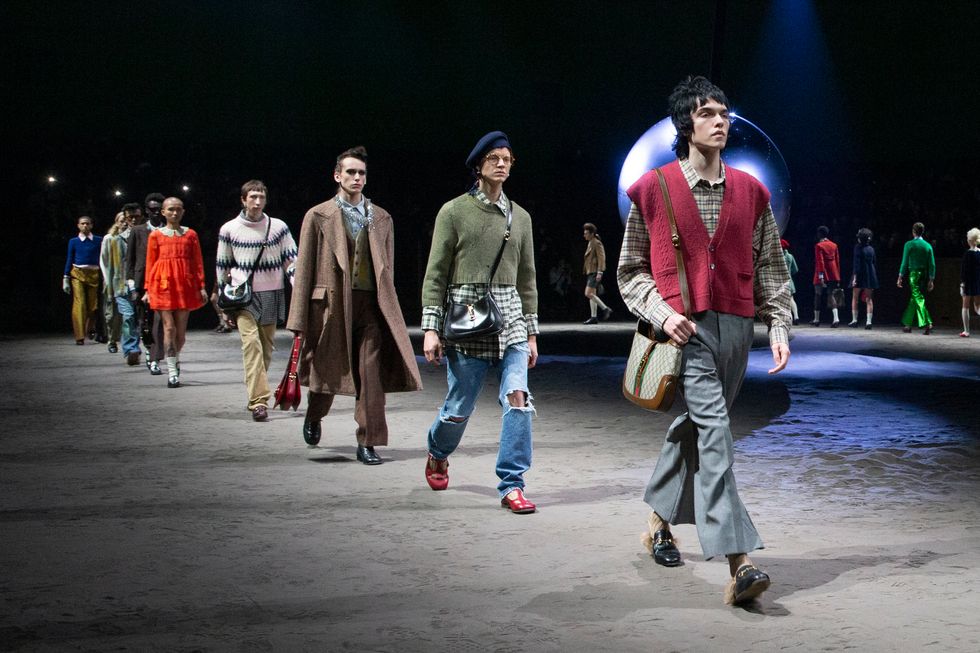 A series of objects drove this point home, including a giant pendulum swaying in the middle of the set that represented a journey back in time. The clothes also relayed this message, such as jeans with grass stains that evoked child's play, knickerbockers, and pulled-up knee socks that conjured images of early 20th century school boys.
The childhood theme became quite prevalent before the first model even walked out. Invitations to the show were written with the apparent handwriting of a five-year-old, inviting guests to attend their 5th birthday party.
"In a patriarchal society, masculine gender identity is often moulded by violently toxic stereotypes," read the show notes. "A dominant, winning, oppressive masculinity model is imposed on babies at birth. Attitudes, languages and actions end up progressively conforming to a macho virility ideal that removes vulnerability and dependence. Any possible reference to femininity is aggressively banned, as it is considered a threat against the complete affirmation of a masculine prototype that allows no divergencies."
As such, the collection was imbued with an air of liberation, self-expression and tenderness that's been the hallmark of Michele's Gucci, but this time with more innocent and naive quality. Shrunken sweaters, animal motifs, Peter Pan collars, Mary Jane shoes, and quilting details all achieved his shunning of masculine stereotypes.
"Toxic masculinity, in fact, nourishes abuse, violence and sexism," the show notes continued. "And not only that. It condemns men themselves to conform to an imposed phallocratic virility in order to be socially accepted. In other words, toxic masculinity produces oppressors and victims at the same time."