Bushwick, Brooklyn collective FagMass, created by artists Rick Marcello and Cha'ves Jamall, is continuing its mission to empower voices of the systemically oppressed with the launch of their inaugural FagFest this Sunday, September 23 at The Broken Shaker, the rooftop bar of NYC's Freehand Hotel.
FagFest, which is being billed as the first in a "series of pop installations," will feature performances by premiere voices from the New York's queer performance art and music scenes, including Michael Blume, ELSZ, Ms. White, and FagMass co-founder, Jamall.
But what is FagFest, specifically? Of course, it is an unapologetic, no-holds-barred celebration of what makes queer people, especially those most marginalized in the community, radiant and valuable. As such, FagMass produced its first initiative toward this end last year, with PINKS, pt. 1, an event benefiting the TransWomen of Color Collective, a Washington D.C. national organization led by activist Lourdes Ashley Hunter.
Fittingly, all proceeds for this year's FagFest event will benefit The Audre Lorde Project, the organization focused on issues affecting LGBTQ people of color. The event will go from 6 to 9 pm, and tickets are $10 advance and at the door. Secure those, here, and learn more about the event, here.
Below, find a video created by Jamall and Marcello on FagMass and its ongoing initiatives of uplift LGBTQ communities and people of color, and read a brief interview in which the creators share the importance of creating ever more inclusive spaces, and controlling (and redefining) queer narratives.
What is FagMass?
Marcello: FagMass is a collective, an initiative, that Cha'ves and I developed, because we wanted to create things together and for there to be an umbrella for that — something that can make us feel good about sharing our ideas and something that makes us feel powerful. There's really no limit to what it can be. It can be everything.
Jamall:Some of the elementary ideas of the first show we did, PINKS, were that we wanted to give a fantasy, we wanted to live in a fantasy for ourselves. And we wanted to create destinations out of our fantasy. It's about giving ourselves space to live and breathe.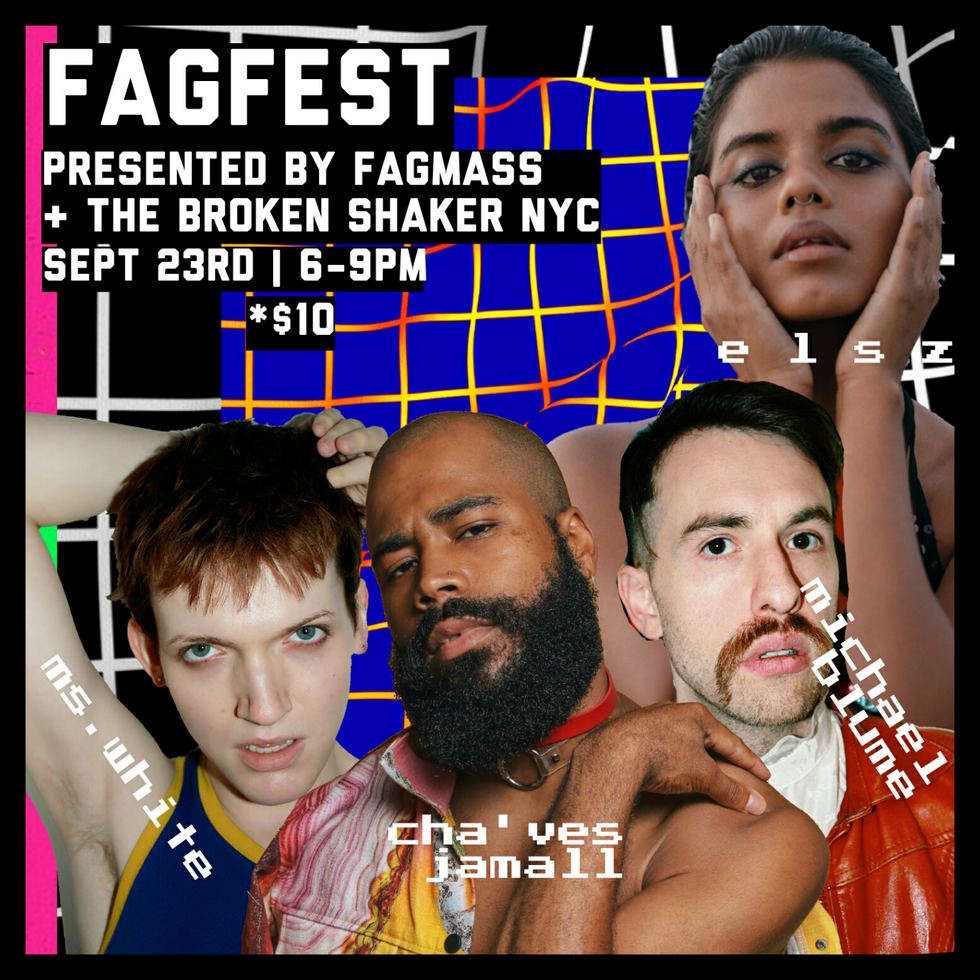 Marcello: Right, I'm so critical of myself and my ideas. I talk down to my own thoughts and so this is kind of the first step — saying to that voice, no that's not bullshit, or no you won't not do that, or people will come, or it doesn't matter if they don't. It's saying to yourself you matter too and your ideas have value and who cares even if anyone likes it, including the community.
"A lot of people's narratives are being told by straight white men. That's just the truth."

Jamall: Right, and it's about queerness versus mainstream media and mainstream content consumption. Listen, some things are not going to be liked by everyone. Some things are going to be challenging discussions to have that some people don't appreciate and some people are thankful that it's being said. That's just the reality of being varied humans around this planet. But give yourself permission to be like, agree or disagree, but we're going to talk about it because it exists. That's something that's really important to the shows and to our work in general as we continue to grow the product, because it is a product in that way too, and in that machine, and it does consider a global narrative — we're not saying that the machine doesn't exist or that it's fully without redeemable qualities. But we are saying that it lacks a sense of substance and heart and ownership. A lot of people's narratives are being told by straight white men. That's just the truth.
Photography: Brian Vu