Las Vegas is pivoting on number of fronts these days, from billion-dollar renovations to booking the hottest young artists for residencies. Their latest angle: fine art, but make it Vegas.
Damien Hirst, notable mummifier of sharks and British conceptual artist has designed and curated a penthouse at The Palms Casino Resort called "The Empathy Suite." It starts at $200,000 a month for a minimum two-night stay.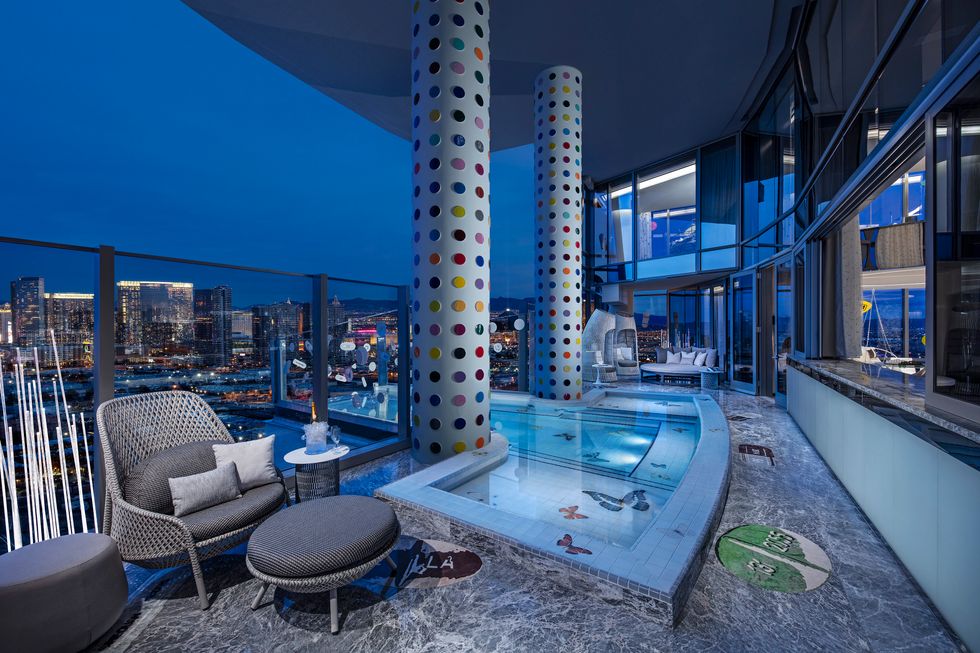 For your $200,000, you can eat, sleep, party, have an orgy, sacrifice animals — whatever you want for that kind of cash — in the 9,000 square foot, two-floor private mansion-museum. In collaboration with design firm Bentel & Bentel, Hirst curated the villa's two master bedrooms, home theatre (seating for 52), cantilevered sculptural jacuzzi with a panoramic view of the Strip, gym, spa, "salt relaxation room," and custom furniture, wallpaper and textiles.
The suite also includes 24-hour butler service, chauffeured car service and all-access to the Palm's KAOS nightclub (where Cardi B will shortly begin a residency), PearlConcert Theater and recording studio. According to Vogue, the suite is the first of its kind and the most expensive hotel room in the world.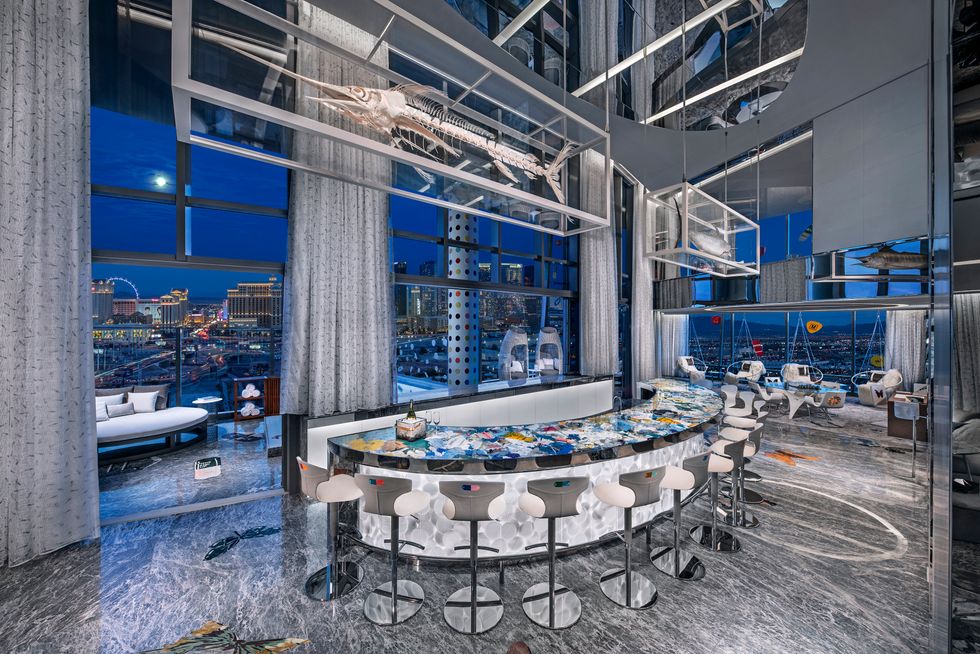 Six of Hirst's pieces are displayed throughout the penthouse: Winner/Loser (2018), two bull sharks suspended in formaldehyde in a white tank set into the wall of the suite, Casino Royal (2018) a 10-panel collection of his butterfly motifs on monochrome canvases, a framed medicine cabinet called Vegas (2018), a diamond-filled medicine cabinet The Winner Takes It All (2018), and an actually pill-filled cabinet Money (2018).
The effect is a little terrifying, but also absurdly luxurious. The "Empathy Suite" is a part of the Palm's 690 million renovation. This is a hotel that once, as ArtNews points out, hosted the 12th season of MTV's The Real World, if that tells you anything about where Vegas is heading.
Take a look inside:
Photos courtesy of Palms Casino Resort