Warning: If you don't watch the greatest show on television, The Real Housewives of New York City, which cultural critic and dissident feminist Camille Paglia adores, you might not appreciate this article or understand the references. Also, you're really missing out on a work of art.
---
The Real Housewives of New York City superstar Luann de Lesseps meant what she said for her Season 7 tagline: "One should know, never count out the Countess." In other words, the Countess brought her wildly successful cabaret show, #CountessAndFriends, to The Borgata's 1,000-seat Music Box Theater this weekend in Atlantic City. Selling out her biggest show yet is almost as impressive as not drinking when in Atlantic City. Well, she better work! Because Luann, who in July completed her second stint in rehab, told the adoring audience that she's 40 days sober. This provoked crazily enthusiastic roaring from the crowd — an apt reaction that repeated itself throughout the show, especially during a Q&A with the audience when Lu mentioned her frenemy co-star Carole Radziwill's recently-announced departure (AKA firing, according to the always-real Bethenny Frankel) from the show.
Rocky-road-to-recovery reminder: Lu first checked into rehab after an inebriated, now infamous Christmas Eve arrest in Palm Beach, Florida. (Google it.) Though her most recent rehab stint resulted in her, gasp, missing the RHONY reunion, (which resulted in me and fellow RHONY obsessives losing our goddamn minds), she more than made up for this at the cabaret. In fact, right after the audience quieted down after the royal-of-the-hour's grand entrance, she cheekily addressed that wild, life-altering night: "I'm here, I finally made it! After being briefly detained. I had a list of songs I wanted to sing tonight, but I had to reconsider most of them... Like 'Jailhouse Rock.'" She iconically continued: "Yeah, 'I Fought the Law,' but the law won. Crazy for thinking I could slip out of those handcuffs. I mean, what the hell was I thinking? There's no handles inside the cop car!" (This followed with the band seamlessly breaking out into Amy Winehouse's "Rehab.")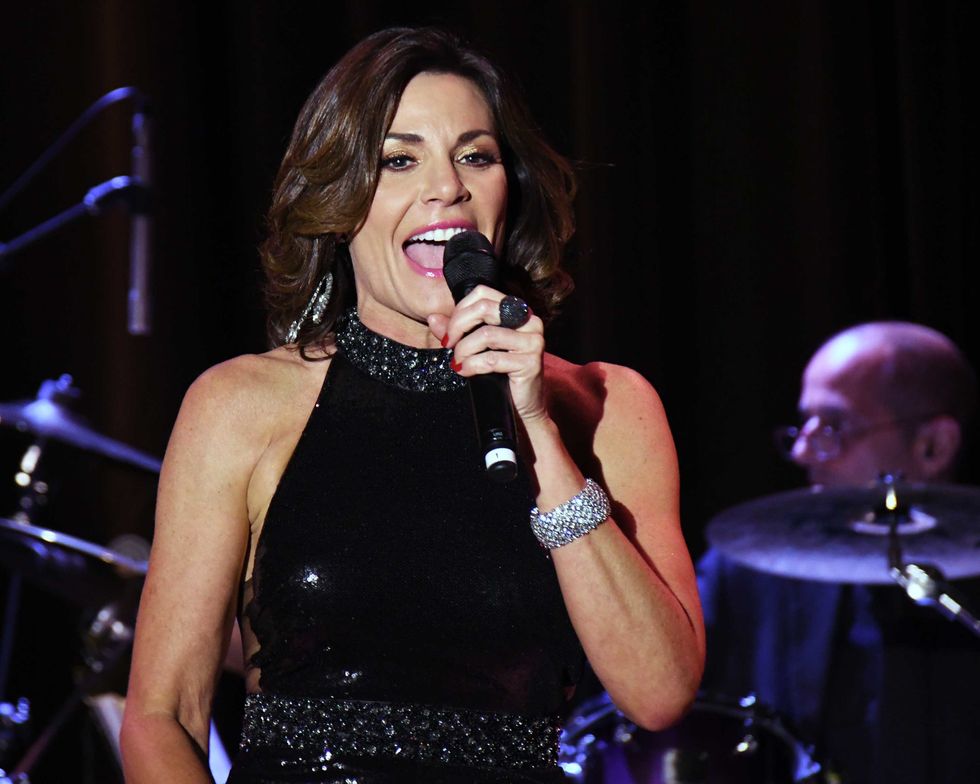 Then, an immaculate comedic transition: "I loved rehab. I loved it so much I went back again." Sober looks so gorgeous on Lu, by the way, and she quipped that her shimmering form-fitting gown was from "my new I-just-lost-10-pounds-in-rehab-so-I'm-showing-off-my-ass-collection." There were many a glorious wardrobe change, and each time, she asked the crowd to guess who was responsible for her very Mariah Carey glittering creations (and one killer jumpsuit). The in-unison rafter-reaching response was always "JOVANI!!!!!" (RHONY fans will get this reference. But, long story short, castmate Dorinda perpetually-sloppily-sloshed Medley hooked Lu up with Jovani looks for her cabaret. Then, they had a falling out because Dorinda, this season, is borderline "Not well, bitch!" Then, during opening night of #CountessAndFriends, Dorinda aggressively taunted Lu via shouting "Jovani!!" throughout the show. Not very classy, darling. And so, here we are.) When a fan screamed, "What are you doing here without Dorinda?" Countess responded, sans hesitation: "To hell with Dorinda! She's in the back, cutting up my dresses."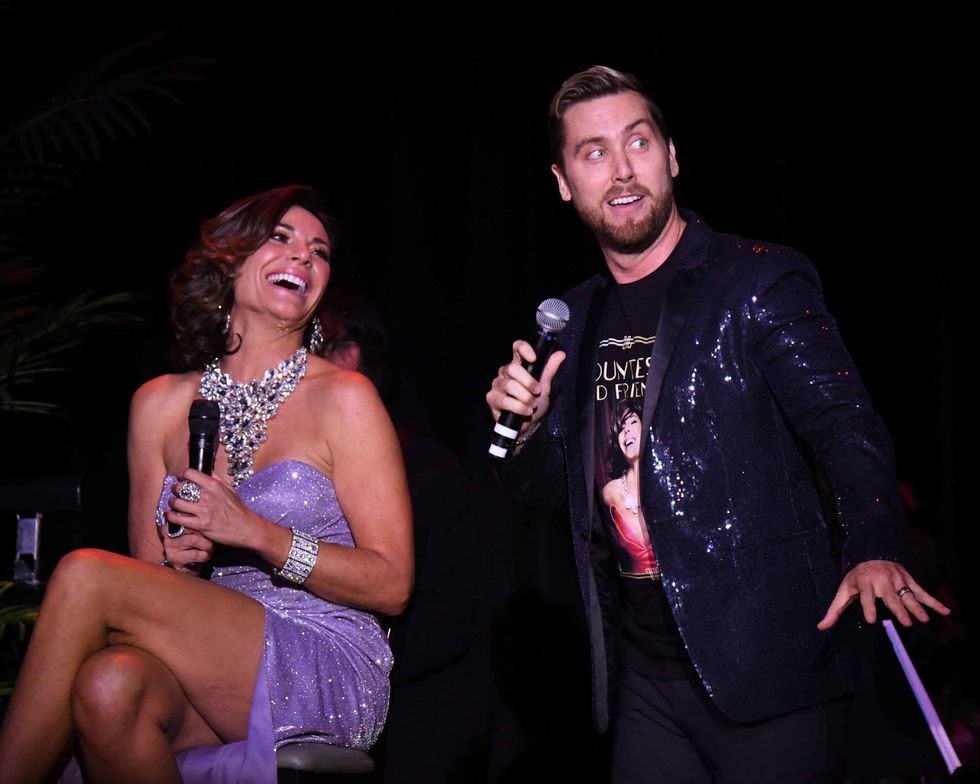 Oh my Goddess, it was all so sublime. Including many of the #AndFriends, which involved a quick, hilarious set from comedian Michelle Buteau. Oh, there was also a surprise performance from Lance Bass, whose song choice, "Love Potion No. 9," was especially interesting. Still, the charismatic Countess remained the most captivating. Her raspy baritone sounded great on a beatbox remix of "Money Can't Buy You Class." She delivered a lively, horns-heavy performance of the disco-y, incredibly underrated "Girl Code," which she told the audience that she thinks she should release because it didn't get the attention it deserved. Agreed.
She read us goosebump-inducing entries from her bedazzled diary in between crooning very cabaret numbers including "Almost Like Being In Love." When asked during aforementioned Q&A to play marry, fuck, kill, she said, "Oh, that's easy: I'd marry Bethenny, fuck Sonja and kill Ramona." More roars. And she ended the show with an encore performance of a gem from her three-song solo dance artist catalogue, "Chic, C'est La Vie." This was profound! Because she recorded the music video, which you should definitely revisit, at the Borgata!
Following the work of art that is #CountessAndFriends, a sea of lunatical (Hi!) fans lined up for a meet and greet with the star. A superslide of sweat curiously raced from my brows when I was permitted to skip the line. Why was I so nervous? I mean, I had met the kind, fun, humble Countess several times back in New York City — twice at the Boom Boom Room; once on the steps of Cipriani Downtown where we smoked cigarettes and she agreed that Carole was in fact the worst; NEVER at The Regency. But I was about to meet a brand new and better than ever Lu. An emerging cabaret legend. The inspiring comeback queen, I mean, Countess. HELP!
And then it happened! And she was so gracious! I shakily asked her what she would've said if she had attended the reunion ("I would have liked to resolve my issues with Dorinda because I'm still not ready to rip off the one bandage from my wounds."); who's her dream #AndFriend ("Tina Fey!"); and if there were any scenes that she wished weren't cut this season ("My daughter Victoria is working for the top designer in New York and we shot a scene together that didn't make it to air.") I was whisked away by a handler before I could ask if it was Jovani.
I immediately posted the photo I took with Countess and my friend with the caption, "A Countess between two queens," because I'm clever. I exited the venue, still so shook and a little drunk, but paused to admire the statement necklaces fit for a Countess/Countess fan that were on sale at the merch table. I was so happy for Lu. I hoped she was happy and would succeed on her sobriety journey. To continue to heal! She deserves it! I mean, she escaped from that Regency-frequenting troll, aka Tom. She's come out on the other side! She's gifted us with so much over the past 10 years on RHONY! Meme-perfect quotes like "Be cool. Don't be all like... uncool," "You came after me in your Herman Munster shoes," etc! So much statement necklace inspiration. A Countess Luann Pandora station. And who could forget "Well, even Louis Vuitton makes mistakes"? (Answer: no one.)
As the world all now knows, even a Countess makes mistakes, as she's bravely revealed on recent seasons of RHONY. She's just like us! But it's all about how you get back up. (She did just that post-falling into a bush in season 9.) She was definitely up and in high spirits the evening after #CountessAndFriends: I spotted her dancing the night away in the front row at a Stevie Wonder concert at The Borgata. Living her best life like she had just won the jackpot. Chic C'est La Vie, C'est Bon C'est Bon!
Photos via Borgata Hotel Casino & Spa
Sign Up For The Morning PAPER