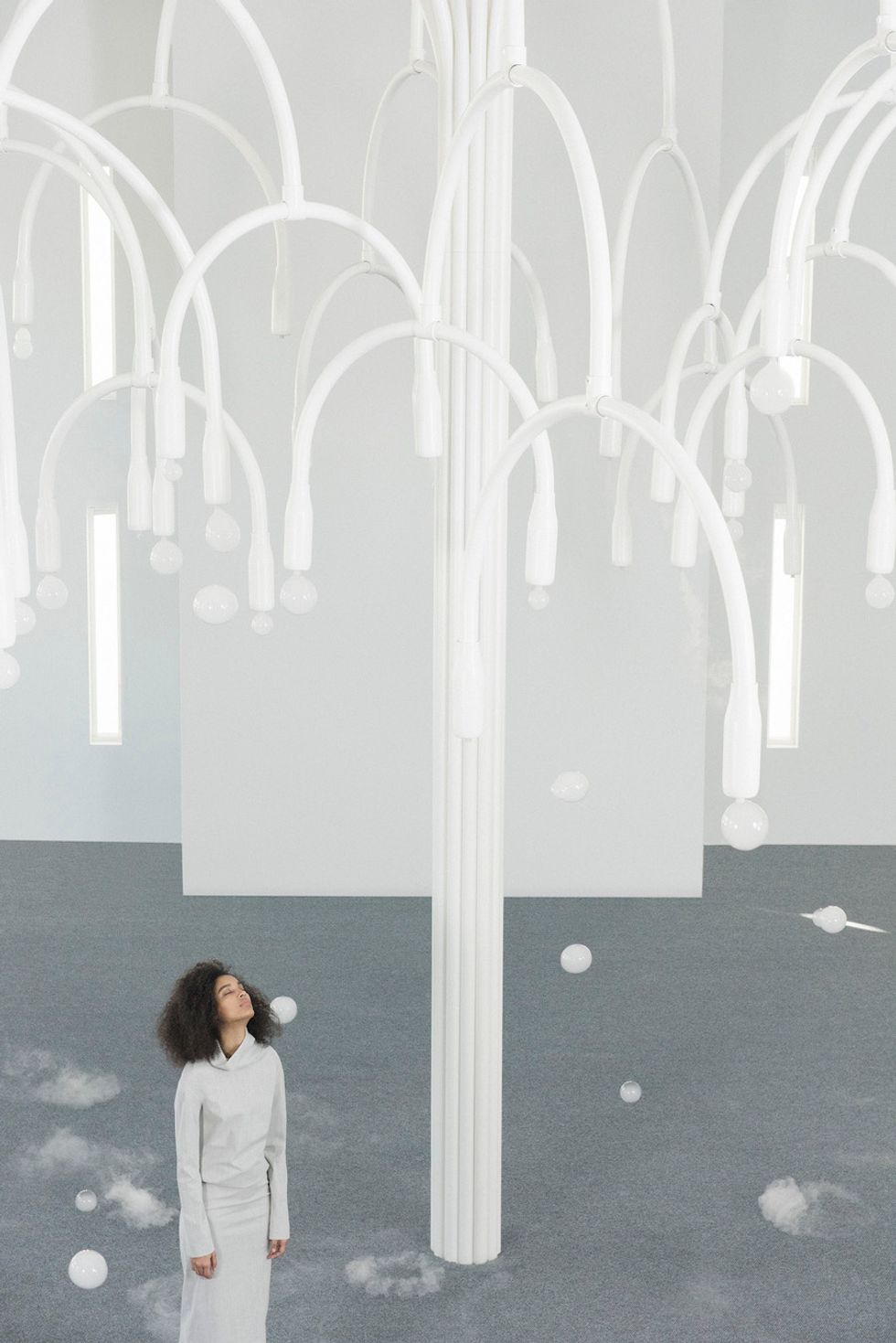 New Spring, a project by Studio Swine and COS

This year, as has been the case for many years, Miami Art Week (Art Basel Miami Beach, Design Miami and countless other satellite fairs, shows, parties, panels and more) as featured numerous projects either sponsored by, or explicitly created in conjunction with, brands alongside the booths, shows and installations by galleries or individual artists. Fashion brands, in particular, were well represented: Prada tapped Carsten Höller to create a three-day art installation-cum-pop-up club (two clubs to be exact!). Zara collaborated on a mural at the Wynwood Walls created by artist Tavar Zawacki. And COS teamed up with London-based Studio Swine on the second iteration of the art/architecture/design duo's New Spring installation (the first debuted in Milan during Salone di Mobile).
Whereas generally-speaking many other examples of brand-artist collabs have a specific marketing aim or commercial motivation (think of how many brands make a splashy announcement that they've tapped a major artist to direct a campaign or release a limited-edition, artist-designed capsule collection of some sort), these partnerships at Miami Art Week managed to feel more organic and understated, focusing on creating art for the sake of it rather than pushing products.

And amidst the noisy frenzy of the art fairs, the COS x Studio Swine installation especially stood out for its subtlety and the calmness it inspired in viewers. The structure, which looked like a massive weeping willow made from white metal tubes, was housed in the L. Murray Dixon-designed Temple House, an Art Deco masterpiece in South Beach whose white walls and minimalist space was a perfect complement to the piece. Once inside, guests were encouraged to put on a pair of black gloves which would allow them to interact with the installation. The structure released scent-filled bubbles that would disappear upon skin contact but would retain their shape for a few moments when encountering the gloves. The surprise of being able to play with these fragile bubbles and the five different scents they contained -- fragrances that were all inspired by Miami and featured either green, floral, wood, fruit or coconut notes -- brought a moment of wonder and stillness to the viewer. Throughout the week and especially at the opening night party, the feedback was overwhelmingly positive, a response that was likely due, in no small part, to the trust that COS placed in their artist-designer collaborators and the free reign they gave them, acting more like patrons and less like corporate clients commissioning a piece.

"COS gave us total freedom to do what we wanted," Studio Swine co-founder Azusa Murakami says. "We were looking into the festival of cherry blossoms in Japan and how that brings people together to create this special moment and also the beauty of impermanence. We wanted to create this special experience that won't last." But although she and partner Alexander Groves had free rein, that doesn't mean they ignored the brand completely. "What we wanted to do was look into the context that we were exhibiting in and also look into the key values for COS, which are timelessness, simplicity, modernity, tactility and how to manifest these ideas to a physical thing," Azusa says.

Alongside the installation was a COS pop-up shop on the second floor of Temple House with pieces selected by the brand's creative director Karin Gustafsson to complement the installation. And while no doubt visitors were tempted to buy pieces from the shop, like the bubbles coming out of the tubes, the installation as a whole had a less commercial and more ephemeral -- yet no less important -- purpose for the fashion company. "As a team we do research on art and new design and architecture -- that's a constant thing and we get a lot out of that," Gustafsson says, explaining that it's this research that really leads to their ideas for each collection, rather than any current catwalk trends. The research process also allows them to "think as a team," she says and it's by commissioning installations like New Spring that the brand feels that they can "give back to the creatives that inspire us" as well as "share with the public what we believe is special and what we think should be talked about."And, based on the chatter this week and at their opening night party, their instincts have borne out.

New Spring is located at Temple House at 1415 Euclid Ave., Miami Beach and is on view through Sunday, December 10th