Erick Colón, Joel Pimentel, Christopher Vélez, Richard Camacho and Zabdiel De Jesús met for the first time on in the dressing rooms and studios of La Banda — Univision's Simon Cowell-produced and Ricky Martin-judged take on the X Factor. A few months later, they were CNCO: a five-piece boyband with a major label record deal and an opening spot on Martin's world tour.
Few competition show winners are able to turn their on-screen triumphs into a sustainable career. But over the last four years, CNCO has become a pan-Latinx sensation, using the traditional boy band format to make clean-cut but vibrant reggaeton and Latin pop.
CNCO debuted their first single "Tán Facil," in Times Square on New Year's Eve in 2016. Their first two albums, 2016's Primera Cita and 2018's CNCOboth hit No. 1 on the Latin charts and climbed into the 30's of the Billboard Top 200. They've steadily entered the English-speaking radar, spurred on by and fueling the increasingly borderless movement in pop, led by Bad Bunny, Rosalía and Maluma to name a few.
They've opened for Enrique Iglesias, Pitbull and one of Ariana Grande's "Dangerous Woman Tour" dates, and cooked up collabs with American stars, like their Top 40 hit "Reggaetón Lento (Bailemos") with Little Mix, and Meghan Trainor and Sean Paul's remix of "Hey DJ." But they're not just chasing American appeal: Latin legends pepper their features, including Becky G, Leslie Grace, Abraham Mateo, Prince Royce and reggaeton icons Wisin y Yandel.
CNCO started out singing only in Spanish, but since their single "Pretend," released early this year, have been releasing their tracks in a Spanglish hybrid, that switches between English and Spanish from verse to chorus, and sometimes from line to line. The choice is a savvy industry move, but like their sound, it's also a reflection of CNCO's singular set of diasporic backgrounds — and the way they speak to each other.
Christopher was born in New Jersey, but moved to his home country of Ecuador as a kid, later returning to the states to help support his family. Richard was born in New York City, but raised by parents in the entertainment industry in the Dominican Republic. Zabdiel started singing at church in Bayamón, Puerto Rico. Joel is from Southern California, but his family is from Mexico and his grandfather inspired him to pursue music. Erick was born in Havana, Cuba, but grew up in Tampa, Florida, playing soccer and a few different instruments.
CNCO's sound is condensed into glossy, chartable dance-pop — but it bears the traces of the music they grew up listening to: hip-hop, R&B, reggaeton, dipping into traditional styles like Mexico's rancheras.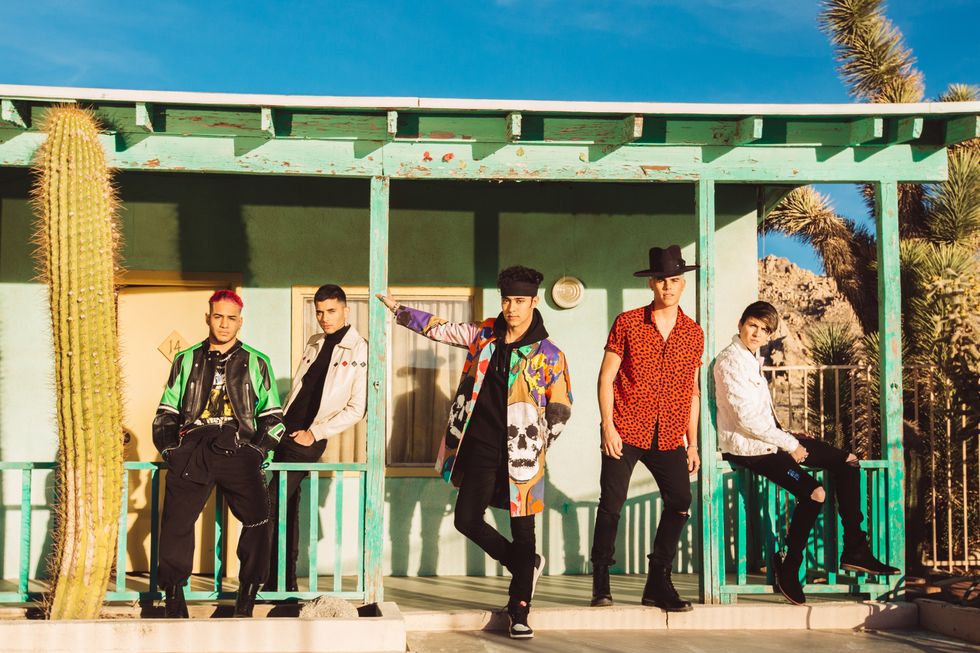 After a long period of cultural disdain, we're finally entering an era where we can once again, unapologetically appreciate the undeniable charms of boy bands. Although we're in the midst of BTS' world domination and the second coming of the Jonas Brothers, the number of CNCO's ranks and competition show origins mean the band can't escape the buzzphrase "The Latino One Direction" (though they're also frequently heralded as the descendants of Puerto Rican group Menudo). But CNCO are charting their own path, through one of music's most fertile spheres, bringing with them a newly expansive idea of what a boy band looks and sounds like.
This Sunday, CNCO will take over the PAPER Instagram, to show us the 2019 Teen Choice awards, where they're nominated in four categories (Choice Latin Song, Choice International Artist, Choice Fandom, and Choice Latin Artist), through their eyes.
Ahead of the show, we caught up with Erick, Joel, Christopher, Richard and Zabdiel in Miami, where they're prepping their new album, to talk about navigating boybandom and multi-national markets.
Where are you guys?
Richard: We're currently in Miami, girl. We're over here recording our new album!
Tell me about the first time that you guys met, and what that was like.
Richard: Well, we met on the TV show, in La Banda. We all auditioned the same day, except for Christoper. We kind of kicked it off from there! We just had a good relationship, throughout the show. Everyone on the show was friends, but we just got along a little bit more. So at the end of the day, when we became a band, we already had that chemistry. So it was a little bit easier for us. It was a little difficult to understand each other, since we're all from different countries or some of us didn't speak Spanish or English so well or vice versa. We've kind of created this CNCO language. It's Spanglish and we have slang words that people kind of don't understand, but we do. It's a super cool bond.
"We've kind of created this CNCO language. It's Spanglish and we have slang words that people kind of don't understand, but we do. It's a super cool bond."
How long did you feel that it took for you guys to really get to know each other and really feel like a band. Not the product of this TV show, but really a band?
Richard: A week after we won the show, we performed in Times Square. It was super cool to perform on New Year's so right after we said: "Yo, we're a band. We're doing this." It felt super cool. We actually did out first acapella video that same day singing this song. What's it called? [singing in Spanish] "The Lion Sleeps Tonight;" What's it called? That was when we affirmed that we are not an acapella group, we're a boy band. We sing and we dance. We're doing our thing. It felt super cool. After that, everything just kept growing.

What has navigating your different backgrounds been like? Whether it's people's different tastes or interests or language?
Richard: It's been really cool. It's more communication than anything. But it took time. I think time did its thing. Time got us to really understand each other, to really understand where we come from, our backgrounds, what kind of experiences we had before the show. We talked a lot about it. Every day we learn new things about each other. Every day, we learn what someone went through and now we know how to give each space, how to give each other that respect. I feel like that's what keeps CNCO together. It's about communication and respect. That's our rulebook.
How do you share songwriting and singing duties? Do you collaborate on everything?
Erick: Sometimes we write individually and sometimes we write in a group, but I think in a group is our favorite process to create. Sometimes we write in twos, maybe three, sometimes separate, but at the end of the day we all figure out the vibe and create a song. That's what our new album is all about. We are super, super excited because it's an album that we are writing 95% of ourselves.
How do you feel like CNCO grew between Primera Cita and your self-titled album, and where you're headed on the new album?
Joel: Primera Cita was kind of a test for us to see what the fans liked or what we like in an album. We did a whole bunch of different types of songs, a lot of variety, a lot of different genres. From there we moved onto the second album, which is CNCO. We were still finding ourselves and finding what kind of music we wanted to do. Finally, on this last album, we've written about probably more than 90% of all the songs. I think the evolution has been being more involved in everything and telling everyone's story from our point of view. It's been extremely fun.
Do you guys ever feel frustrated with the pressure to appeal to an English-language market?
Joel: Honestly, when we're doing a crossover, when we're singing in English, we don't plan: "Ok, we're going to do this crossover because we want to be heard in the United States." We do it because we like singing in English, as well. We have fans that only speak English and not Spanish. We do it for them and for us. We don't just do it to be successful, or to get into the Anglo market. I mean, if it ends up happening, then even better... it's a plus. We do it more because we enjoy it and we like to try different languages. That said, there definitely is pressure, since we're new to doing songs in English. It's fun at the end of the day and we like a challenge. It kind of feels like starting from the beginning again and finding your way up.
Your last couple singles have been in English and Spanish on "Pretend." How do you decide what to sing in each language?
Richard: I think it just comes naturally! You kind of know when you know how to speak Spanglish because that's what we do every day, with each other. We speak Spanglish so we kind of know when to throw in a Spanish song... a Spanish word in any conversation. It's the same thing in the song. We know what won't sound cheesy if you speak Spanish in this part, or in the chorus or in the verse, you know what I mean? It's not so complicated. It's kind of like speaking it in school at the end of the day because it's what we speak every day. "Pretend" was actually all in English at first.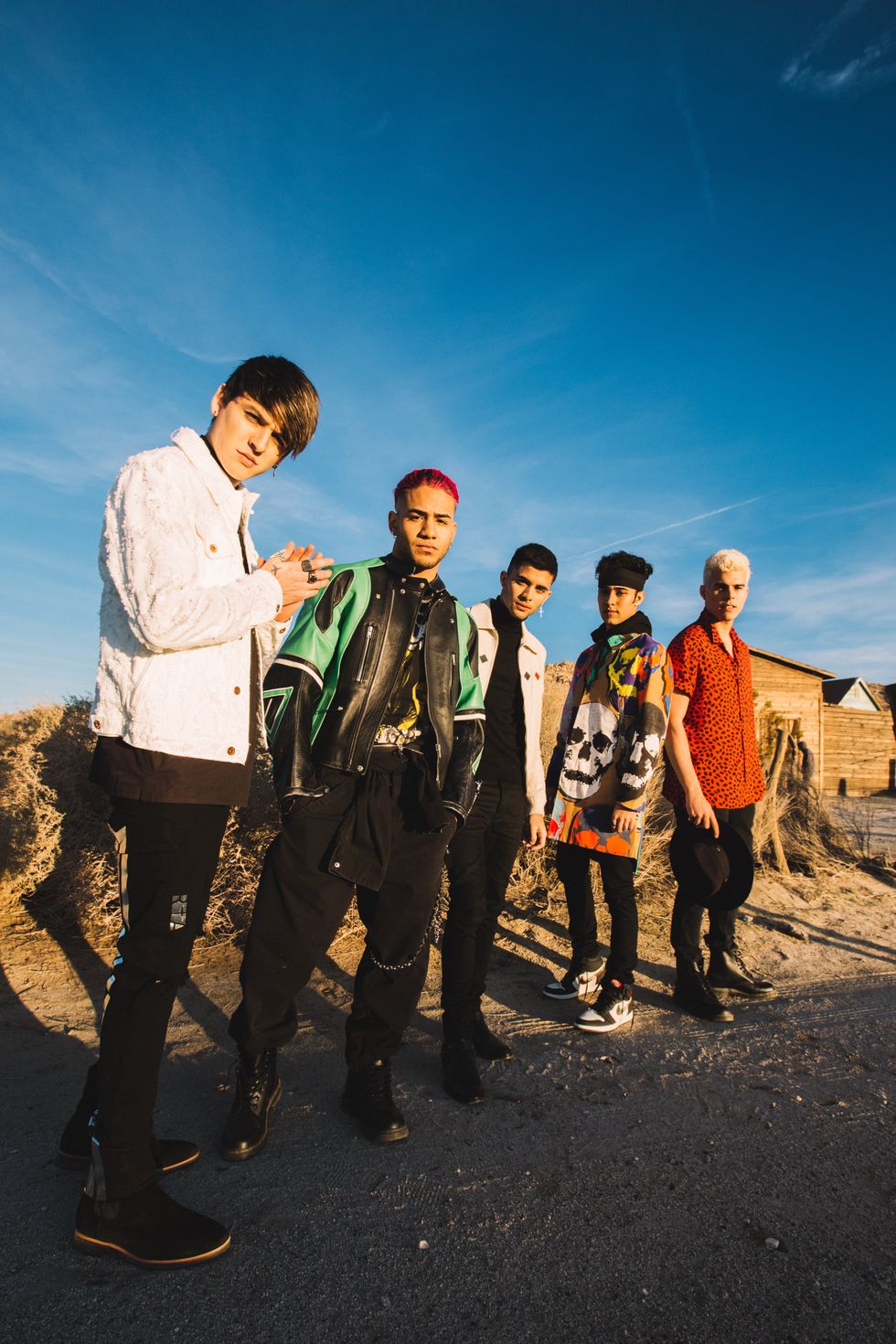 Oh really?
Richard: But then we kind of felt like it wasn't us. We kind of felt like if we have that all English vibe, it's not going to feel natural. This is going to feel like we are trying to be in that Anglo, which wasn't the thing. We were just trying to give our fans a song that they could understand and relate to... our non-speaking Spanish or non Spanish-speaking English, you know? We were just trying to do that and it felt good so it came out like that. We put our Spanish in it and it became a super Spanglish song.
Do you guys communicate with each other in Spanish or in English or in a mix?
Richard: Yeah both. Spanglish.
On the new album, are you guys doing mostly Spanglish?
Christopher: We would love to keep doing both of the languages, that's who we are. That's what CNCO is all about. We're all from different countries, but we're trying to accomplish one thing. We just want to take that love around the world and spread our music.
Tell me about being a boy band in 2019. You guys presumably grew up listening to some. How do you think the culture around boy bands has changed? There used to be kind of a bad attitude towards boy bands in pop.
Richard: We don't see it like that, we don't see being a boy band, as that we have to do things in that cheesy way. At the end of the day, we're not like the old boy bands. We're the only boy band that actually does reggaeton and speaks Spanish, and now Spanglish. That makes us unique. We're the first boy band that has a different culture, so much culture, so many different countries represented in just one. It just feels very unique. We feel like we're doing something different. Also, I feel like the culture of boy bands has changed since they started out. Latino music is also very poppin' right now. It makes us feel part of that wave. It makes us feel like we've put our little percent into that. It feels very cool that we could actually add something to that, and change the whole stigma around cheesy boy band culture. We found a cool way to be a boy band. We're just in a cool band.
"We found a cool way to be a boy band. We're just in a cool band."
There's a crazy explosion in listeners to Latin pop America right now, from J Balvin and Bad Bunny. Is it exciting to be creating as part of this larger movement?
R: It's so exciting. We're very proud and excited that everybody around the world is looking at a culture and loving this culture, listening to our music, and speaking and learning our language, as well. We go to countries where they don't speak Spanish, and they learn it the words to all our songs, or learn enough Spanish just to say to us, "Hi, let me give you a hug," or something. It's cool that people are actually looking into that and are loving it and are feeling super good about it.
Recently you guys have worked with Little Mix, Sean Paul, Meghan Trainor. Who would be your guys' dream collaboration?
Zabdiel: We are definitely doing more collabs on the new album. Latin collaborations and Anglo, as well. And of course, we have dream collaborations like Justin Timberlake, Bruno Mars, Post Malone, Justin Bieber, Chris Brown, Maluma, J Balvin. We like to work with different artists because we can grow as artists and also as a human. It's a really cool process.
What is having Ricky Martin as a mentor like?
Zabdiel: It's been amazing. He was so important to our career, he helped us take our first steps in this so it was super important for us. The most important lesson that we learned from him, was just to be humble. Always keep the feet on the ground and enjoy what you do and do it with love. That was super important for us.
Did you guys grow up listening to Ricky? I'm curious about all the different influences you guys each brought to CNCO.
Richard: It's a mix. We all kind of had our different tastes, but we all share a lot, as well. Let's say most of us listen more to ballads or more to acoustics. Me, I listen to a lot of R&B and hip-hop. Most of us... it's also a lot of rock, reggaeton, especially reggaeton. We kind of just mix that and then we all got used to listening to each other's music, and started loving that different music. Each of us has our little tone, our little thing that we add to CNCO. It's super cool other, and we hope to keep mixing those things together. We've done a lot of different cultural styles, like Italian or Brazilian or Mexican as well. We did a ranchera which is a Mexican kind of style. It was a super cool thing to do. We never knew how different it was from what we sing. It helped us grow a lot and define that we're from all these worlds.
What are you guys listening to, and inspired by right now?
Christopher: We're listening to all the new stuff, like J Balvin, Bad Bunny... CNCO's "De Cero" [Laughs], Ariana Grande, Shawn Mendes, Ed Sheeran... Ed Sheeran's new album, I'm a big fan. The best album ever. That's just what we're listening to. We're listening to everything the world's listening to, right now and trying to learn from it and add it to our music.