Thanks to the rise of Yeehaw, country music is cooler and more fun than it's been in years. As such, counter to the trends for nearly every other corner of entertainment (this year's Grammys had the lowest viewership in a decade, while the hostless Emmys hit an all-time low), viewership for last night's Country Music Awards in Nashville rose from 2018. What can I say? The girls know how to have a good time.
The holy trinity of Reba McEntire, Dolly Parton and Carrie Underwood had an absolute ball co-hosting country's biggest night, which this year promised to celebrate women in the genre. Reba, Dolly and Carrie were joined on-stage by a dozen-plus more country heroines for a 16-woman strong opening medley.
With a red carpet full of unexpected visitors to Nashville, it was a night full of highly stannable moments. Here's what went down.
Kacey Musgraves and Lil Nas X, together at last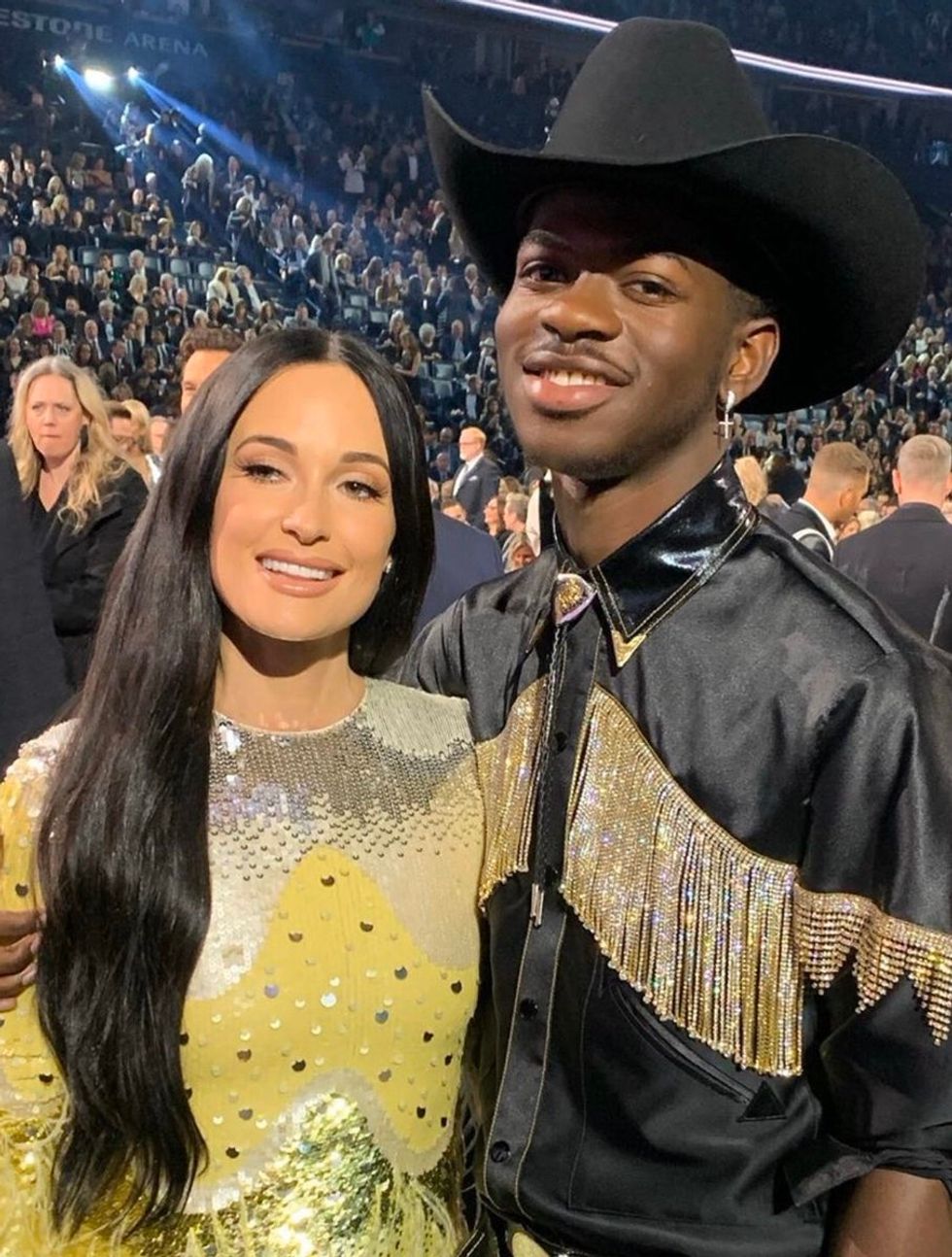 Appearing to have pre-coordinated their gold-accented 'fits, the two most exciting names in country finally combined their power into one photo. Later that night, Lil Nas as well as Nine Inch Nails' Trent Reznor and Atticus Ross and producer YoungKio won their first ever CMAs taking home "Musical Event of the Year" for "Old Town Road." As the Nine Inch Nails guys wrote on Instagram after nominations came out, "New world, new times."
Gigi Hadid turned up... and she and Kacey Musgraves are best friends?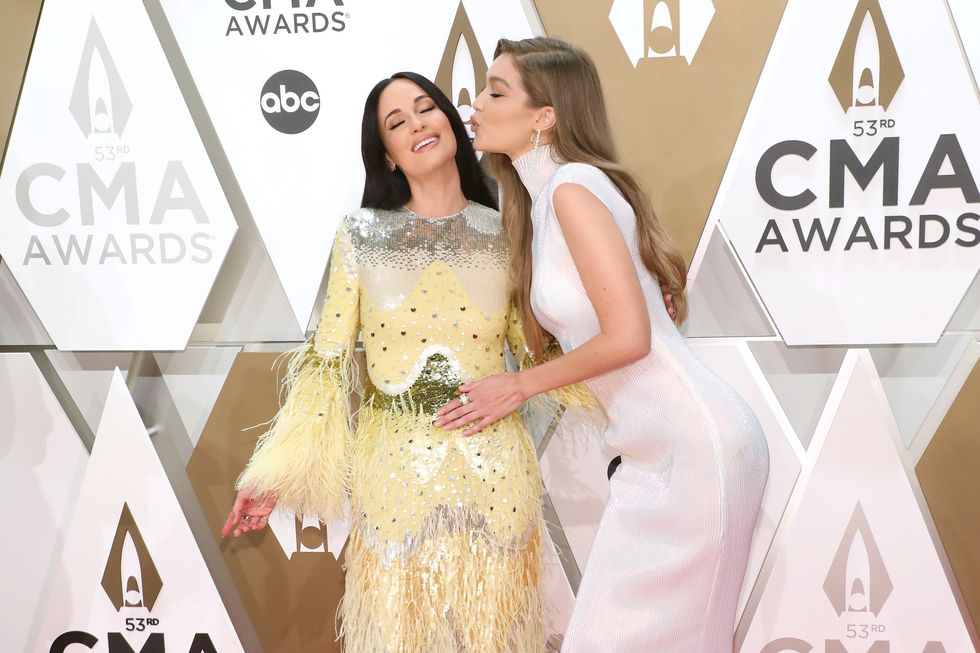 Kacey left her husband Ruston Kelly at home and brought the model-influencer instead, providing ample cheek-kissing shots to the paps. Huh? According to Elle, Hadid is a fan-turned friend — she caught Musgraves' Radio City show this fall, and they both attended Kendall Jenner's birthday party. Their outfits were also possibly coordinated. Hadid tried to blend in, pairing cowboy boots with her Helmut Lang metallic gown.
Blonde superstars who mysteriously date country singers stood by their men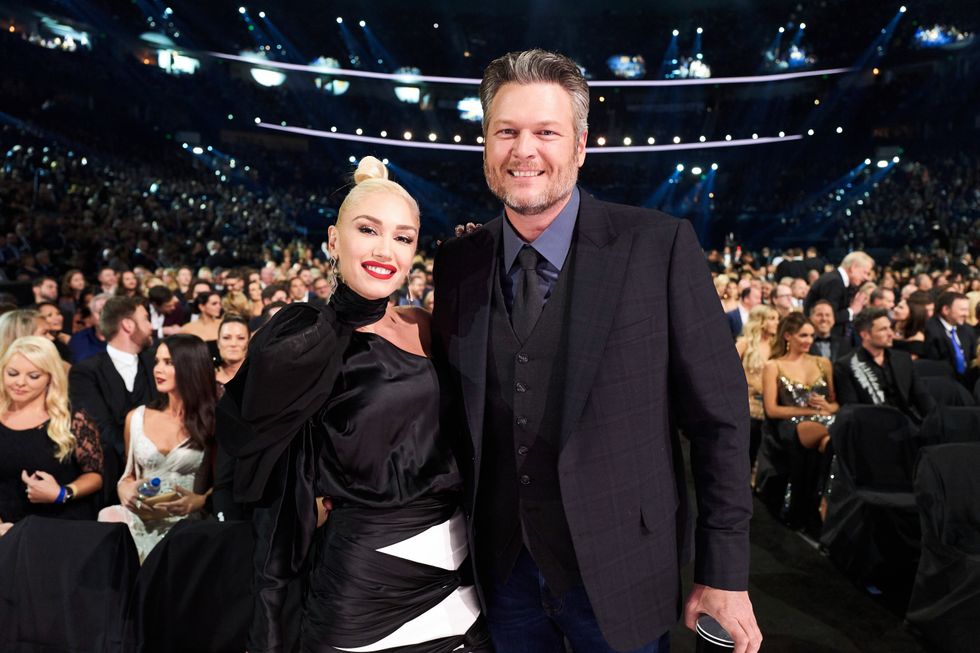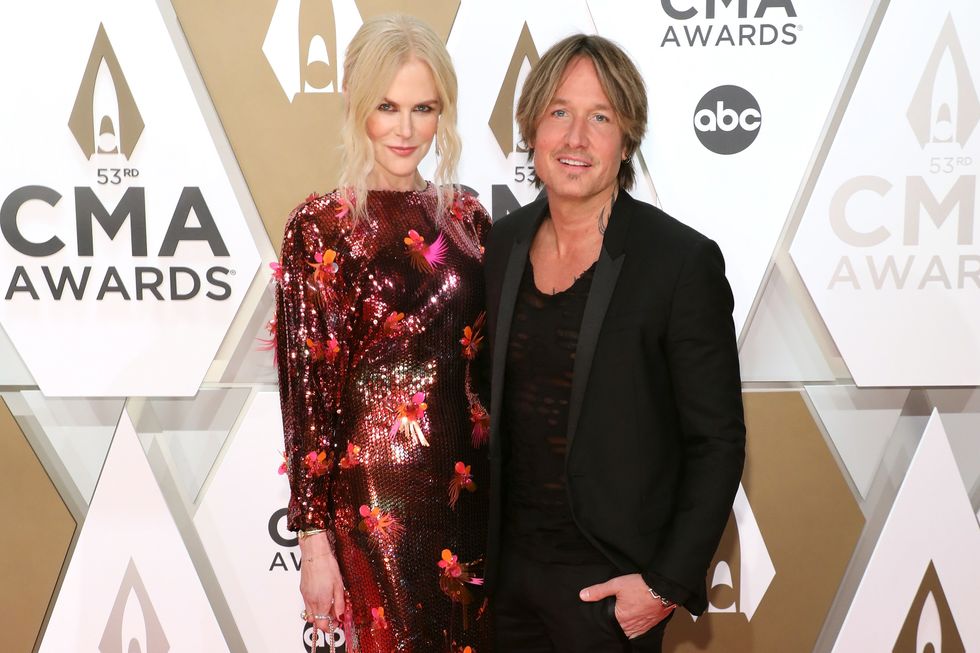 It's easy to forget, but Gwen Stefani and Nicole Kidman are consciously coupled with country singers. Stefani has been dating the Blake Shelton (a former People's "Sexiest Man Alive" equally as baffling as this year's selection) since her divorce from Gavin Rossdale in 2015. Kidman has been with the soul-patched Keith Urban since 2006. Both cheered dutifully: Shelton won Song of the Year for "God's Country," while Urban missed out on Entertainer of the Year and Male Vocalist of the Year.
The 'Big Little Lies' girls hung out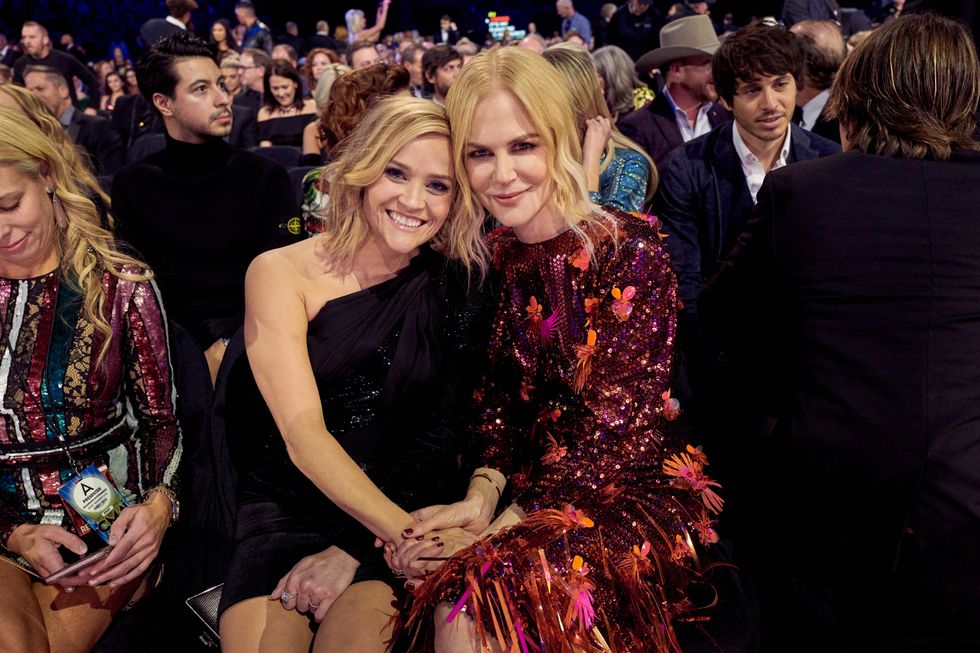 Reese Witherspoon made a surprise appearance on the red carpet and stage, where she presented Garth Brooks with the Entertainer of the Year award (that's its own story). Aside from generally being a beautiful blonde woman, Witherspoon's only connection to country music is her Oscar-winning performance as June Carter Cash in 2005's Walk The Line. Plus, her friendship with country's first lady and Big Little Lies co-star Nicole Kidman, who she stuck close to all night. Sadly, Zoe, Shailene, Laura and Meryl were no-shows.
Carrie Underwood fans felt she was snubbed
Fans are about to slash the tires of the CMAs' pretty little souped up four wheel drive, after Underwood lost Entertainer of the Year to Garth Brooks. Brooks has won Entertainer of the Year seven times, while Underwood has never won (she took home zero of her three nominations). On a night promised to celebrate women, the choice had people tired.
Jennifer Nettles demanded equal pay for women in country music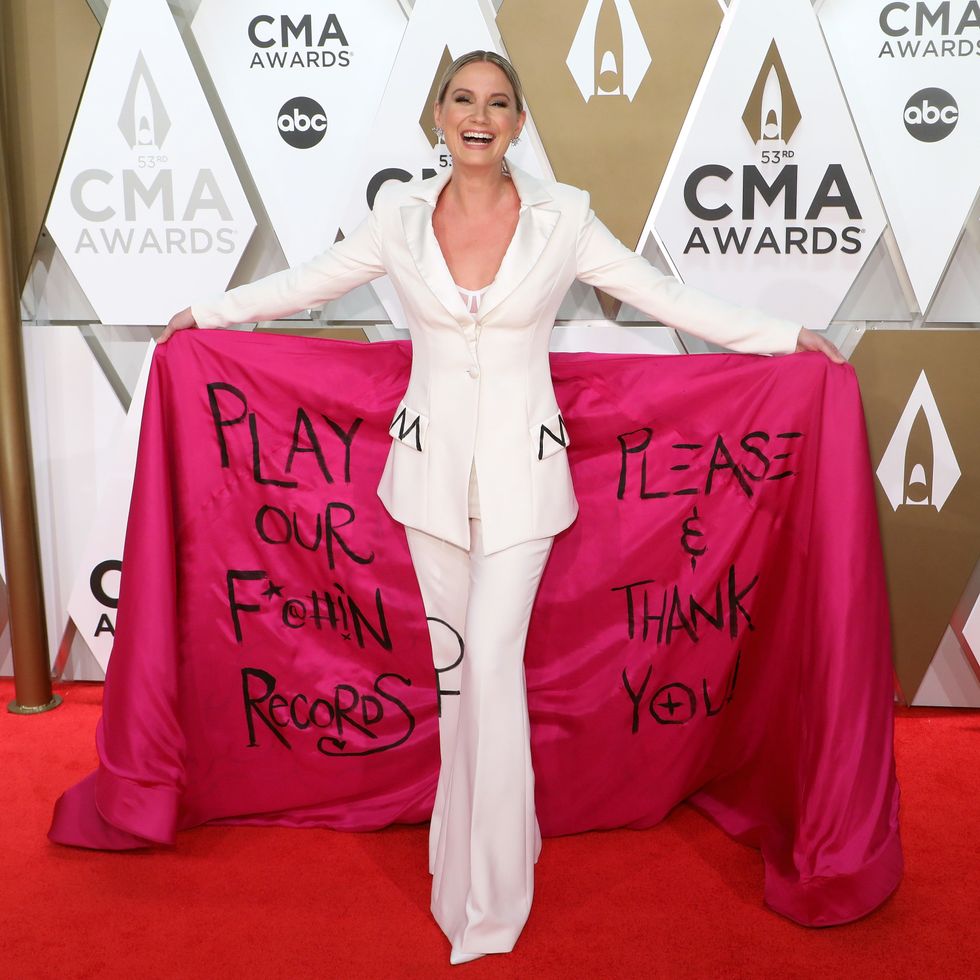 Red carpet protests have become commonplace at other awards shows, and last night the CMAs had their turn when Sugarland's Jennifer Nettles debuted a custom Christian Siriano suit and cape combo. Her white suit (white became the de facto color of #MeToo at the 2018 Grammys) was emblazoned with the Venus symbol, and her pink cape read "Play our f*@#!n records, please & thank you."
Jim Gaffigan was there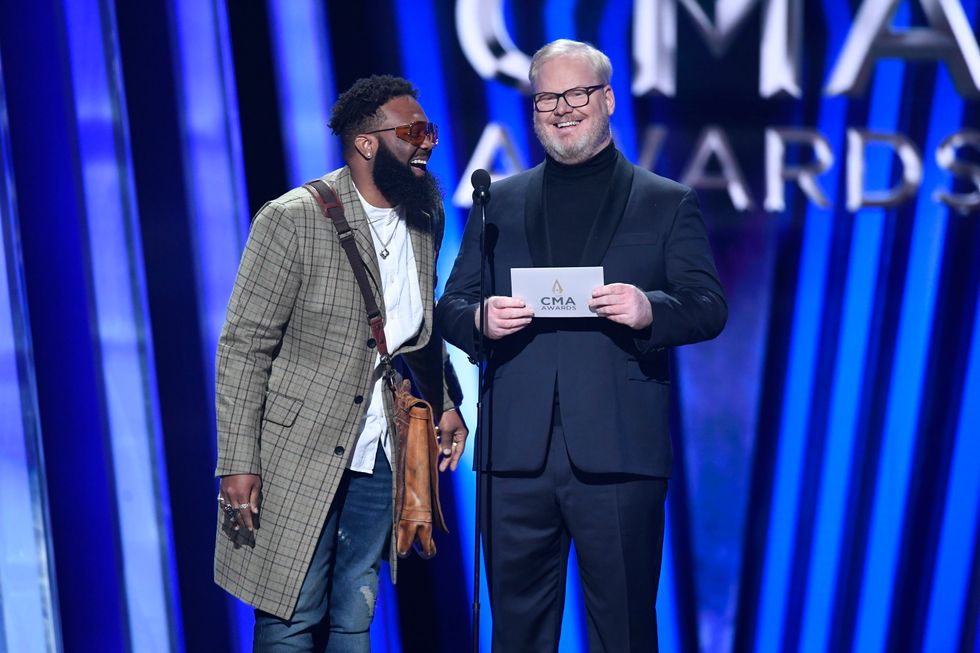 Oh! The comedian made his first and puzzling CMAs appearance, presenting Ashley McBryde with "New Artist of the Year" alongside Blanco Brown.
Lil Nas X wasn't the only country rapper present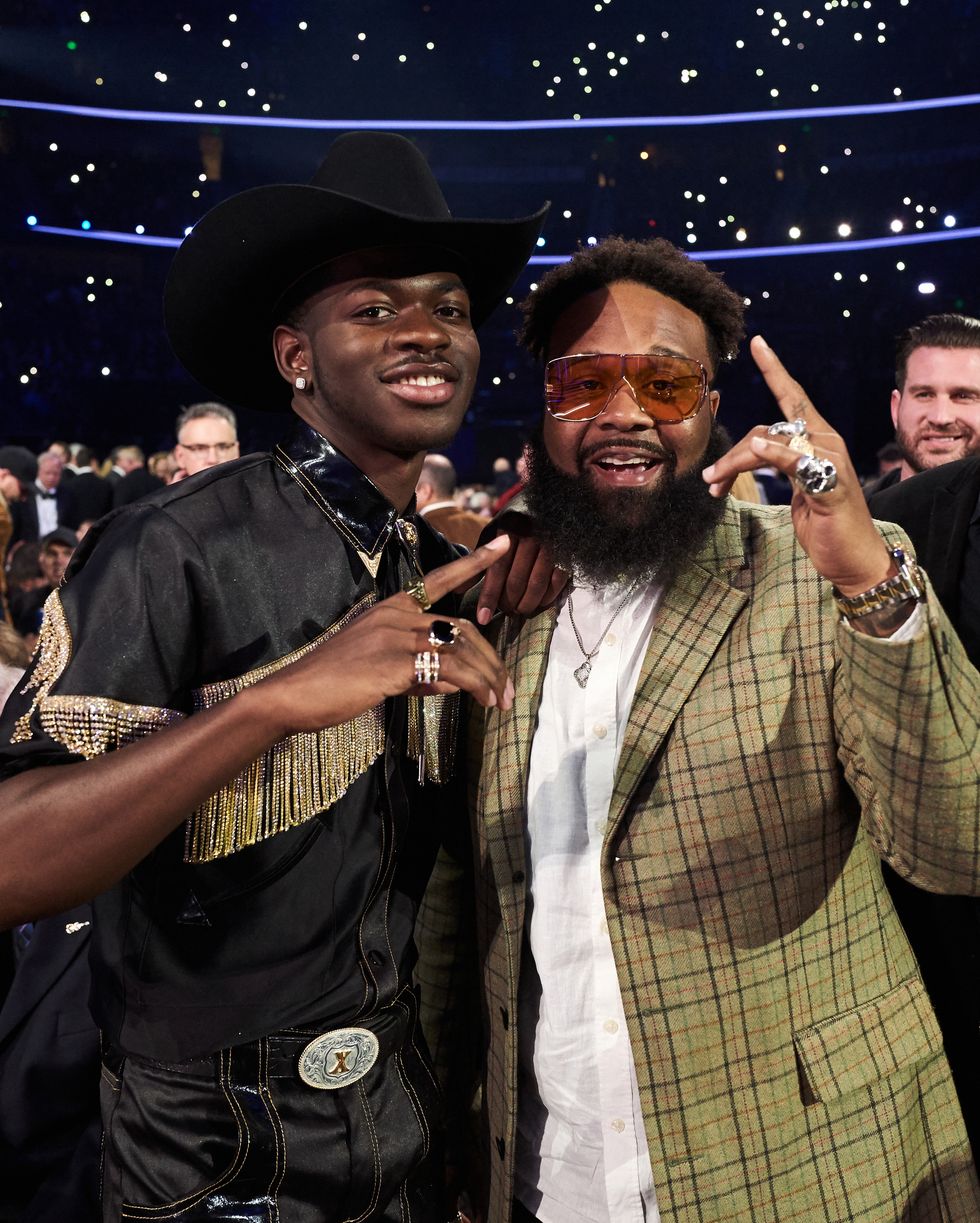 Blanco Brown, a former producer for Chris Brown and Pitbull, made his first ever CMAs appearance last night. Earlier this year, he reproduced the Lil Nas X model by "crossing over" to country overnight with a twangy trap TikTok banger "The Git Up," which topped the Hot Country chart and saw suburban kids doing vaguely hip-hop choreo in their cafeterias across the country. Cheers to diversifying country, and Blanco's dashing leather satchel, which he wore all night.
Halsey and Lady Antebellum dueted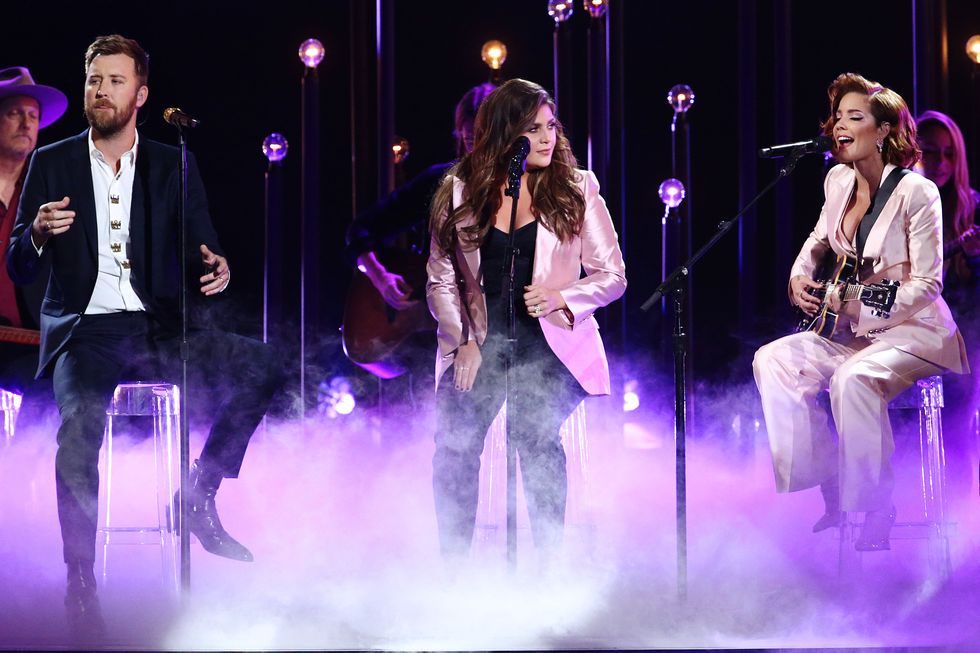 CMA darlings Lady Antebellum (seven awards, 13 noms) invited Halsey (zero CMAs) up for an unlikely but effective stripped down mash-up of the former's "What If I Never Get Over You," and the latter's recent single "Graveyard." We love a pop crossover moment!
Brandi Carlile's cheetah-print suit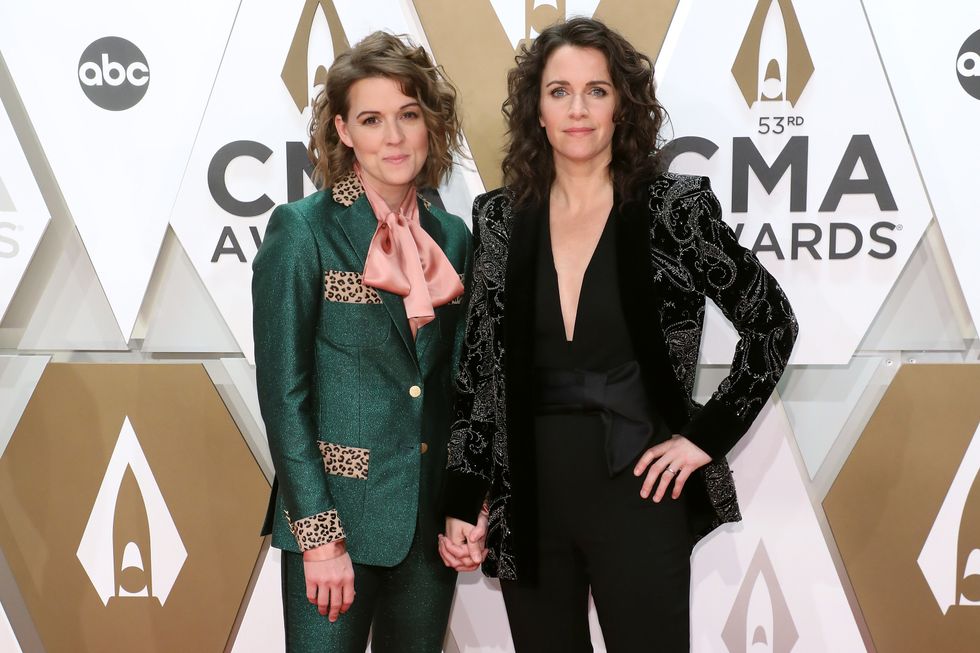 That's all. Her wife Catherine Shepherd looked just as chic in black sparkling paisley.