Christina Aguilera has lived through many lifetimes — in her career, in her personal life and, of course, in her aesthetic. Her look has evolved from assless chaps and two-toned plaits to old Hollywood-inspired retro glam to the now-current deep necklines, slick-backed hair and minimal makeup.
Does this pivot to a more toned-down look mean she's done with the drama?
"I've always been someone that obviously loves to experiment, loves theatrics, loves to create a storyline and play a character in a video or through stage," she explains while her makeup artist removes glitter from her eyelids. "I'm a performer, that's who I am by nature. But I'm at the place, even musically, where it's a liberating feeling to be able to strip it all back and appreciate who you are and your raw beauty."
As she says this, she's bare-faced, her freckles peeking out and her blue eyes sparkling without a trace of eye makeup — but don't think she's shelving her contour kit just yet. "I mean, I'm a girl that likes a beat face, let's not get it twisted," she laughs.
This self-assurance and ease is something that the 37-year-old believes comes with age. In the almost 20 years since we first saw her dancing on a beach in the "Genie in A Bottle" video, she has been nominated for 18 Grammys, won five, sold more than 50 million records worldwide, starred in a movie with Cher, served as a judge on The Voice, gone through a divorce, found love again with fiance Matt Rutler and become a mom to Max Liron, 10, and Summer Rain, 3.
Throughout all these significant life experiences, Aguilera has remained unabashedly cheeky. In January, when impatient fans inquired about a new album — which would be her first since 2012's Lotus — via a hilarious handwritten note on her Walk of Fame star, she sent a sassy Insta-story response ("It's coming bitches"). While getting her eyes painted bright pink at our shoot, she shares an anecdote about one of several wigs her hairstylist has brought with him on set: a tousled, dirty blonde hair piece. Apparently, Christina had asked to borrow the wig...for the bedroom. "You were really good about it, you were a sport," she tells him while the whole room laughs. "I think I wanted to go home and have sex that night and you were like, 'Okay, don't get her too messed up.' I was like, no guarantees, thanks."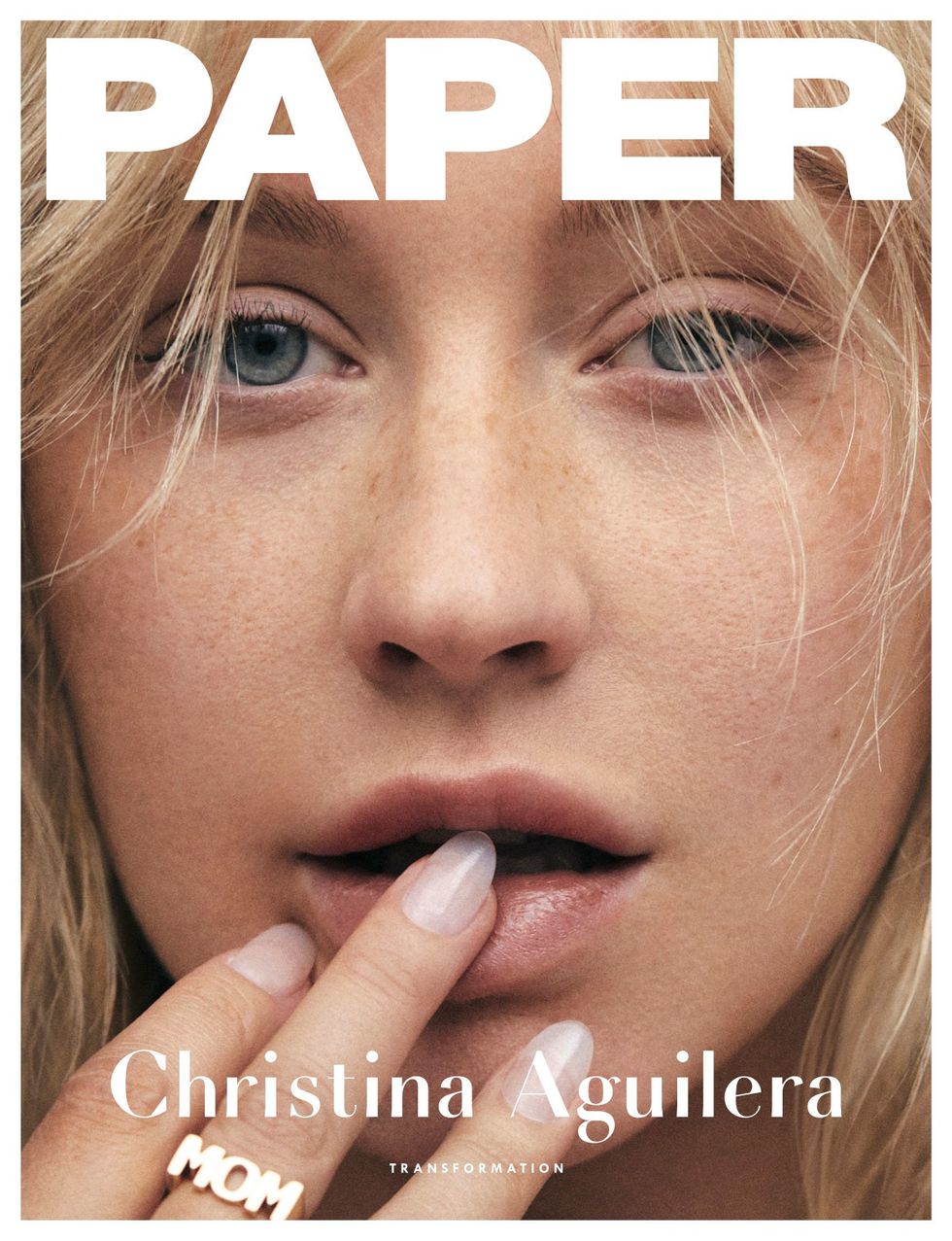 Born in Staten Island, New York on December 18, 1980 to father Fausto and mother Shelly Loraine, Aguilera had a far from picture-perfect childhood. She witnessed domestic abuse both in her family and around her neighborhood, something she has always discussed openly during her career. "I watched my mom have to be submissive, watch her Ps and Qs or she's gonna get beat up," she recalls. One of two things can happen if you grow up in that type of situation, she says. "You can either be, unfortunately, so damaged by it that you take a turn for the worse, or you can feel empowered by it and make choices to never go down that route." Aguilera decided at an early age that she would never allow herself to be in a position where she'd have to rely on anyone else in order to be happy. At the same time, it taught her compassion for people who aren't able to get themselves out of similar situations so easily. "I hate when people say, 'Why doesn't she just leave?' There's psychological damage and mental abuse that comes with being in a situation like that. A lot of people don't have the ability to vocalize it themselves or have the know-how to get out."

This strength and compassion also spurs Aguilera to be a dedicated ally to the LGBTQ community. In 2003, Aguilera nabbed a GLAAD Media Award for the positive portrayal of gay and transgender people in the video for "Beautiful." She continued her support through videos like 2012's "Let There Be Love," and in 2016, she dedicated the song "Change" to the victims of the Pulse nightclub shooting and donated proceeds to their families through the National Compassion Fund. When asked why it has always been important to her to speak up for the LGBTQ community, she answers, "These are people who I grew up with and who are brilliant, talented and strong that deserve for their voice to be heard and fought for, as well."
Pop stars are notorious for going through transformations, but Aguilera's hunger for experimentation in both her music and her style is part of her unique appeal. She says every one of her albums allowed her to venture off in a different direction and explore a different side of herself. There was the release of her self-titled debut, when Christina became one of early aughts' pop princesses alongside former Mickey Mouse Club co-star Britney Spears. The record was, according to Aguilera, exactly "what an older label head male's perspective was." Her clothes were typical of the era: midriff-baring tops, flared pants and glossy lips. The 2001 "Lady Marmalade" collab with Pink, Mya and Lil Kim allowed Aguilera to flex her vocal range, and she began experimenting with an edgier look (colorful braids, more revealing outfits). From there, she dropped 2002's Stripped and the single "Dirrty," which Aguilera calls a "game-changer." She explored a fashion style of two-toned hair, bikini tops and those iconic leather chaps. At their most respectful, critics deemed her look "risqué," and at their most aggressive, they called her the "world's skeeziest reptile woman" (a description that appeared in a 2002 Entertainment Weekly article). 2006 birthed the album Back to Basics, which had Aguilera belting out throwback songs that were straight out of the '40s and donning a pinup-inspired look and what would become her signature red lipstick. With 2010's electronica-influenced Bionic, Aguilera seemed to marry the two styles of edgy and retro. Case in point: At the MTV Movie Awards that same year, she wore her hair in a retro-style victory roll with red lipstick and an Atelier Versace gown with straps that looked like heavy chains.
"[New artists] don't have as much backlash when they come out on the scene. And I did. It was a controversial time for me."
"I can't stay in a stagnant place for too long, which is why I think the position I was in with television just became very stifling," she says, referring to her six-season stint on The Voice. "I need movement, I need to go explore, be an artist, create and transform."
In 2017, Aguilera voiced the character of Akiko Glitter in The Emoji Movie, but she hadn't starred in a film since 2010's Burlesque. This year, she'll be featured in two movies, portraying a robot in Drake Doremus's sci-fi flick Zoe and appearing as herself in the Melissa McCarthy comedy Life of the Party. Anyone who has followed Aguilera's career has been aware of her comedic prowess for years. (Remember her iconic turn as Sex and the City's Samantha on SNL?) Aguilera wouldn't mind doing more of it. "My ultimate would be to do something with Will Ferrell. Just super funny, just laughing and being stooges." Later, when she puts on the aforementioned wig, Aguilera exaggeratedly runs her fingers through the hair (aka "her") and makes a sound akin to the beginnings of a Cher vocal run. Low-key hilarity at its finest.
Aguilera is a true Sagittarius: curious, eager to learn and a little bit restless. But she isn't above indulging in simple comforts, especially when she's in need of a self-care session. She enjoys yoga, massage (she's very "touch-based") and chilling around the house in sweats. "I love hanging out with just my close girlfriends and guy friends, which happen to be my gay friends," she says. "Just good, quality time with people who are super down to earth." Describing herself as "old school," she says she always keeps an emergency DVD player and DVDs with her in case something "goes wrong with technology." When she travels, she likes to play the DVDs when she goes to sleep. Her go-tos are films that are "mood-driven and inspiring," she says, movies like Frida, Whatever Happened to Baby Jane?, Amadeus, Elizabeth and Basquiat.
With music, she's inspired by a lot of current hip-hop, particularly what artists in the genre are doing with sound and visuals. She namechecks Childish Gambino ("He's genius"), Chance the Rapper ("He's made it without a label, without any strings attached, and being so charismatic at the same time") and Cardi B ("She makes people really crack up just by being herself, and it's genuine") as some of the artists she's most impressed by.
For some of us, it can be hard to pinpoint when exactly we were done with crushing self-doubt and finally became Cardi B-level cool with being ourselves. It might be the end of a relationship, or the discovery of a new hobby or career, or even just a quiet, unremarkable moment when that lightbulb goes off, signifying a feeling of I'm okay. For Aguilera, it's whenever she was performing onstage. "I think we go through up and down moments. There are outlets where I feel like I'm good, and that was being onstage, able to exude and release and feel. That was my form of feeling empowered." But in her younger years, that feeling never really followed her offstage.
When Aguilera released 2002's Stripped, it was a fearless time for her. She made the jump from her debut album where she was "creatively unhappy at that time" to being able to finally sing songs that she felt were true to herself, all while having fun with a more provocative wardrobe. But as the album allowed her to embrace her sexuality and femininity, it also encompassed a lot of insecurities and vulnerability. "You heard it on 'Beautiful' and a song called 'I'm OK,'" she says. "It was like, am I honestly? Obviously, I'm not fully ok. It's a journey into never quite bandaging my wounds." Aguilera always pulls from her pain, which she describes as "a muscle memory" to help tap into her art.
One of the most admirable, and relatable, things about Aguilera is her ability to reflect on her painful experiences and to know what truly matters in life, like just making sure to be surrounded by good people. It's the kind of cliched, yet true, peaceful wisdom that can only come from someone in their thirties — after the craziness of the twenties; after the cosmic rite of passage of a Saturn return. In your 30s, you've mostly figured out who your ride-or-dies are, and you've let go of those who aren't. This was important to Aguilera. "You have to connect with the right people that bring certain energies into your life. And have the ability to let go of a lot of things that have hurt you. It's a big deal."
"I watched my mom have to be submissive, watch her Ps and Qs or she's gonna get beat up... You can either be, unfortunately, so damaged by it that you take a turn for the worse, or you can feel empowered by it and make choices to never go down that route."
Aguilera is excited for what's happening with new artists in the entertainment industry, because of how much more progressive it is. "They don't have as much backlash when they come out on the scene. And I did. It was a very interesting and controversial time for me." She points out how much more accepted it is now for an artist to take risks and to also be sexually empowered than it was back then. "Either women are not sexual enough or we're not fulfilling enough of a fantasy for you, but then if we're overtly sexual or feeling empowered in a certain kind of way, then we're shamed for it." She's proud of herself during the "Dirrty" era, even with the harsh criticism she received. "Madonna had to go through it in her day, and she paved the way for my generation to come up. And paying it forward, now a younger generation is coming up and I'm loving what I'm seeing. It's so incredible."
She says adventurous fashion is also more accepted, and it's true. With celebrities being able to get dressed by a stylist and have the images quickly posted to the public, it's easier for them to experiment and get immediate praise, or disapproval. Aguilera says back then an artist would play with their look from video to video, or record to record. "It was more of a slow-moving thing, and now it's like, a different red carpet look. It's very interesting how that happens." She doles out one piece of advice: "Be fearless in breaking new boundaries and don't be afraid to go against the grain of criticism along the way." That can be helpful to anyone, whether they're an artist or not.
It's the same kind of advice she'll tell her daughter when she's old enough to understand. "I don't want to inject too much upon her as to how I'm choosing to live my life and what I've done in my career," she says. "I just hope I can allow what I'm doing to influence her to be her own person. That's truly what I hope for her." (She'll also let her daughter dye her hair a crazy color if she wants to.) "I really want to make sure my children are both very confident in the sense that they know who they are and that they won't be easily swayed by outside opinion."
As with many parents these days, there's the topic of social media and its influence. Aguilera recognizes that it's a double-edged sword. "There's always gonna be the good and the evil, the dark and the light. I think now is the time, more than ever, that we're seeing that in every sense of the word." She thinks that the fashion and beauty industries are also progressing in the right direction, as far as more inclusive beauty and body image standards, which we're seeing play out on social media. "There's always gonna be those trolls out there or people that have their own definition and ideals of beauty, but I think we're progressing to a place of pushback and more people coming out." And if you're not on board with the fight for inclusivity and diversity, Aguilera has no time for that.
"It's like my Instagram says right now," she proclaims, referring to her avatar in which she's wearing velour track pants, sunglasses and a fur coat draped over a particular slogan shirt. "Everybody that can't hop on that train can suck our dicks."
Photography: Zoey Grossman
Styling: Coline Bach
Hair: Rob Talty
Makeup: Kali Kennedy
Manicure: Allison Tu
Digital Tech: Dustin Welty
Photography Assistant: Phil Sanchez
Fashion Assistants: Stephanie Collinge, Kelsey Day, Amrita Dhaliwal, Daniel Gray, Erin Macdonald
Location: Smashbox Studios in Culver City, CA