At the announcement of Chloe Bailey's collaboration with Chris Brown, the star's fanbase made it clear they believed the feature on "How Does It Feel" for her forthcoming debut album, In Pieces, was a poor decision, considering Brown's history of abuse and assault.
Now, with In Pieces out in the world, the question remains still: why choose Brown for the song?
While fans debated whether or not the collaboration was a forced effort by Bailey's label to produce a radio hit, the song did not engage well with mainstream audiences and landed at #10 on the Billboard Bubbling Under Hot 100. As if an unsuccessful collab wasn't enough, Bailey's controversial choice has added her to the list of Black women that have worked with Brown since his altercation involving former-girlfriend Rihanna in 2009.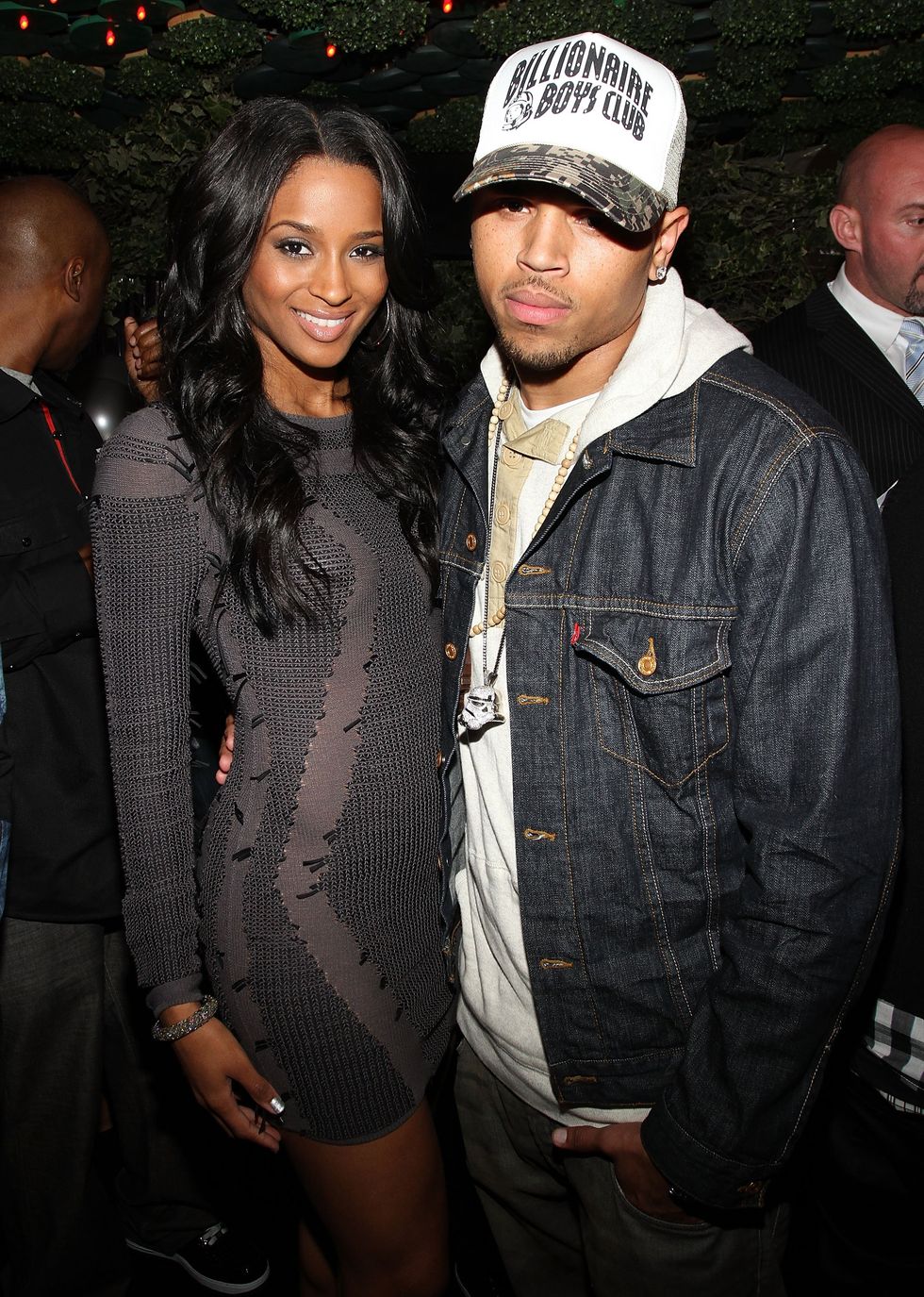 Ciara with Brown in 2010
Photo via Getty/ Jerritt Clark
As Rowland was awarding Brown with Favorite Male R&B Artist at the 2022 American Music Awards, she swiftly shut down the crowd's displeasing reaction to the announcement by telling the audience to "chill out." Rowland's response led to her doubling down on her comments during a brief interview with TMZ, stating that Brown deserves "grace" and "forgiveness." She also went on to say we're "all humans that come up short."
In the same week, Sparks enlisted herself in the ongoing saga of defending Brown by insisting that the controversy surrounding his past actions shouldn't even be a conversation anymore. "People deserve to be able to grow and learn and be able to live their life without things hanging over them. Everybody deserves that... him especially," Sparks said to TMZ.
Brown has repeated this same rhetoric that his past actions aren't deserving of the continuous slander that he receives, and he even recently went on a tirade on his Instagram stories voicing that he receives more backlash than other notable white celebrities that have been accused of abuse. Between Brown's cries for deflection and the familiar public compulsion to redeem an abuser, this tactic isn't new within the Black community.
A notable number of Black male artists that have committed abuse have continued to reap the benefits of their fame with an unwavering amount of support from a dedicated fanbase. An unsettling number of R. Kelly's die-hard fans were Black millennial women excusing his predatory behavior and insisting that Kelly was another Black man being mishandled by the criminal justice system. This is the same rhetoric that Brown has used in his aforementioned Instagram stories, which seems to offset any sign of remorse for his endless list of problematic behavior. Perhaps the nostalgia of being a fan of Brown's discography has allowed some to minimize his actions to a "mistake," specifically in regards to Rowland and Sparks' statements. But regardless of the amount of streams and adoration for 2000s chart topping hits like "Kiss Kiss" and "No Air," no platinum single is a valid excuse for his violence toward Black women.
It seems as if the history of Brown's problematic behavior has not watered down his popularity, since he is still referred to as a rare talent in the industry and praised for his choreography. Although some may argue that Brown's alleged violence began and ended with Rihanna in the late 2000s, he's had a series of offenses in the last decade.
His history of violence hasn't always remained physical, and it eventually transferred into a harmful online presence, including his 2016 tweets that mocked Kehlani's suicide attempt as a "sympathy ploy." In the last four years, Brown has received multiple accusations of colorist behavior toward dark-skinned Black women, not to mention the texturist lyrics in his 2019 song "Need A Stack." The Lil Wayne-assisted track was one of 33 on his ninth studio album Indigo, and the third verse clearly directed a harmful narrative toward Black women and their hair with the lyrics: "Only wanna fuck the Black bitches with the nice hair."
Shortly after the controversy around these lyrics, Brown doubled down on them in the comment section of a post on Instagram blogosphere The Shade Room.
With all of these wrongdoings being public information, what exactly is the reason behind Brown's neverending redemption campaign?
Perhaps Brown's status as a former Hollywood heartthrob in the early 2000s led to the parasocial relationship that his fanbase of Black women (also known as Team Breezy) has developed. Prior to his relationship with Rihanna, Brown was undoubtedly a common crush among preteens alongside other R&B artists like Omarion and Bow Wow. In your teens, forming an adoration for an artist can lead you down the path of forming a parasocial relationship with an artist, which could result in developing unhealthy morals separating the art from the artist. For those that held a neutral perspective on Brown's altercation with Rihanna or accepted her forgiveness of Brown, some of his fanbase may have chosen to overlook the rest of his violent offenses.
In an article for Refinery 29, writer Hanna Phifer suggests that internalized misogynoir seems to be at the root of the problem as to why Black women cannot fully separate themselves as Brown's collaborators and fans. Somehow, the aforementioned colorism, texturism, homophobia and misogyny do not completely rid the internet of celebrating Brown's backflips and musical accolades. With all of these factors under consideration, it's difficult to determine why Brown is deemed as a saving grace for a Black pop star's rise to radio fame, especially at the cost of being alienated by your fanbase.
Considering that there's an abundance of talented male artists in the R&B realm, fans are left wondering why Bailey didn't opt for an artist that doesn't have a history of being an abuser. Just weeks after she announced her song with Brown, others pointed out the disappointing similarity in TDE rapper Doechii's announcement for a collaboration with fellow Florida rapper Kodak Black, who pleaded guilty to sexually assaulting a teenage girl in 2016. Her song, "What Is It (Block Boy)," has already been accompanied by a solo version without Black's presence on the track, but the damage is already done.
The harm of not holding abusers accountable for their actions will more than likely not be forgotten by these artists' fanbases. It's predictable that an incoming Black pop star will repeat this tired cycle of collaborations — but we can hope more artists will be transparent (like Cookiee Kawaii on working with Tyga) about their part in harming survivors and victims.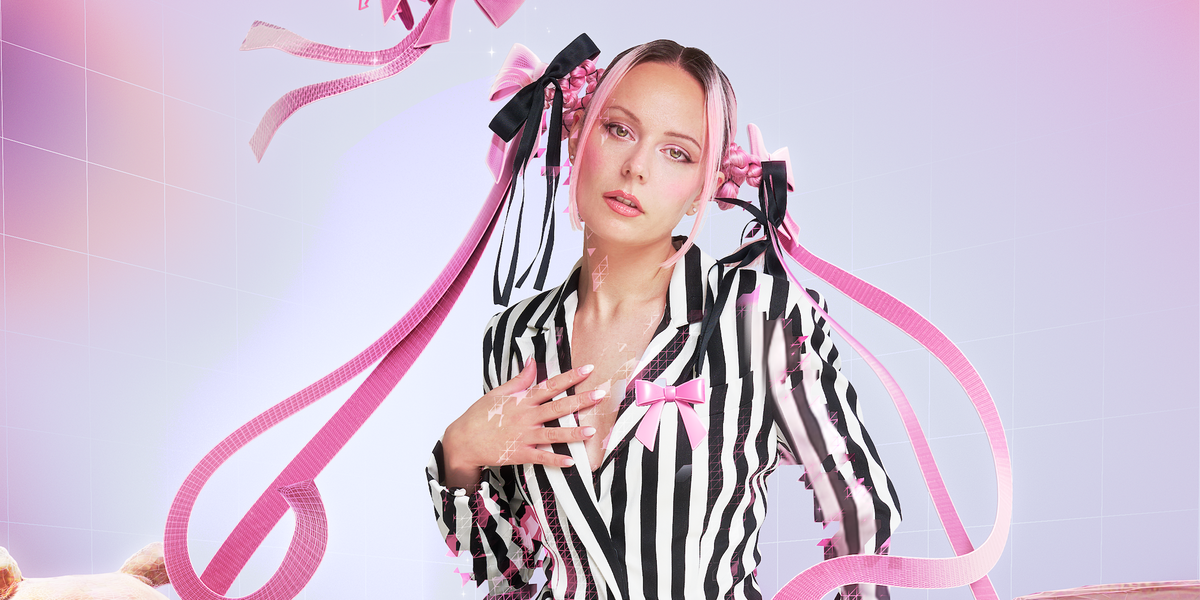 Music
Story by Harry Tafoya / Creative direction & VFX by Andy Rolfes / Photography by Nicholas Needham / Styling by Erik Ziemba / Hair by Davey Matthew / Makeup by Frostie Delite
Story by Harry Tafoya / Creative direction & VFX by Andy Rolfes / Photography by Nicholas Needham / Styling by Erik Ziemba / Hair by Davey Matthew / Makeup by Frostie Delite
07 November