While most fall collections won't hit stores until September, Burberry's is coming early to Opening Ceremony. Available at openingceremony.com and the retailer's New York and Los Angeles stores, the capsule features both exclusive pieces from Burberry's fall collection and styles made especially for Opening Ceremony.
Reissued logo jerseys and toweling pieces from the Burberry archives are punctuated with bright rainbow typography and graphics including major global landmarks like the London Bridge and Arch de Triumph. Caps and totes in the British heritage label's iconic tan, black, and red tartan also get a rainbow update, while bright red lettering is layered over shirts made with the vintage check fabric.
Related | Opening Ceremony Takes Over Disneyland With Mickey Mouse
To capture the collection's spirit, Opening Ceremony sent photographer Salvatore Caputo to beachfront raves outside of Kiev, Ukraine. "I heard that Kiev's party scene was the best in the world,"Opening Ceremony's fashion director Carol Song says of choice in destination. "It felt like'the last rave' — the last place in the world where this culture felt authentic, no BS." From 2:00 PM till sunrise the following day, Caputo photographed free-spirited young ravers dressed in pieces from the capsule uninhibitedly dancing, embracing, and kissing.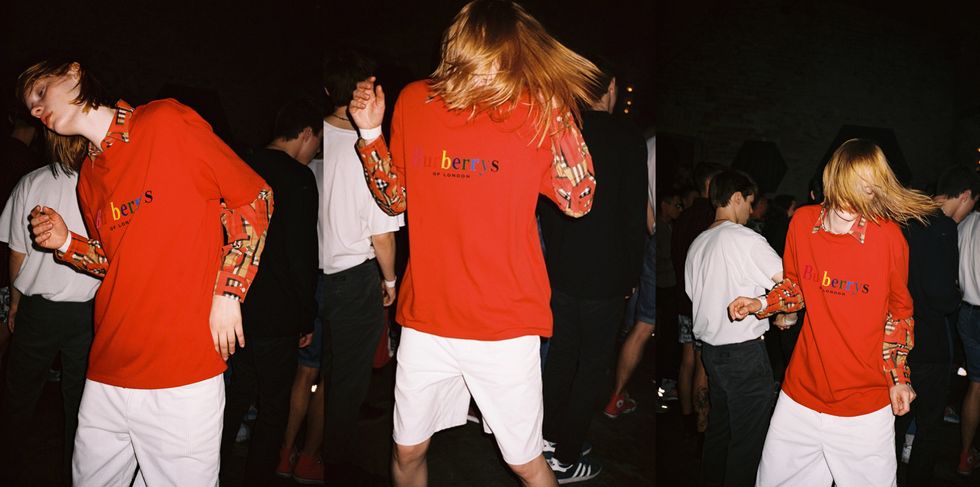 While Song expected a tough, jaded attitude from the crowd she and Caputo were met with open-mindedness and warmth. "Kiev is breathtaking," she says, "but the kids I met and the sense of adventure I witnessed left me with an unforgettable experience."
Photography: Salvatore Caputo