As a generation, we are increasingly more sex positive, body-positive, fluid, and all-around accepting than our predecessors, who're largely intolerant of these things — but when it comes to celebrities, are young people as open?
The majority of us grew up during a time when images of very thin women dominated mainstream media, and as the Internet ushered in a new beauty standard — a "slim-thicc," hour glass-shaped Kardashian-type — millennials and gen Z had to fall into line fast. Now, we're left grappling with a host of conflicting values.
Related | An Afternoon Off With Tess Holliday
The latest to expose our rotten underbelly is Rihanna, the anointed queen of pop culture, who we've watched evolve from a 17-year-old Bajan beauty with a hit song, to an international phenomenon, businesswoman and humanitarian. Whether it be a new shoot, record, or visual, Rihanna's reign proved she can do no wrong — and then she began gaining weight. Suddenly, youth now seems torn by a fuller-bodied pop princess.
At the 2018 Grammy Awards, Rihanna performed her DJ Khaled collaboration "Wild Thoughts," an impressive feat considering she hasn't released a full-length project in the last year. And while her rendition of the hit track was captivating, it was her weight that held social media's attention. Her figure-hugging custom Adam Selman drew much speculation, and especially on Twitter:
Meanwhile, we revere Ashley Graham, have embraced Tess Holliday, and obsess over Jordyn Woods and Barbie Ferriera. We understand the importance of no longer holding women to impossible standards and often opt to substitute the label "plus-size" for "curvy." We've even been able to re-appropriate the word "thicc" to become the highest of compliments.
But for women whose images and output are tattooed onto the public conscious to evolve, either physically or professionally, we're somehow left betrayed by their changes. Rihanna has for so long been a staple in entertainment, that we feel as though we played a definitive part in formulating her public identity — we've contributed to creating her. Since we have our say in our Rihanna's music, makeup and looks, why shouldn't we weigh in on her weight, as well?
When first pictures of "new" Rihanna emerged months ago, news-site-for-your-below-average-bro Barstool Sports, published a hand-wringing op-ed decrying Rihanna's recent weight-gain in case it inspires other woman to follow suit.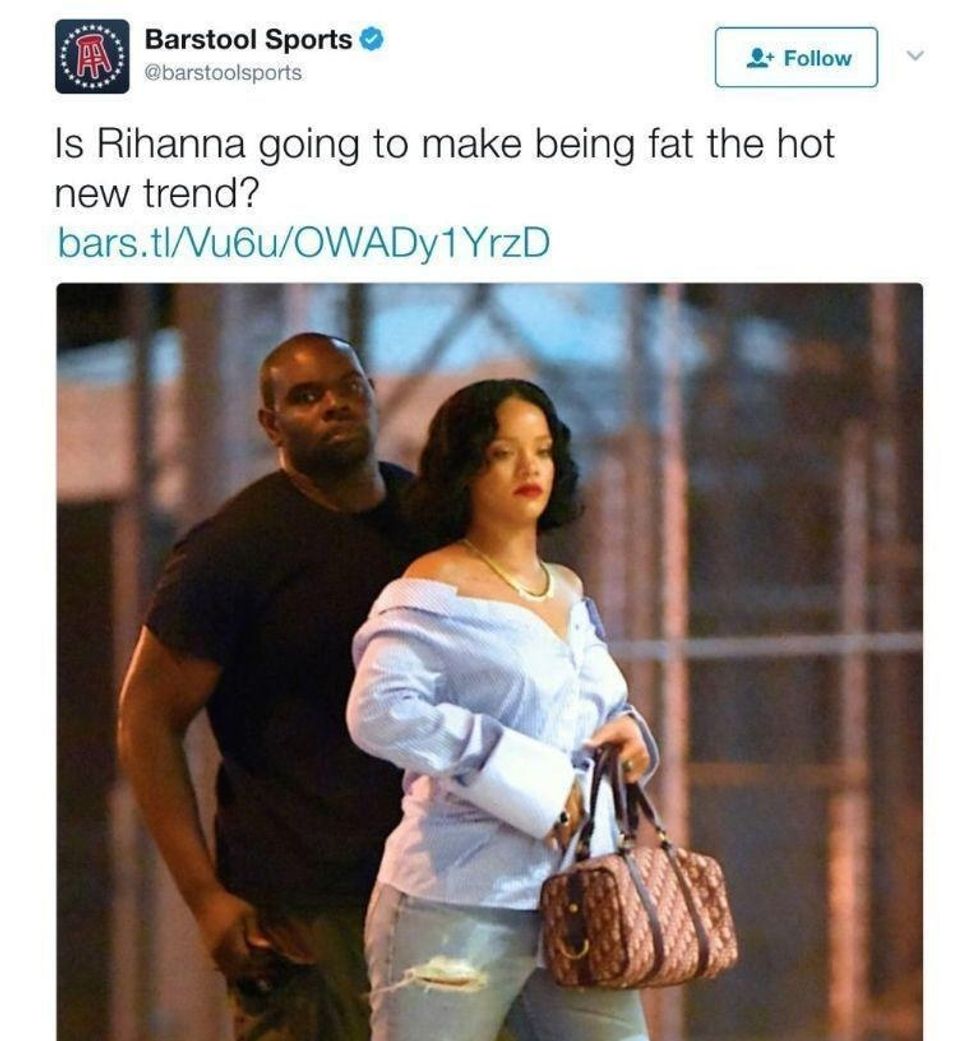 "With all the fat acceptance and 'love me as I am' crowd, there's definitely a world where I could see chicks see Rihanna make some strong 'I don't give a fuck I just love pizza' quote that goes viral and bam we're in a world where all the hottest girls look like the humans in Wall-E... A world of ladies shaped like the Hindenburg loaded into one-piece bathing suits may be on the horizon now that Rihanna is traipsing around out there looking like she's in a sumo suit," the author wrote.
Related | Rihanna Has Returned to 'Thickanna' and the Fat Shamers Have Arrived in Full Force
After the article blew up online, Rihanna herself responded on Instagram, posting a meme that read, "If you can't handle me at my 2007 Gucci Mane, you don't deserve me at my 2017 Gucci Mane."
Rihanna's unabashed resolve to live the way she sees fit is hugely integral to our growth as a generation. Given that she is far from dangerously overweight, or even remotely unhealthy (given last night's impressive display), we should be championing a bigger Rihanna — or any Rihanna that Rihanna wants for herself (because Rihanna).
Related | Break the Rules: Rihanna
What we need more than ever is visibility — strong women of every size at the forefront for us to realize that size isn't a sentence, it's a state, and like everything else, just as fluid as every other part of our being. Rihanna isn't 17 anymore, and no longer at the liberty of middle-aged male music execs who might have told her to lose a few to be more appealing; she's a powerful independent entity who dictates her own direction and size.
Whether Ashley Graham becomes a size 4 and Rihanna a 14, these are the same women we fell in love with for their talent, beauty and ability to spark conversation that ultimately shifts our cultural thinking. Thicc, thin or fat, Rihanna will always be Rihanna, and that's far more impressive than tipping the scales at 100 pounds.

Image via Getty