Chicago-based artist Zain Curtis has transformed into a number of identities throughout the past decade, first famous in the underground scene for throwing outsider parties and purveying the early 2000s bubblegum pop aesthetic that's become a norm today. Known then under the moniker Teen Witch Fan Club, Curtis was an A-list Tumblr fixation, uploading pitched-up remixes of your favorite pop stars online and cultivating a dedicated queer community of nightlife freaks offline.
Ever-evolving, Curtis has more recently been using his obsession with pop culture to create DIY celebrity zines. One Direction's Zayn Malik was the subject of Curtis' first release, Solo, celebrating the singer's breakout music with drawings of him wearing jockstraps and playing with sex toys. Naturally, it sold out. His second featured Justin Bieber in Boyfriend, another $5 zine "with fictional drawings of your favorite bad boy" that showed Bieber posing naked in a convertible. Sold out. Success included drawings of Snapchat star DJ Khaled "unloading by the pool," while Fluidamplified the controversy surrounding Gigi and Zayn's (not so) gender fluid Vogue cover. Both sold out.
After a difficult breakup and sexual awakening, Curtis decided to make himself the star of his latest x-rated queer zine, Blood & Cum. He developed a character named Draco the Clown, which Curtis says is both a realized fantasy and reflection of his true self. Inside the zine that's "all thriller, no filler," Draco transforms into a blood-thirsty, ball-gagged clown, a leather BDSM tennis player, a fully nude burn victim, a ghost huffing poppers, and much more. It's all completely horrifying, a bit disgusting, but strangely arousing. Available now via New Hell, Blood & Cum includes a wearable Draco mask, mini centerfold poster and hand-signed postcard.
PAPER caught up with Curtis to learn more about the making of Blood & Cum, his mother's opinion on the project, and why it's important to challenge yourself with scary, new ventures. To celebrate the zine's release, he also created an exclusive mix, "Happy Birthday, Draco," which features eerie updates on Ariana Grande and Ciara. Listen, below.
You've gone through a variety of visual identities through the years, and this is arguably your most extreme. What caused the shift?
I think two major things kind of contributed to it, one being the election. I think I was overly invested in it and it took over my life. I didn't realize until recently how much it was affecting my art. The colors I would use became darker and actually aligned more with what I was feeling than anything I made before. I think we have no more time to be casual about things. I believe now if I want to make statements and have something to say or make I do it right away. Compared to before. I would overthink and then end up not accomplishing anything. The other was going through really rough break ups and a whirlwind of a relationship that kind of drove me to finally do what I wanted and inspired the sexual aspect of my work. It's an extreme jump, but it's always what was swirling up in my head for the longest time. So to me it's what always needed to happen and I was just in the right mindset to make the leap.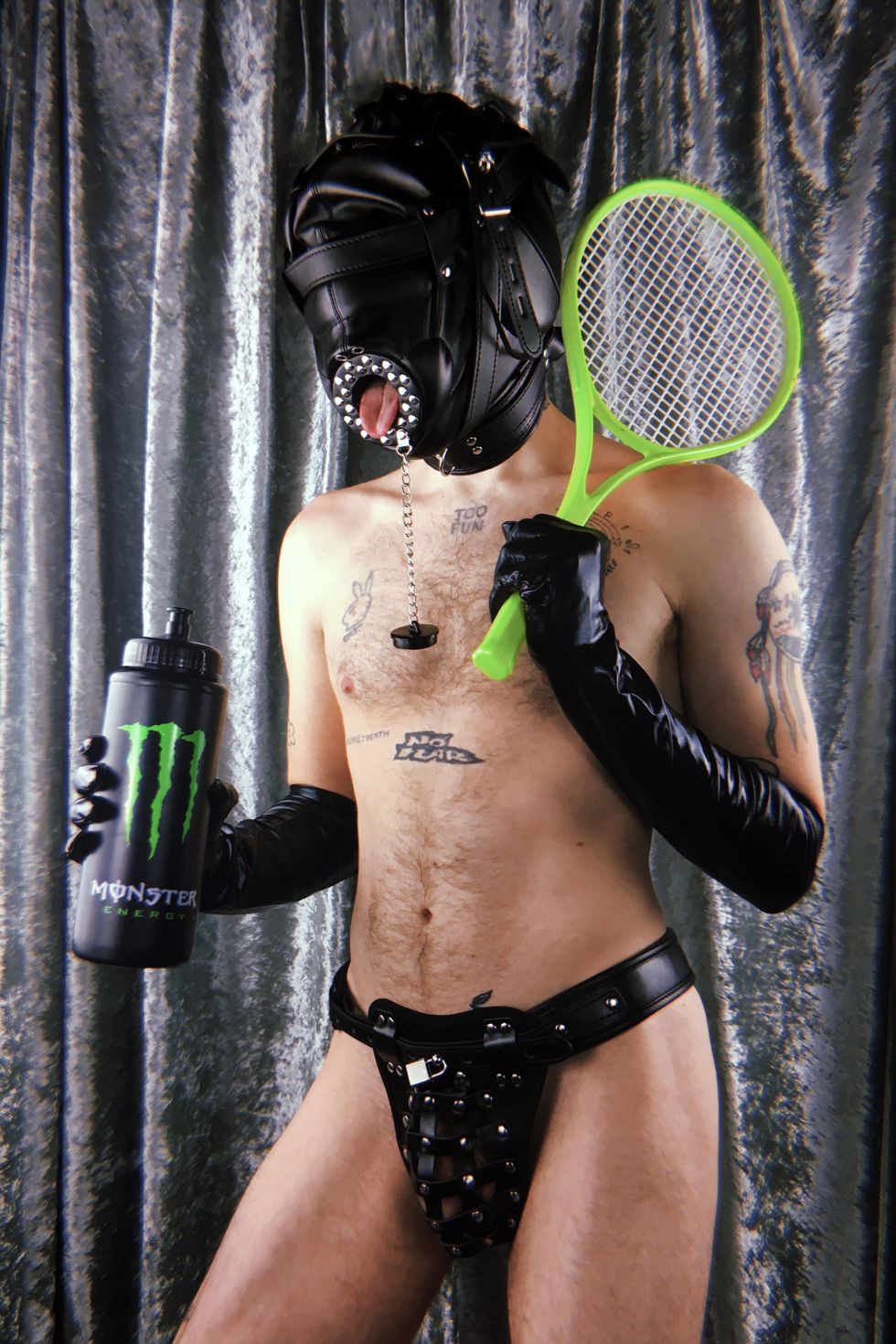 Do you feel like Draco is an extension of your personality, or is this a full alter-ego that you've developed? Talk me through the relationship between fact and fiction.
I think there will be many components to me as Draco. Going through this has really awakened a creative side that I want to pour into all of my projects. Not just with the magazine, but musically and hopefully building up to making films. It's an alter ego, but it's something that gives me confidence in my day-to-day life. Egos are hard to manage, but I think it has to be fed in order to get where you ideally want to be. We just don't live in a world where someone is going to come up and give you the job you want or pay your bills. The balance of the ego is thinking I deserve something, but being grounded enough to know I need to work towards it. In normal life I'm a pretty awkward and shy person, and I have let a lot of other egos step over me. [I'm] building off a character I created that has no fucks to give and almost my own personal superhero to look up to. Maybe they will fuse together one day. I try to have real life be this fantasy world as much as possible just so everything makes sense for myself. I probably say, "Oh my god, I feel like I'm in a movie," at least 10 times a day.
"I try to have real life be this fantasy world as much as possible just so everything makes sense for myself."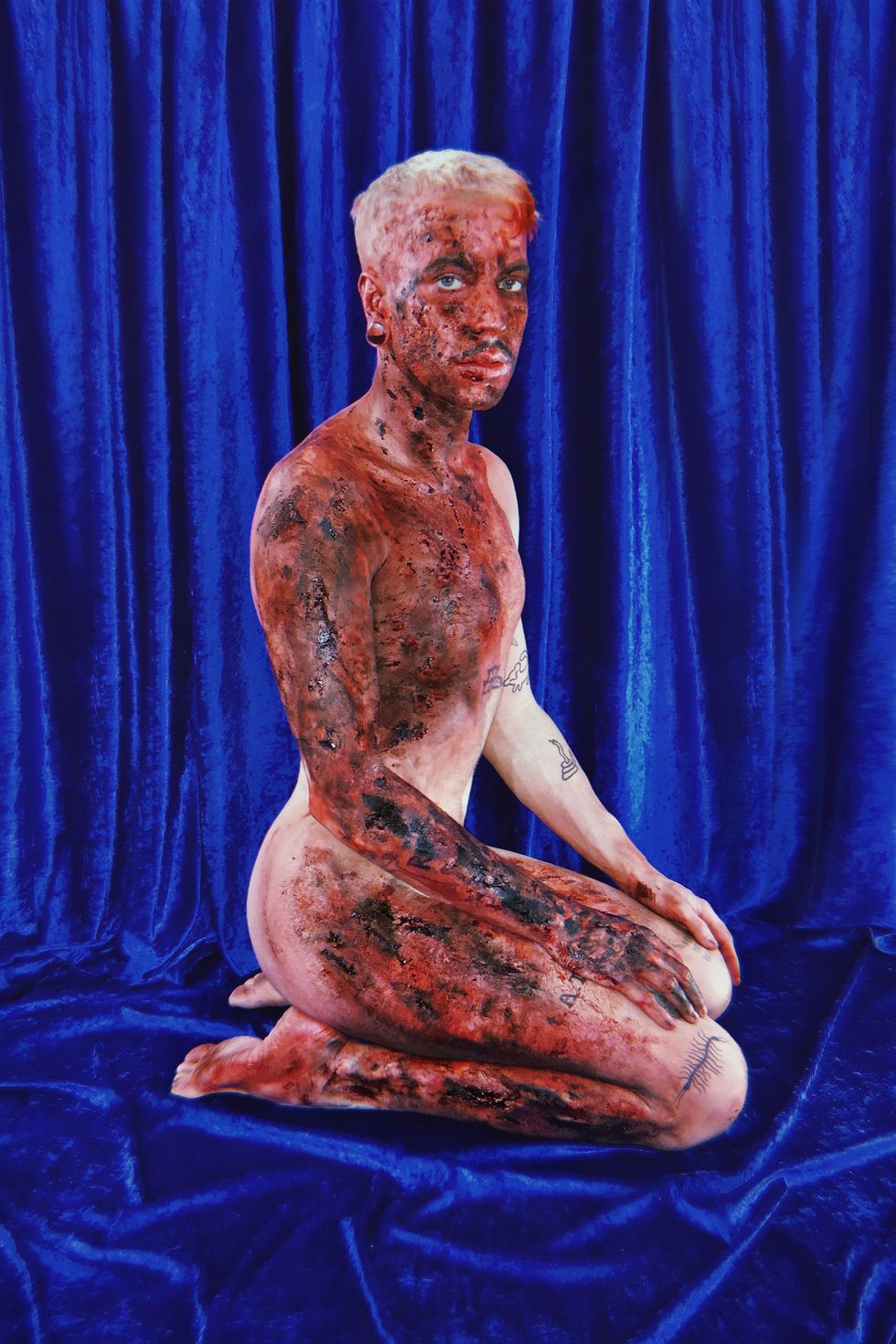 When did you start creating the imagery for this zine? Where did you look to for inspiration, and what were you hoping to accomplish with the final shots?
I did a test shoot over the summer, which ended up being the visuals for the short erotica in the magazine. I posted it to see how people would react and asked if I should build on it and make a full magazine. Since then I was thinking of doing it, but basically I just started on it when my roommate went out of town for a few days and set up a little studio in the living room. I did it all over a span of two weeks, sent it off to print and never looked back. When making it I was watching a lot of '80s commercial blocks on YouTube. I wanted the viewer to see it and think, Wow there's something about this that's a little unhinged, but in a purposeful staged way — kind of like '90s character pornos. Things are so staged it's more humorous than anything. Even though it's such an intense intercourse scene I would just be cracking up because E.T. is getting sucked off. The quality was just so bad, too. I always thought using VHS-inspired visuals were overdone, but then I started playing with it and they just made everything a little more eerie and dark. Now I'm obsessed.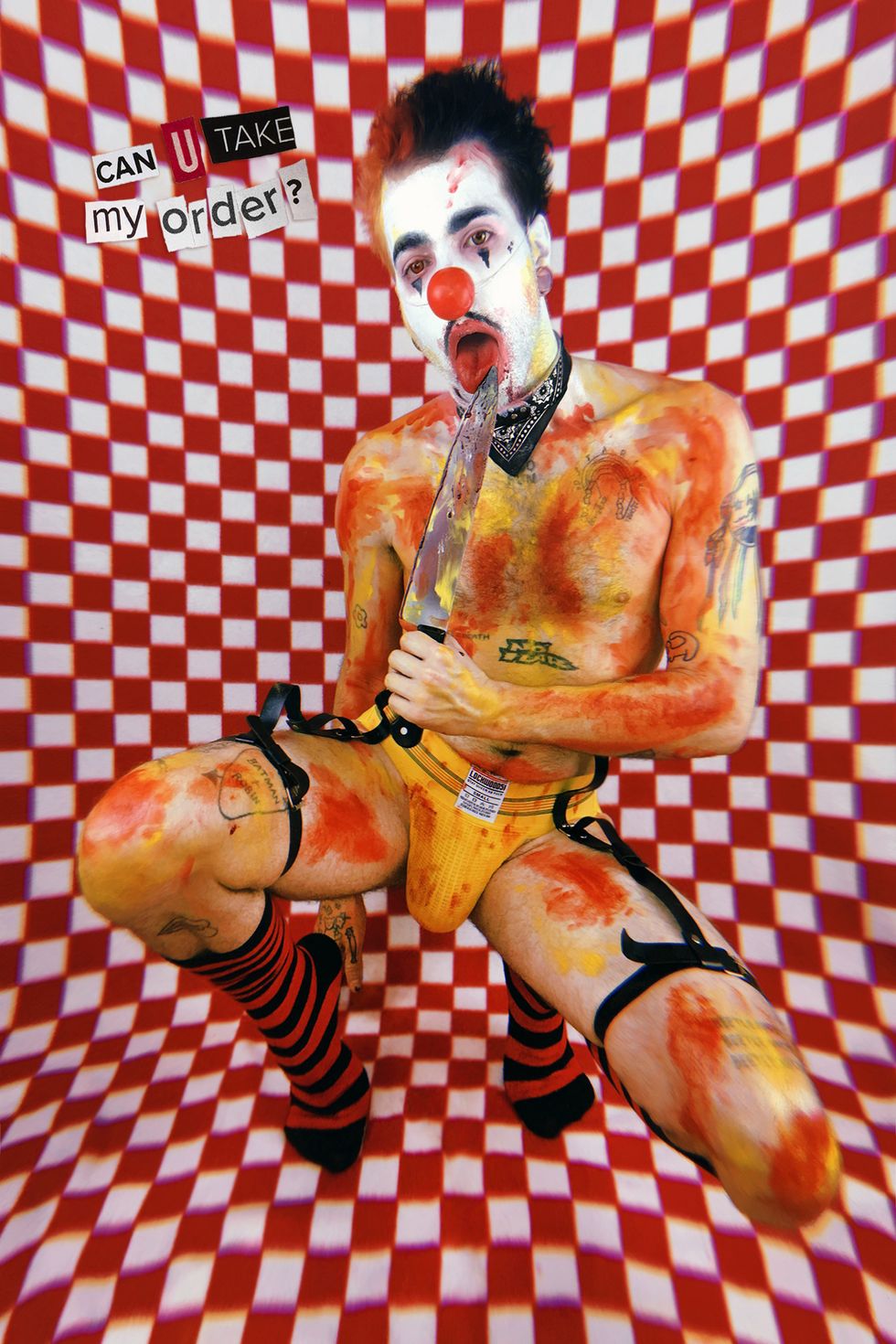 Your zines have always been sexual, between Justin and Zayn's fan fiction, but this is the first time you're putting yourself forward as the sexualized subject. Why now? Was this intimidating or liberating?

Very much both! I experienced every range of emotion with this project. When producing it I felt fully liberated, and was just in a great mindset and having so much fun with it. I think you can see and feel that in the photos. After that there is a two week period of getting it printed. During those days I really wanted to cut the whole thing and was way in my head thinking this is just too far. What will people think of me? If it comes across wrong I'm just going to be laughed at with my pants down, which is everyone's worst nightmare.
The day before I had to send them off I had a major panic attack and felt really wrong about it. I was almost on the verge of just refunding all the preorders and be done with it. At the post office, I felt pretty numb and just sent them out hoping for the best. Then everyone began to get them in the mail. I started to get positive messages saying how great it came out which put me at ease. Then I've been getting the most wonderful messages from people saying it's inspiring them to be more themselves and to take more risks in their lives. I get tagged and sent things that remind them of my style. So that's when I really started to feel good about it again and believing I'm on the right path. I feel fully proud of it as the first issue, and it's set a milestone in my life that hopefully I can go higher with.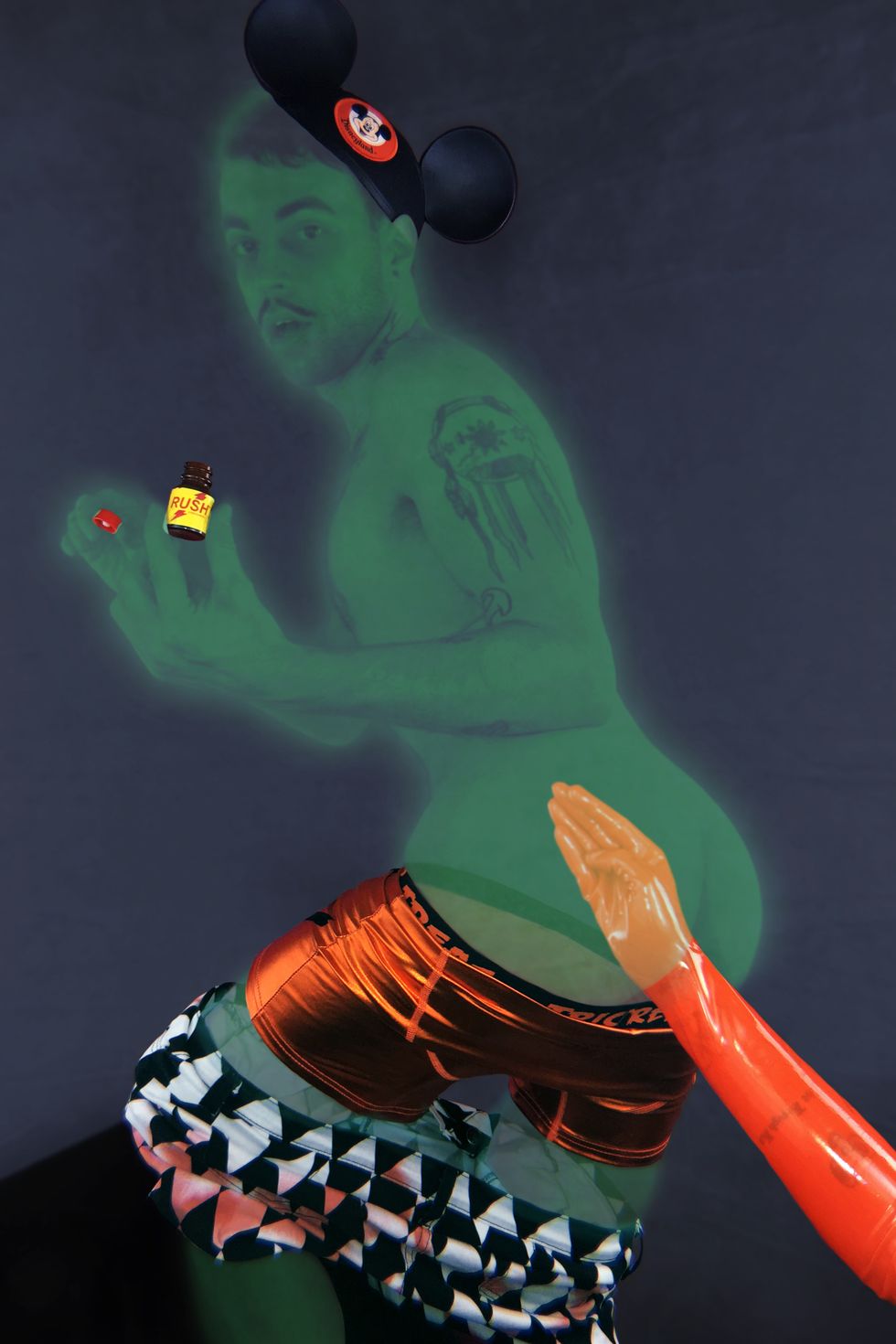 How much of this is fueled by your own fantasy? Do you feel like you've been able to experience things that you wouldn't have been able to if you didn't embody Draco?
Completely. I would have never bought a gimp mask on my own. I thought of ideas in a way of seeing if maybe I could be into these types of fetishes — using this project as a practice and see if I could go further. I know now I pretty much hate the feeling of everything thing I did, but it makes for a cool photo. I will never wear a gimp mask that closes off my eyes again. It was the worst feeling in the world. I respect communities that use them, but I want it no where near my face again. I actually hate wearing masks of all kinds. Which is kind of funny because I love them aesthetically and to collect. I just think they always smell bad and I do not like having my vision taken away. That shows you how dedicated I was to getting the photos though. Yeah, I think I'll stick to face paint.
Who are some of your favorite horror/Halloween icons? Are there any famous figures who inspired some of the photos in this zine?

There are a lot of classic horror movies that I just don't care for. There are some scenes that look cool, but I end up getting bored and falling asleep. So maybe not the scenes so much, but Draco as a character I'm highly inspired by the Joker and Harley Quinn's relationship in the Batman series. @soyunapringada, @benny_revival are for sure people I looked to when creating Draco.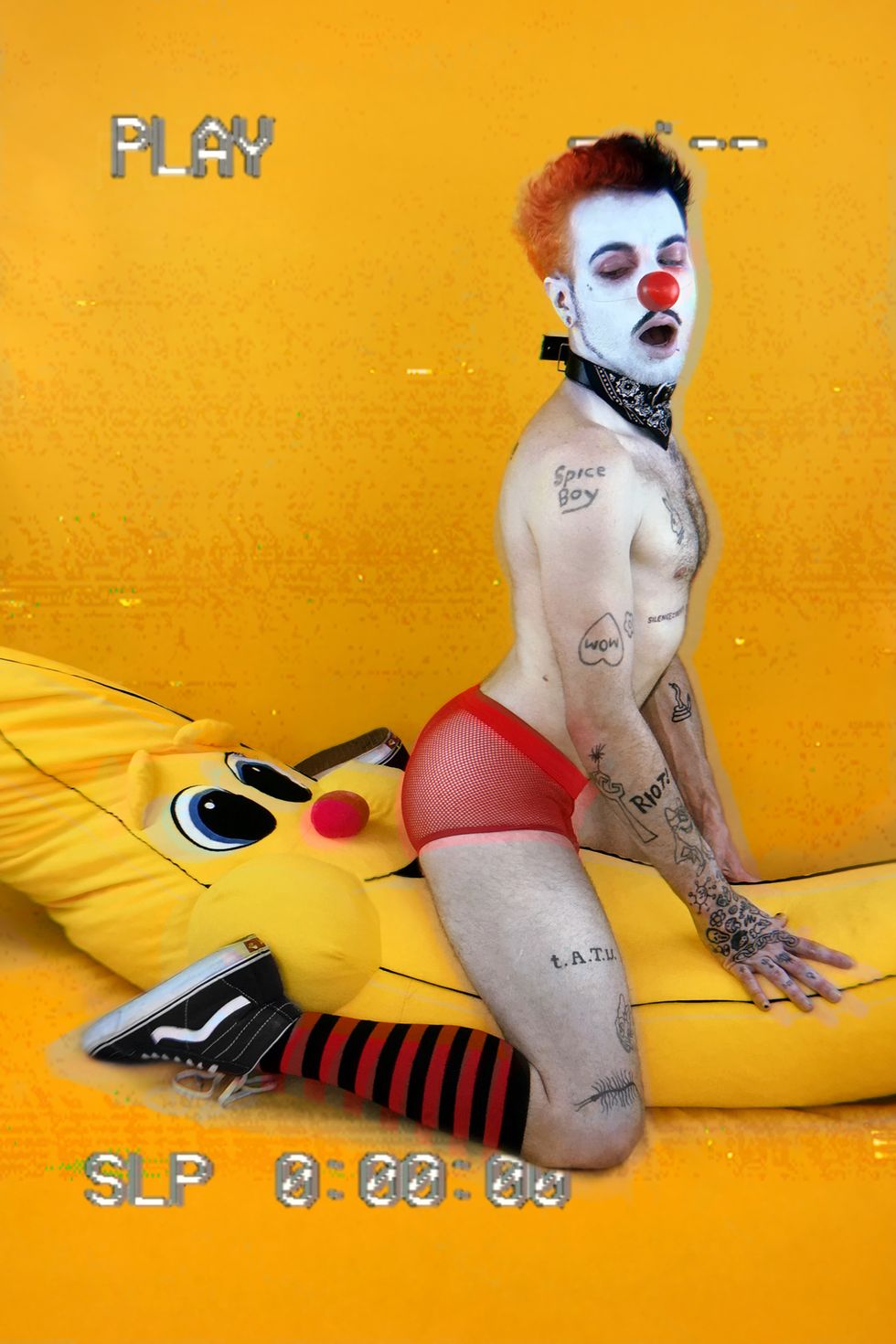 Did you produce everything by yourself? Talk me through the production process, and what it took to create all these different wild environments?

100 percent was done by myself. I was on a very tight budget so I bought studio lights off Amazon, went to JoAnn's and got half-off fabrics and doubled up coupons. I would go to Goodwill every day right when they were setting their Halloween items out. I collected things for a week then did most the zine over a three-day span, which was around four to five completely different scenes a day. I shot them all on my iPhone, which people can't get over. I would set up a mirror in front of me so I could see my composition and just went at it. [I] wrote the story out in about two days. I think I just had so much adrenaline to prove myself, and getting my full vision out I didn't even bother trying to get any help. Now that I have this I do want to work and collaborate in future issues, and Draco is probably only going to act as a mascot for the magazine. I have a ton of ideas and already planned some things for the next issue.
"I love feeling transparent and open with everyone in my life. It's more freeing than just exposing your junk."
Now that you've released the zine, what has the reaction been? What have you learned through this process?

Overall I couldn't have asked for a better reaction. I had friends that were very skeptical before its release, and reaching out now saying I did a great job so that has been the most comforting to hear. My mom loves it for some reason. I've been trying to hide a bit from her, but she wanted to see it. So I was like, You know what, let's do this. I love feeling transparent and open with everyone in my life. It's more freeing than just exposing your junk. I learned just go with my first gut feeling when creating, even if it's hard to pull off or takes me completely out of my comfort zone. If I think of something just start working on it as quickly as possible. Just keep going.