Betty Who wants to be the very best — not just the best at music, but the best at love.
At 26, the Aussie singer/songwriter is more ambitious than ever, as she enters a new chapter of her career and personal life. She's freshly independent after closing her contract with RCA Records, which gave us Take Me When You Go and The Valley, and she's newly engaged to photographer Zak Cassar. While these changes could have thrown her off, they're the force behind Who's drive, as she pulls from her experiences with love and navigates newfound freedom to become the biggest pop star possible.
The singer returns today with "Ignore Me," her first single as an independent musician in five years. "Every decision made was mine, every detail was agonised [sic] over, and every last bit of my heart is in this song," Who wrote on Instagram. "I can finally put out music the way I've always wanted to: straight from me to you." Co-written with Leland (Troye Sivan, Selena Gomez, Allie X) and produced by Who's longtime collaborator Peter Thomas ("Somebody Loves You"), the track is '80s synth-pop at its finest.
"Ignore me, forget I was born," Who sings on the chorus. "Ignore me, cause you don't need me anymore." It's a glum, relatable sentiment, though Who's delivery puts her in a position of power — she's not the victim, she's completely in control. "You don't get to go to my parties, I throw parties for people I know," she says, channeling Mariah's "I don't know her." Paired with Thomas' bright production, "Ignore Me" is an incredible juxtaposition, spotlighting Who's smart lyricism and keen understanding of pop.
Stream "Ignore Me" by Betty Who, and learn more about the rising star, below.
It feels like we just got The Valley, and you're already putting out new material. How did "Ignore Me" come about?

I wrote this last year, later in the year. I got off tour, and had just become an independent artist. I was really feeling myself, and felt like I had this new surge of excitement, drive and vision for what I want to do. I got into a couple of sessions, and in a very short span of time, I had like eight or nine songs that I'm completely obsessed with. I could put another album out tomorrow if I really wanted, but I just want to keep putting songs out. I don't want to sit in the studio for two years ever again, I hated it so much. I hated having to wait, and just sit on music. The way people consume music now doesn't work for that style anymore. I really want to be proactive and conform to the new way we listen to music, which I think is immediate. I think putting out singles, not waiting around to finish an album is my new plan.
You're an independent artist now?
Yeah, I got out of my deal with RCA. I'm completely independent.
Amazing! How does that feel?
Oh my god, I can't even tell you how incredible this is. I have no hard feelings, I'm completely on to bigger and better things. I'm happy to have had the experience that I had and to have learned so much about the industry and myself — to cut into myself in such an intense way, because I think the entertainment industry does that to you. It makes you get real deep real quick with yourself and makes you figure out who you want to be and what you want to do with it.
So I took a break after the last couple of years to find that, and I feel like I'm in a totally new space. And I think these songs in a reflect that space; there's so much clarity and precision in the way they were executed, and so much of that story is within these songs. It was just about pushing the boundaries, and putting songs out that maybe wouldn't have worked in an album. It's just a single, who cares? I think that's the best part about they way I want to write songs and do things. It's the best feeling ever to be in charge of your own destiny; who doesn't want that?
In a way, you've had the perfect career trajectory so far: you had this big breakout, viral moment, then you got the validation of a major label like RCA, and now you have total creative freedom with a platform. It's perfect.
It feels perfect. And you know, I haven't felt this way since before I signed my deal. I think I was 20 or 21 when I signed my deal. I was so psyched like, Yeah are you kidding? Now, I'm 26 — in pop years, I'm like 80, so this is exciting [Laughs]. I feel like it's a totally new world for me. Everything has this new sparkle to it, which it hasn't had in a long time.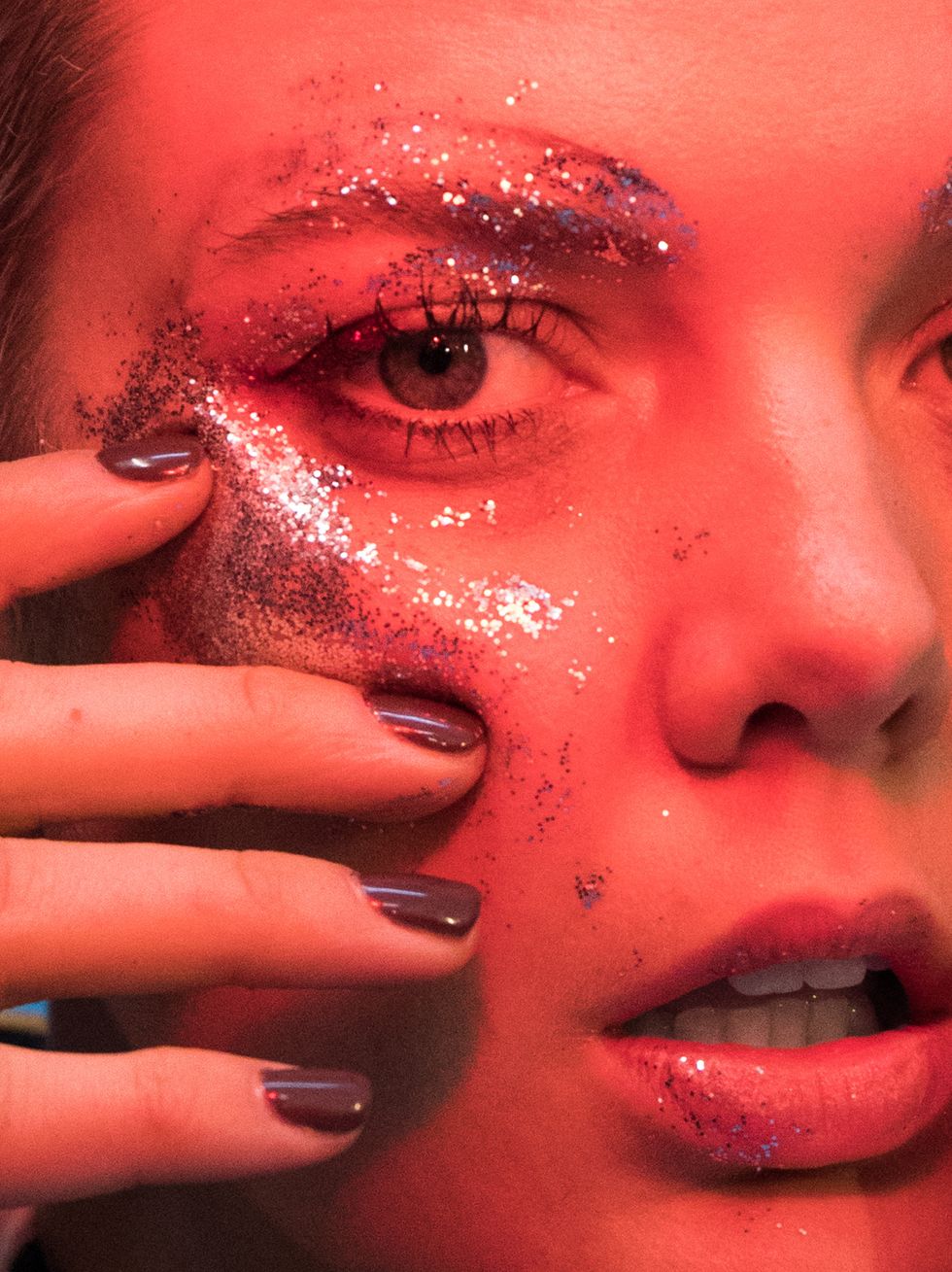 "Ignore Me" is a strong statement. Is it based off a personal story?
Every song I write is routed in some kind of personal experience. I have been rejected many times in my life. And this song is not about a romantic relationship to me — I think that's why I love it so much. It can be anything for anybody; it can be about the feeling of being let down by somebody, or being strung along; it can be about a business partner, a boyfriend, a parent, a best friend. That feeling isn't exclusive to romantic relationships.
I love that you make pop music, but it's never straightforward — always a bit off-kilter. Do you think about this?
Yeah, of course. I'm really interested in spending more time trying to do things that really make me interested and excited to perform it. I want to write music that makes my musician friends go, "Oh I see what you did there! You made choices." I grew up in music school, and I've been studying music my entire life. I think a part of me will always crave making music specifically for those people so that it impresses them, excites them and challenges them, while not alienating people who love music just because they love it. I try to ride that line, because it's my favorite place to live. Someone who does that pretty well is Rihanna. She makes stuff that's sometimes so fucking crazy, and you're like, "Wait that's the most musical, insane, beautiful song I've ever heard." But she'll also put out "Love On The Brain," and it could've been an Al Green song, and you're like, "What is this? You're the coolest person ever."
Related | Break the Rules: Rihanna
Now that you're independent and fully in control of Betty Who. What do you want for your career?

I want to be the best at this. I love being dedicated to the craft of it, and I think that's something people don't think about — the craft of pop music. There is such a thing as a perfect pop song; "Teenage Dream" was one of them. And writing one, creating one, having one be successful on a really large, commercial scale... that's every pop writer's dream. And I am fascinated and completely enthralled with the process of pop music. The hard stuff is harder than anything I've ever experienced, but the good stuff is the most magical, glitter-filled, confetti explosion of happiness and the grandeur. I want to play stadiums, I want to perform for thousands of people at a time, I want to be the best at what I do.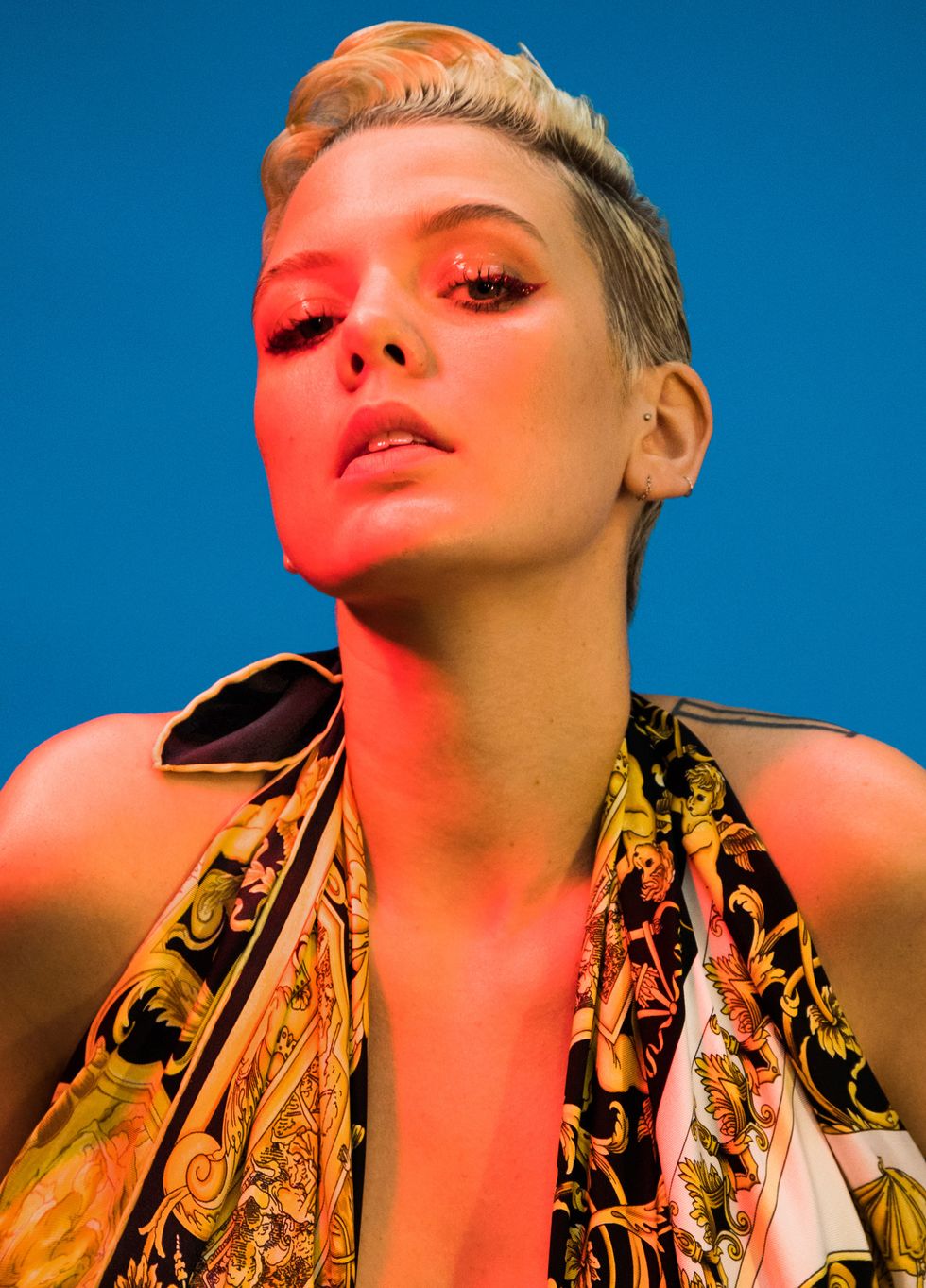 Top: Versace
You've gone from performing in small bars to headlining sold out tours. It's clear that you're a hard worker, but it also comes naturally.

I'm glad you can tell I'm working hard, because everyone that works with me, for me, and around me... we're all working really hard to make this crazy dream happen. That's literally all this is: 10-year-old me watching Britney Spears and saying, "I want to do that one day." And everyone's just like, "OK good luck." I'm still that 10-year-old going, "I really want to do this," and I have a handful of people who have bet on me. So much of the drive I have is to not let those people down. I've known my manager since college, and he and I have been together since I was 19. I can't dream of being with anybody else that could ever help me execute my vision and my wants in the same way. And my bass player, I've also known since college. Jemila and I have played every show together since we were both 19 playing for 50 people, 40 people, 20 people. This group of people I've surrounded myself with have gone, "Cool you want to do it? Let's do it." I've held on to those people desperately, and kept them so close. I'm lucky enough to say that most of them are still around.
Tell us about your recent engagement. Congratulations!
It was actually our three-year anniversary yesterday. Three years doesn't sound that long, but it feels like it's been forever. Much of the big stuff that's happened in my life, he's been there for. And it's so gross, because I'm completely obsessed with him, and when I talk about him I still get that feeling where I want to throw up and smile so big that my face hurts all at the same time.
He proposed at my parents' place, which is one of my favorite places in the world. He knows how important that is to me, and he took me on a walk. He was so nervous, and shaking so intensely. I was like, "What the fuck is wrong with this kid? He looks like he's about to pass out." And then he knelt down and opened the box, and this is hysterical — you know how there's lining inside the box? It fell down over the ring, so he opened the box to propose to me, and I didn't even see the ring. He was like, "God damnit!"
I don't really remember what he said, or what I said. I actually completely blacked out from that memory, until I remember after I had said yes, I went to go hug him and I put my hand on his neck and remember feeling his heart beating so fast like a little hummingbird. I was like, "Are you okay?" and he said, "Oh my God, I need a cigarette." It was so lovely, and my parents were totally in on it. When we got home, they had champagne and strawberries waiting for us. It was the best moment ever; I can't wait to marry him, and see him every day for the rest of my life.
Wow, that's amazing. He's a photographer, right?
He is. The album art is actually a photo that he took. All of the pictures from the new songs that you'll see coming out, all of my new press pictures and everything, he took all of them. Because why else is anybody taking photos of me? He can capture me better than anybody can. I want him to be the person to do this.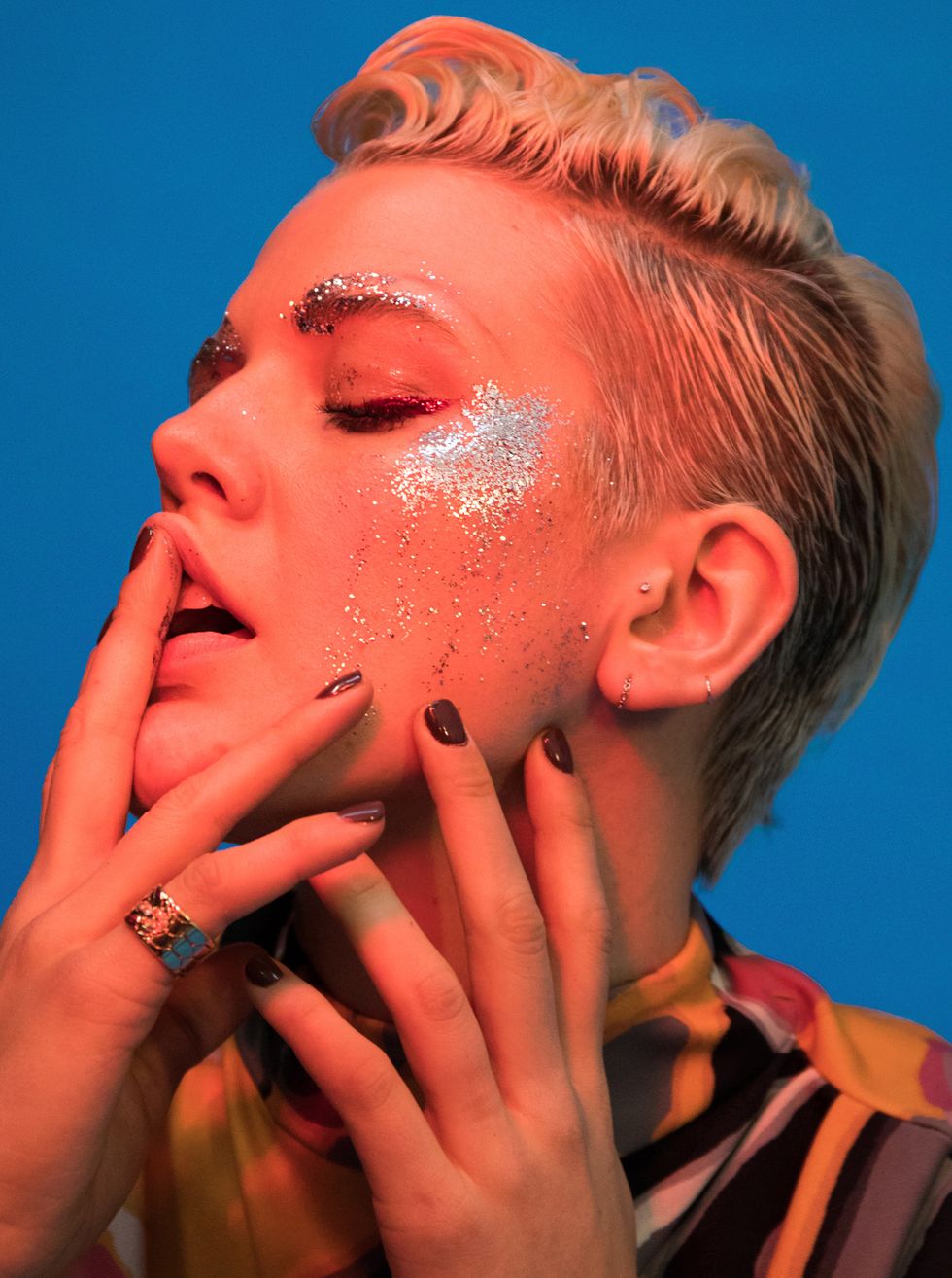 Top: Marc Jacobs, Ring: Bvlgari
How is love affecting the music you're making?
You know, it actually hasn't affected too much. I do have a song that you'll be hearing very soon that is pretty coated in sugar — like hurt your teeth, cheesy love song, because it's my ode to being completely obsessed with him. I wrote it before we got engaged. It's called "Marry Me," and it is literally just about being like, "I can't even stand how much I love you. Don't you want to marry me? Let's do it right now. I don't want to wait, I just love you. Let's just go get married, let's do it." I can feel him in those kind of songs. I can feel the way he makes me feel in those songs and I'm so grateful for that gift he's given me, because it has translated into my art in a really tangible way. But then I can write a sad love song any day. It's my go-to, which is because I've had so many experiences, also from him. We fight, we are normal human beings that drive each other crazy 90 percent of the time. We're both really intense people; we're both artists, obviously, so it's crazy all the time. I have so much to pull from there.
The more in love you feel, I think it's easier to understand the feeling of being without love.
Yeah, because you realize how hard it would be to not have that. It's really hard for me to imagine what I would do if we weren't together. It really does make me feel nauseous, my heart drops to my stomach immediately. And I think I'm trying to stay present to that, and never take it for granted. I am so grateful for the love that we have. I think it's special and wonder if other people have it. I don't know if they do; sometimes it feels like we're the only people in the world who ever felt this way about each other before. It's that kind of love, it really is. And I think it comes through more than ever when I'm writing love songs. Can you tell I'm obsessed with him?
Related | Meet Leland: The Co-Writer Behind Troye Sivan's 'My My My'
Love is hard, though!

It's the hardest thing anybody will have to do. When I hear people say they don't fight, then you're just doing it wrong. Like, what do you mean? If it's not the hardest thing you've ever done, then you're totally doing it wrong. Or maybe I'm doing it wrong [Laughs].
No, I think you're right — let's go with that.
The relationships I have looked up to in my life — my parents, godparents, fiancée's parents — relationships that have lasted 20, 30, 40 years of chaos, individuality, and selfishness. But also, love and sacrifice. The people I go to and think, "You guys have done it right," they are all the ones that will go, "Yeah, it's the hardest thing, to be married." To grow old with somebody, to coexist with another person and have to cater to them and live in the same place as this other person, and be okay all the time? It's impossible, it really is. But I think I'd rather work really hard for this amazing thing than not work hard for something that's average. I think that applies to my entire life. Why do something if you don't want to be the best at it? I want to be the best at love, I want to be the best at everything that I do.
You sound crazy like me.
We've totally made the choice to be this way, but also I guess it's in our DNA. We'll be this way forever.
Photography: Marcus Cooper

Styling: Lisa Jarvis
Hair: Sacha Harford (Ray Brown)
Makeup: Dotti (Statement Artist)
Video: Jorge Menjivar