1970's New York City has always been at the core of so many people's fantasies. While countless have attempted to materialize their dreams decades later, few have succeeded. Benji Harless, on the other hand, has.
With a goal to feel the glory of Andy Warhol and Studio 54, you can feel the yearning from Harless. Inspired by that era's legends, from Debbie Harry and Candy Darling, Harless recreates New York's heyday with a fresh, new lens.
With his latest single "Low Life in High Heels," Harless almost sounds like a cross between Blondie and Fleetwood Mac. Telling the story of a sex worker, the artist's vulnerability is hard to miss. "Wrestle some Johns to make my cash/ This is the life of a girl on-the-go." The song alludes to the more challenging side of NYC glamour, but there's always an untold story behind every big personality.
Whether you're a retired club kid, or a current attendee of Ladyfag's spectacles, Harless' music will make you question, "Where do I belong amongst all of this?"
How do you describe yourself and your music?
"Debbie in the Face, Harry in the Body." One time on Grindr someone messaged me and said I looked like Debbie Harry of Blondie with a "Dad bod," and meant it as an insult. I however thought it was brilliant so I took it, put my own spin on it and ran with it. In short it basically describes how I feel that I look with a rock n' roll twist.
What's the story behind "Low Life in High Heels"?
It was honestly the first song I ever wrote. Most people don't put the first song they ever wrote out there, but I was like I should just go for it. "Low Life in High Heels" is based on an ongoing conversation. I always loved talking about the Warhol superstars, like Candy Darling and Jackie Curtis — they were all kind of encapsulated in a song called "Walk on the Wild Side" by Lou Reed. My friends and I would always nostalgically yearn for that period in New York, when it was really raw and nasty, which it's still like that.
Were you inspired by that Lou Reed track?
I wanted to write a song that was our "Walk on the Wild Side," but through my eyes and what we do on our daily basis life. We drink, do drugs — very nasty and raw things like that. That's how it came about. It took on its own life from there. I started writing "Low Life in High Heels" in December, and from there contacted the producer who played all the instruments on it, and finally recorded it in March of this year. It was quick, but really came together over the course of a few months.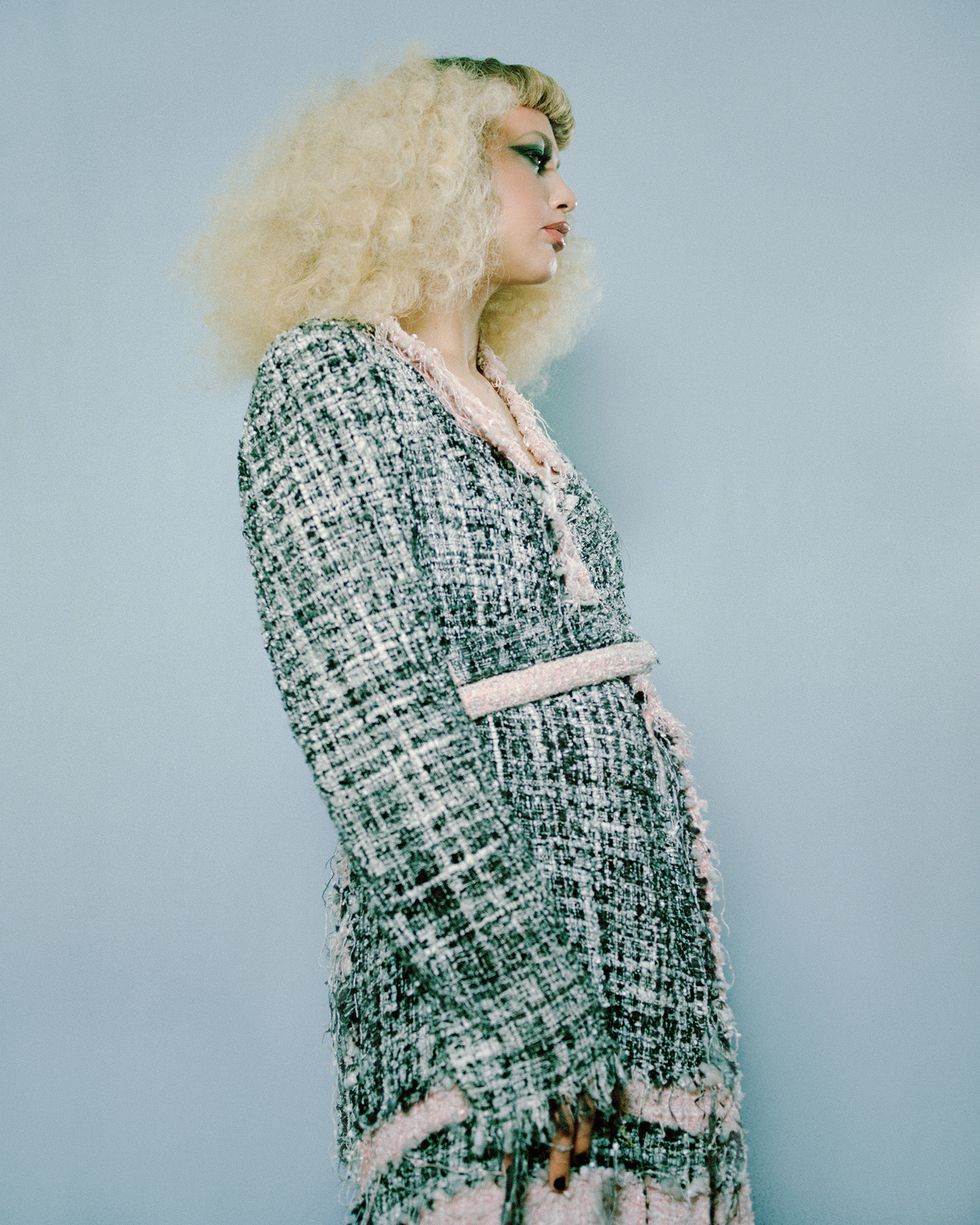 Jacket by Maison the Faux
You developed your aesthetic upon this fantasy of old New York. Do you feel this song is an homage, or does it also apply to modern-day NYC?

It's hard to say, because it's definitely what goes on now — like sex work is one of the oldest professions in the book. It's a modern-day homage. Lots of modern pop singer's songs all sound the same — that techno-pop thing that everybody's doing. And "Low Life in High Heels" is a very old school song done in a modern way.
What inspired the single artwork?
My idea for the album cover came about from this old photo of Jackie Curtis, and she's in very simple makeup with huge hair, smoking a cigarette. I thought it was so intimidating, yet inviting at the same time. That was the vibe I wanted — a very old school glamour shot.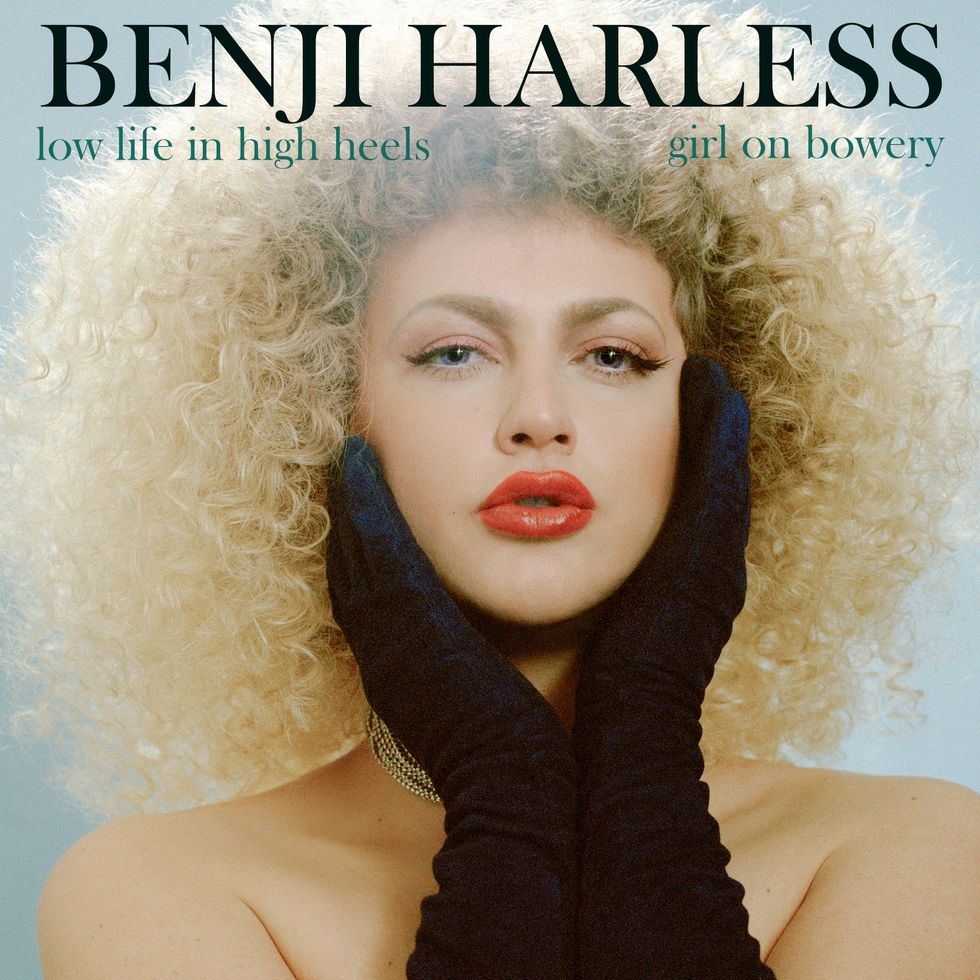 You're actively involved in nightlife. What attracted you to the community?
When I first stepped into the scene, I figured I would find like-minded individuals that were yearning to create and make positive impacts. And there's definitely still a lot of that going on, but after a little bit on the scene, I realized that they were just famous for no particular for a reason. And it's kind of like an arms race — always a competition. Like, see who goes to what party, who goes where, and it leads to an unhealthy speed in my life, which relates to "Girl On Bowery" and "Low Life in High Heels." Where "Low Life in High Heels" is like fuck it, do what you want — very tongue-in-cheek, "Girl On Bowery" is a little bit more serious — like it's all fun and dandy, but don't let yourself get caught up in it.
The club circuit is interesting, if anything — the Party Monster era...
Yeah totally. Even then it's not that lucrative anymore, people are trying to recreate that moment. But it's kind of phony to me, people trying to live a moment that isn't there.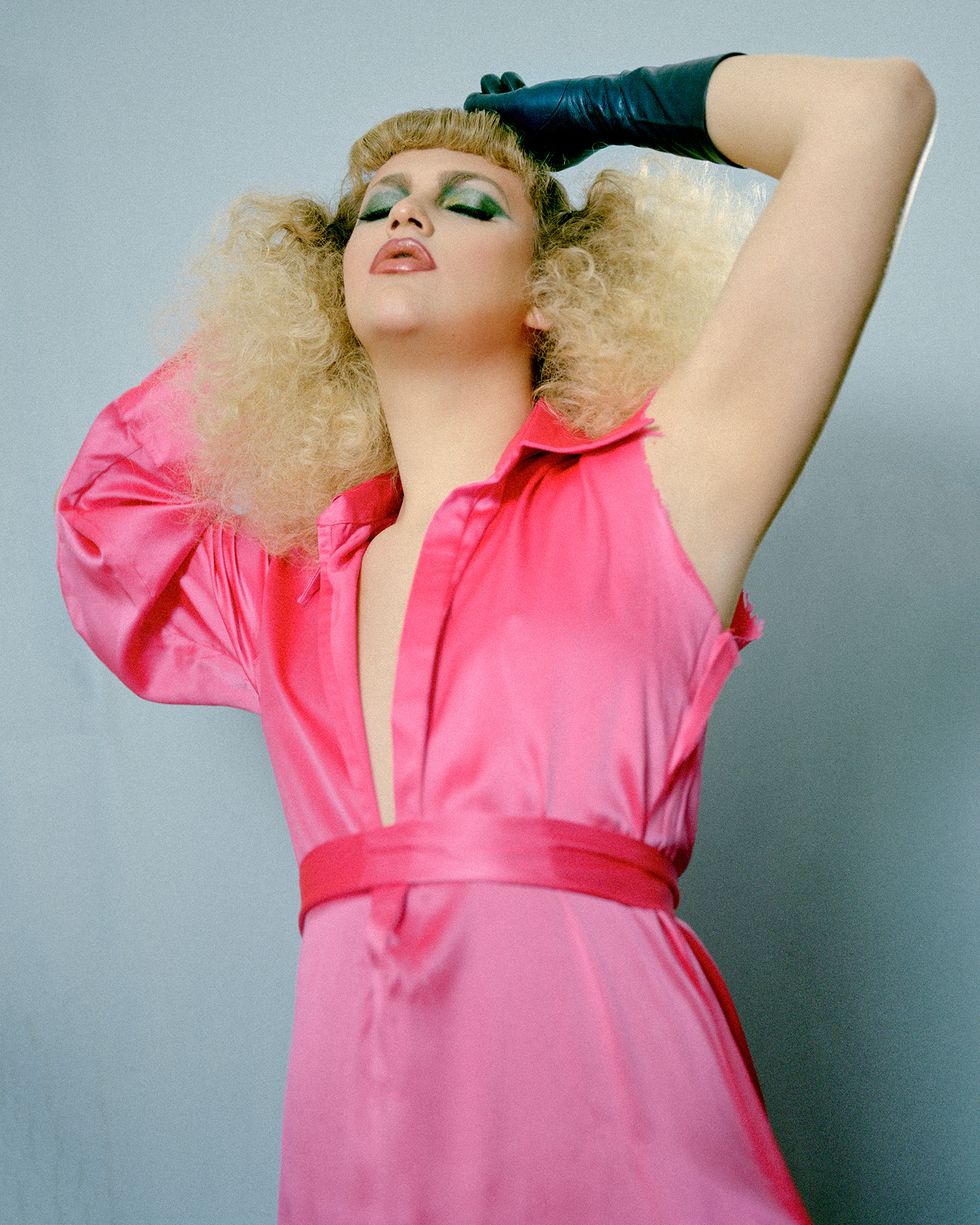 Dress by Christopher John Rogers
It almost feels like people are going out more so for social media, than for the enjoyment itself.
Yeah, it's like you'll go to these parties that look fun on Snapchat or Instagram, but when you're there everyone's literally just on [social media]. It's cute for a taste. Go out and have fun, but don't take it too seriously, because eventually people just get bored of the drinks and the drugs and start drama.
What are your plans for the rest of the year?

I'm definitely going to work on more music. With this first project out, it was almost a coming out moment for me artistically, because I've always been involved in the arts. I went to the New School for Drama, so I've always been involve. Many people saw me out at parties, but didn't really know me as an artist. I already have a few songs written ready to go, so probably release that, and some music videos will follow.