It's nearly midday, but Bella Thorne is still in bed when her assistant hands her the phone. For the first few minutes of our hour-long Facetime session she remains between the sheets, hair mussed and face make-up free. The candidness is an extension of her Instagram persona, which is composed of teary selfies and run-on captions spread over two different accounts, a tell-all style of social media influencing so prevalent now that you can't not call it calculated. By the time she sits up and starts rolling a blunt on camera I know I'm being played, but that's cool. Not many celebrities care enough about magazine interviews to feign apathy so convincingly.
Thorne is a hard worker. She's not so much famous for being famous as famous for juggling multiple nebulous projects at any given time: acting, rapping, porn directing. Right now she's an author, and her unkempt appearance matches the frankly deranged aesthetic of the book she's currently promoting, The Life of a Wannabe Mogul Volume One: A Book Written By Bella Thorne. Sounds like self help or memoir, but it's more of a hardcover poetry zine. She wrote it in two weeks on a borrowed typewriter, and there are two planned sequels.
"This first book of the series is about mental disarray," she explains, blowing smoke. "You get to know what's in my mind and how my mind feels, so that when you read the rest of the two books, you understand that this is my mind, that is my body, and this is how I do shit."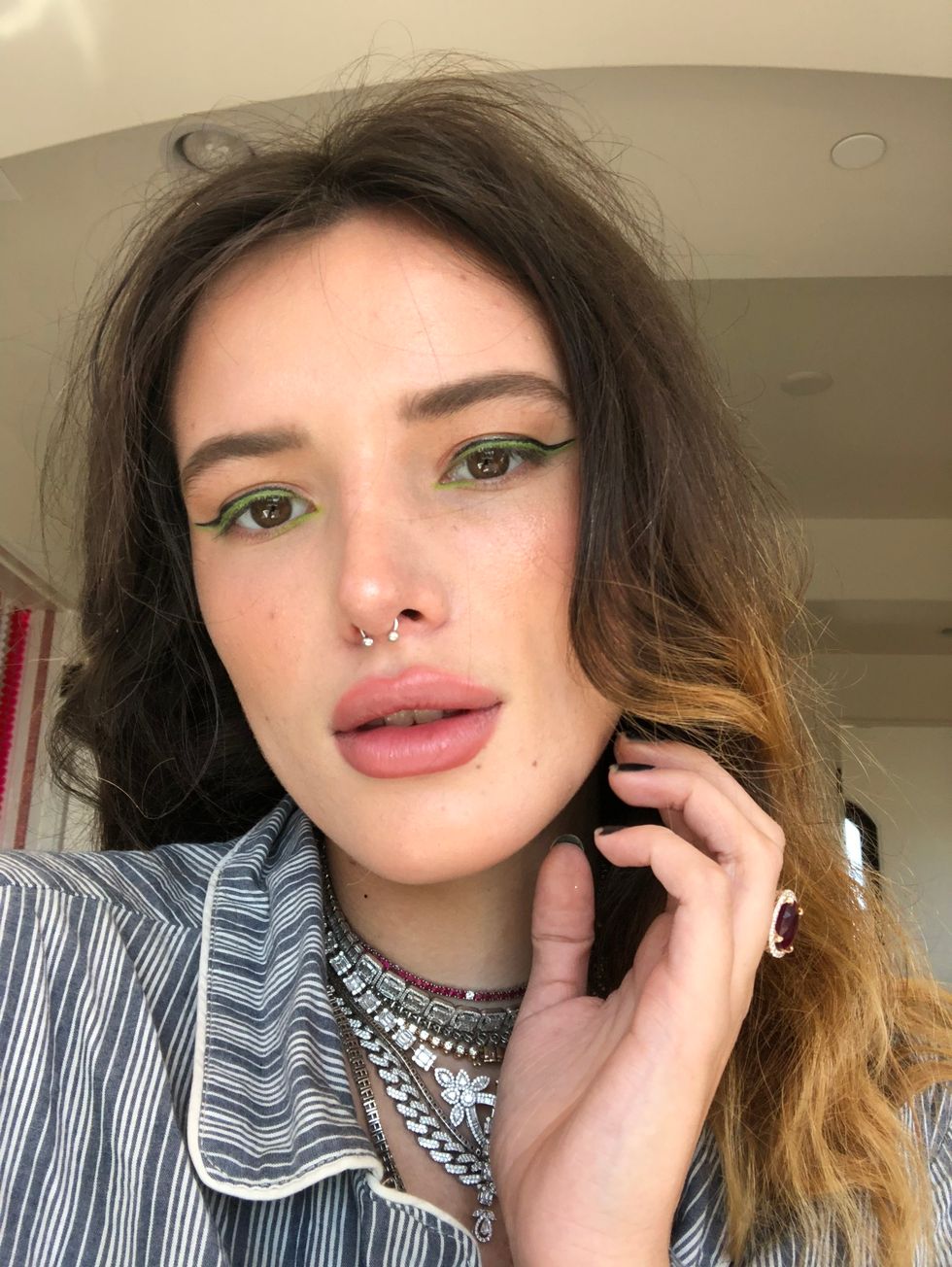 The poems contend with depression, heartbreak, and Thorne's troubled relationship with her parents. Like many young writers unfamiliar with poetry beyond Rupi Kaur, the 21-year-old tends to mistake the form for therapy journaling with unconventional paragraph breaks. Still, her entries are sad and funny and sweet. "im not fixing my imperfections/ for your idea of perfect," an early piece of verse begins. "so if you dont like how i do/things, or how i say things/or how i spell things./you can kindly fuck off/seriously,/drop this book in the trash &/never talk about it again."
As her book title implies, Thorne's more aspiring entrepreneur than literary figure. Over the past few years she's veered from the traditional singing slash acting career path of peers like Zendaya (her former co-star on her breakout Disney Channel show Shake It Up) in favor of projects more individualistic and, yes, profit focused. Funding her life almost entirely from Instagram sponsorship deals at one point, she purchased her first home aged 19. Thorne has been the main breadwinner for her immediate family unit since childhood, when her father's death left them nearly homeless. She only ever got into acting to pay her mom's bills.
"We didn't have anything stable," she recalls of that difficult period. "We didn't have life insurance or anything and from there on out we were on the streets. We had no idea where to go. It was very difficult. And then I got a part in Shake It Up and that gave us money to keep going. From there, it got better."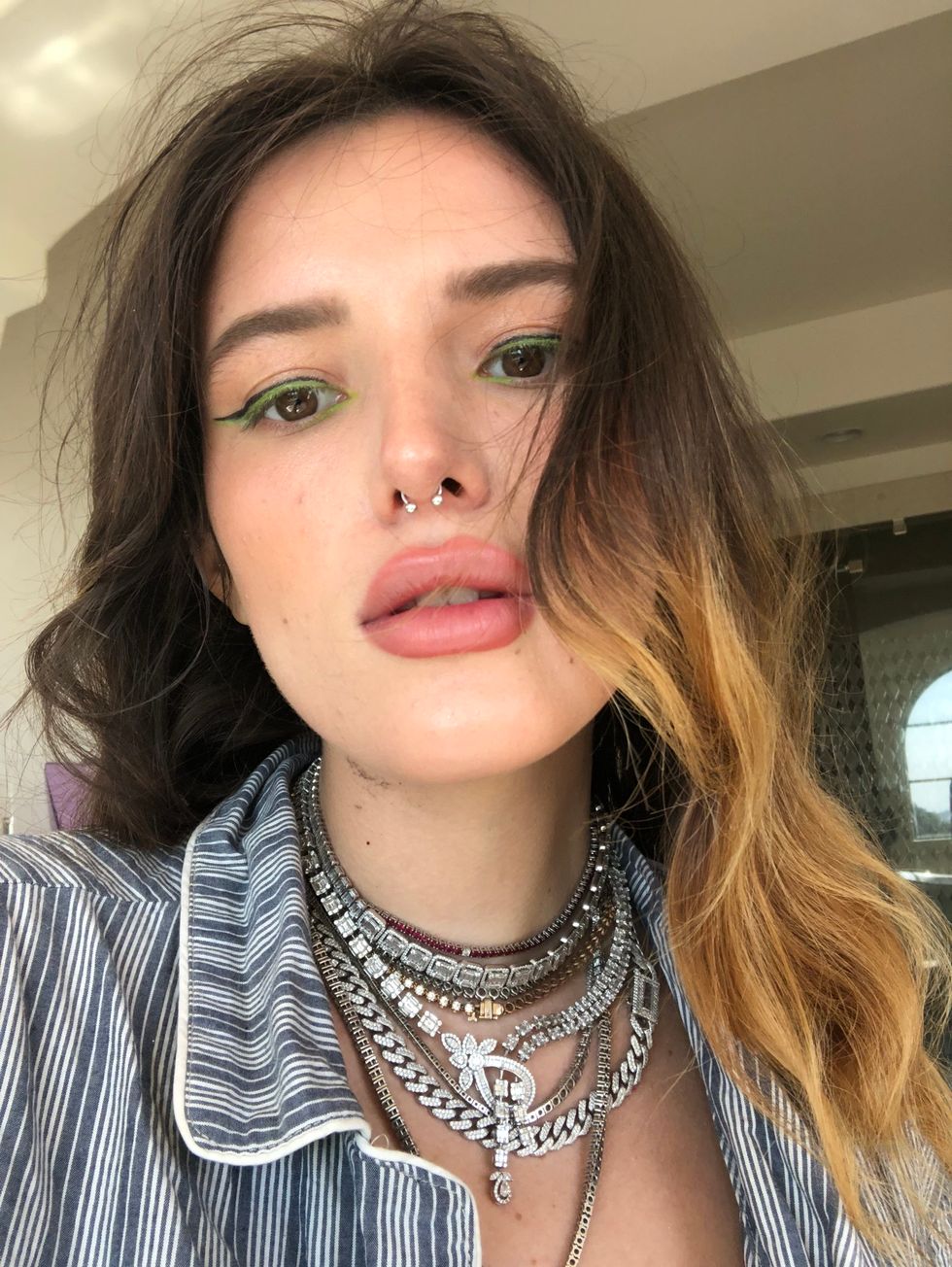 Thorne's business strategies are scattered — she said yes to directing a movie for Pornhub after opening her computer to find a tab open on their website and deciding the collaboration was fate — but still concrete. She has converted two entire walls of her living room into whiteboards where she writes down ideas and future plans. She rarely takes a day off, and networks relentlessly. (Wannabe Mogul contains amusing, supportive blurb quotes from famous friends ranging from Diplo to Lena Dunham to Snoop Dogg. She says Marilyn Manson, not a fan of the written word, had her send the text as an audio file for review. "He was like, 'Sorry Bella, I don't read. But I know your audio book would be amazing.'")
The ambition is fueled partly by trauma and survival instinct. Amid jokes and hand-scrawled asides, Thorne's most haunting verses in Wannabe Mogul detail the aftermath of being molested for years of her childhood in Miami, a biographical detail she hadn't previously gone public with. She felt compelled to write on the topic in order to help others. "I was talking to somebody that had been raped quite a few times and she was talking about how she feels so guilty for not fighting for her life," she tells me. "So I showed her my book at the part where I say, 'I feel so bad and so guilty about this. Why didn't I kick his teeth in?'"
Thorne met her rapist when she was six; he continued to molest her for the next eight years. She regularly experiences flashbacks, and articulates the aftereffects of sexual assault with heart-stabbing eloquence."When I wanna make love sometimes it really comes back and there's some things I can't do in the bedroom because he would do them to me," she tells me. "I hate chocolate because we ate chocolate. There's a lot of things in life that I can't really escape because they are trapped with memories of him just smashed all around. And it's kind of something that gets better, then worse, then better."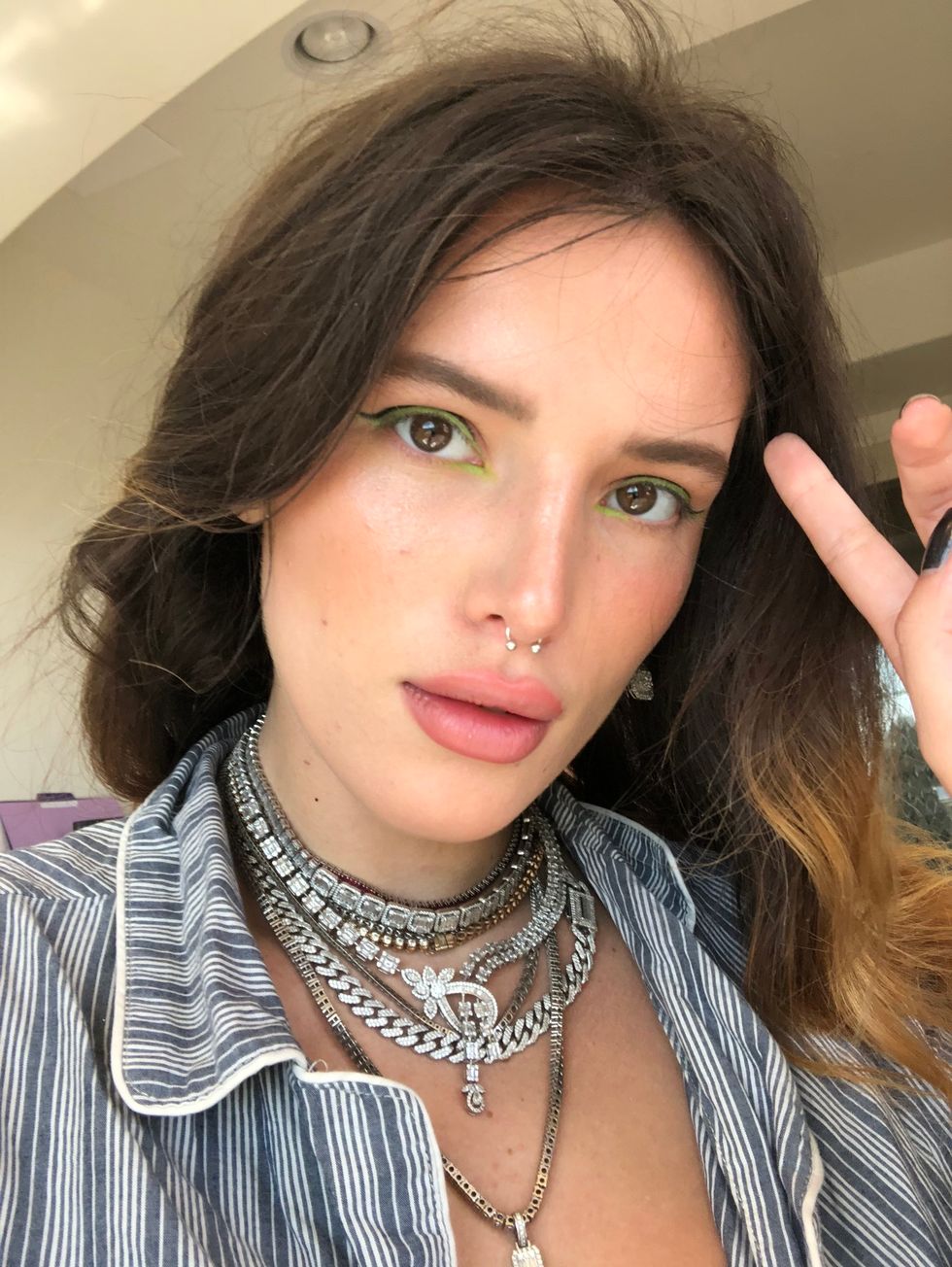 These experiences have spurred her ad hoc feminist activism. Thorne recently went viral for leaking her own nudes after being threatened by a hacker. She's a passionate opponent of revenge porn, and hopes to make a TV series where she talks to fellow photo leak victims. "Revenge porn is one of the highest causes of suicide," she notes. "This is not right. It needs to be discussed." Posting her own NSFW photos has produced mixed reactions, and she sees the humor in that. "I will look at someone, they're looking at me, I'm looking at them, and we both know they've seen my nudes. Awkward."
It's not like Thorne has ever avoided sharing details of her personal life. Blatant references to recent exes Tana Mongeau and Mod Sun are scattered throughout Wannabe Mogul; at one point she was dating them both at the same time, with everyone's consent. "Here's the thing with Tana," she says directly, when the subject comes up. "It started off, she asked me for a photo of us kissing. I thought she was a fan. A lot of fans ask me for photos, so I don't think anything of it."
Mongeau publicly declared a crush on Thorne, Thorne realized who Mongeau was, and the two started dating soon afterward. As with Mongeau's current relationship with Jake Paul, fans theorized the relationship was a stunt, but Thorne says her and Tana were for real. "I think with Tana, she really liked me. That was confusing for her because she'd never dated a girl before or really hooked up with a girl, so I think that that was kind of rocky, because you don't know where to go when you're stepping on that territory."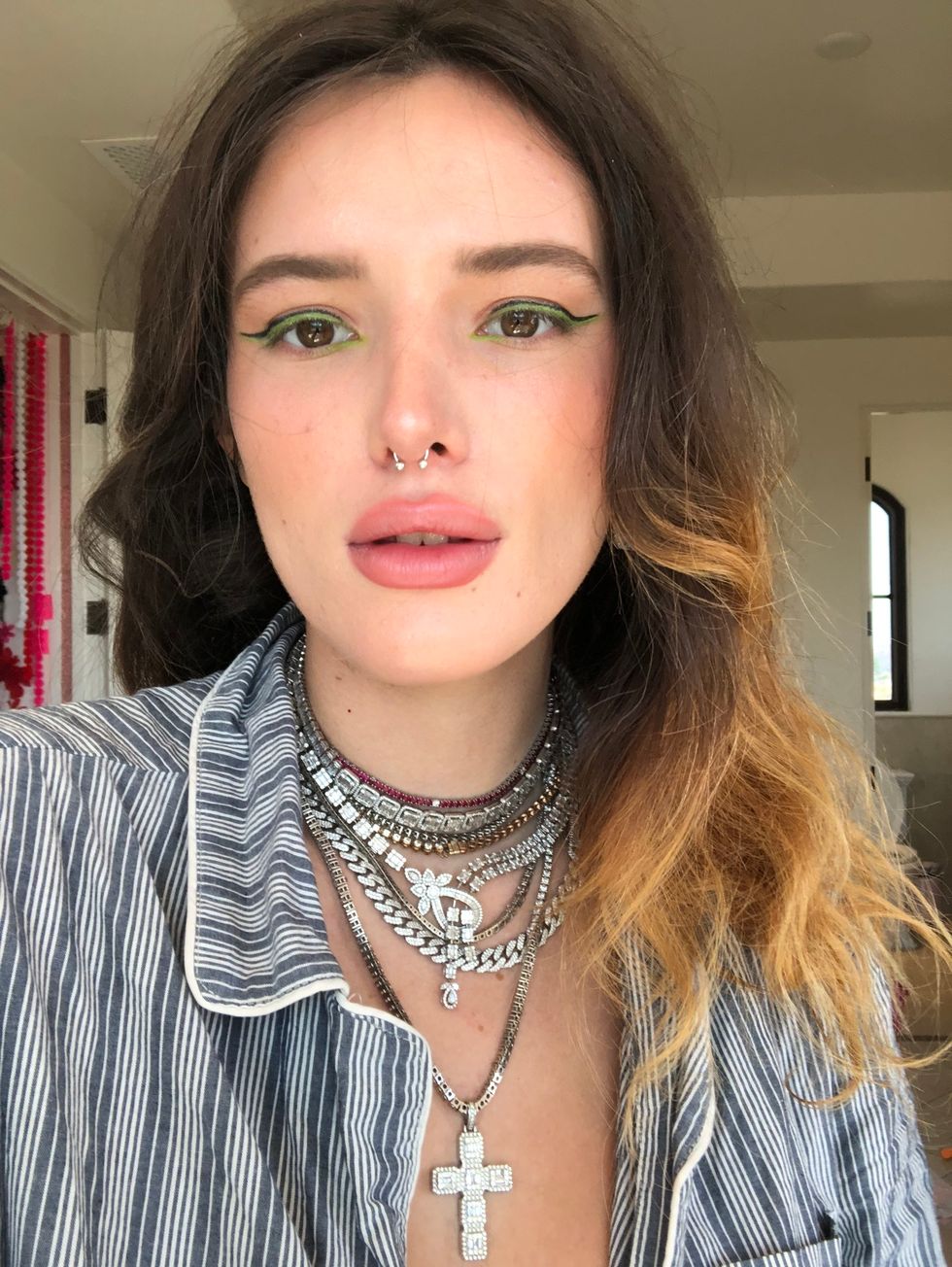 Mongeau and Thorne broke up a few months before Thorne ended things with Mod Sun. Thorne vaguely alleges a betrayal of some kind, but admits she's still friends with Mongeau because "she always wins me over with those beautiful eyes." She thinks Tana and Jake are together for more than the likes, "but they are, like, open." Thorne is about to go on vacation in Italy with a new boyfriend, musician Benjamin Mascolo, and doesn't seem stressed or particularly heartbroken.
After Italy there's the Pornhub movie to think about, and a long-planned skincare line focusing on chronic acne treatment. She may return to writing YA romances, or selling eyeshadow palettes, or her music career, none or all of the above. There's the rest of Wannabe Mogul to focus on, obviously. Thorne thinks volume two will be about self respect. About "being tired of being insecure, getting walked all over, finally growing some backbone." Her secrets to success seem worth paying for.
Selfies courtesy of Bella Thorne