After becoming the first American to graduate from both the lower and upper schools of Moscow's renowned Bolshoi Ballet Academy, Mackay joined the Royal Ballet in London. He then became the youngest soloist at Saint Petersburg's Mikhailovsky Theatre.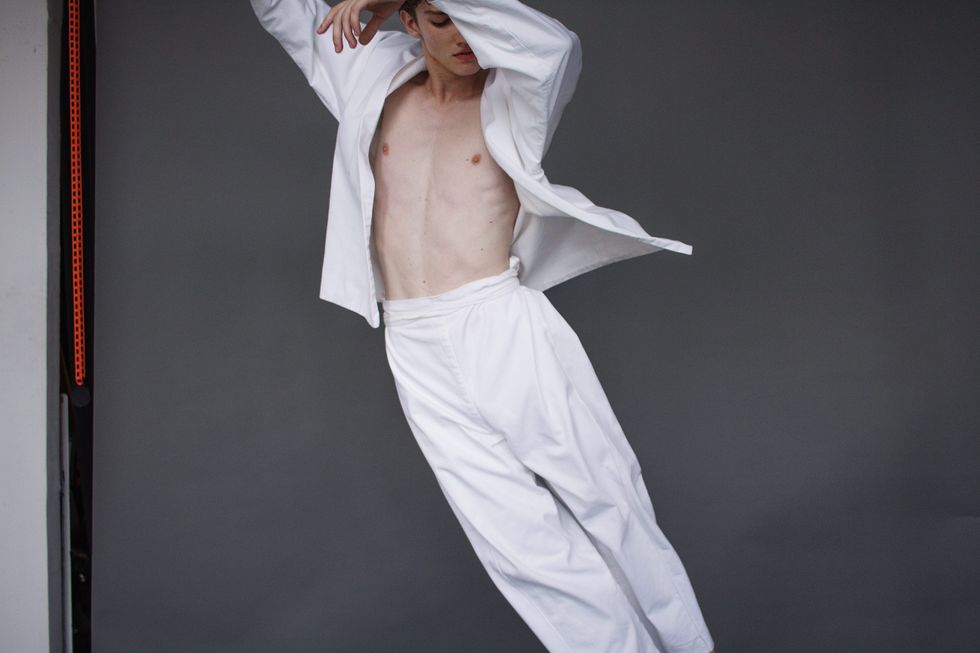 Jacket and trousers M_U_R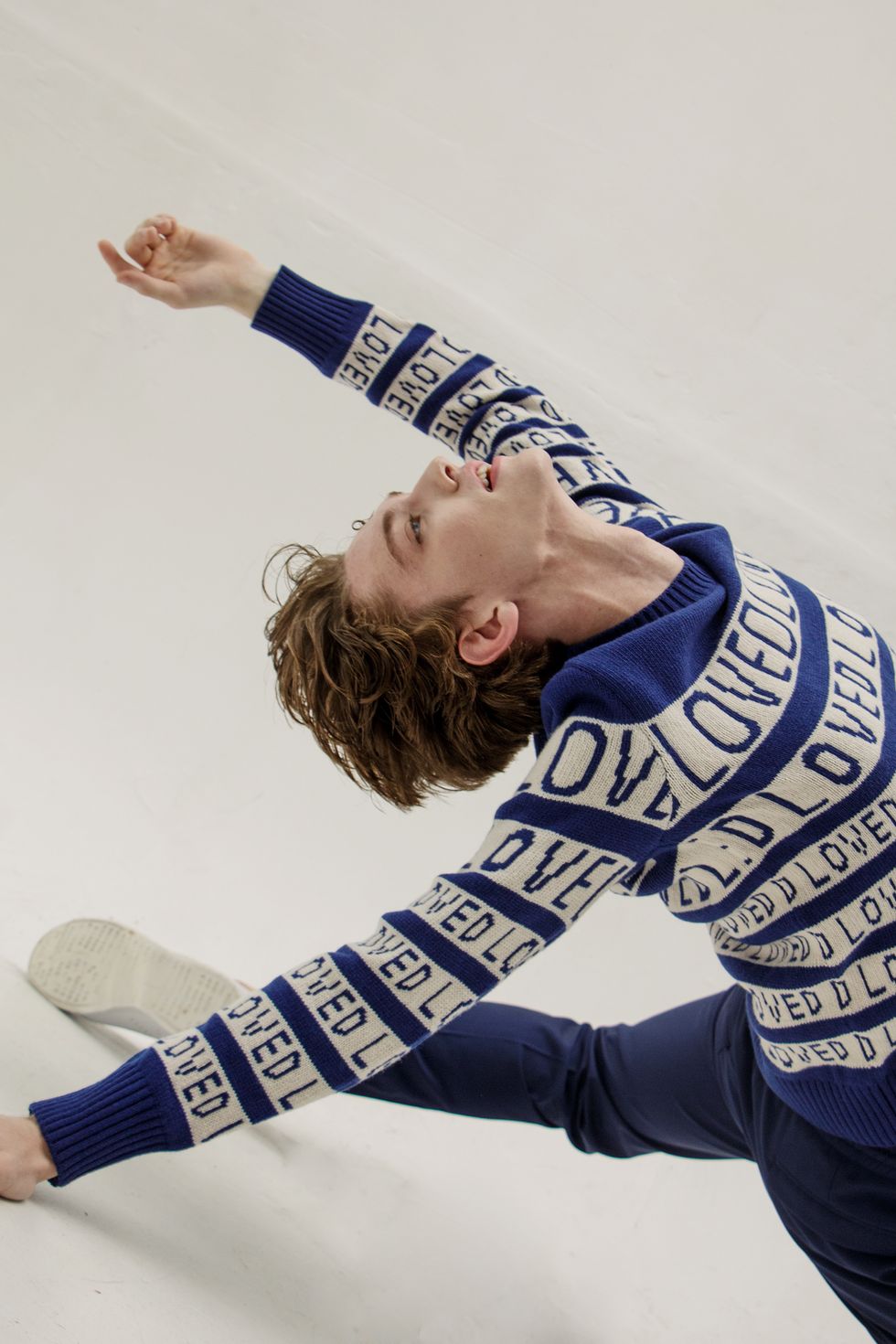 Jumper Gucci (Babochka); trousers Dior Homme (Babochka); sneakers Adidas x Raf Simons (Babochka)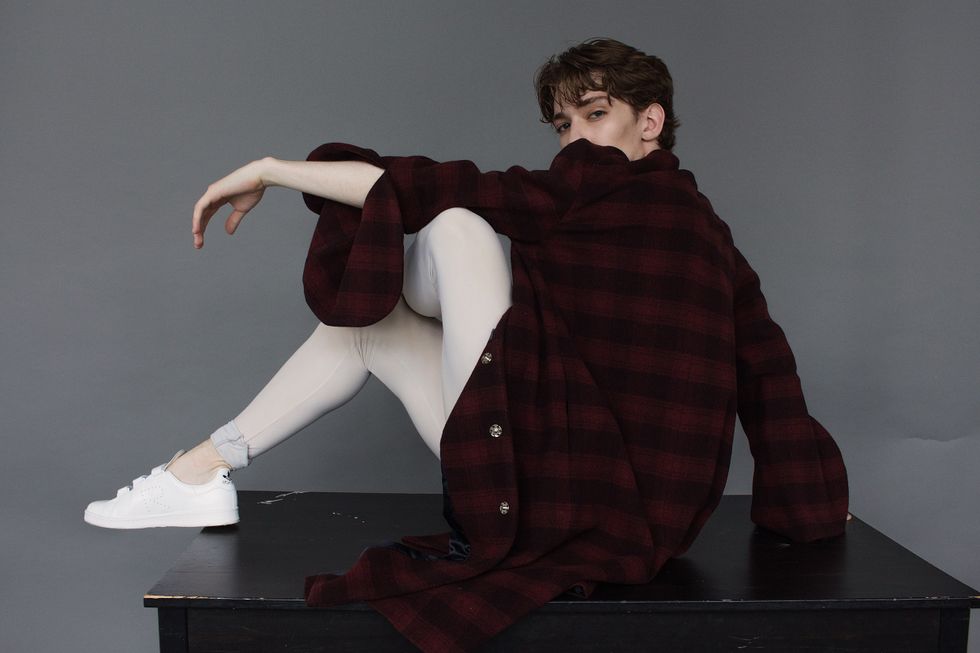 Coat Semenski; Sneakers Adidas x Raf Simons (Babochka)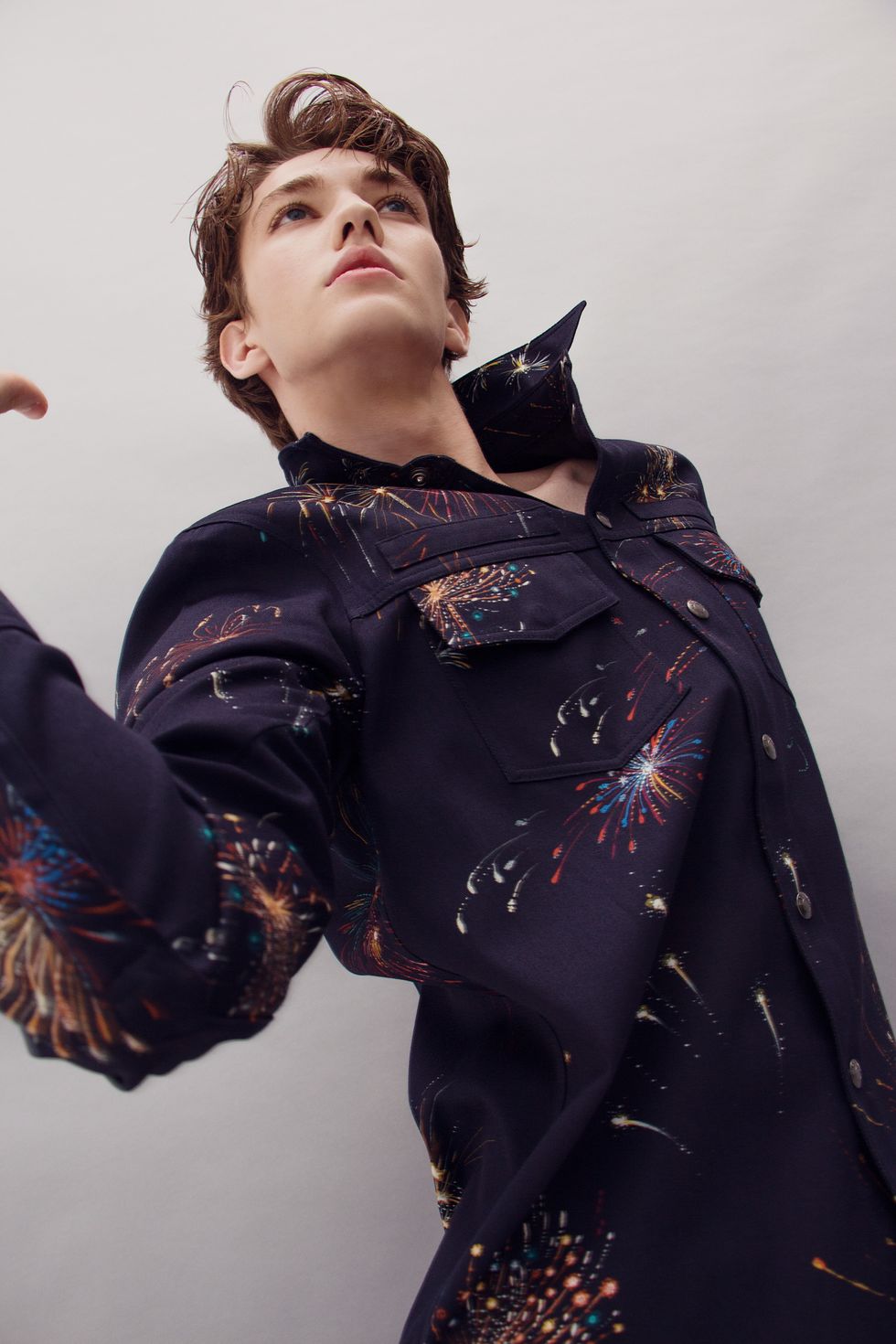 Shirt Valentino (Babochka); trousers No. 21 (Babochka)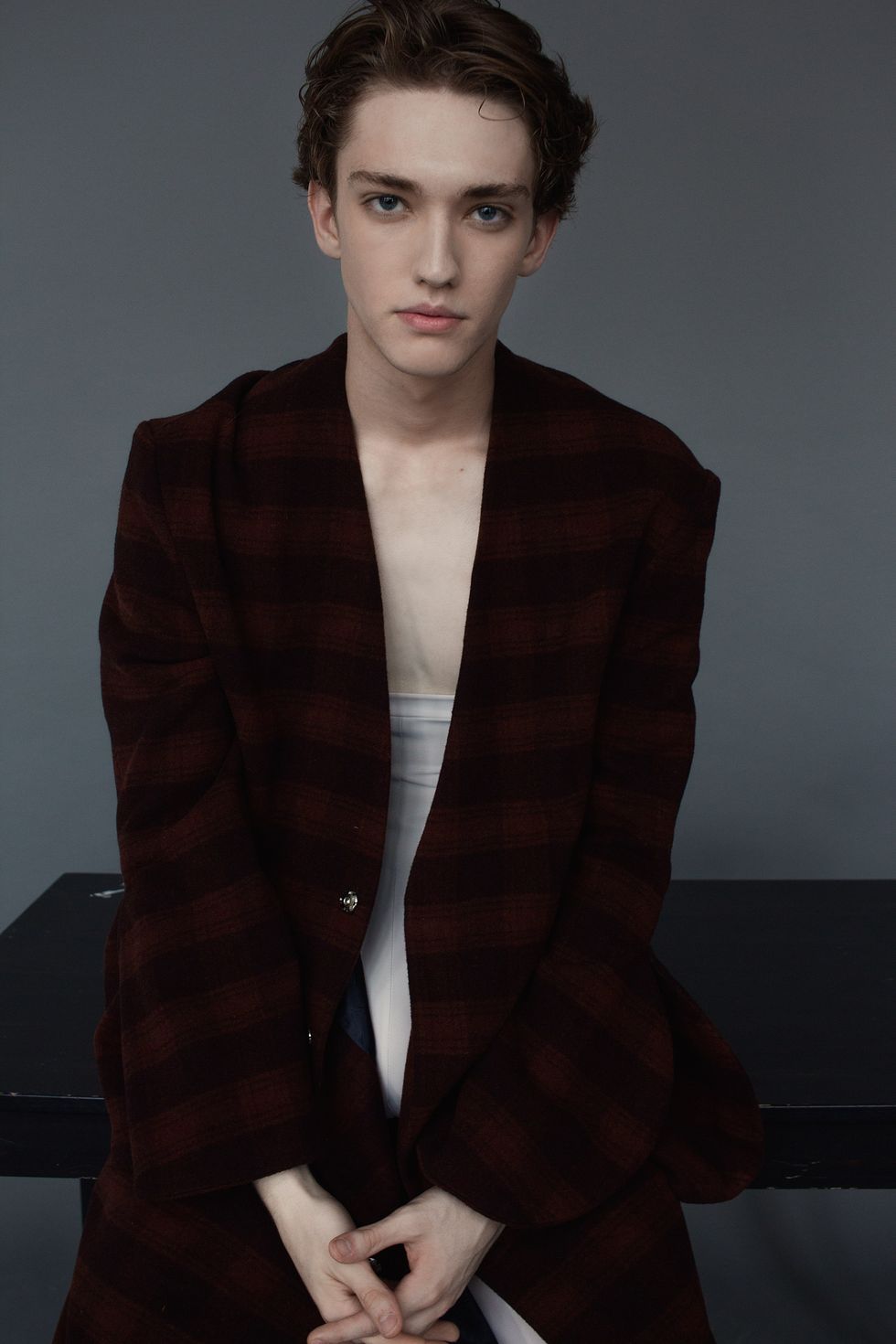 Coat Semenski
When (and where) are you most creative?
After eating блины (russian pancakes) at Teremok in Saint Petersburg
How did you get your start?
I was shy as a child. But the first time I went onstage -- as Fritz in the Nutcracker -- I was filled with confidence. I already played the cello since 2 years old, and had a love for the classical arts.

What are you working on right now?
I leave for Beijing in a few days -- I'm starring in the Opening Ballet Gala in the National Center of Performing Arts. My partner and I, Prima ballerina Anastasia Limenko from Moscow, will dance the Flames of Paris pas de deux by Mikhail Messerer. Then back to Montana to work on a ballet project with my family -- "Warrior of Light" about Russian painter Nicholas Roerich. I'm also working with my brother, Nicholas, who is a very talented photographer. He photos me at least twice a week around Saint Petersburg.

Next role I'm dancing is to premiere as The Prince in the new Cinderella at my theatre, the Mikhailovsky, and a shoot for a feature article in the In Style Magazine, Russia.

What is success to you?
When I feel that I have done what I love, and it has had a positive effect on the people around me -- and reached as many people as possible. When I am 60 years old, I want to know that I not only lived through the difficult times, but made the right decisions.

Do critics matter?
Yes -- most like me so far! But I love having haters because they motivate me to improve.

Obviously you've seen success in your career but can you tell us about a time you failed?
I don't count anything in my life as a failure, only a challenge. Anything that someone else may have considered a failure I have just used to push myself forward.
Do you think about legacy?
Yes because there has been so much knowledge passed on to me from several generations of ballet dancers. Classical art will always have it's roots in legacy.
What advice do you have for someone looking to break into your industry?
Start young and train hard. Explore all the arts -- since I was very little I loved museums, went to painting classes, won medals in fencing and chess, and played soccer. It's important to grow as a person in all ways.
Did you ever give up (or want to give up)? What were the circumstances?
I was recently very ill and the doctors wanted to hospitalize me. I had a moment where I thought "why am I pushing myself so hard to do this?" and I wanted to give up as I did not feel the emotional or physical strength to push on.
I had to push through a lot of fear, and as I did that my body healed rapidly. Two weeks later I was able to make my premiere as Albrecht in Giselle.
What trends in your field do you find most exciting / are you most optimistic about? What about your field is frustrating? What would you like to see change?
Positive trend: Giving opportunities to young talent
Negative trend: Theatres trying to control opportunities, even outside of the workplace.
How do you plan to build on your success so far? Is there anything you fear will set you back?
I am pursuing film and brand representation, and already had some great responses. The best was being asked to audition with Ralph Fiennes for a movie he's directing, and receiving amazing feedback from such a star actor!
I also was called in to audition for Murder on the Orient Express. It was cool going to the London studios where Downton Abbey was shot.
I don't feel anything holding me back. I have the top training from the Bolshoi Academy, a great coach, Misha Sivakov, at the Mikhailovsky, my brother supporting me as he is a gifted photographer, and I am signed with IMG London, NYC, and LA.
I'm really optimistic and focused on learning. I am getting my Masters degree from GITIS -- the prestigious performing arts academy in Moscow -- for Ballet Master and Choreographer.
What was the first moment you knew you were going to be able to do this as a job – not necessarily your first big break or success, but the first time you thought, "This is it, this is my career"?
I knew when I competed in the Sochi Ballet Competition -- Yury Grigorovich Young Ballet of the World -- at 16. You had to prepare six pieces for four categories of dance: Classical, Contemporary, Character, and Story Ballet. A coach from outside my Academy trained me in just ten days, a Principal from the Bolshoi Theatre gave me his costumes. There was so much drama. A few days before, my teacher from the Bolshoi Academy drove all the way in from his dacha (Russian country home) to tell the Academy Director that I was not ready to compete, he had not rehearsed me, and I absolutely could not go.
She simply turned and asked me, "Do you have six pieces prepared?" And I said "Yes." The rest is history -- I'm the only non-Russian to ever compete and I won a medal.
What's been the biggest choice you've had to make in your career so far?
Leaving my Royal Ballet contract early. I had a Soloist offer for the Mikhailovsky Theatre, and knew that if I stayed at Royal, I would lose the opportunity. It was the best decision of my career so far, and after ten months I was promoted to First Soloist and now dance principal roles. To do this as a teenager is very unusual; I'm very happy!

What is your morning routine like?
Up at 8:30, hot and cold shower to get my muscles ready. Feed my French bulldog Leo his breakfast, then usually go out for mine. I love Saint Petersburg -- it's like a family and everywhere I go I'm recognized. It's great to sit and have my morning coffee at the local bakery. They all go to my shows and follow my career.
What are you most excited about for the future?
I'm excited to grow up. I'm nineteen and looking forward to life!
What are you most worried about for the future?
That politics will seep into the art world -- they don't belong there.
Are you good at giving advice? What is the best advice you've ever given?
Best advice I ever gave was to a dancer older than me who is from Kazakhstan. He was struggling and supporting his whole family. I encouraged him to not give up on his dream of being in a European company. I helped him understand that no one can take that fire from you, to achieve your dream. He now works as a Soloist in Germany.
Are you good at receiving advice? What is the best advice you've ever received?
Yes, I listen to advice. But I always temper it with my own inner compass. Some of the best advice I got when younger was "to learn from everyone." It was from my Elvis-loving Bolshoi Academy ballet teacher. She wanted us to understand that there was something to learn from everyone, no matter who they were, good or bad.
What makes a person beautiful? What makes you beautiful?
I thinks people are beautiful when they have a passion, and you can see who they really are through it. I hope that if I'm considered beautiful its because I give all I have to try and uplift people.
What are you most proud of?
My family! My sisters, Maria Sascha and Nadia Khan, and my younger brother Nicholas MacKay, are all classical ballet dancers from Montana. And I'm very grateful to my parents who have supported us pursuing what we love.
Photography by Smagina Margarita
Styling by Violetta Sorokina
Hair and makeup by Polina Elanskaya
Producer Roman Gunt
Stylist's Assistant: Arina Kochurova
Location: Bedford Studio