What's more entertaining than watching sports? Probably seeing the unexpected interactions between players, fans and more. During a heated game between the LSU Tigers and Iowa Hawkeyes, the game was viewed a record-breaking amount of times as people saw the skill of LSU's shooting guard/small forward Angel Reese against the Hawkeyes' point guard Caitlin Clark. Obviously, tensions were high and a lot was on the line, so why not engage in some taunts?
Paying homage to one of the greatest shit-talkers in history, Reese flashed the iconic "You can't see me" gesture popularized by WWE star John Cena on the court directed toward Clark. She also pointed at her vacant ring finger, signaling a perfect place for a championship ring to sit. It was an exhilarating game and ended in a 102-85 win for LSU, also being the most-watched women's basketball game ever recorded, but folks had other things they were focused on.
While taunting and trash talking is nothing new in the world of sports, Reese was targeted for what some deemed as "classless" behavior. The internet exploded with reactions ranging from entertained to downright angry.
\u201c@KeithOlbermann shut your dumb ass up leave angel reese alone.\u201d

— Keith Olbermann (@Keith Olbermann) 1680473156
\u201cPeople aren\u2019t mad at Angel Reese for the hand gesture. \nThey\u2019re mad at her pride. \nThey\u2019re mad at her calling out the very apparent double standard. \nThey\u2019re mad at her for not being humble. \nY\u2019all want to treat Black women any type of way but feign shock when we respond.\u201d

— Portia J. (@Portia J.) 1680615826
In particular, Barstool Sports founder Dave Portnoy was called out for his aggressive response to the playful incident, going so far as to call Reese a "classless piece of shit."
While none of this should be as controversial as it was made out to be, the situation earned the attention of not just the entire internet, but the world of sports and cultural commentary. The glaring double standard of white athletes' behavior compared to Black athletes has been called into question, especially the way in which Reese, a young Black woman, has been labeled as "aggressive" and "rude," racialized terms that have been used to insult women of color.
In a piece for Teen Vogue, Leah Goodridge and Olayemi Olurin wrote: "While navigating anti-Blackness in the workplace, we've both been told — as many Black professionals have been — to 'play the game.' But the game, which is rigged with limited boxes, stereotypes, and implicit biases beyond our control, is designed for us to lose."
Even Clark, who has been celebrated for her spirited on-the-court taunts, has stepped in to defend Reese. "We're all competitive," the West Des Moines junior guard said in a conversation with ESPN. "We all show our emotions in a different way. Angel is a tremendous, tremendous player. I have nothing but respect for her. I love her game. The way she rebounds the ball, scores the ball is absolutely incredible. I'm a big fan of her and the entire LSU team."
Clark further goes on to say, "She should never be criticized for what she did."
\u201cSo Caitlin Clark does the 'YOU CANT SEE ME' and y'all loved it. Now when Angel Reese does it you call it poor sportsmanship.\n\nIowa fans: just accept you lost fair and square. Caitlin deserved the tech, Kim Mulkey did nothing wrong. The officiating was fine.\n\n#WFinalFour\u201d

— ScottyChrysForever33 (@ScottyChrysForever33) 1680473769
And that's why teamwork makes the dream work!
Photo courtesy Maddie Meyer/Getty Images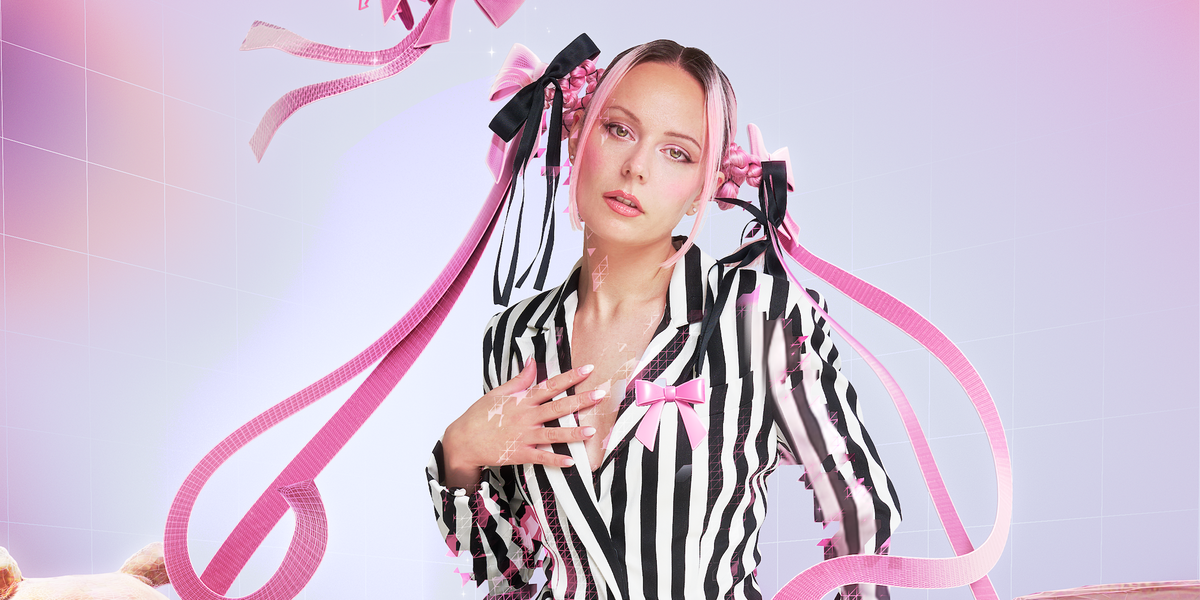 Music
Story by Harry Tafoya / Creative direction & VFX by Andy Rolfes / Photography by Nicholas Needham / Styling by Erik Ziemba / Hair by Davey Matthew / Makeup by Frostie Delite
Story by Harry Tafoya / Creative direction & VFX by Andy Rolfes / Photography by Nicholas Needham / Styling by Erik Ziemba / Hair by Davey Matthew / Makeup by Frostie Delite
07 November