Muva Superior Amber Rose has been outspoken since day one, challenging the respectability politics that dictate who society deems worthy of dignity. She's open about stripping as a young woman in her native Philadelphia before making her way to the West Coast as a model, talk show personality, video vixen and muse to rappers including exes Wiz Khalifa and Kanye West (and current partner 21 Savage). More than her famous relationships, though, Rose is perhaps best known these days for her SlutWalk — an annual event and transnational movement that calls for an end to rape culture, including the victim blaming and slut shaming of sexual assault victims.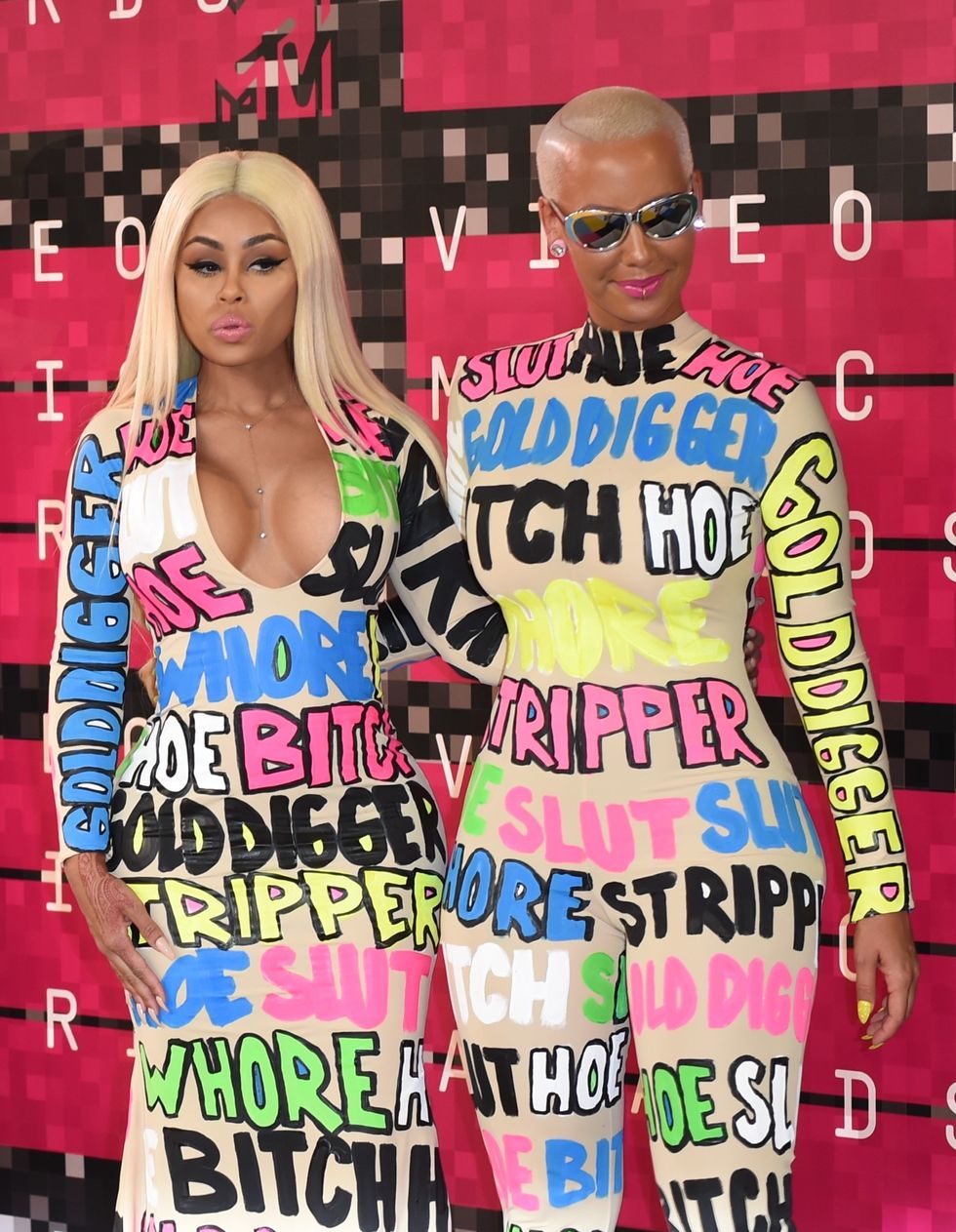 Blac Chyna and Amber Rose wearing words they've been called
Rose's latest partnership is with luxury sex toy brand Lelo, and the pairing makes sense — self-pleasure, especially for women, remains taboo in many pockets of society, and Rose is the ultimate taboo-breaker. For instance: her work is centered on ending rape culture, a reality that wasn't brought into the mainstream conversation until just these past few months, with the outpouring of #MeToo stories that made concepts like victim blaming front page news. We chatted with Rose about her advocacy, the lack of inclusivity in the women's movement and why it's frustrating that it wasn't until famous actresses spoke up about assault that people started listening.
Why do you think there is such a stigma around self-pleasure for women?
I think that, especially when it comes to guys, they think that they should be the only pleasure that we need. They don't realize that a lot of the time we don't have an orgasm, getting penetrated and having sex. To have a little extra help doesn't mean that they're not good enough for us, it just means that we really want to be satisfied as well. And I feel like it's often taboo to masturbate for some people. Using toys and exploring your body is considered freaky or hoe-ish or weird. I'm an advocate of masturbation because it is the safest sex in the world, and I think it really is a beautiful thing to get to know your body. It's also something to look forward to, at the end of a long day you get to go home and have your beautiful Lelo toys waiting for you. I just think they're amazing.
And it's good for your mental health, right?
And your skin!
Have you always felt comfortable in your sexuality and talking about it, or was it a journey for you?
No, no, no I definitely was not always comfortable. I was kind of one of those girls that was late as far as having sex. All my friends were having sex, and I wasn't. All of my friends were having kids at 16, 17, 18, and I had my son at 30 years old. But, I was always around all the boys, so I had a really bad reputation of being a hoe when I wasn't doing anything at all. Instead of being like, "You know what, believe what you want, I don't give a shit," I was like, "No, no, no you don't understand, it's not like that."
And so once I became famous, the same thing was happening to me again and I was like, "Man, fuck this shit, I'm just gonna embrace it." So, I started referring to myself as a slut and just fighting back against derogatory labels and my fans basically do the same. And then I started my Slut Walk. There was little bits and pieces that I would bring into my life that I became passionate about, being sex-positive and fighting against rape culture and derogatory labels. And I just incorporated so many different things into my SlutWalk and into my everyday life. It was a gradual thing.
Related | Amber Rose Dressed as Feminist Heroes
What's it been like to see the topics of slut shaming, victim blaming and rape become part of the larger conversation, with #MeToo and the Time's Up movement taking off these past few months?

I'll be honest with you. I'm really happy that our end goal is to fight against rape culture, especially with these guys that are in power and that take advantage of us. But I do almost get angry at the fact that I started this four years ago, and I have reached out to so many celebrity women to help me fight this fight, and they felt like I wasn't good for their brand. Maybe because I used to be a stripper, or maybe because I'm extremely outspoken. But they didn't want to help me, and now I see them at the Golden Globes and they're wearing black and all of a sudden they're feminists.
But I'm still not invited, I still don't get any help from anyone, because I don't just advocate for Hollywood starlets. I advocate for the strippers and the porn stars and the gay boys that get raped all the time. Transexuals — all of the people that are forgotten, they're all at my SlutWalk. So it just becomes frustrating to me because, now all of a sudden, all of the women that are in $20 million movies are coming out and now everybody wants to help. They forgot about the regular people like us.
When the second Women's March was happening, I was talking to some women who were doing their own sex workers' march, and they were saying they felt unwelcome. And the fact that only a certain type of woman gets —
It's bullshit. It's all fucking bullshit. And I went to the Women's March, it was a type of feminism that I didn't particularly understand. The Women's March felt very conservative. It felt like they weren't embracing every type of person and fighting against sexual violence for everyone. It's just very frustrating. But like I said, I'm happy that I brought it out there and people are getting the help that they need. That's ultimately my goal. But it's just how it's being done is very frustrating to me.
What would you like to see?
I mean, my whole thing is like, if you care more about your brand than actually helping people, you're a perpetrator. Don't do anything at all, because you're not for everybody. Be for everybody, let's band together and just help everybody. Not just rich women that are in movies.
Photography: Charlotte Rutherford