For Fall 2018, body horror seems to be trending. Last week, Kim Kardashian, Chrissy Teigen, and Queer Eye's Tan France made a splash when they posted pictures of themselves with accessories seemingly inserted into their skin, like Calabasas biohackers. It was a stunt organized by Kardashian friend and publicist Simon Huck, promo for a new theatrical exhibition called A. Human, which opened last night on Mercer Street in SoHo (it's now open to the public until September 30th, for an admission fee of $40).
Huck is selling A. Human as a "futuristic fashion brand." The exhibition, where realistic prosthetics like fish gill-like collars and exaggerated pointy shoulders are displayed on real life models, is a version of something like Sleep No More, a living experience that plays on the idea of shopping in the future — a world where, theoretically, people would slice and dice themselves to get the look (the plastic surgery jokes write themselves).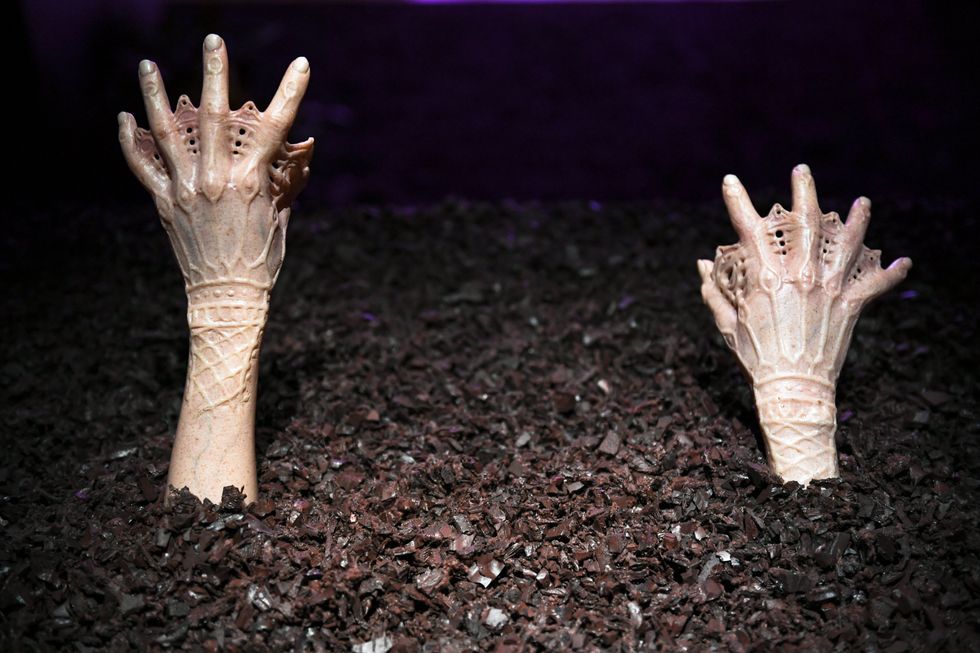 Celebrities like Katie Holmes, Olivia Culpo, and the Queer Eye guys drank tequila cocktails while taking in detachable spinal cords and nautilus shell-shaped high heels implanted in ankles. Theatrical director Michael Count placed models inside glass boxes filled with dirt, so that only their heads were visible. There was a "pump room" that featured a beating heart. Edgar Allen Poe could never!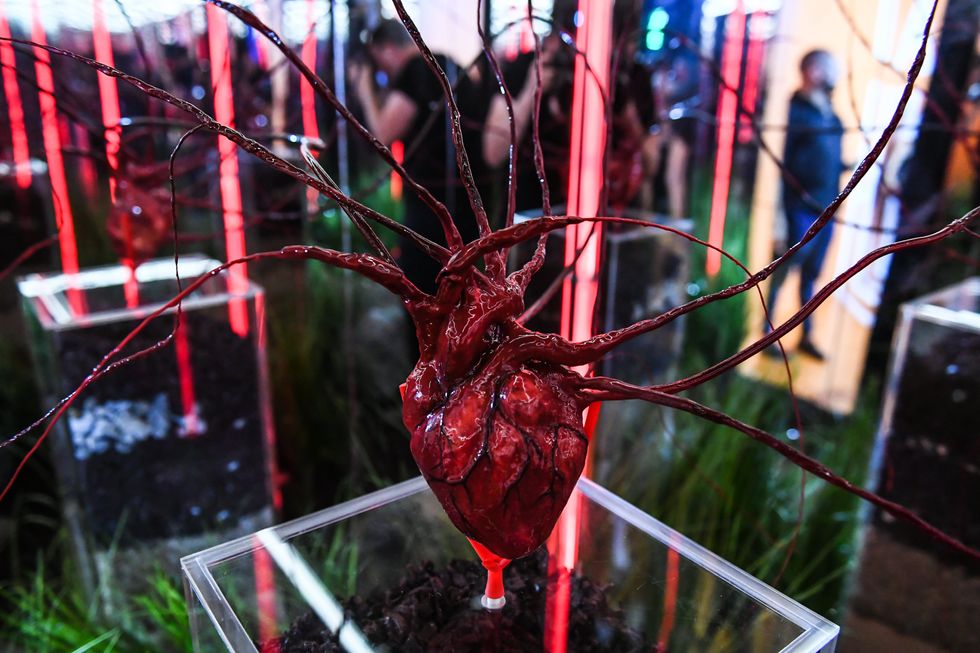 A beating heart in the "Pump Room"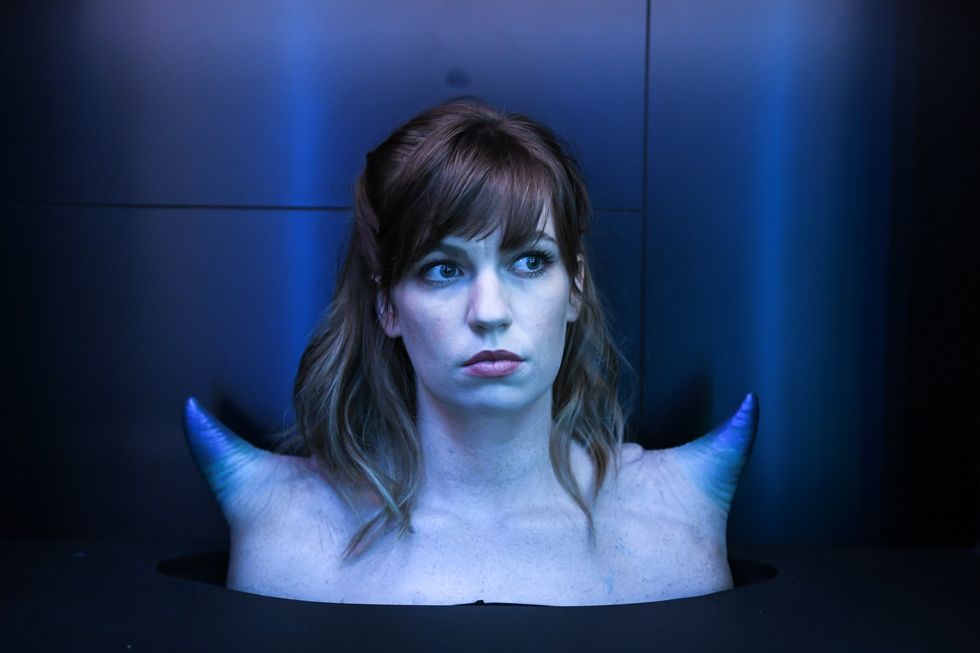 Nicola Formichetti's "The Pinnacle"
Venerable makeup artist Isamaya Ffrench was a major contributor, and even wore her own set of modified teeth to the event. "I actually used to be a dental nurse many years ago, and there is something quite creepy about teeth in general," she said. "They're associated with death and associated with dreams, and so they're already symbolic."
Ffrench and A. Human collaborator Nicola Formichetti are known for work that flirts with body modification. Formichetti, a fan of sci-fi and artists like HR Giger, created a piece for A. Human called "The Pinnacle" that recalls Born This Way-like horned shoulders. "I was thinking about the future and what would it be like in 50 years or 100 years," he said. "We might not even have clothes."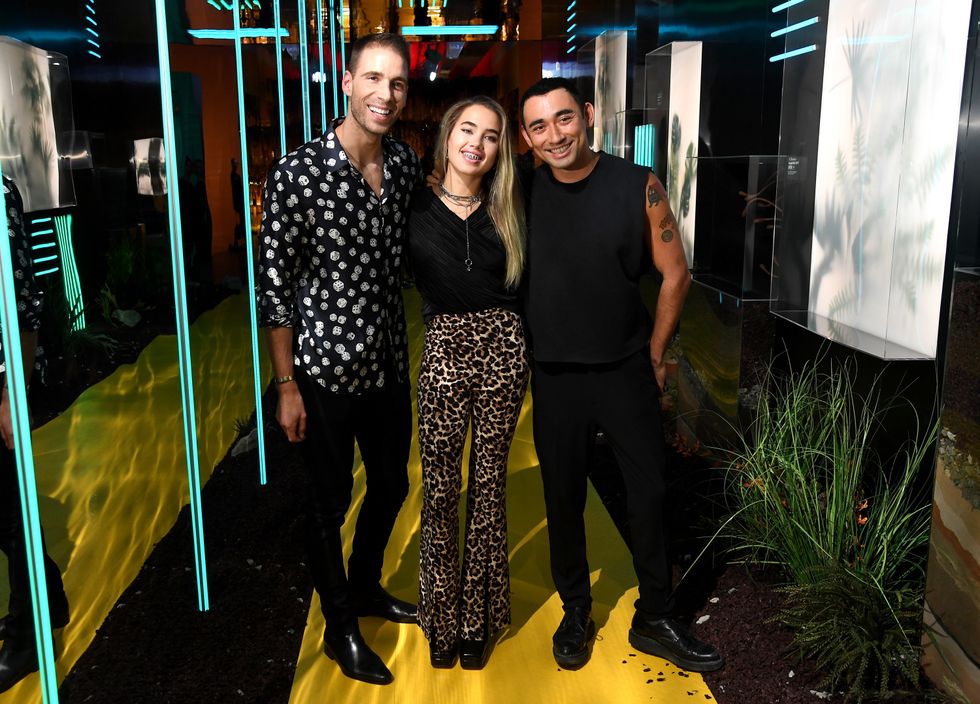 Simon Huck, Isamaya Ffrench, Nicola Formichetti
Formichetti is fascinated by the idea of artificially shaping the body, beyond something like plastic surgery. "Myself, I don't like using implants," he said. "I love going to the gym and building strong muscles through working out and things like that. But I feel like I'm always interested in what's possible."
Has anyone alerted David Cronenberg?
Photos courtesy of BFA/A. Human
Sign Up For The Morning PAPER