Working at a magazine, people love to say things like,"Oh the cover is amazing! It must have been so fun to be at the shoot!" Little do they realize that most photoshoots involved drama and organizational headaches that often make it hard to look back on the cover without a little tinge of stress and anxiety. Most of PAPER's cover cuties are well-behaved and not divas, but somehow different hijinks always ensue. We looked back at some of our favorite covers from the 2010s with memories from PAPER's Mickey Boardman about the behind-the-scenes action at the shoots.
April 2010: Beth Ditto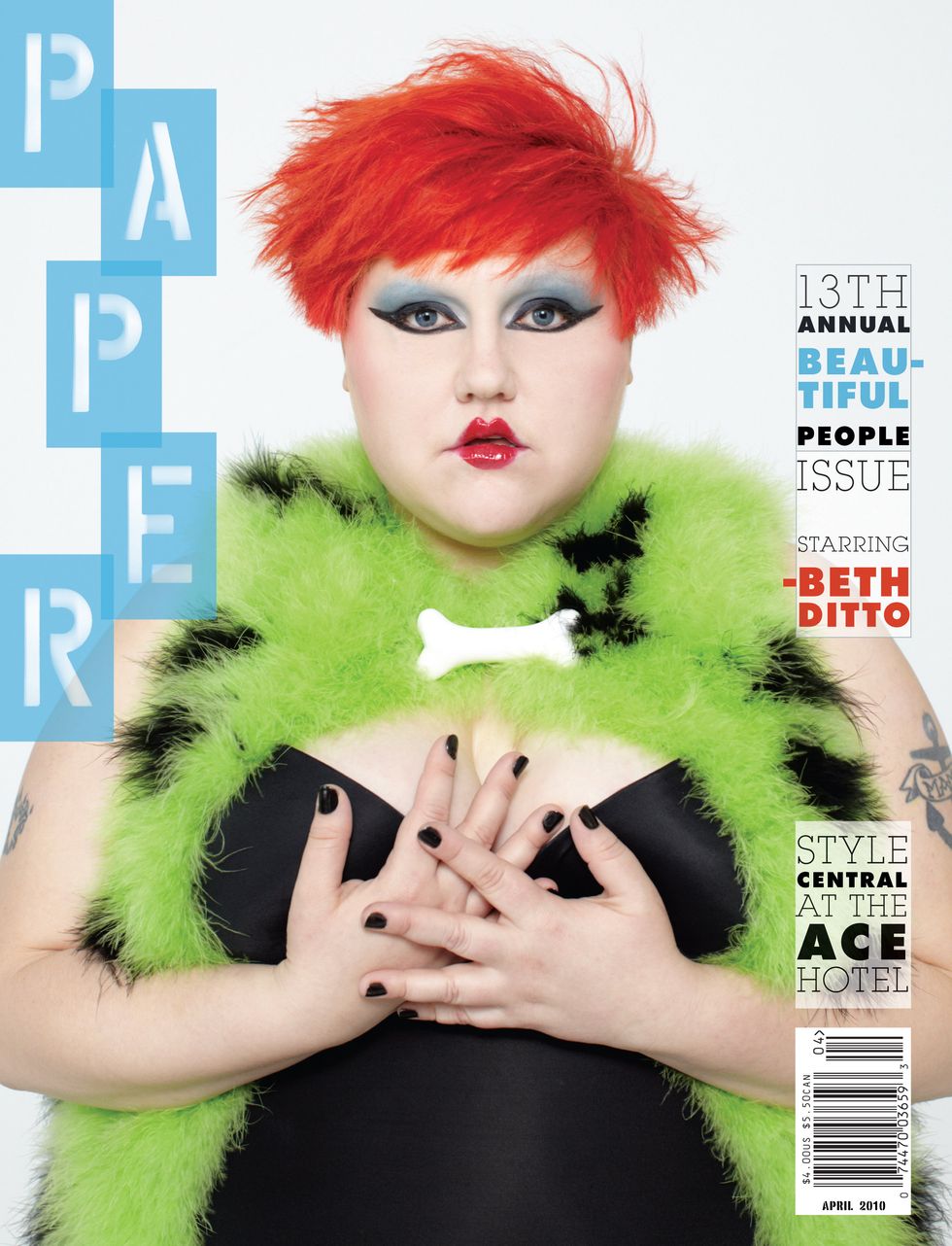 Photography: Dan Monick
This cover was styled by designer Jeremy Scott, who called Gossip's Beth Ditto his best friend and muse. His collection that season was inspired by The Flintstones and Beth had just dyed her hair orange, so he decided to make Beth into a sexy prehistoric Pebbles. Beth is the best, and happy to wear anything and be crazy.
Summer 2010: Kesha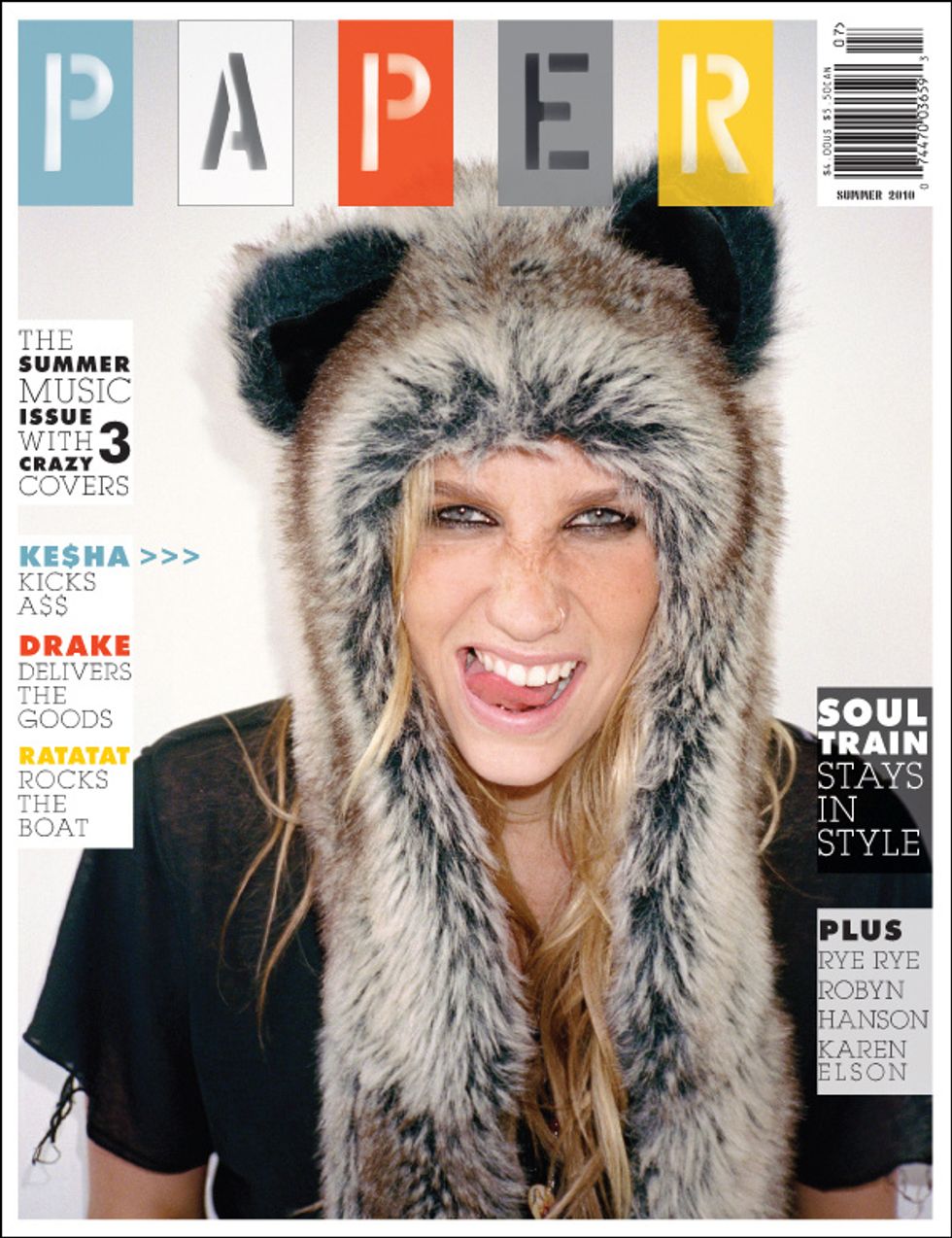 Photography: Dan Monick
Kesha (then: Ke$ha) was part of our 2010 summer music issue, which had three covers: Kesha, Drake and Brooklyn band Ratatat. Part of doing the cover included performing for an outdoor concert series called Sounds Like PAPER. Kesha was a total dream to shoot — so sweet and up for anything. I'm afraid that wasn't the case with the other two cover subjects. We shot Drake in an Ohio hotel room and he smoked tons of pot and then refused to take off his sunglasses. We had a rule at PAPER that we couldn't have people wearing sunglasses on the cover, so the photographer was freaking out on the phone to me that she didn't know what to do. At the Ratatat shoot in NYC, the boys told me they couldn't take off their sunglasses because their thing was they didn't show their faces. I said I'd seen a million pictures of their faces on the internet and they said the not-showing faces thing was new. I told them we couldn't run a cover with a person wearing sunglasses, knowing we already had a Drake cover with him wearing sunglasses. Flash forward to the first free Sounds Like PAPER concert with Drake and opening act Hanson, and 40,000 people showed up. There was a bit of a mini-riot, which caused the police to shut down the show while Hanson was performing. Kesha's performance the following week was moved indoors to Roseland, and she gave an incredible show and was a dream to work with.
Summer 2011: Joe Jonas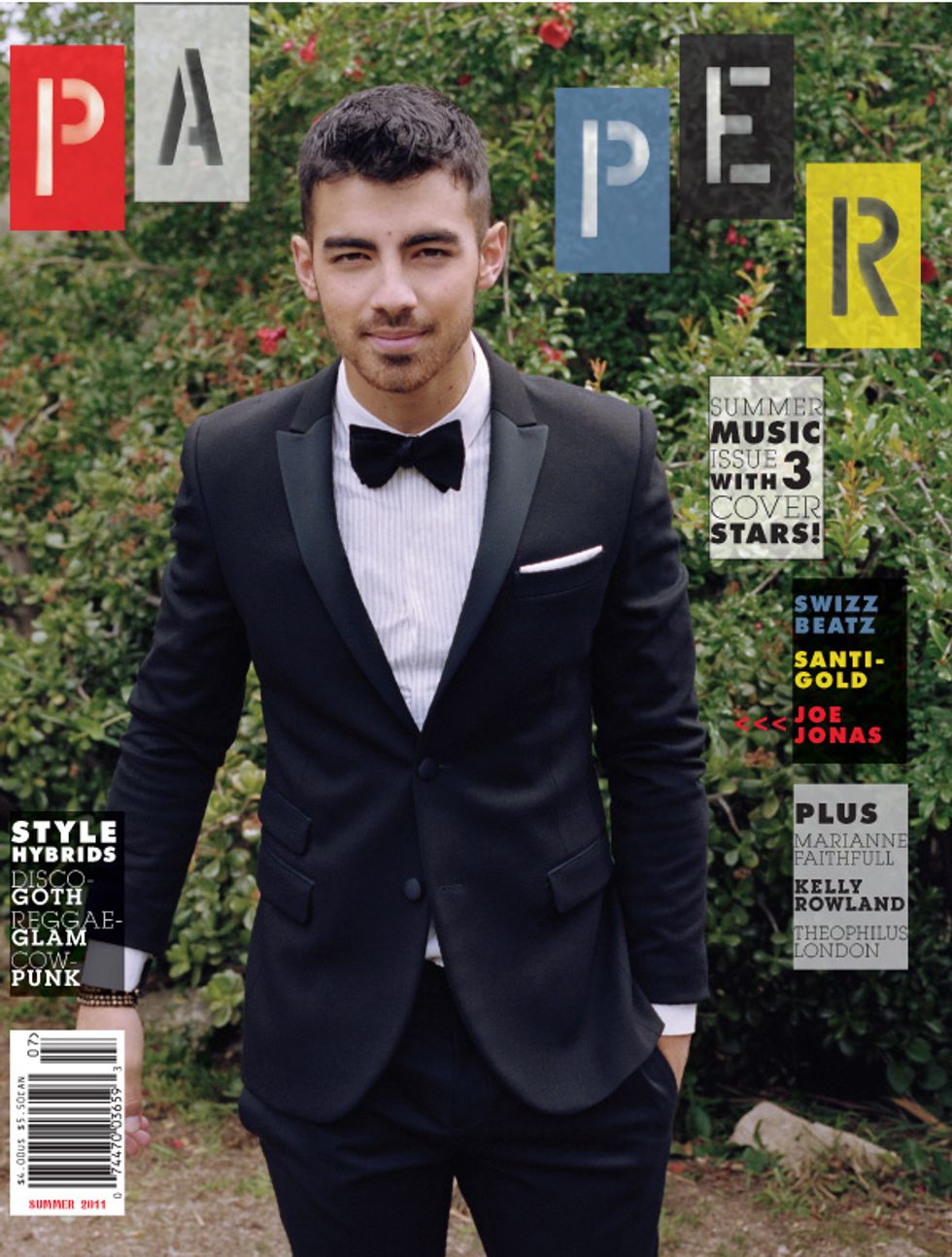 Photography: Jacqueline DiMilia
All I can say is Joe Jonas had a very good sense of humor and was so fabulous to deal with for this shoot. In those days, we always did three music covers and asked each cover person to perform at a Sounds Like PAPER concert. For the shoot, we asked Joe to jump on a trampoline in a tuxedo and he didn't flinch — he was happy to do it. For the concert in NYC, he performed before Swizz Beatz. You can imagine what that crowd was like: half Jonas fans and half Swizz Beatz fans. Joe was a total pro. When I did a PAPER TV interview with him after his show telling him I was coming to his hotel room for the after party, he didn't blink and went along with all my stupidity and silliness.
September 2012: Ezra Miller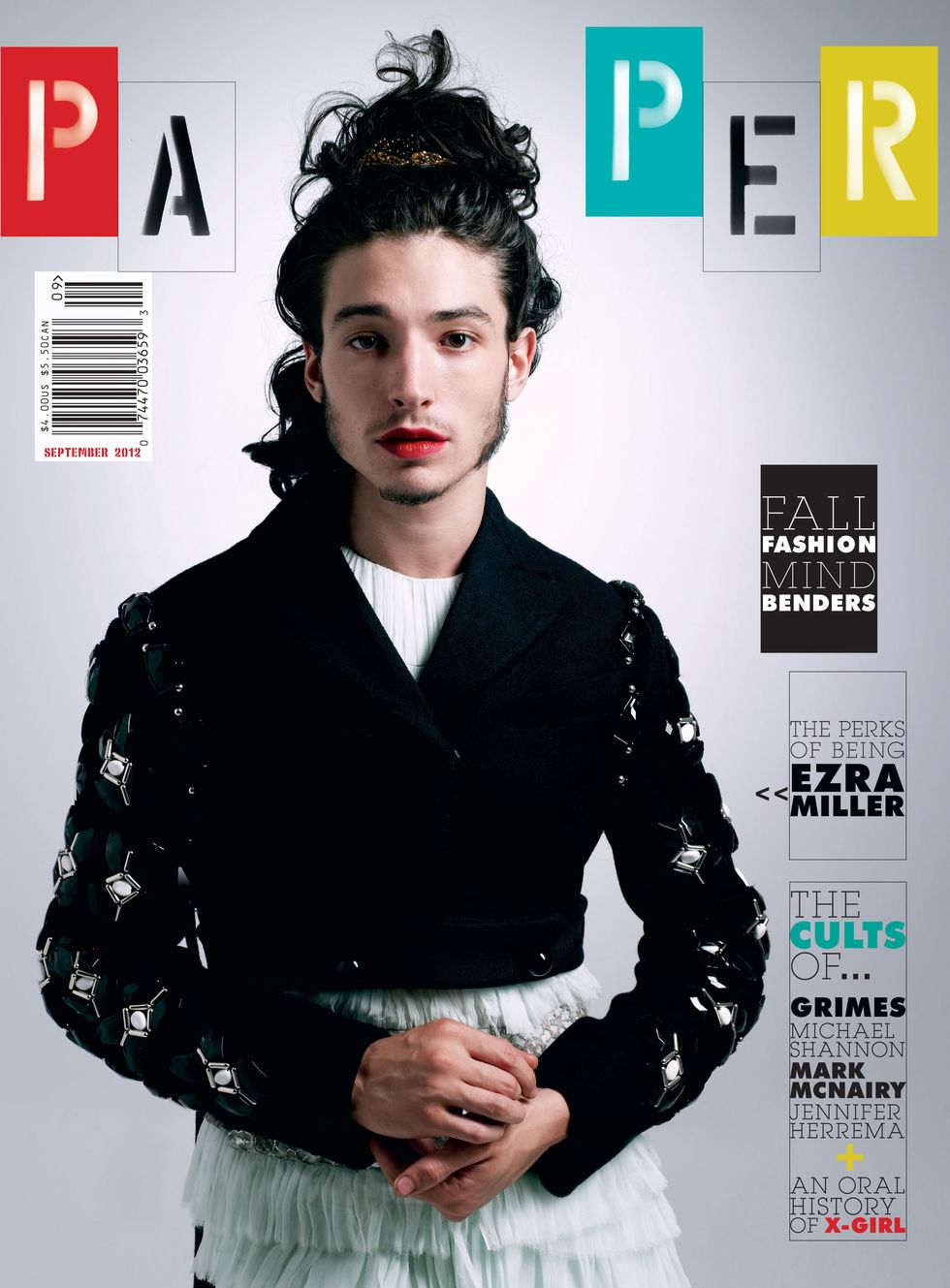 Photography: Autum DeWilde
Ezra Miller was a relatively new actor at the time we shot him, but he already had a reputation for liking wild fashion. The stylist, Shirley Kurata, pulled stuff like Comme des Garçons but also some women's pieces in case Ezra felt like wearing them. (A past cover subject Vincent Gallo, arrived at a cover shoot with photographer François Nars and right away asked if we had any women's clothes for him to wear). Ezra was almost 20 at the time and arrived with a little group of friends. It seemed like none of them had taken a shower or combed their hair for several days, but they were all very sweet. At one point they started smoking pot and relaxing on the studio couches. It was a fun, festive atmosphere and I think Ezra ended up wearing all the clothes we pulled — the wilder the better. Often a cover subject is uptight and doesn't want to wear anything too fun, so this was a really great experience and we were very happy with the shoot.
November 2012: M.I.A.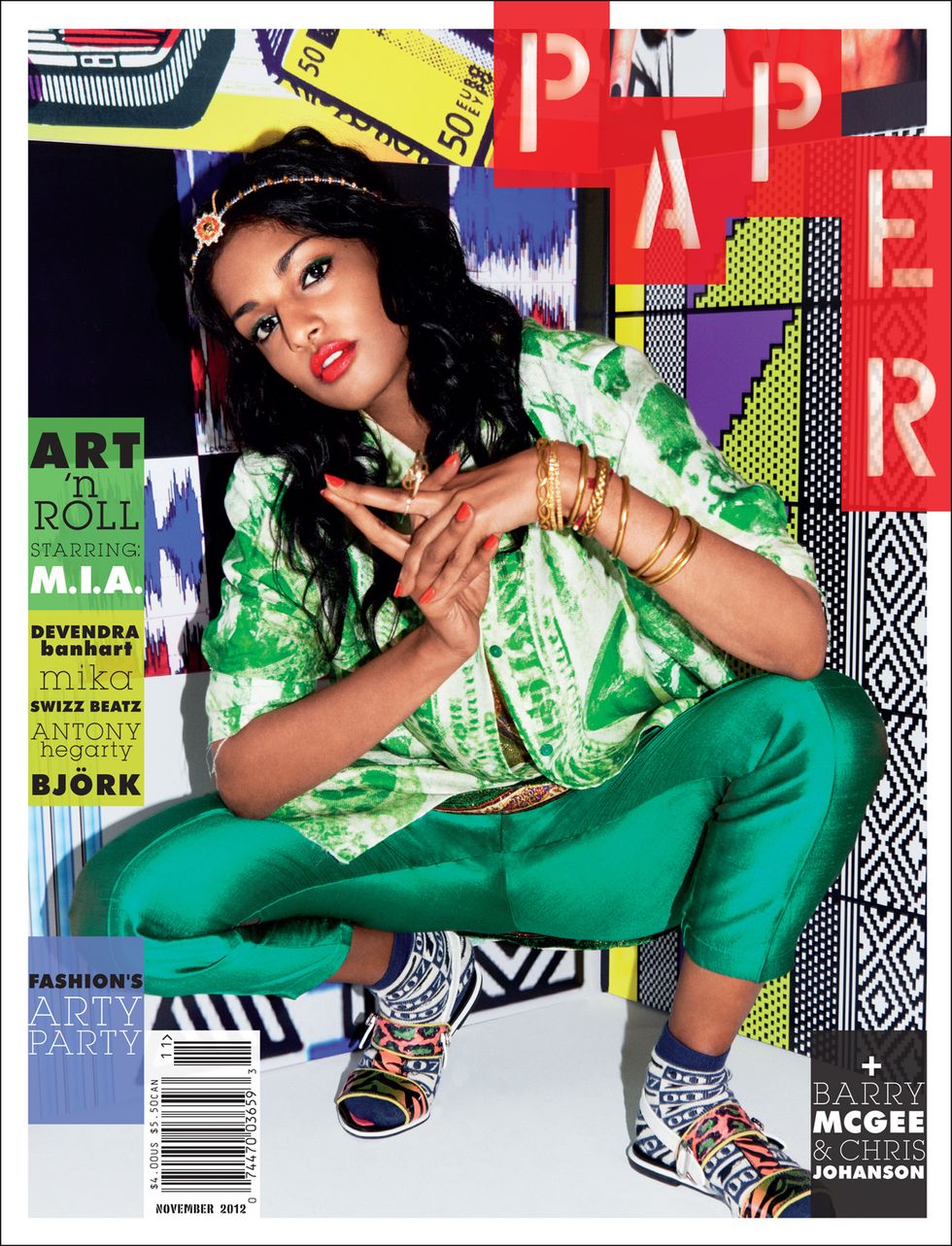 Photography: Jessica Craig Martin
Our art director at the time had the idea to get some colorful parrots to shoot with M.I.A. for the cover story and we didn't really have a budget for it. Somehow (did we Tweet about it?), we found someone in Baltimore with two parrots who was willing to drive up to NYC for the shoot just to get their pets in the magazine. M.I.A. brought her adorable son Ikhyd to the shoot. He was about three years old at the time and for some reason he was obsessed with our producer Jordan, who is more than 6 feet tall and a big bear of a guy. At one point Ikyd asked Jordan to take him to the bathroom and wandered out of the bathroom onto set without any pants on.
September 2014: Courtney Love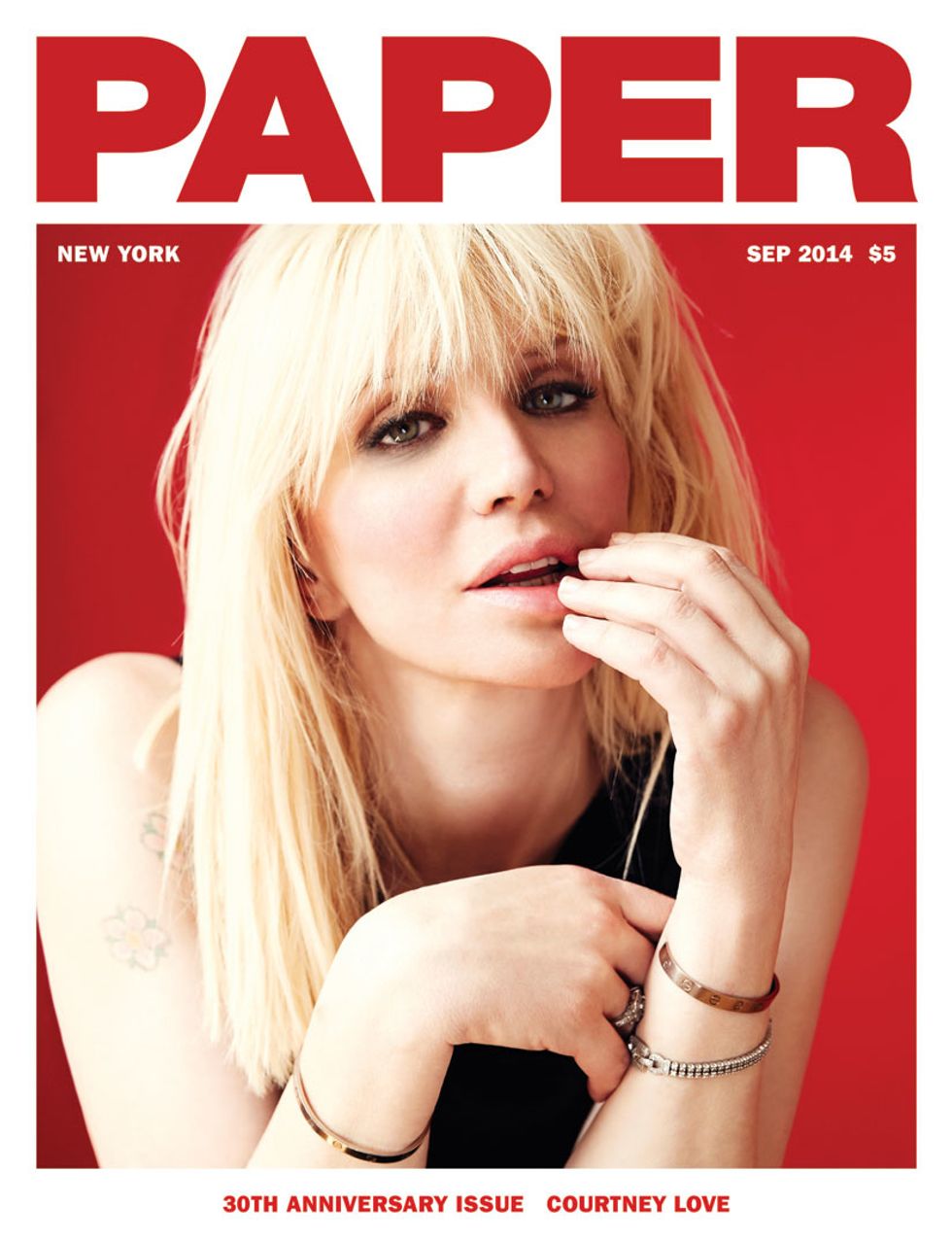 Photography: Richard Phibbs
We adore Courtney Love. She's such a rock star. But since she's a rock star we weren't exactly sure if she would wake up in the morning in time for the shoot. So I planned to pick her up at her downtown hotel and take her to the shoot. Courtney texted me before I even got there and was ready by the time I arrived. So much for the diva rumors. Our photographer Richard Phibbs does Buddhist chanting, which Courtney is also a big fan of. That was a total coincidence. They completely bonded and chanted together. It was one of the easiest, quickest shoots we've ever done. I was slightly disappointed it was so easy because there are certain people like Courtney, Prince, Lindsay Lohan and Mariah that you sort of hope will be divas and give you fun stories to tell after. Sadly when we've shot all those people, they were all easy breezy with no drama.
Winter 2014: Kim Kardashian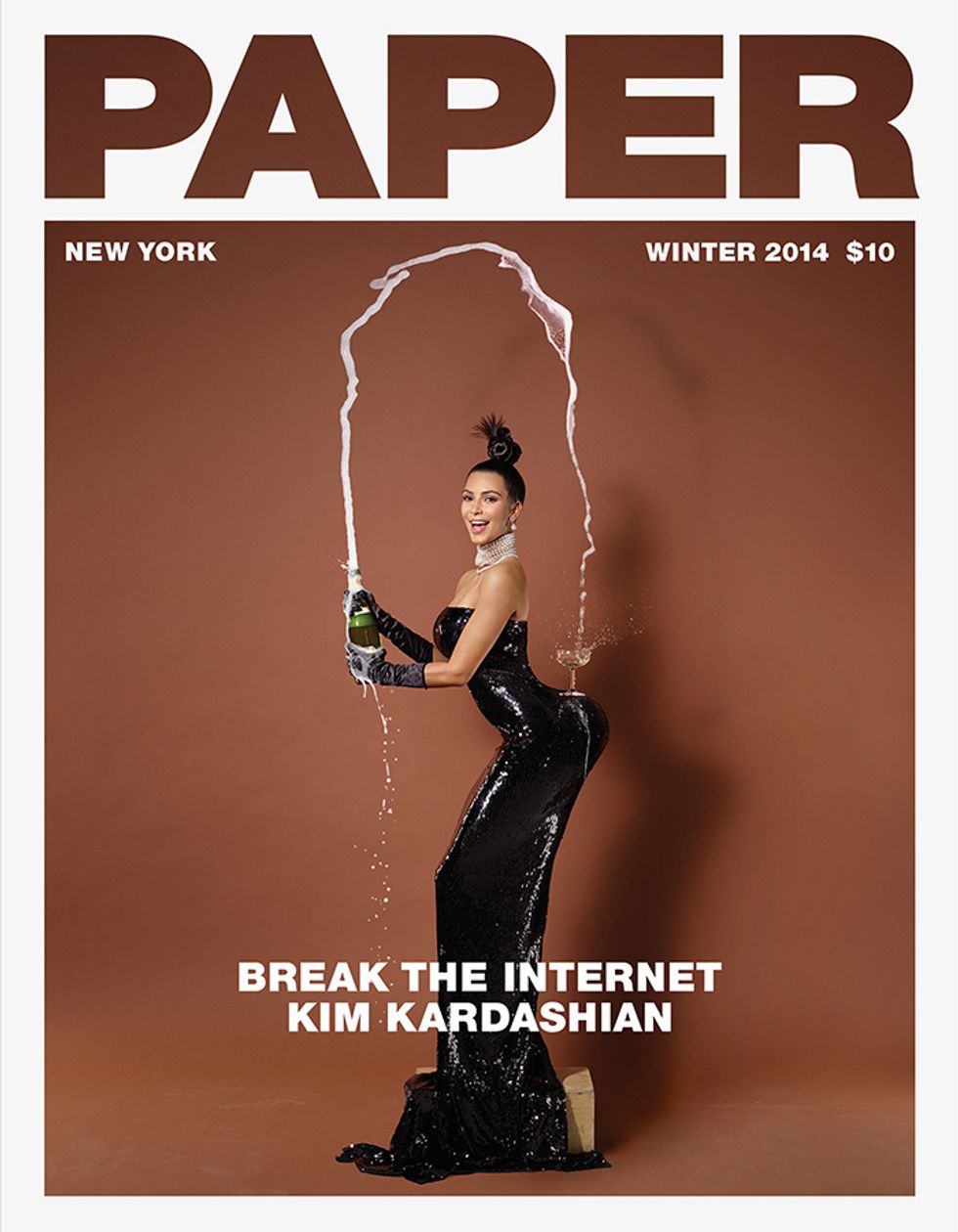 Photography: Jean-Paul Goude
We shot Kim Kardashian during Paris Fashion Week and the studio was on the outskirts of Paris. Traffic was super crazy that day, so about five minutes before call time I got a text from her bodyguard saying they were five minutes away. People are rarely on time, so I was shocked and impressed. I went out front to greet her and somehow there was a crowd of about 50 crazy fans. I have no idea how they figured out where the shoot was or even that we were doing a shoot. Her van came around the corner, followed by about 20 photographers on scooters. It was mayhem. She arrived alone, except for her bodyguard who texted me. No publicist, no manager, just her, which is unusual for a cover subject. She arrived about two minutes past call time and apologized for being late. She was literally the most pleasant and professional cover subject I've ever worked with. She met everyone and was so excited to be doing the shoot. She said, "Let's really do this. I'll stay all night and do whatever you want." It was literally a dream come true, and the rest is history.
April 2015: Kanye West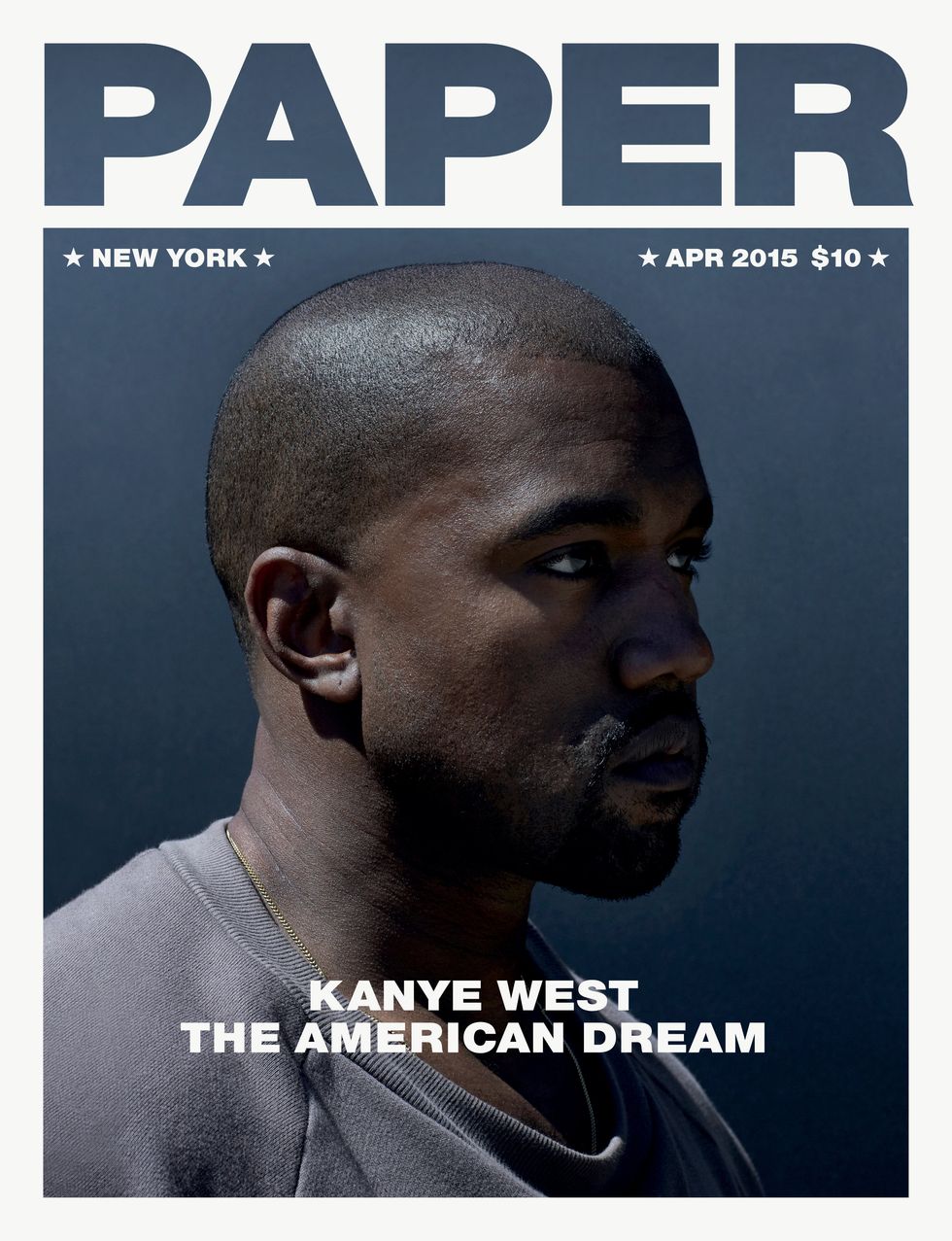 Photography: Jackie Nickerson
The whole thing came about because I would run into Kanye West during fashion week. He was going to tons of shows and basically felt like a member of the press since he didn't just go to high profile show that celebs went to — he went to see young designers, too. He had done this podcast where he did a whole soliloquy about the American Dream, so I went up to him and said how brilliant it was and how perfect a cover it would be for our America issue. He said, "Let's do it."
Summer 2015: Miley Cyrus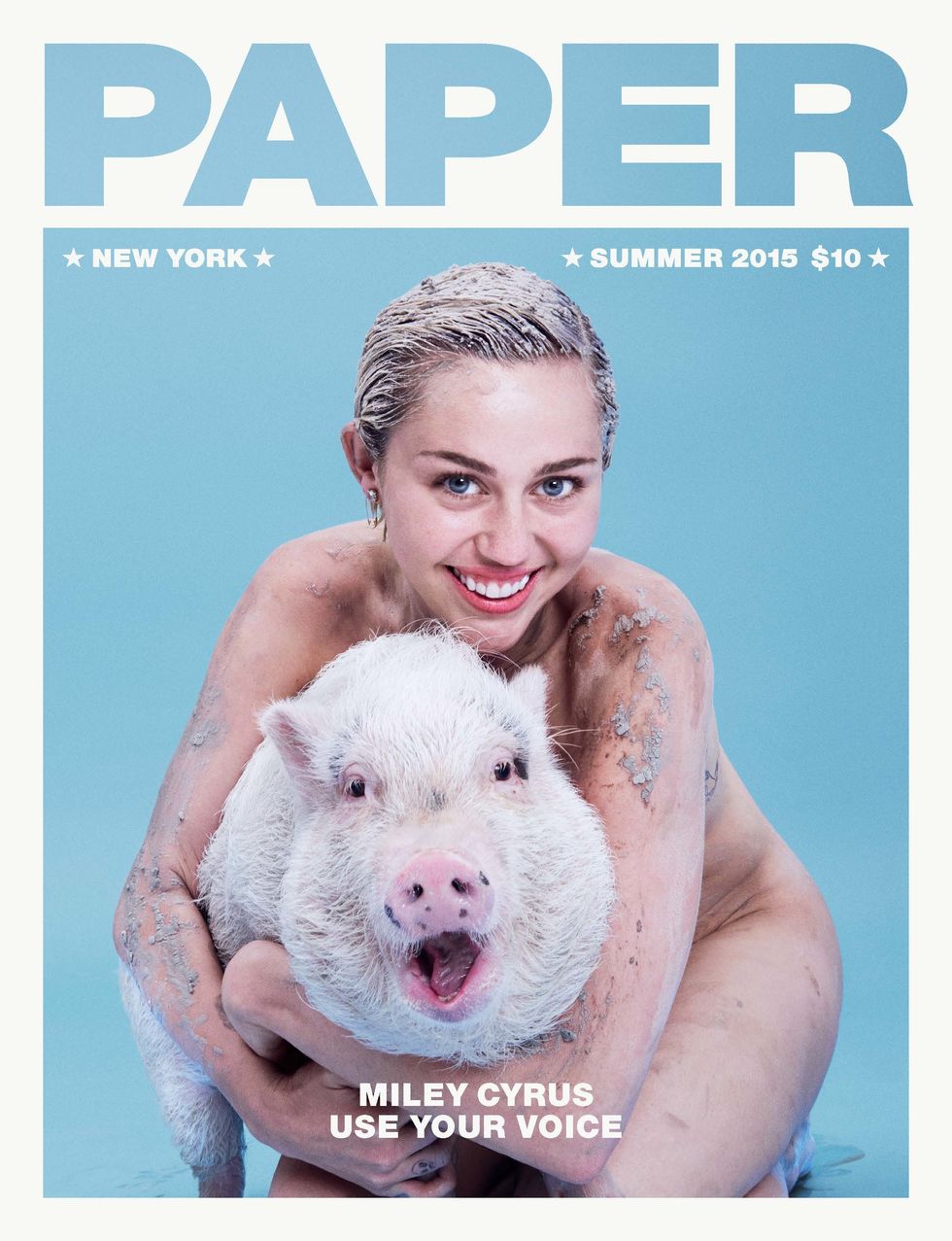 Photography: Paola Kudacki
We shot Miley Cyrus at Milk Studios in LA with her pet pig, and she was basically naked and rolling in mud with the pig. At the time, Kanye West was basically using Milk as his office. Kanye stopped by the shoot to say hello and we got a picture of him with Miley (nude). We never ran it though.
April 2016: Kylie Jenner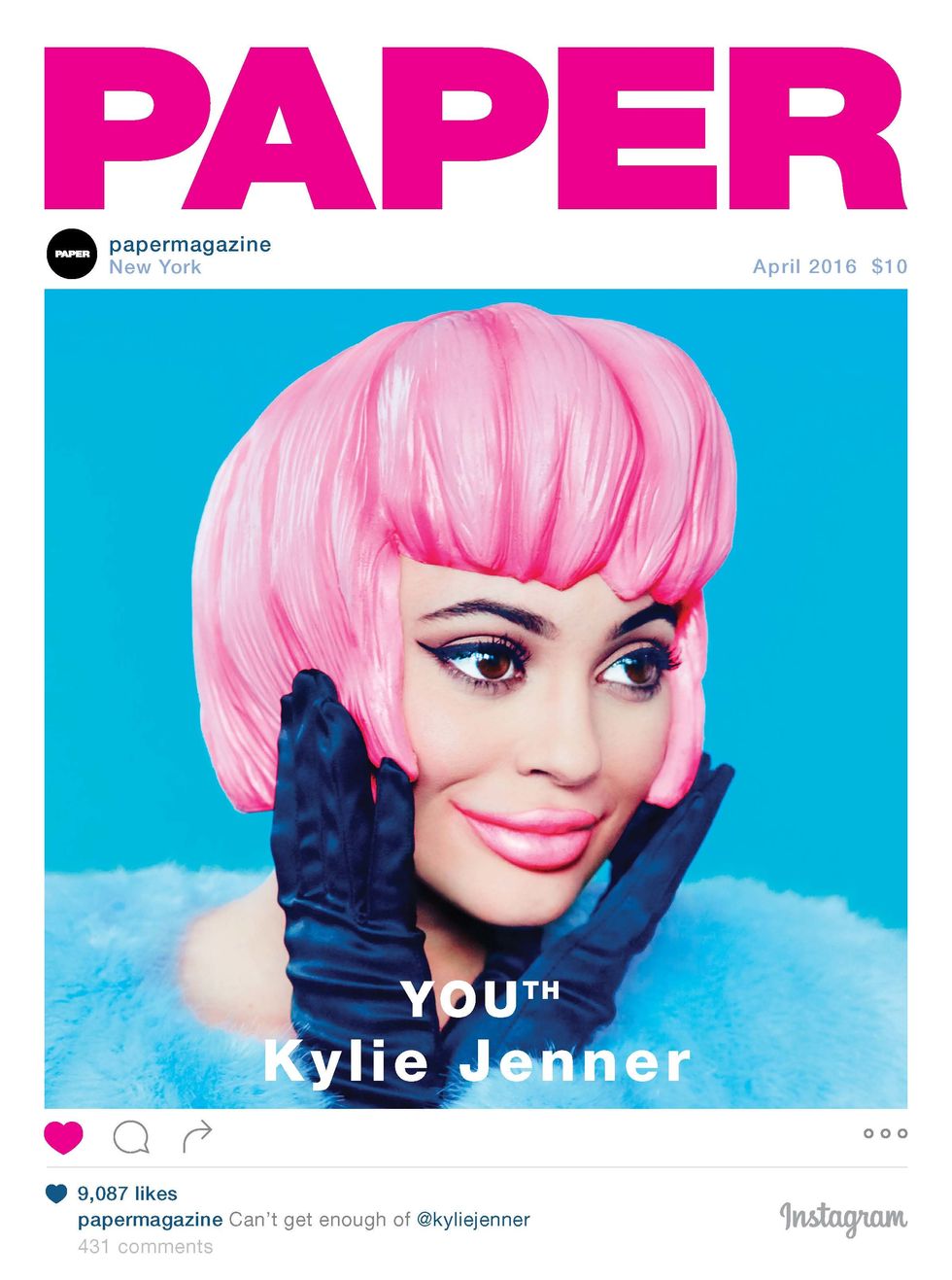 Photography: Erik Madigan Heck
Kylie Jenner was the cover of our 2016 Youth issue and we shot at Milk Studios in LA. We really wanted to dye her hair candy colors, but her publicist said she had to wear wigs (by the fabulous Tokyo Stylez). I ran into her at the Balmain for H&M show a few days before the shoot and said how we'd really love to dye her hair. She was so sweet and said, "I guess I can dye it although it would really damage my hair." Her PR interrupted and reminded me it had to be wigs. The day of the shoot Kendall was shooting for Vogue in the next studio and came in to say hi at our shoot. Kris Jenner also stopped by with her friend/client Melanie Griffith. There were a million paparazzi across the street from the studio in the parking lot. It turns out they had crazy telephoto lenses and shot close ups of Kylie in the crazy wigs we put her in. The photos were all over the internet the next day.
Vegas Issue 2017: Mariah Carey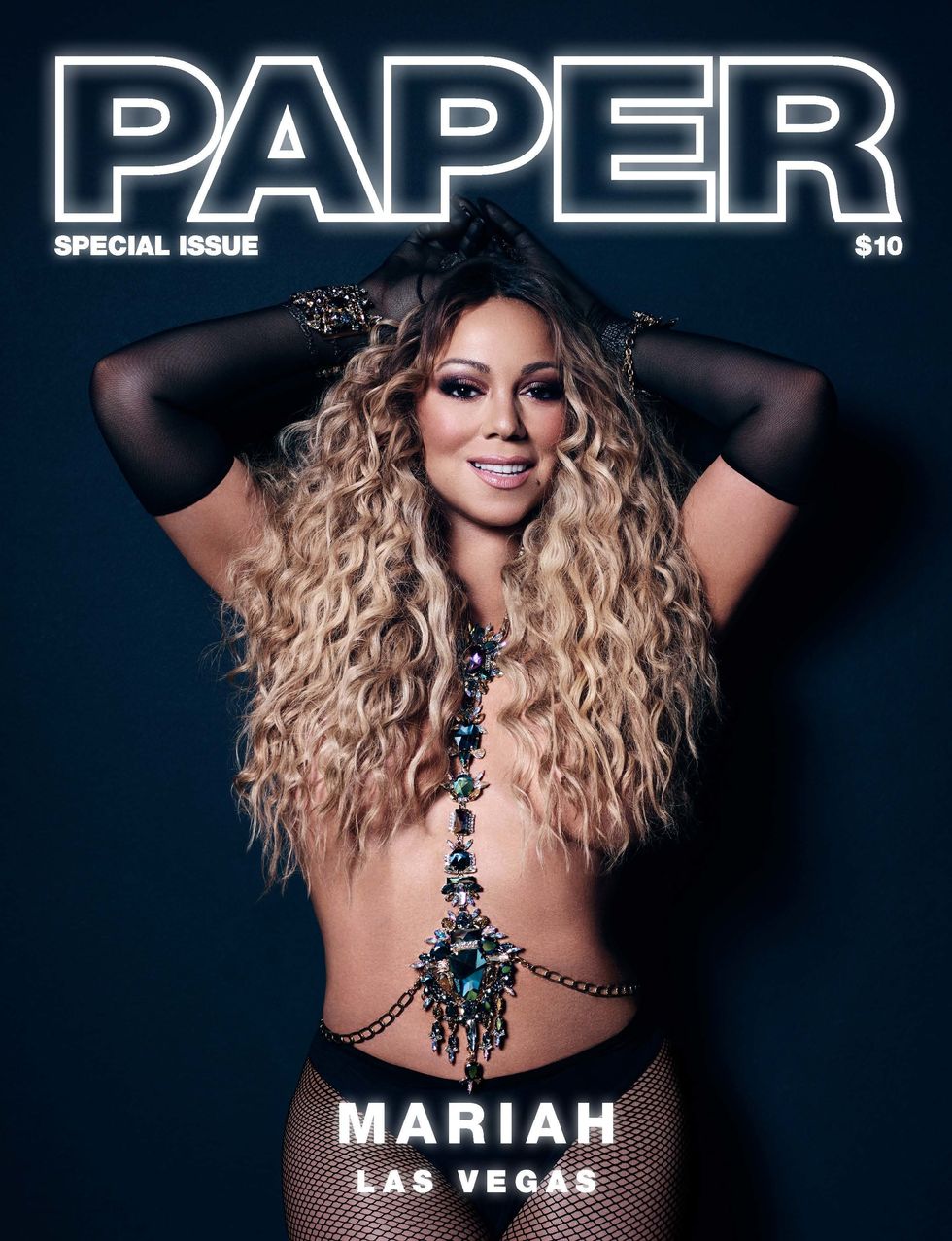 Photography: James White
We shot Mariah Carey at her house in Beverly Hills. She's a night owl and a true diva so she was late for the shoot, even though it was at her own house and started in the afternoon. The cover was for our Las Vegas issue, so we did a video interview with Mariah asking about her favorite spots in Vegas. When I asked what she would recommend to someone who had never been to Vegas she said, "My kids have a really amazing dentist in Las Vegas, so I would recommend people go see him." Mariah at the time had a wild Russian manager woman who was on a reality show with her. Every few hours the manager would show up with some delicious junk food: first donuts, later In-N-Out Burger with cheese fries. We all ended up in Mariah's kitchen eating the In-N-Out at about 1 AM. I left for the airport for my 6 AM flight and the shoot was still going on.