If you think about the top tier in fashion, there's a good chance that the name "Chanel" is one of the first that pops into your mind. The French couture house, known for its continued excellence in tweed tailoring, is one of the world's oldest high-end luxury brands and, with only two creative directors during its century-long history, is also one of the most aesthetically consistent.
Despite its seeming vastness though, Chanel still doesn't have a separate menswear line. Creative director Karl Lagerfeld has put men on the Chanel runway, but the house still makes menswear sparingly. However, at the house's FW17 space-themed runway show at the Grand Palais in Paris on Tuesday, there seemed to be a much bigger focus on including a defined "Chanel man" in the larger Chanel universe. In the middle of the show, Karl sent out seven menswear looks on some of his favorite male muses—including the adorable father/son duo of Brad and Hudson Kroenig. With five of the models carrying the house's new Gabrielle bag, the decision was a large a pivot for the brand.
Now, with the end of Paris Fashion Week marking the final chapter of this exhausting seemingly endless run of continent-crossing back-to-back fashion weeks, Chanel has just released some new images from their upcoming handbag campaign for the Gabrielle bag. While faces like Kristen Stewart and Cara Delevingne are well-known to the Chanel campaign family, this new run features someone...unexpected: a man that goes by the name of Pharrell Williams.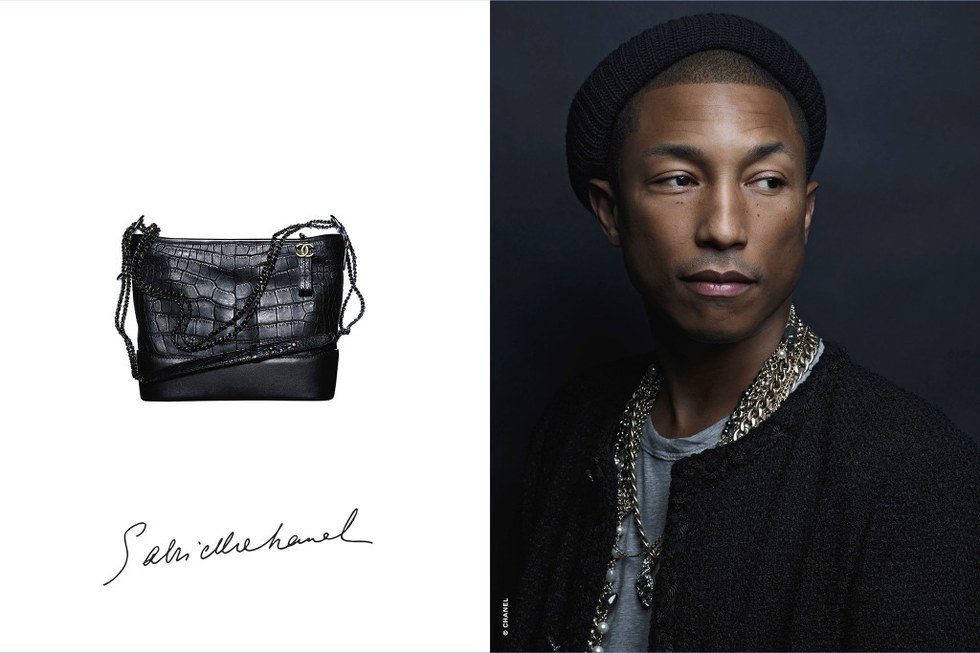 This makes Pharrell, who is an extremely vocal fan of the brand, the first man to ever appear in a Chanel handbag campaign. Talking exclusively to WWD, Karl Lagerfeld spoke about how the bag's double chain strap allows it to be worn in "many different circumstances," making it extremely versatile—even versatile enough to be worn by a man. Virtual reality goggles, which served as the inspiration behind the bag's shape, are worn by both sexes, so why shouldn't the bag?

Pharell wears an all-black crocodile version of the Gabrielle in the new images and thinks extremely highly of the campaign. The singer (and designer himself) has always liked to play with the gendered norms of the Chanel customer, admitting that, "although there's mostly the perception that it's for women, I just started to see, OK, as a man I can wear some of this. So I would wear sunglasses here, or a jacket there." Describing the experience of shooting with the legendary Karl Lagerfeld, Pharrell said, "It was fun, I mean Karl knows what he wants, he knows what he's doing."
[h/t WWD]
Splash photo via Chanel