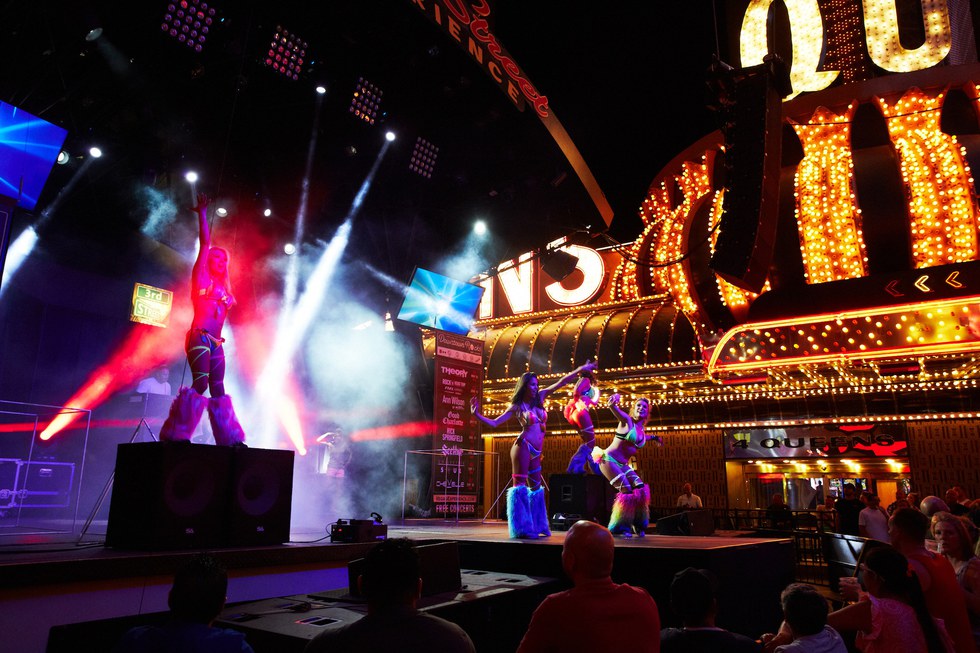 Above and splash photo: The Fremont Street Experience

A is for ADULT FREEDOM
Las Vegas, Nevada. The city that actually never sleeps. This improbable, glittery mirage in the middle of the Mojave Desert is a veritable buffet of once-in-a-lifetime experiences, decadent meals at restaurants like Zuma at The Cosmopolitan and Andrea's at Encore Las Vegas, grown-and-sexy parties at clubs like LIGHT at Mandalay Bay and Drai's at The Cromwell, extraordinary people-watching opportunities on Fremont Street and, well, actual buffets. Plus there's the aesthetic of it all. With its golden ratio of jaw-dropping palatial glamour and deliciously campy glitz, Las Vegas is definitely the most extra city in America. It's almost impossible to leave Vegas without a story, because the primary directive of this city is to show you the time of your life.
B is for BOTTLE SERVICE
Sparklers and bottle girls? Amateur stuff compared to a Vegas bottle presentation. At Marquee at The Cosmopolitan, you can have your drinks delivered by drone while at Hyde Bellagio, you can have your Dom brought over with a championship belt by a squad of servers in boxer robes, or from a golden boat that showers the entire club with champagne. Really. For $250k, they'll even let you control the Bellagio fountain.
C is for CHILDHOOD DREAMS
Whether you're crushing cars with bulldozers at Dig This, racing Lamborghinis at Exotics Racing, flyboarding over Lake Las Vegas, riding a rollercoaster on the Strip at New York-New York or flinging axes around with wild abandon at Axe Monkeys, blissful childhood regression is only ever a liability waiver away. For lo-fi kicks, you can head over to the grown-up playground at Gold Spike for oversized versions of classic games like Jenga, chess and four square, obviously.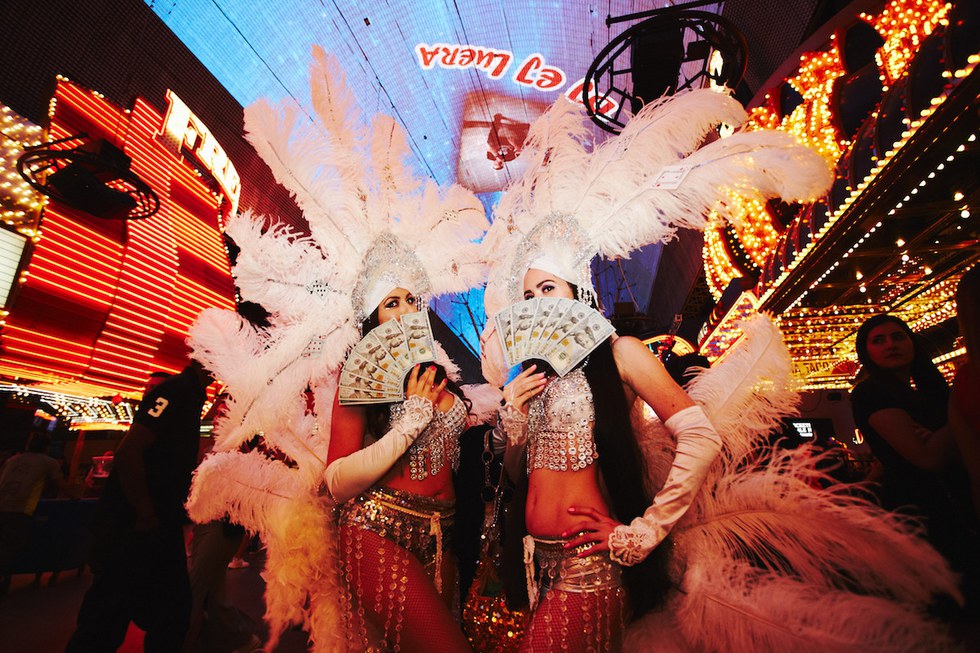 Showgirls along the Fremont Street Experience

D is for DIVAS
Spectacular residencies at the casinos on the Strip have drawn in more single-name divas than you can shake a 60-page rider at. Ok, hello: Britney and J.Lo at The AXIS at Planet Hollywood. Celine and Mariah at The Colosseum at Caesars Palace. Cher at Park Theater at Monte Carlo. There is a reality where you can see each and every one of them (plus Ricky Martin and The Backstreet Boys) in one weekend.
E is for EDM
Vegas is a town that runs on oontz oontz. In addition to regular appearances by Tiesto, Kaskade, Zedd, Major Lazer and Calvin Harris at lavish Strip nightclubs like Jewel at ARIA, Hakkasan at MGM Grand and Omnia at Caesars Palace, Vegas is home to the one and only Electric Daisy Carnival. Hold my pacifier.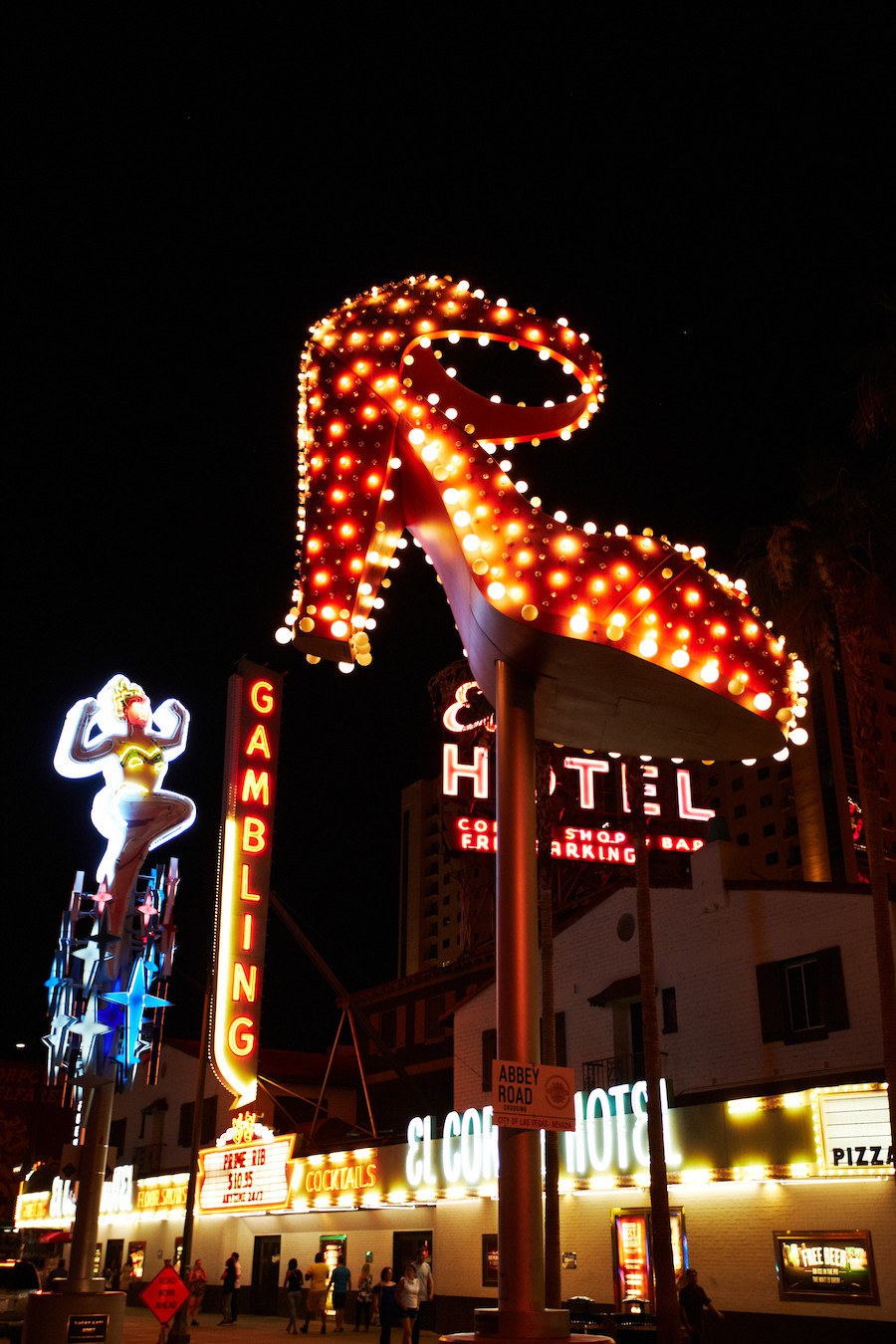 Fremont Street Experience

F is for FREMONT STREET
Fremont Street, the original Strip, offers the best of classic Vegas as well as an exciting glimpse into the city's future. Strolling past fabulous restorations of neon signs from long-gone casinos and epic murals from international street artists created during the annual Life Is Beautiful Music & Art Festival, you can have the best of both worlds. Marvel at the '80s majesty of the Jackie Gaughan suite at the historic El Cortez Hotel and pay your respects to the iconic neon cowboy Vegas Vic before heading down to the epicenter of the downtown revitalization, Downtown Container Park. It's an open-air shopping center made from repurposed shipping containers showcasing local restaurants and boutiques (no chains allowed), and it houses a 55-foot-tall fire-breathing mantis (seriously) as well as Oak and Ivy, purveyor of some of the city's most imaginative craft cocktails. From there, you can have a peak people-watching experience at the Fremont Street Experience pedestrian mall, or mosey over and sample a pint or two from the city's local craft brewers at Vegas' oldest freestanding bar, Atomic Liquors, where Barbra Streisand still has a reserved seat.
G is for GHOST TOWNS
There's gold in these hills! Well, maybe not these specific hills as it turns out, which explains the abundance of fascinating boom- and-bust Gold Rush ghost towns in the desert surrounding Las Vegas. The two-hour drive out to Rhyolite Ghost Town in Death Valley, which was founded around a gold vein in 1904 and abandoned by 1916 due to mine closures, is a must for any American history buff — or casual Westworld fan.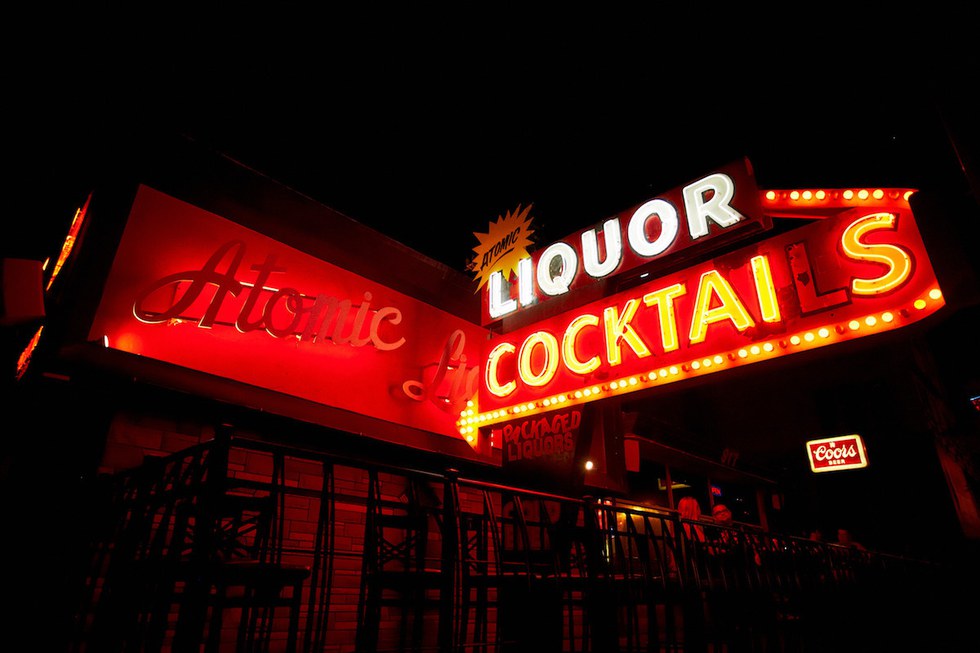 Atomic Liquors

H is for HIDDEN GEMS
The celebrity chefs on the Strip get a lot of well-deserved shine, but one of the best restaurants in the city is an unassuming little Japanese izakaya in a Chinatown strip mall. Abriya Raku, which serves up foie gras rice bowls and small plates of exquisitely grilled fish and fowl, is a favorite haunt for Vegas' culinary elite, always mentioned alongside the more famous Strip restaurants in any "Best-of" list. But Raku isn't the only spot off the beaten path where you can live your Anthony Bourdain fantasy. Visit the elegant Kabuto for incredible sushi, Monta for 12-hour tonkotsu ramen, District One for Vietnamese fusion and Chengdu Taste for Sichuan spice that hurts so good.
I is for INDOOR SKYDIVING
If you're a lowkey thrillseeker, but the thought of bungee jumping off the 108th floor of the Stratosphere gives you the sweats, might we suggest a trip to Vegas Indoor Skydiving? There, you can experience the thrill of freefall without any of the vertigo.
J is for JAW-DROPPING
With Absinthe at Caesars Palace, Le Reve – The Dream at Wynn and Cirque du Soleil shows like Mystere at Treasure Island and Michael Jackson One at Mandalay Bay, there's no shortage of opportunities to gasp, shriek and marvel at the core strength of impossibly buff acrobats performing impossible feats for your entertainment. That's not even counting all the things that are disappearing and reappearing nightly at magic shows with Criss Angel Mindfreak at Luxor and Penn & Teller at Rio.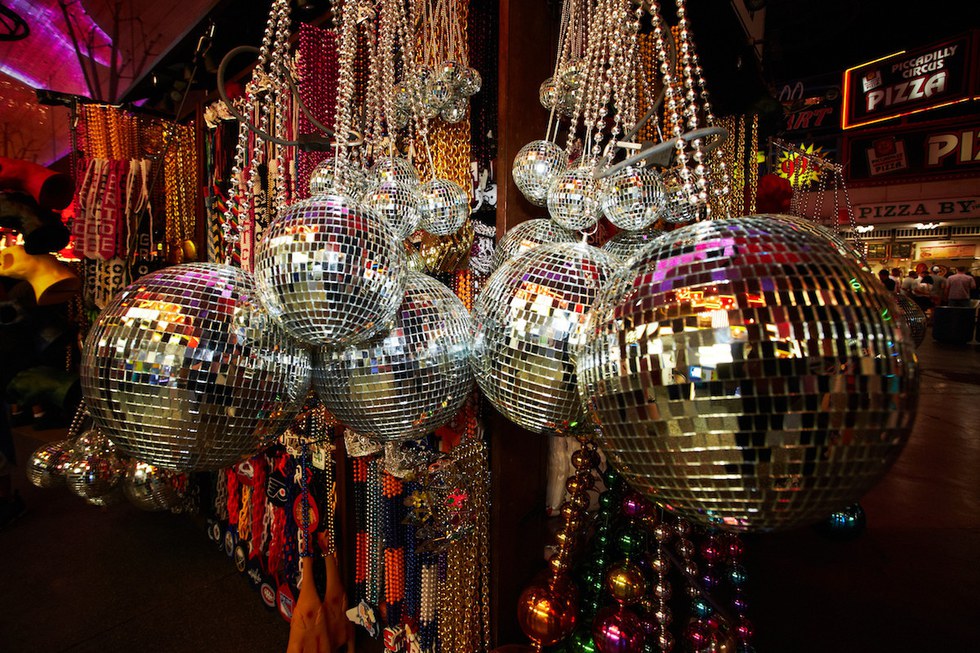 Disco balls for sale

K is for KITSCH
Obviously, a city with this many ostrich feathers and Elvis tribute artists is a mecca for kitsch lovers. Be sure to stop in for a Mai Tai among the idols at Frankie's Tiki Room, and head over to Peppermill Fireside Lounge, where you can revel in the neon power-clash color scheme from a seat around the indoor fire pit. The waitresses wear satin floor-length evening gowns, and Showgirls was filmed there — need we say more?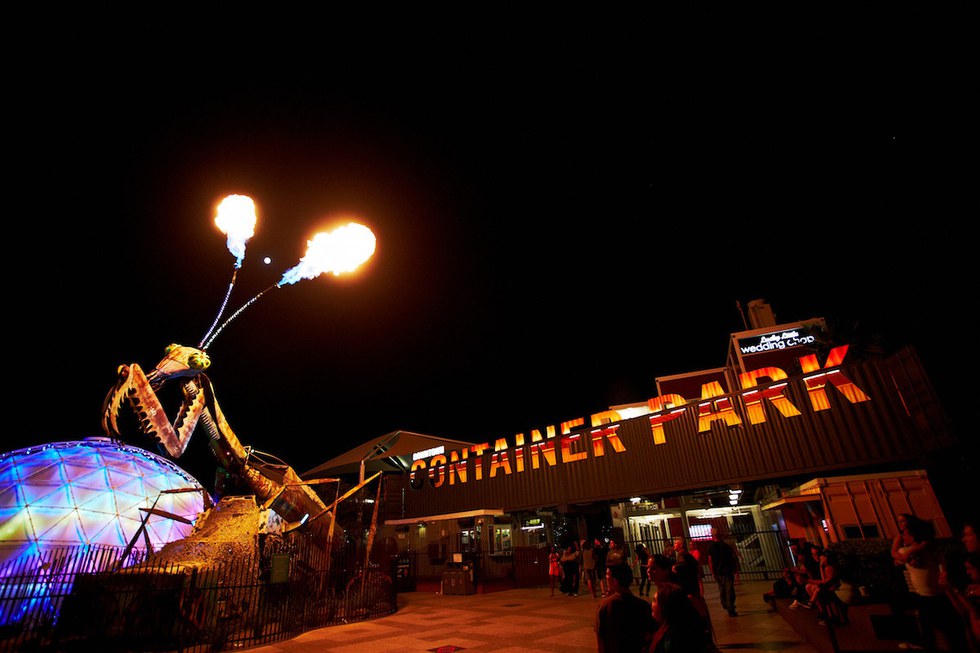 The fire-breathing mantis at Downtown Container Park

L is for LANDMARKS
No other city on earth puts this much effort into being dazzling, so it's fitting that her iconic landmarks are both awe-inspiring and completely over the top. First-time visitors should be sure to climb the Eiffel Tower at Paris Las Vegas (or visit Ghostbar on the 55th floor of Palms) for one of the most gorgeous views of the Strip, enjoy some light serenading on a gondola ride along The Venetian's canals, and then have an Ocean's Eleven moment watching the dancing Fountains of Bellagio. Adrenaline junkies can partake in the many thrill rides atop Vegas' tallest building, The Stratosphere, while the rest of us scream "How?" and "Why?" in sheer delight at the pure pyrotechnic insanity that is the hourly simulated Volcano eruption at The Mirage. And of course, if you don't take your obligatory selfie in front of the "Welcome to Fabulous Las Vegas" sign, were you ever really here?
M is for MEAL OF YOUR LIFE
Foodies, get your smelling salts, because some of the most celebrated chefs on planet earth have opened outposts in Las Vegas: There's swanky French comfort food at Michael Mina's Bardot Brasserie at ARIA; more opulent French fare at Pierre Gagnaire's Twist at Mandarin Oriental; Spanish molecular gastronomy a-go-go at JoséAndrés' Bazaar Meat at SLS Las Vegas and tapas at his Jaleo at The Cosmopolitan; and an unforgettable tasting menu experience at Joël Robuchon's eponymous restaurant at MGM Grand. Around here, every dining experience is an extravaganza, and there's always a very high likelihood that your next meal will be the best of your life.
N is for NEON MUSEUM

The Neon Museum is dedicated to preserving and restoring the most stylistically extravagant and historically significant specimens of Las Vegas' signature artform: the neon sign. A tour through their Neon Boneyard will give you a crash course in Vegas history — and a chance to commune with some truly incredible typography.
O is for OFFBEAT VEGAS
In a city with this much nonstop razzle dazzle, businesses have to be extremely creative to get your attention. It's this sort of outside-the-box thinking we can thank for the wonderfully weird shark tank waterslide at The Golden Nugget, the Bitcoin ATMs strewn about the city, the black light KISS Mini Golf Course at Rio All-Suite Hotel and Casino, and the world's only Denny's wedding chapel.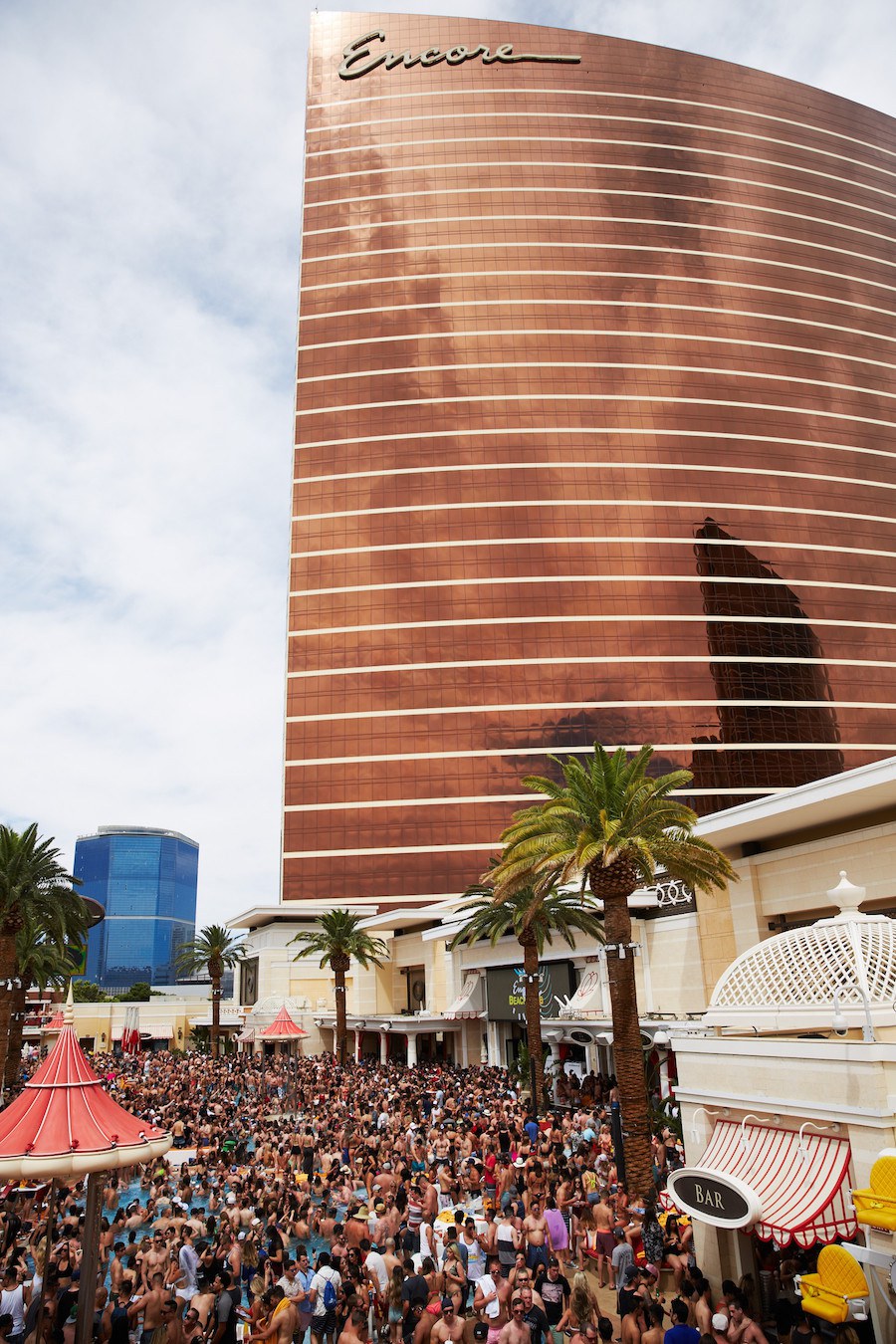 Kygo performs at a pool party at Encore Beach Club in Encore at Wynn Las Vegas

P is for POOL PARTIES
When Vegas realized you could put a nightclub in a pool, the dayclub was born, and quickly these wild Ibiza-style parties became an institution at every premiere casino on the Strip. Hey, just because it's still early enough to order off the breakfast menu doesn't mean it's not party time. With lavish swimming pools, luxury bottle service in private cabanas, personal jacuzzis, the occasional champagne shower and performances from the likes of Flume, Zedd, Diplo and Skrillex, the dayclub gives you the unique opportunity to attend a rager and build your base tan at the same time. There's Tao Beach at The Venetian with its masseuses, sunglasses cleaning service (really) and legendary TAO-tinis, and Venus Pool Club at Caesars Palace with its *ahem* European sunbathing options, but first-timers should definitely check out the packed yet inexplicably chill Encore Beach Club. It's got three-tiered pools, top-shelf musical lineups and plush cabanas and bungalows with views of the Strip to provide luxurious seclusion if the party gets too lit.
Q is for QUEER VEGAS
It comes as no surprise that there are plenty of LGBTQ bars, clubs and watering holes of every stripe here on Liberace's home turf. Piranha and FreeZone are safe bets for a wild dance night, Temptation Sundays at Luxor offer up a legendary pool party, and if you catch a drag show at Badlands Saloon, you might just see a cowboy or two.
R is for RAIDERS
Construction is currently underway on the $1.9B football stadium that will house Vegas' newly acquired NFL team, the Raiders. The Raiders won't play in Vegas until the stadium is complete in 2020, but if you're in town and you want to see a game, Vegas' brand-new NHL team, the Golden Knights, will be kicking off their season this year.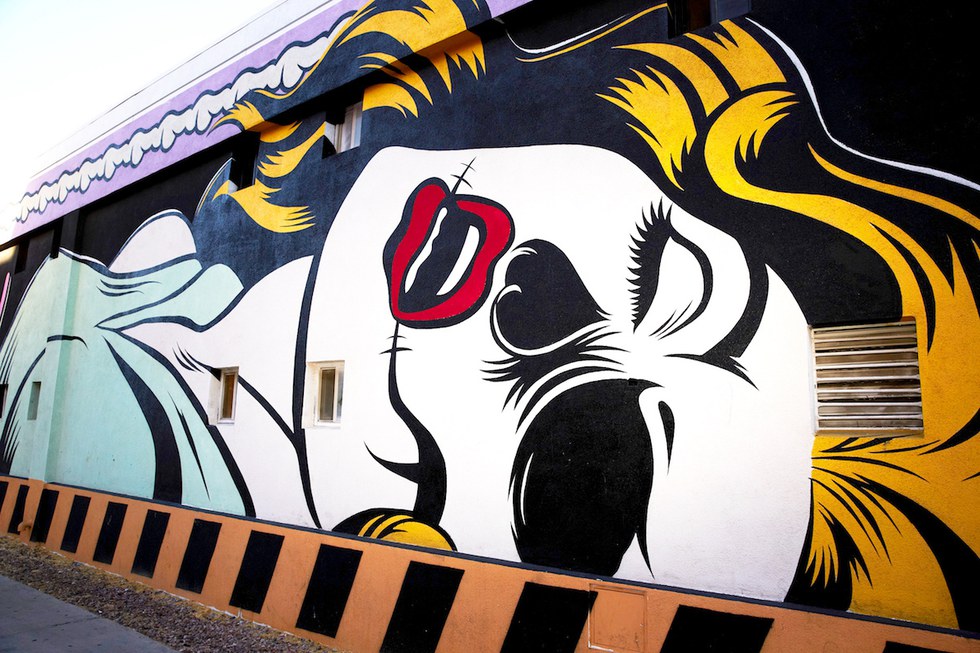 Life Is Beautiful Festival mural by D*Face

S is for SHOPPING
Where there are high rollers, there will always be excellent shopping (there's a reason The Forum Shops at Caesars are known as the "shopping wonder of the world"), but The Shops at Crystals go above and beyond. Designed by famed architect Daniel Libeskind, this refined shopping complex features every luxury brand under the sun, as well as an excellent visual respite from the ash of the Strip. Don't leave before checking out the transcendent James Turrell art installation tucked in the back of the Louis Vuitton store. If you're of the streetwear persuasion, Fruition, Undefeated and Feature are a must. Head to Parque for your desert boho look, and be sure to check out DNA2050 if you're on the hunt for the perfect pair of jeans.
T is for THE GREAT OUTDOORS
While you're here, you should take full advantage of the stunning landscapes that surround the city. The dramatic red sandstone formations in the Valley of Fire State Park and the stately art deco majesty of Hoover Dam and Lake Mead are only about an hour's drive from the Strip, and if you're a baller you can take a helicopter ride straight from Vegas to the Grand Canyon.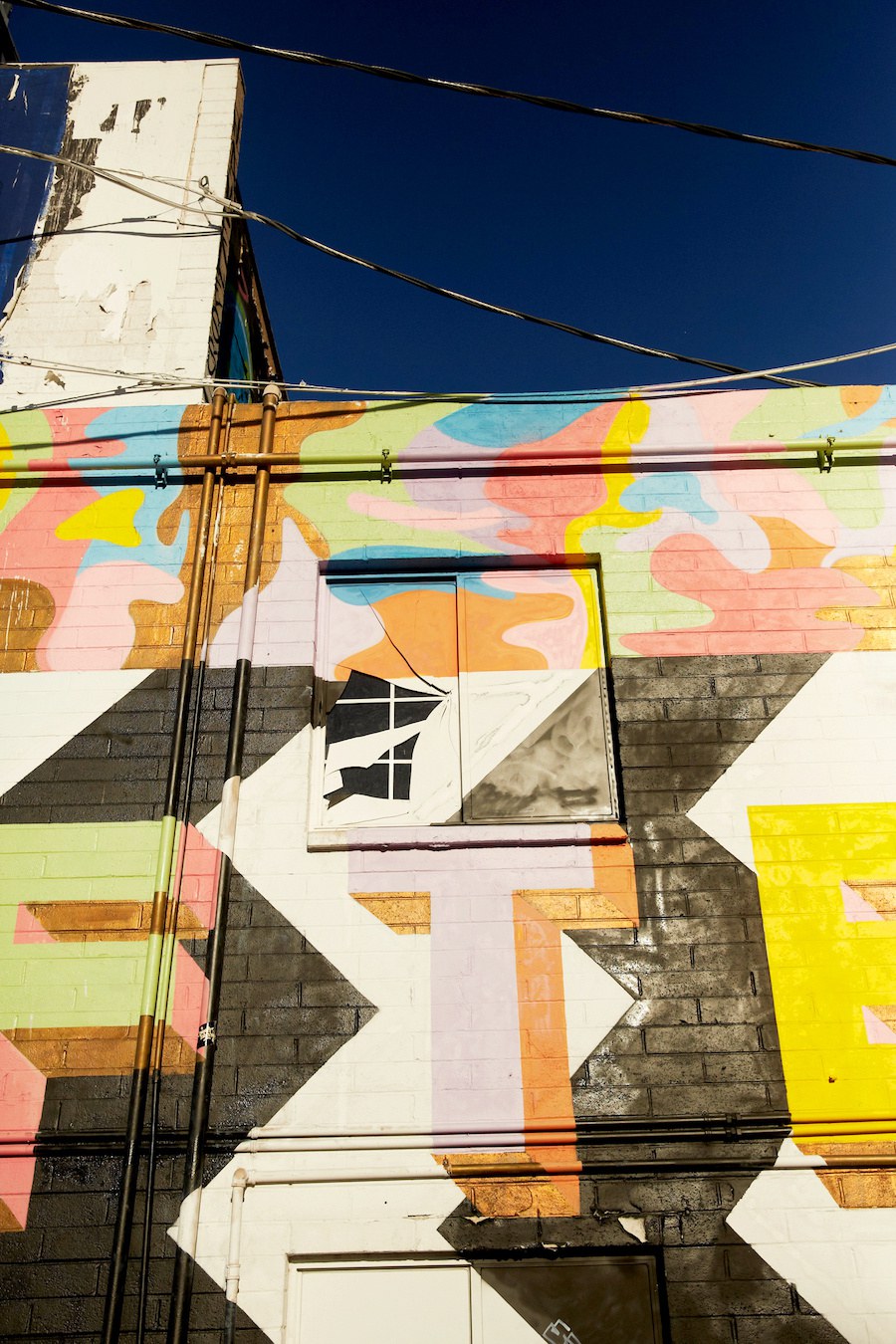 Life Is Beautiful Festival mural by Lakwena

U is for ULTIMATE SPA DAY
Vegas takes its relaxation just as seriously as its parties, so if you need some R&R after a night of wild debauchery, you have your pick of several ridiculously decadent spa day options. You just have to decide if you want to go to Morocco at The Cosmopolitan's Sahra Spa & Hammam, 1930s Shanghai at Mandarin Oriental's intimate spa or Ancient Rome at Caesars Palace's Qua Baths & Spa.
V is for VINTAGE
If your idea of a jackpot is scoring a 1960s Pucci dress or some choice Nixon-era macramé, you've come to the right place. Patina Decor is the place to go for seriously ritzy, well-edited vintage clothing and furniture, but if you love the thrill of the hunt, check out Glam Factory Vintage in the Arts District.
W is for WEDDING CHAPELS
Since the 1930s, marriage licenses have been incredibly easy to obtain in Nevada, and as a result, Vegas has become the destination of choice for romantic elopements. There are a staggering number of wedding chapels in downtown Vegas for young lovers to choose from, where you can be married by Elvis or Captain Kirk at Viva Las Vegas, Elvira at Gothic Weddings or in a saltwater tank by a trio of mermaids at Underwater Weddings — and that's just if you're ordering off the menu. For those of you harboring a *real* princess fantasy, the elegant and extravagant wedding offerings at Bellagio and Mandarin Oriental take the five-tier cake.
X is for EXTREME BRUNCH
When it comes to brunch, Las Vegas did not come here to play. You can sip champagne while nibbling on heavenly pastries at Thomas Keller's Bouchon Bistro at The Venetian, or head to The Cosmopolitan to pile literally every genre of food possible onto your plate at The Wicked Spoon mega-buffet. When it's too chilly for pool parties during the winter months, LAVO at The Palazzo picks up the slack with a brunch that doubles as mid-afternoon dance party.
Y is for YOGA
The High Roller is the world's largest Observation Wheel, and it's also the site of the world's most unique Yoga class. For two revolutions of the wheel, instructors from Silent Savasana will lead you through an hour-long yoga class that may just make you so relaxed that you'll feel comfortable doing warrior pose 550 feet in the air. Silent Savasana also offers epic silent yoga classes with upwards of 500 people at Red Rock Casino, Resort & Spa and Green Valley Ranch, if you prefer to downward dog on solid ground.
Z is for ZIPLINE, BABY!
SlotZilla is the 12-story, slot machine-inspired zipline that extends all the way along the LED canopy of the Fremont Street Experience. And even if you're not the sort of person who's inclined to zipline, watching an endless array of tourists gliding Superman-style overhead while a completely bonkers tribute to the music of Heart plays on the canopy above is a transcendent Vegas experience.


Listings
ACTIVITIES
Axe Monkey, 3525 E Post Rd #110 Las Vegas, NV 89120
Big Apple Coaster at New York-New York, 3790 S Las Vegas Blvd Las Vegas, NV 89109
Bitcoin ATMS, (locations vary)
Denny's Wedding Chapel, 450 Fremont St Las Vegas, NV 89101
Dig This, 3012 S Rancho Dr Las Vegas, NV 89102
Eiffel Tower at Paris Las Vegas, 3655 S Las Vegas Blvd Las Vegas, NV 89109
Exotics Racing, 7065 Speedway Blvd Las Vegas, NV 89115
Lake Las Vegas Water Sports, 20 Costa Di Lago #130 Henderson, NV 89011
The Fountains of Bellagio at Bellagio Resort & Casino, 3600 S Las Vegas Blvd Las Vegas, NV 89109
Fremont Street Experience, Fremont St Las Vegas, NV 89101
Gold Spike, 217 Las Vegas Blvd Las Vegas, NV 89101
Gondola Rides at The Venetian Las Vegas, 3355 S Las Vegas Blvd Las Vegas, NV 89109
Gothic Weddings, 1205 S Las Vegas Blvd Las Vegas, NV 89104
High Roller Observation Wheel, 3545 S Las Vegas Blvd Las Vegas, NV 89109
Hoover Dam and Lake Mead, Hoover Dam Access Rd Boulder City, NV 89109
KISS by Monster Mini Golf Course at Rio All-Suite Hotel & Casino, 3700 S Las Vegas Blvd Las Vegas, NV 89103
Maverick Aviation Group, 6075 S Las Vegas Blvd Las Vegas, NV 89119
The Mirage Volcano at The Mirage Hotel & Casino, 3400 S Las Vegas Blvd Las Vegas, NV 89109
The Neon Museum, 770 N Las Vegas Blvd Las Vegas, NV 89101
Papillon Grand Canyon Helicopters, 3900 Paradise Rd #233, Las Vegas, NV 89119
Qua Baths & Spa at Caesars Palace, 3570 S Las Vegas Blvd Las Vegas, NV 89109
Rhyolite Ghost Town, Rt 374 Las Vegas, NV 89003
Sahra Spa & Hammam at The Cosmopolitan of Las Vegas, 3708 S Las Vegas Blvd Las Vegas, NV 89109
Shark Chute at The Golden Nugget Las Vegas, 129 Fremont St Las Vegas, NV 89101
Silent Savasana at Green Valley Ranch Resort & Spa, 2300 Paseo Verde Pkwy Henderson, NV 89052
Silent Savasana at Red Rock Casino, Resort & Spa, 11011 W Charleston Blvd Las Vegas, NV 89135
SlotZilla, 425 Fremont St #160 Las Vegas, NV 89101
Spa at Mandarin Oriental Las Vegas, 3752 S Las Vegas Blvd Las Vegas, NV 89158
The Stratosphere Casino, Hotel & Tower, 2000 S Las Vegas Blvd Las Vegas, NV 89104
Underwater Weddings at Silverton Casino, 3333 Blue Diamond Rd Las Vegas, NV 89139
Valley of Fire State Park, 29450 Valley of Fire Rd Overton, NV 89040
Vegas Indoor Skydiving, 200 Convention Center Dr Las Vegas, NV 89109
Viva Las Vegas Weddings, 1205 S Las Vegas Blvd Las Vegas, NV 89104
Welcome to Fabulous Las Vegas Sign, 5200 S Las Vegas Blvd Las Vegas, NV 89119

SHOWS

Absinthe, Spiegeltent at Caesars Palace, 3570 S Las Vegas Blvd Las Vegas, NV 89109
Backstreet Boys: Larger Than Life, The AXIS at Planet Hollywood Resort & Casino, 80 E Harmon Ave Las Vegas, NV 89109
Britney: Piece of Me, The AXIS at Planet Hollywood Resort & Casino, 80 E Harmon Ave Las Vegas, NV 89109
Celine, The Colosseum at Caesars Palace, 3570 S Las Vegas Blvd Las Vegas, NV 89109
Cher, Park Theater at Monte Carlo Resort & Casino, 3770 S Las Vegas Blvd Las Vegas, NV 89109
Criss Angel Mindfreak at Luxor Hotel & Casino, 3900 S Las Vegas Blvd Las Vegas, NV 89109
Jennifer Lopez: All I Have at The AXIS at Planet Hollywood Resort & Casino, 80 E Harmon Ave Las Vegas, NV 89109
Le Rêve – The Dream, Wynn Theater at Wynn Las Vegas, 3131 S Las Vegas Blvd Las Vegas, NV 89109
Mariah #1 To Infinity, The Colosseum at Caesars Palace, 3570 S Las Vegas Blvd Las Vegas, NV 89109
Michael Jackson ONE at Mandalay Bay Resort and Casino, 3950 S Las Vegas Blvd Las Vegas, NV 89109
Mystere at Treasure Island Hotel and Casino, 3300 S Las Vegas Blvd Las Vegas, NV 89109
Penn and Teller at Rio All-Suite Hotel and Casino, 3700 W Flamingo Rd Las Vegas, NV 89103
Ricky Martin, Park Theater at Monte Carlo Resort & Casino, 3770 S Las Vegas Blvd Las Vegas, NV 89109

CLUBS

Drai's at The Cromwell, 3595 S Las Vegas Blvd Las Vegas, NV 89109
Encore Beach Club in Encore at Wynn Las Vegas, 3131 S Las Vegas Blvd Las Vegas, NV 89109
FreeZone, 610 E Naples Dr Las Vegas, NV 89119
Hakkasan at MGM Grand Hotel & Casino, 3799 S Las Vegas Blvd Las Vegas, NV 89109
Hyde at Bellagio Resort & Casino, 3600 S Las Vegas Blvd Las Vegas, NV 89109
JEWEL at ARIA Resort & Casino, 3730 S Las Vegas Blvd Las Vegas, NV 89158
LIGHT at Mandalay Bay Resort and Casino, 3950 S Las Vegas Blvd Las Vegas, NV 89119
Marquee at The Cosmopolitan, 3708 S Las Vegas Blvd Las Vegas, NV 89109
Omnia at Caesars Palace, 3570 S Las Vegas Blvd Las Vegas, NV 89109
Piranha Nightclub, 4633 Paradise Rd Las Vegas, NV 89169
Surrender in Encore at Wynn Las Vegas, 3131 S Las Vegas Blvd Las Vegas, NV 89109
TAO Beach at The Venetian Las Vegas, 3355 S Las Vegas Blvd Las Vegas, NV 89109
Temptation Sundays at Luxor Hotel & Casino, 3900 S Las Vegas Blvd Las Vegas, NV 89109
Venus Pool Club at Caesars Palace, 3570 S Las Vegas Blvd Las Vegas, NV 89109
XS Nightclub in Encore at Wynn Las Vegas, 3131 S Las Vegas Blvd Las Vegas, NV 89109

BARS AND RESTAURANTS
Abriya Raku, 5030 W Spring Mountain Rd #2 Las Vegas, NV 89146
Andrea's in Encore at Wynn Las Vegas, 3131 S Las Vegas Blvd Las Vegas, NV 89109
Atomic Liquors, 917 Fremont St Las Vegas, NV 89101
Badlands Saloon, 953 E Sahara Ave #22B Las Vegas, NV 89104
Bardot Brasserie at ARIA Resort & Casino, 3730 S Las Vegas Blvd Las Vegas, NV 89158
Bazaar Meat at SLS Las Vegas Hotel & Casino and W Las Vegas, 2535 S Las Vegas Blvd Las Vegas, NV 89109
Bouchon Bistro at The Venetian Las Vegas, 3355 S Las Vegas Blvd Las Vegas, NV 89109
Chengdu Taste, 3950 Schiff Dr Las Vegas, NV 89103
District One Kitchen & Bar, 3400 S Jones Blvd #8 Las Vegas, NV 89146
Downtown Container Park, 707 Fremont St Las Vegas, NV 89101
El Cortez Hotel & Casino, 600 Fremont St Las Vegas, NV 89101
Frankie's Tiki Room, 1712 W Charleston Blvd Las Vegas, NV 89102
Ghostbar at Palms Casino Resort 55th floor Ivory Tower, 4321 W Flamingo Rd Las Vegas, NV 89103
Jaleo at The Cosmopolitan of Las Vegas, 3708 S Las Vegas Blvd Las Vegas, NV 89109
Joël Robuchon at MGM Grand Hotel & Casino, 3799 S Las Vegas Blvd Las Vegas, NV 89109
Kabuto, 5040 W Spring Mountain Rd #4 Las Vegas, NV 89146
LAVO at The Palazzo Las Vegas, 3325 S Las Vegas Blvd Las Vegas, NV 89109
Monta Ramen, 5030 Spring Mountain Rd #6 Las Vegas, NV 89146
Oak and Ivy, 707 Fremont St Las Vegas, NV 89101
The Peppermill Fireside Lounge, 2985 S Las Vegas Blvd Las Vegas, NV 89109
STK Las Vegas at The Cosmopolitan of Las Vegas, 3708 S Las Vegas Blvd Las Vegas, NV 89109
Twist at Mandarin Oriental Las Vegas, 3752 S Las Vegas Blvd Las Vegas, NV 89158
Wicked Spoon at The Cosmopolitan of Las Vegas, 3708 S Las Vegas Blvd Las Vegas, NV 89109
Zuma at The Cosmopolitan of Las Vegas, 3708 S Las Vegas Blvd Las Vegas, NV 89109

SHOPPING
DNA2050 at The Cosmopolitan of Las Vegas, 3708 S Las Vegas Blvd Las Vegas, NV 89109
Feature, 3735 Spring Mountain Rd, #205 Las Vegas, NV 89102
The Forum Shops at Caesars Palace, 3500 S Las Vegas Blvd Las Vegas, NV 89109
Fruition, 4139 S Maryland Pkwy Las Vegas, NV 89119
Glam Factory Vintage, 211 E Colorado Ave Las Vegas, NV 89104
Parque, 2240 Village Walk Drive, Suite 130 Henderson, NV 89052
Patina Decor, 1300 S Main St #140 Las Vegas, NV 89104
The Shops at Crystals, 3720 S Las Vegas Blvd Las Vegas, NV 89158
Undefeated, 4480 Paradise Road #400 Las Vegas, NV 89108

Text by Kristen Stegemoeller

Photos by Jiro Schneider