There's power in knowing what your strengths are. For YG, and his latest album Stay Dangerous, the Bompton rapper has come into his own like many do when it comes to their third studio album. As the old MC adage goes, it takes your entire life to make your debut album. For the critically-acclaimed, My Krazy Life, it checked out. The sophomore slump exists purely because of the penalties of success; something that fans of Still Brazy may disagree with, but YG readily admits wasn't the most comfortable project he's done. For his third act, now is no time to play it safe. Hours after being embroiled in a controversy with EA Sports' Madden NFL '19, YG speaks to PAPER about why it's best to live dangerously.
Related | Leo Messi Is the G.O.A.T.
You made it a point of duty to go back to the basics on Stay Dangerous. You also expressed that you felt like you experimented a bit too much on Still Brazy. Can you expand on that?
My last album was a great album — it was critically acclaimed. But I really didn't have my YG records that motherfuckers love me and want me for. I didn't have that. I didn't really like that shit. So when I started working on this one, I told myself that I have got to do what the people want me to do, so I had to mix that rap shit in there. And at the time, me and DJ Mustard had fell out. That's a big reason why I didn't have those type of records. I wasn't about to go and have one of these producers that try and make beats that try and sound like him. I didn't want no fake ass Mustard beats, you feel me? So I'm just like, I wasn't about to fuck with that shit. I'm about to do something different. So I did something different [on Still Brazy], it was successful, but honestly how I felt about it? It was missing that real YG shit. So that was my main focus on Stay Dangerous. I wanted to make sure that shit was YG'd out. So basically we went back to the party shit, went back with that street shit, and rolled with that.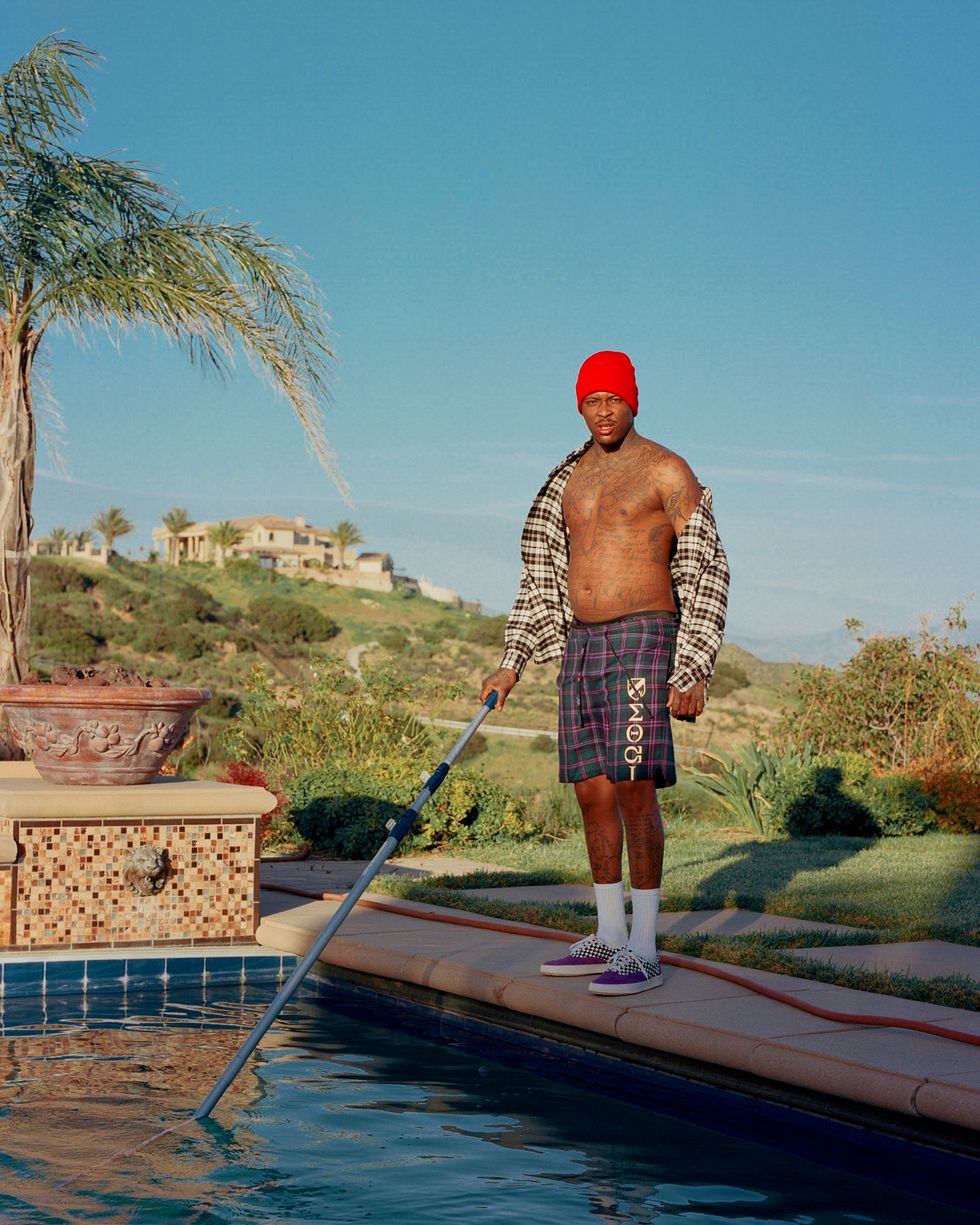 Full Look: Alexander Wang, Shoes: Ovadia and Sons
You named the album Stay Dangerous. What was the inspiration behind naming it that?
I called the album Stay Dangerous because that's the lingo of the city right now, you know? It's how we moving and how we feeling. It's the mindset and how the streets are talking. When we depart from our homies and our friends, we don't say 'be safe' we say 'stay dangerous.' That's just the energy we on and how we are all moving right now.
You dropped your album the same day as Mac Miller and Travis Scott, and you used their album covers to promote your album. Why'd you do that?
Because I just don't give a fuck. Your shit dropping when my shit is dropping.
Related | Travis Scott Is Hip-Hop's New Rock Star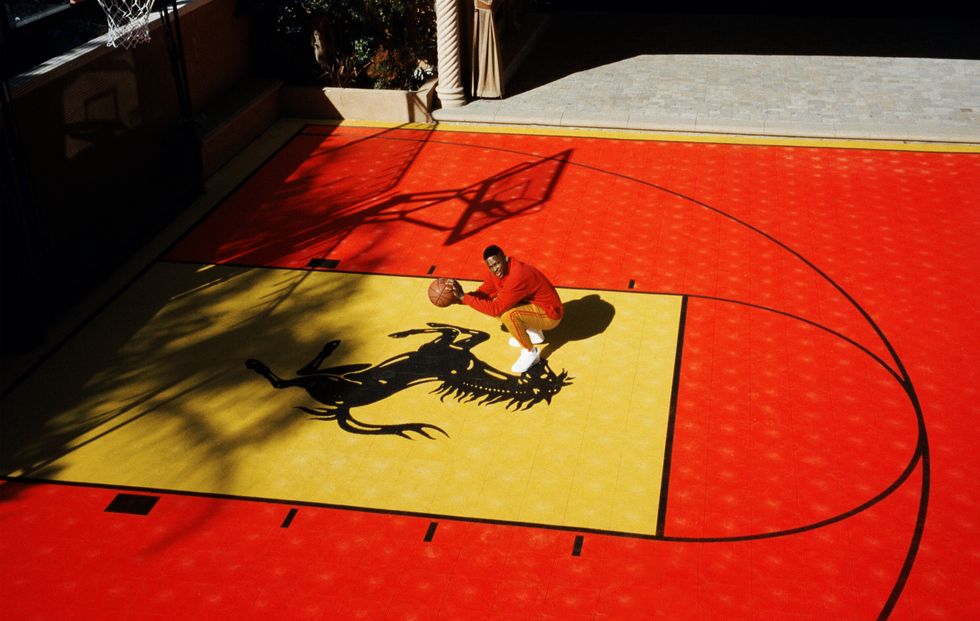 Sweatshirt: 424, Trousers: Ovadia and Sons, Sneakers: Nike
In the past, you've expressed how upset you were that your previous albums were shut out of the Grammys, especially your debut album. It seemed like it got the critical and commercial success but didn't get that acclaim from The Academy that you wanted. Do you still care about that type of stuff?
Nah, bruh. I ain't even tripping off that shit anymore. What I learned from that situation is just to simply get your money. As long as the people fuck with you and your money ain't stopping, as long as that money keep going up, then it's going up.
Between yourself, Ty Dolla $ign, DJ Mustard and others, you have defined the sound of the West Coast for the past decade. Why was it important to get back to the basics for you on this album and get back good with DJ Mustard?
When you're putting out big projects, and you've got as many people that fuck with me, they want the best version of you. They want the version of you that they fuck with. So from this day on out, especially since Still Brazy came out, I said fuck all that shit. Especially when I felt like that shit wasn't really all the way me. I told myself I'm never, ever letting that shit happen to me again. Whatever I put out from that time forth was going to be 100% me, I'm going to OD on the YG shit. So, that's mandatory from now on.
Related | Ty Dolla $ign: 'I Was Never a Rapper'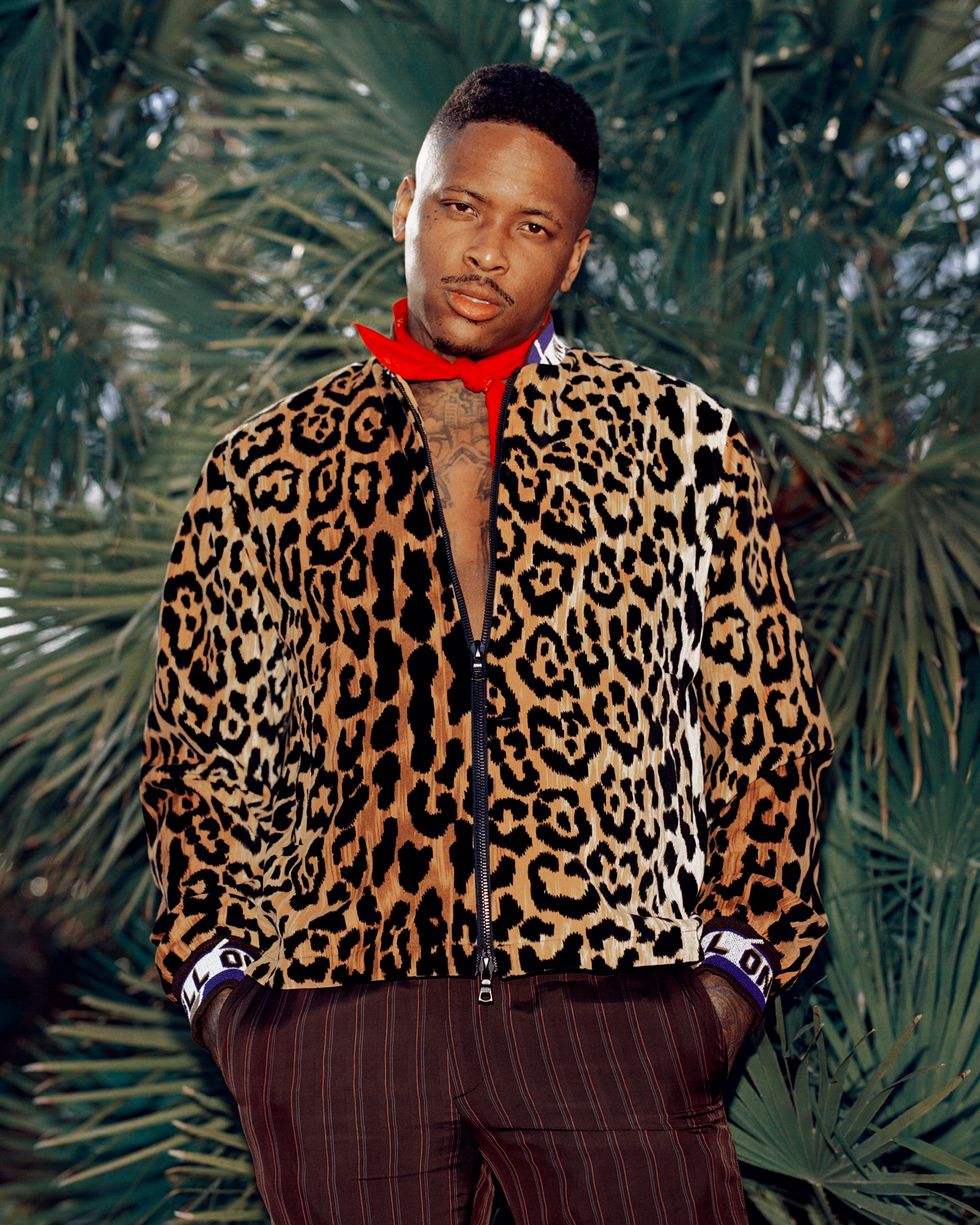 Jacket: Libertine, Trousers: Fendi
You recently donated $100,000 to Girl Code LA with Karen Civil, and it seems like a lot of artists and athletes are giving back to the community more than ever. They always have, but it seems like it's getting noticed more now. Why was this particular charity important to you?
Bruh, that was just me practicing being a father. Like, I'm on some Daddy duty type shit. I've got to raise a daughter so I've got to do more shit like that. I need to so my daughter knows, when she grows up, I want her to say, "Damn, my pops was really out here doing real shit for women." When she grows up, her morals and her whole outlook on life is going to be on deck by doing things early. When she comes of age, I want her to say, "Oh, my Dad was doing shit like this a long time ago? Okay, I've got to be on my shit."
You were the first rapper screaming "Fuck Donald Trump" at the top of your lungs. It's become an anthem, and damn near mandatory to play at every party now.
Yeah, the first song on the album "Ten Times Harder," I'm still saying "fuck the president." But it ain't on no deep shit.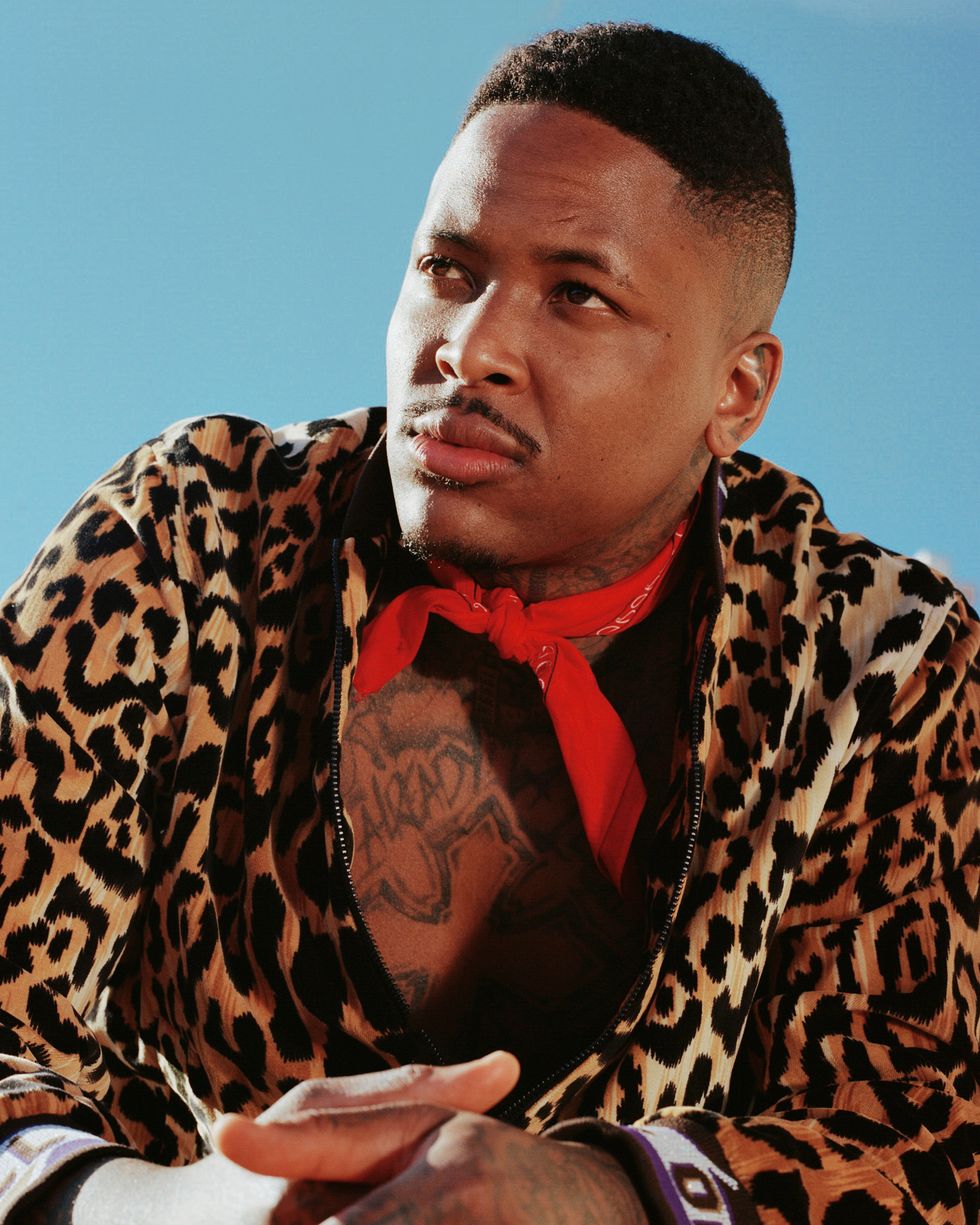 Jacket: Libertine, Trousers: Fendi
What song on Stay Dangerous means the most to you?
I can't pick one. But "10 Times," "Pussy, Money, Fame," "Deeper Than Rap," and the last song the album "Bomptown's Finest." Them joints ain't about the turn up. I'm talking about real shit on them joints, and letting you get inside my mind. Speaking on some positive shit.
This being your third album, you've already been through the ups and downs of rap stardom. What's one thing that you know now that you wish you knew when you were making your first album?
Where I fucked up on the first go-round, even though it wasn't on purpose; life happens and we deal with it how we deal with it. The original plan was to drop the first album and keep smacking them with the second and third album back to back on some consistent shit to really solidify my position and spot in the game. My Krazy Life came out and it was so successful and it did everything that It needed to do. The plan was to smack them in the head again, but me and DJ Mustard had fell out, and honestly, that fucked up my whole shit. It blew my shit back two or three years when it was time to make that second album. So I had to create a whole chemistry and working with different dudes and it took a lot of time. So what I learned was not to let all this small-minded shit that comes with success, fuck up what we built. Now we're getting back to where we left off at. So now that we are back where we need to be, I'm going to come back and smack y'all niggas, and smack y'all niggas, and smack y'all niggas.
Stream Stay Dangerous, below.