Vogds, pronounced "Vogue, with an s," is the rare kind of pop creator who has their hands, as they put it "in every cookie jar." It's refreshing in a mainstream landscape where the modern pop star rarely goes anywhere, does anything, or even speaks without the hand-to-mouth assistance of a handler or dozens. Some might say this is because many millions of dollars are usually at stake, and where that kind of money's involved, there is little if any room for error.
Vogds, then, is a welcome DIY-antidote to pop's glistening machinery. The Chicago-based, interdisciplinary non-binary artist leads a cadre of fellow creators called the Radical Visibility Collective (encompassing local talents like Ariel Zetina, Imp Queen, Sky Cubacub of Rebirth Garments, Compton Q, and others). Together, they challenge and push the boundaries of what pop and art can be, with an steely gaze fixed on a more equitable future for queer people who dare to live boldly.
Like all of Vogds' projects, their latest work, Pocket Monster, is an evolution of their debut solo EP 2015's PostCamp and their collaborative effort from this spring Radical Visibility Collective. And while all of their work is built in collaboration with their community, it is a self-directed labor of love — from elaborate set designs and styling to idiosyncratic beats and melismatic vocal riffs a la Mariah Carey). Pocket Monster, a Pokemon-referencing, three-song collection released last week, further positions Vogds as a politically charged anti-pop heroine. The project as a whole examines the ways queerness is scrutinized online and IRL, the demise of American society through capitalism and patriarchy, and gender identity and expression.
And like big-budget pop productions, Vogds creates engrossing sounds and visuals that hold our gaze and soothe our ears. The catch is: because Vogds is behind it all, their pop transforms into brilliantly self-reflexive meta-commentary. It has to be seen to be believed. And see it you will. PAPER premieres Vogds' self-directed "Shark Weak" video (full of dance battles and lewks for days) from Pocket Monster, below, and they open up about Chicago's innovative DIY scene, "being a non-binary alien," and more.
In many ways, the sensibility of the music feels almost anti-pop, while embracing pop conventions. And yet, it doesn't teeter too far into parody. What was your intentional musically? What do you think about pop music/the machine, as it were?
The idea of anti-pop and alternative pop is definitely tasty to me. I feel as though a lot of pop music we are offered today is still very normative, watered-down, and often discussing fantasies of excess, party-culture, and hetero-centric love. I almost never write about love, and if I do, it's secretly about social technology. Some of my biggest inspirations are Missy Elliott, Bjork, Janet Jackson, Mariah Carey, FKA Twigs, and SOPHIE, to name a few. Missy being number one because I think she mixes visual genius, cultural critique, camp, incredible vocals, and unique beats all into one. I also think it is very exciting what queer artists like SOPHIE and Ariel Zetina are doing to fuck up and find the edges of pop music in order to reclaim it; to fight for a more radical and nuanced sound. In producing my own music, I love being able to challenge structure and create riddles within the beats while still playing with typical pop tropes. With this album, I keep the beats very stripped down after building them up for some time. If I create a loop with my beats, I always customize every moment so the beats very seldom repeat the same sequence exactly, keeping the listener on more of an edge, not knowing what's coming next. I truly enjoy mining for sounds to use for beats online; some of my favorites for this album being N64 video games and Pokemon evolution sounds. It's interesting you mention parody because with my first EP PostCamp, I felt like I was making music in parody of pop-trends at the time, [as] myself the caricature, critiquing and embracing the camp within Tumblr-aesthetics etc.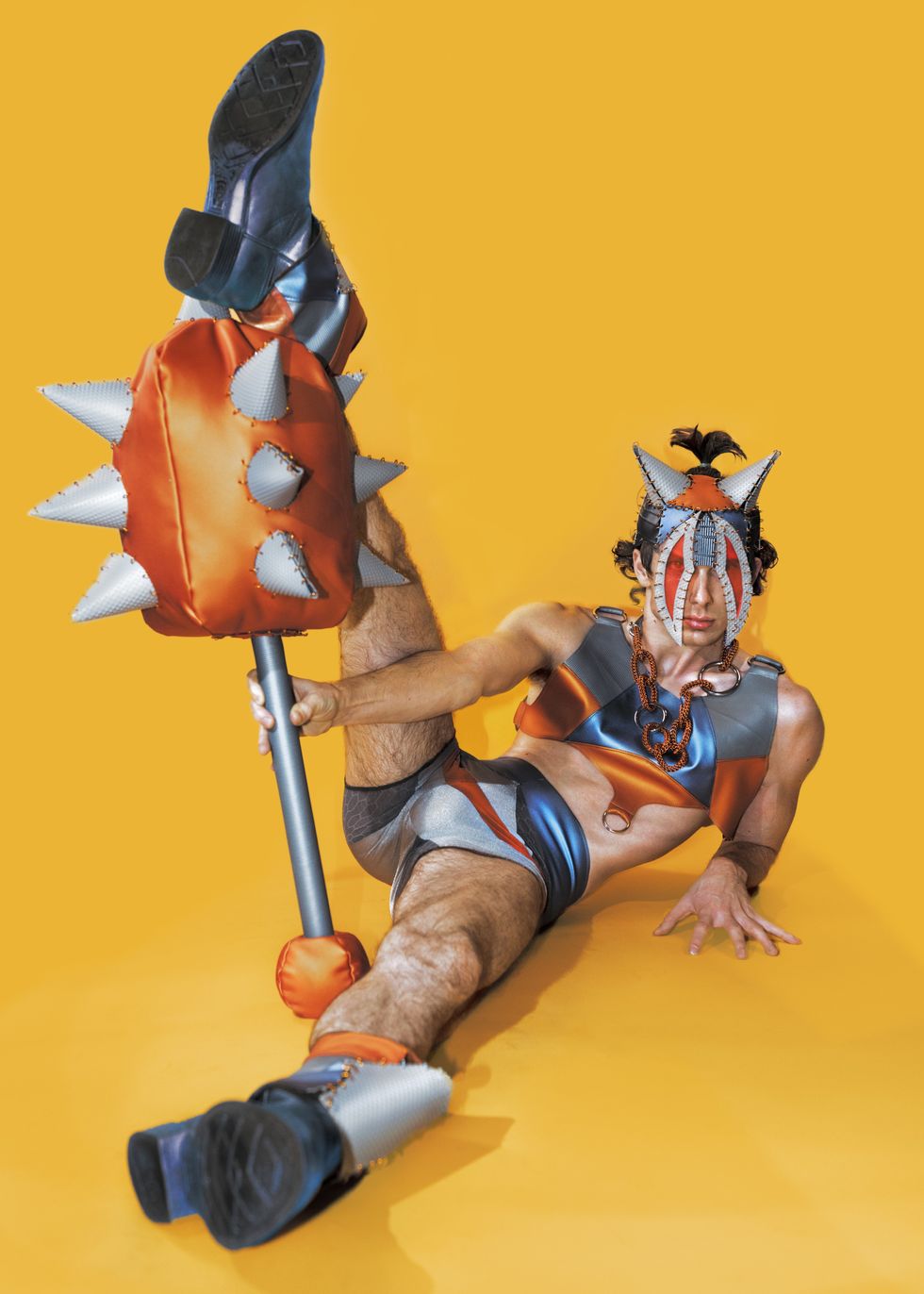 Photography: Adam Mayer
What is the significance of naming your new EP Pocket Monster?
I go by Vogds now, and I feel it is doing something totally different, something I've always wanted to do. Live and make work as my truly authentic self, as campy as I can be sometimes. The three songs on Pocket Monster are a sort of haunting prelude to the coming and current disasters and dystopias of online social platforms, capitalism, and our current political climate. I often think about algorithmic structures within Instagram robotics in terms of how they format our desires via [Instagram] features like popular pages and posts you may like. Queerness always seems to be under attack online, through Instagram shutting down queer activists' pages and posts, our government censoring our conversations of sex and sex work on online spaces, and through simpler things like instilling the feeling of inadequacy by constant comparison to other users. Pocket Monster also refers to a touch screen or phone, or even a phallus. I also have always had such a deep love of riffing. In my performance art pieces, I usually perform in an original fashion installation while vocally riffing for hours on end to exhaust the pop-trope in real time. This is similar to how I find melodies in my music. I riff on the beats I create for long periods of time until I find little bites I like. I also love having the verses surprise you in the way they riff around an idea — always thinking of my vocal love, Mariah Carey.
"My collective and I often call ourselves non-binary aliens [who are] here to spread queer futurism and radical visibility through fashion and interdisciplinary work as a counteraction to conservative politics."
Speaking of the machine, it's obvious that you are very self-motivated. How long did it take you to create the sets, make the music, produce all of this? What pushed you to want to create it in the first place?
I think it's all about forcing yourself to do the things you really want to be doing and creating deadlines with yourself and others that keep you accountable. This was definitely the biggest solo project I've ever worked on and am thrilled that it all came together. It took me about a month and a half to make the new original fashion works for the video, some were from the Radical Visibility collection. I had about a week and a half left after finishing all of the fashion to make the sets/props. I definitely had a chaotic apartment for this entire process and worked solidly for weeks. The music I had finished in midsummer, and the first song I started, "Shark Weak," was in January, so I've been anxiously sitting on them for some time. I was working on these songs alone while working on the "Radical Visibility Collective" multi-collaborative album, which features beat-makers and artists like Ariel Zetina, Bon Bon, K I A M, Saki NoSaki.
I always go back and forth between being a recluse and making my work require human contact. so I'm able to connect with the beautiful intelligent queer community around me. I drew my album cover in colored-pencil, made all original fashion, produced my own music, edit the photography, edit the video, build sets, design, which is definitely not saying I don't have amazing people collaborating and helping, but I love to have my hand in every cookie jar. Chicago definitely teaches you to be very DIY. But on top of this, there are so many amazing artists in the city that are willing to collaborate and help each other grow together, which is also crucial to my practice. In 2017, I was mainly creating visual artwork, as a sculptor, painter, and performance artist. However, with the Radical Visibility Collective album and especially Pocket Monster this is my announcement to the world and community that I am fully dedicating myself to my music while swirling all of my other practices around it. I also am driven to create by the desire to express my non-binary identity. My collective and I often call ourselves non-binary aliens here to spread queer futurism and radical visibility through fashion and interdisciplinary work as a counteraction to conservative politics.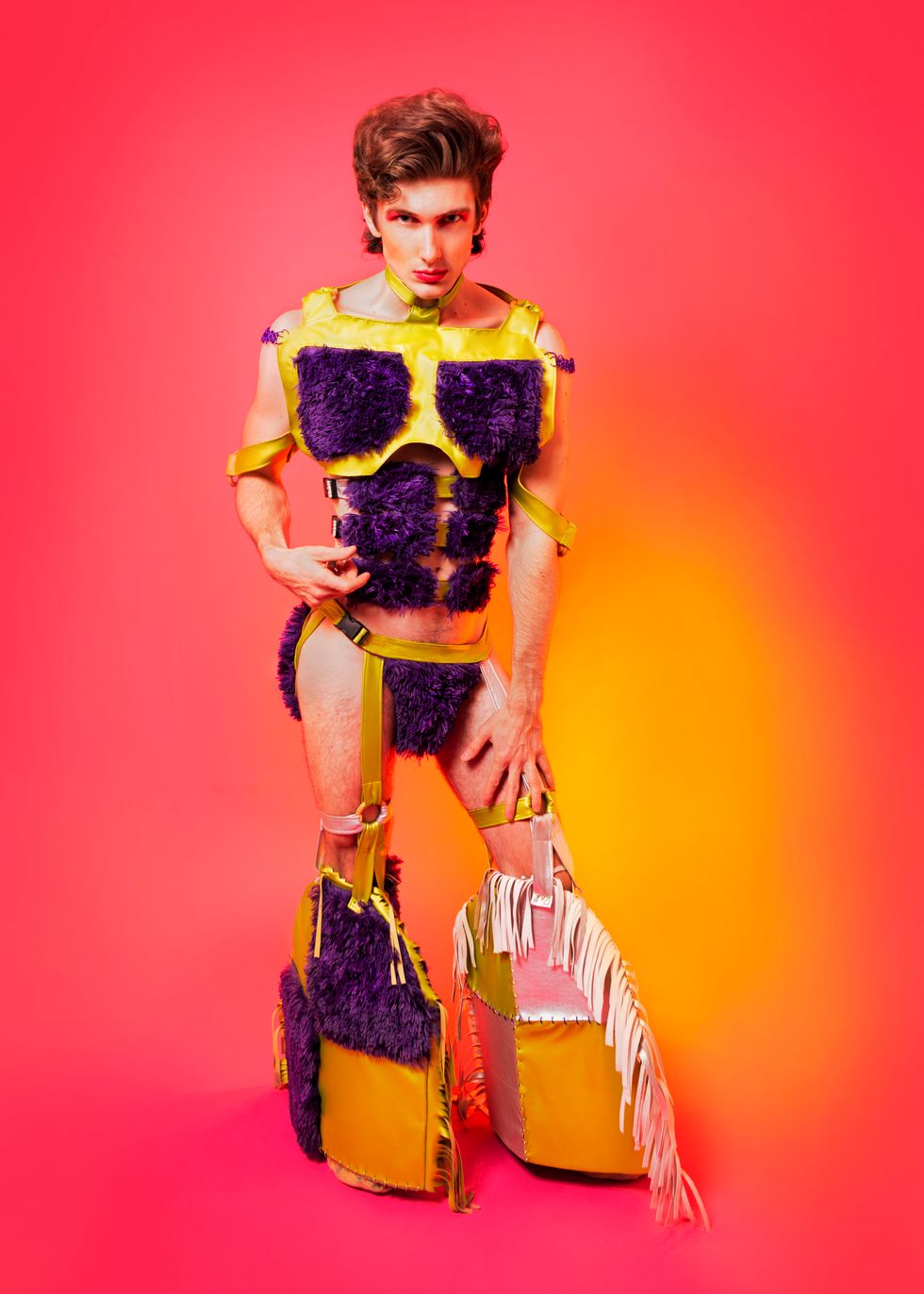 Photography: Grace DuVal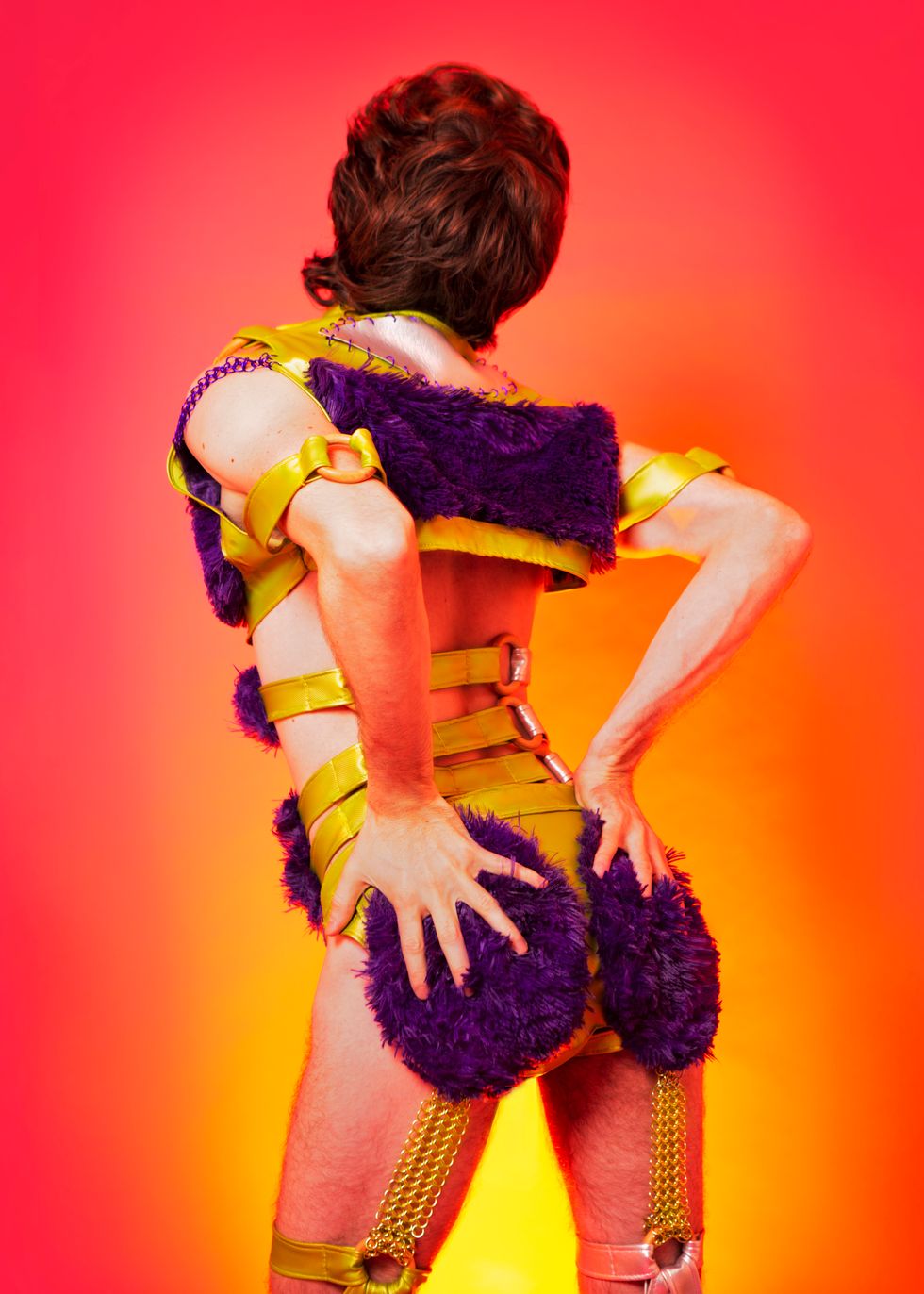 Photography: Grace DuVal
What do you make of all the queer art coming out of Chicago (Imp Queen, Ariel Zetina, you, others)? What has being in community with other artists taught you?
I have such a deep, passionate love for Chicago and the artists and queer community here. Since it is slightly more affordable to live here [than other major cities], there is more room for underground and DIY culture to thrive and experiment. The queer community here is so resourceful and finds so many interesting ways to fund their practices to untie from capitalist pressures and hack the capitalist system to work for us. Working with Ariel Zetina on the Radical Visibility Collective album was a dream. Her sensibilities and innovations are next planet. Same can be said over and over for Imp Queen, and her doing makeup for this video also blew my mind. I think Chicago is in a queer renaissance regardless of our political circumstances, we are fighting back by being radically visible, aggressively present, and so hyper stylized and home-made it's impossible to recreate. It is Chicago's scene no doubt, that keeps me pushing myself, keeps me wanting to inspire others in the community because they have inspired me beyond words. I am so excited because as a visual artist, I could feel so alone in my studio and through my music, performing, and fashion-making, I am able to be a much more active member. I have learned through making this video that it is okay to ask for help when you think you have to do it all yourself, and that there is such a powerful community there to uplift each other.
Stream Pocket Monster by Vogds, below.