Growing up as a girl group is hard. From the Spice Girls to Fifth Harmony, pop history shows growing pains when a pack of powerful females start maturing and taking a larger ownership in their artistic identity. Which makes talking to TWICE for their latest album release all the more exciting.
At the top of November, South Korea's leading girl group returned to the K-pop scene with a noticeably sophisticated image for their Yes or Yes album. Prior to this new release, the nine-member outfit had racked up a remarkable, eight consecutive No. 1 singles, mostly playing off a sweet and friendly image that's spanned everything from energetic cheerleaders (see their 2016 breakout hit "Cheer Up") to extraterrestrial supergirls (2017's snappy "Signal") and Disney-like princesses ("What Is Love?" from earlier this year). But upon the late-October announcement of Yes or Yes — TWICE's third Korean release in this year alone — there was a noticeable shift.
With Yes or Yes as the album and lead single title, the collective made up of Jihyo, Nayeon, Jeongyeon, Sana, Momo, Mina, Dahyun, Chaeyoung and Tzuyu weren't taking no for an answer. No longer were they the girls asking questions and playfully pondering about relationships; they knew what they wanted and declared their intentions, set from the get go as Mina opens with the English intro, " Hey boy/ Look, I'm gonna make this simple for you/ You got two choices: yes or... yes"). The high-energy, bubblegum banger plays off the elements that have made TWICE's past singles as equally addictive with a punchy synth-pop sound and a selection of undeniable hooks, but now with a new sense of determination. Jeongyeon reflects "Everyone, everyone is surprised at how shameless I am" on the first verse, before she and Dahyun follow up with the line, "I respect your choice but reject your rejection."
The concept carried through in other elements of the new album too. The accompanying visuals attached to the record see the TWICE women in bold plaids and imaginative animal prints, sheer tops and peeky skirts, all pulled off with a sense of allure and confidence. Meanwhile, the choreography showcased in the music video and live performances delivered some of TWICE's most athletic and energetic to date with their nine-member formation blending mid-air kicks and punches with fun-to-follow arm flapping. Even seemingly small moments (like youngest member Tzuyu rocking a menswear-inspired top or the surprisingly seductive chauffeur look from TWICE's chic Jeongyeon), all point to the group changing eager to spice things up while maintaining the elements that have kept them so successful in their three years together.
This new step is TWICE's latest move to accomplish their big dreams coming years down the road no matter whether the people are saying yes or no.
I feel like there's some undeniable growth on the Yes or Yes album. Was that what you intention?

One of the biggest aims of our album was what we called "change and new." We spent a lot of time and put in a lot of effort to present different aspect to our fans. From the song concept to the lively performance, we wanted to show a new part of us. This was quite a challenge, but we are very happy to hear when people describe us as "멋있어졌다" [a Korean slang word that roughly translates to "awesome" or "posh"].
TWICE has always been known for a cute style, and I think it's still intact here, but I agree you did change things up with showed new sides. How do you balance these different sides when it comes to the group dynamic?

We changed from the girls in What Is Love? who were curious about love to a girl who want to achieve love by themselves without others' help. To achieve that, we changed the song's style, lyrics, and choreography to something much more lively. Simultaneously, we maintained our original charming point — the bright and energetic TWICE — in order to balance the group's different aspects.
Girl groups sometimes have trouble evolving their image, but TWICE had a great reaction both in Korea and around the world — the "Yes or Yes" video earned 10 million views in a record time for K-pop girl groups and it's your latest No. 1 single. What do you think helps connect you with so many people around the world?

Luckily, we're living in time where fans all over the world can watch videos easily through online. With that in mind, we try our best to communicate with fans through videos — which we enjoy! — and we sincerely appreciate the viewers for the music video's new record. We'll keep trying our best to communicate often with even better videos!
Were there any worries or anxiety about this release?
Truthfully, we always have pressure when releasing a new album, but despite our worries it is very fortunate that the fans gave huge love to the new album. We hope they'll look forward to our new change as we plan to continue to develop and challenge different aspects.
TWICE's choreography is always fun to follow, but I think you're doing a more intense routine this time. Can you talk about what dance represents for this single?
This choreography reflects today's trends by adding the big movements rooted in feminine hip-hop along with the various formations that have a powerful and dynamic style, which only a nine-member group can display. We wanted to maximize the strength of TWICE choreography, which is easy to follow, but show something more dynamic and stronger in, what we call, our "TWICE STYLE."
Jihyo, you wrote "Sunset" and I think you created a really lovely metaphor about the "red sunset," how it can burn our eyes but you still want to be with this "sunset" no matter what. Did you have a particular memory that inspired the lyrics?

Jihyo: Thank you for the compliment. I always think about our fans when writing the lyrics and I wrote this song for ONCE, our fans, who always show infinite love.
Jeongyeon, can you take us through your writing process for "LaLaLa"? Was it written about someone in particular?
Jeongyeon: I wanted to express how I can enjoy music itself as a singer; just the true excitement of singing and dancing on the stage. Being on the stage with our fans is really precious to me and I wanted to express my hope to enjoy the music with our fans in the lyrics.
And Chaeyoung, you wrote on "Young & Wild," my favorite lyric is about the "bubblegum dream." What's a bubblegum dream?

Chaeyoung: It means our dream as a group can become bigger, just like the inflating bubblegum. It contains the message like, "Let's not worry too much about the future, rather, let's find and enjoy the happiness now and live every precious moment with fun."
Were there any fashion moments or photos you really enjoyed from the album artwork?

We really enjoyed our photo of board game — there were a lot of cute and small items that we could touch and use during shooting. We also enjoyed the album cover image photo. During the photoshoot, the photographer went up on the second floor of the shooting site and we were on the first floor looking up.
Speaking of the board game shot, are there any board games you love or things you do for fun together?
We love playing all kinds of games together, but we especially like to play this game called "Mafia." At our first fan meeting, fans also participated to detect "the suspect" together with us — it's funniest when we find a confused member who really can't lie when she's the suspect.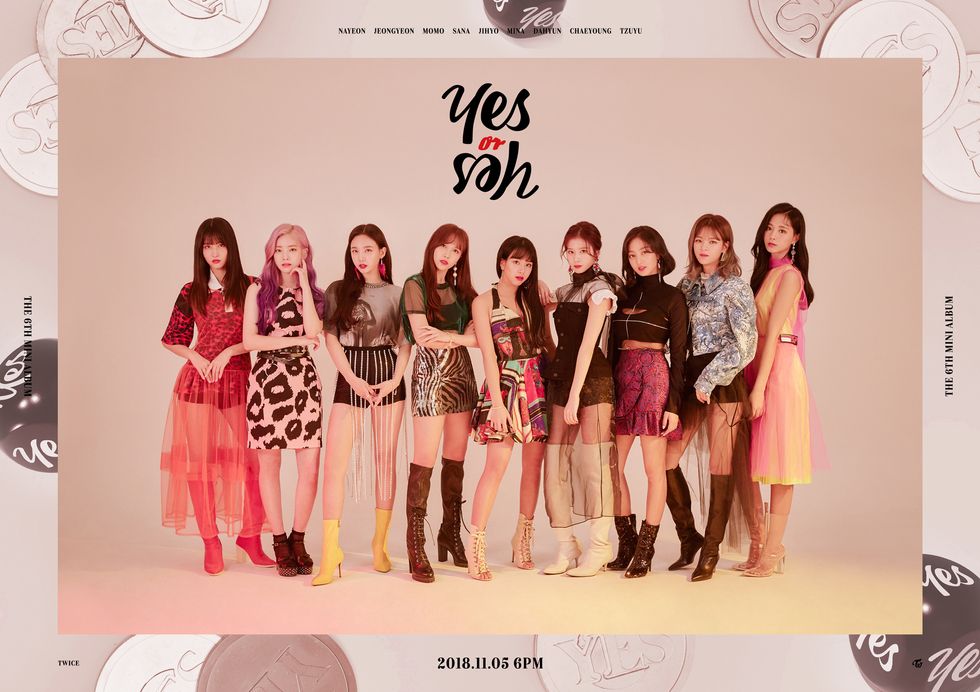 You've performed throughout Asia and teased you may take your tour past Asia. Do you think it's a possibility for 2019?
We cannot express the huge impression we get from concerts in words. Every time we perform on the stage and have eye contact with the audience, we see how the fans are truly enjoying the stage with us. That's unforgettable and we would like to have this kind of experience in as many places as we can. We're encouraged from the energy that ONCE shows during the performance, and have a real desire to fill the whole world with this energy so we'll ask for you to please look forward to us as we will thoroughly prepare and put an effort to meet our fans at stages in more countries next year.
What's next for TWICE?

Recently, we celebrated our three-year anniversary with the members and the fans. Our third year feels different than our second year which felt different than our first, but we were reassured by ONCE who have been genuinely supporting us for the past three years. We want to maintain our original debut intention and stay together until our 10th anniversary — and even more. We want to become artists who ONCE can be proud of, but perhaps moreover, we want to develop ourselves in an orderly way as what we call "good and decent people."
Any message you'd like to add for ONCE?
Thank you for loving the new album Yes or Yes, which was a challenge for the changes for TWICE. As we pass our three-year anniversary, we want to show more dynamic aspects of ourselves as better artists. We ask you for more expectations, more love and, above all things, we hope fans are happy through us — that's one of the most important reasons why we are artists.
Photos courtesy of JYP Entertainment
Nightlife
Story by Matt Wille / Photography by Ian Lewandowski