In 2013, a Pew Research Center survey found that nearly 60% of South Koreans did not believe society should "accept" homosexuality. While progress towards equality and cultural normalization has been made in the East Asian country in the five years since that report was released, there is, much like in the United States, still a long way to go for the LGBTQ+ community, even in the era of #20GAYTEEN. This year, with Hallyu (the Korean Wave) reaching a new fever pitch in the international zeitgeist, a promising, impassioned idol has emerged, one who is proudly waving the rainbow flag for #20GAYTEEN in K-pop. His name is Holland — and he's making history.
In January, the 22-year-old singer-songwriter (née Go Tae-seop) premiered as Korea's first openly gay pop star. With no agency backing him (unlike so many other mainstream K-idols), he debuted "Neverland," a jazzy mid-tempo pop track with lyrics describing his desire for a safe space for queer longing — a metaphor of pure escapism compounded by the single's fictional title utopia. Even more notable was the music video for the song, which featured Holland and a male love interest being intimate and kissing on screen, a first for K-pop's typical heteronormative visual paradigm. The song quickly shot to the Top 5 of Billboard's World Digital Sales chart.
It was a powerful, historic debut for the industry rookie, one which resonated with listeners across the globe. But Holland was just getting started: Released over the summer, his twin follow up singles, "I'm Not Afraid" and "I'm So Afraid," continued to peel back the complex layers of the performer's journey as a young gay man in Korea. The meaningful tracks spoke to the duality of coming out — both the initial trepidation and the subsequent relief — as well as overcoming adversity in the face of an entertainment landscape that has long been unwelcome to queer artists.
"This project is completely my own story," Holland says. "Many people have questioned why I chose to reveal myself, but I think the message for my fans is right there in those two songs. "I'm not afraid anymore, but I thought it should be my first priority to talk about the anxiety I felt [coming out], to communicate with my fans and to talk to them. It was one of the stories I needed to share with them."
In early September, the independent artist announced a crowdfunding campaign for his forthcoming debut mini-album. Within 24 hours of launching the campaign, he raised $40,000. To date, he's raised nearly $83,000 — an astonishing 165% percent of his original goal. For Holland, the outpouring of support from his fans, the Harling, is a testament to just how important sharing his story is for LGBTQ+ visibility within the ever-expanding, ever-globalizing K-pop industry.
"Before launching the project, I was just worried that it wouldn't be successful," the singer says. "Luckily, it was successful. I'm really happy, but at first I just felt relieved. Now I want to embark on a world tour. I want to meet my fans from all over the world and give them each a kiss."
In celebration of the incredible strides he's made thus far, PAPER caught up with Holland to find out which artists he'd like to work with, why he appreciates not being tied to an agency, and what it's like navigating the challenges of the K-pop industry.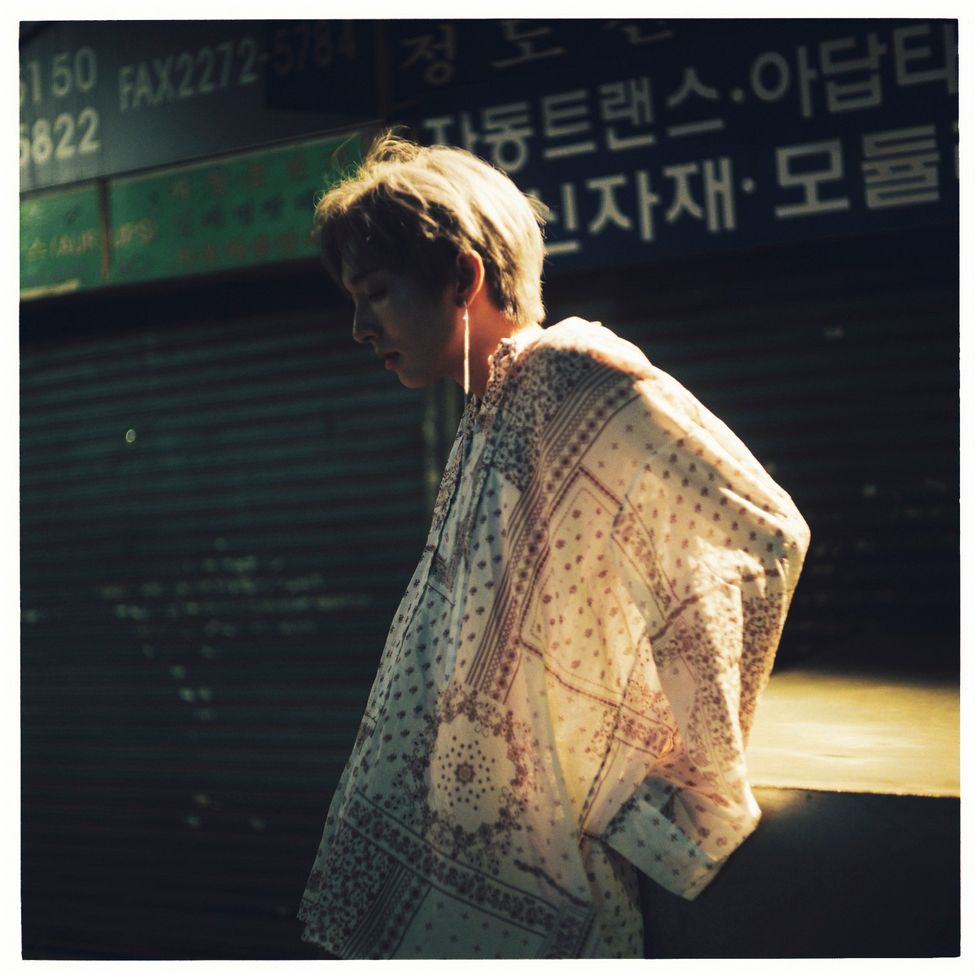 It's rare, though not impossible, to see a self-managing K-pop artist do so well with their debut without the backing of a huge entertainment agency. Do you hope to eventually sign with an agency?
My goal, the dream of being someone who could give hope to a lot of people, made me strong in a sense. I was able to launch the project alone, without any agency, because I held onto the belief that I could possibly offer comfort to many people. Fortunately, I have fans now, so I'm becoming an even stronger businessman.
As for signing to an agency... I don't want to be a puppet. I don't really think that I need an agency now, looking back at the things I've accomplished alone so far. Also, I'm really stubborn! But if I do eventually get an agency, it'll be because my body is tired.
You've said that your music will continue to change as you discover your voice and experiment with more sounds. Are there genres of music you haven't tried yet that you're eager to explore?
I love all sorts of music! From pop to jazz, country to hip-hop, even many kinds of traditional music inspire me. For now, I want to choose the best music to help share my story, but I'm definitely interested in blending jazz and pop, and hip-hop and pop. Someday I'd like to release a Christmas song, too.
Are there any artists — K-pop or global — you're dying to collaborate or write with?
For sure! I want to work with many artists. Among the K-pop artists I'd like to work with are BTS, Lee Hi, Akdong Musician, Sunmi, and 매튜 of KARD. When it comes to global artists... maybe Harry Styles and Ariana Grande? That sounds like a dream!
Which other LGBTQ+ artists do you find inspiring?
Troye Sivan! He's a very famous artist, so when people talk about me, they always mention him. Can I meet him someday? I'll have to get his autograph.
As the first openly gay K-idol, do you feel any pressure to represent the LGBTQ+ community, especially in South Korea, in a certain light?
Yes, heavily. I'm always worried about it. I think that I have to represent myself in a certain way because [my being out is] an unusual thing here. There are so many LGBTQ+ people in the world, and I'm only one of them, but the Korean public might have a prejudice because of me. I'm worried that my actions and outward appearance will not be viewed as an individual, but as an entire minority group. I really want the public to know that every member of the LGBTQ+ community is different.
What challenges have you faced as a young gay man in the K-pop industry?
In Korea, especially in the entertainment industry, it's not easy to come out. Every moment that I sing or every time I do an interview, it's still a big challenge for me. But, I think of the people who gave me a chance to start, and the people who support me now, like this interview with PAPER, who make it easier. For now, my goal is to survive — and, hopefully, to be loved long after coming out in the K-pop industry.
"I really want the public to know that every member of the LGBTQ+ community is different."
What do you hope will change for people in the LGBTQ+ community in South Korea and around the world?
Many people in the world are still struggling to protect their human rights and the rights of others. Over the summer, for example, I did an interview with Rolling Stone India. In India, up until recently, it was punishable to be in a homosexual relationship. Fortunately, things changed, but I honestly didn't think it was something that would happen in the 21st century.
I want to be able to walk down the street with my loved one, naturally. Here in Korea, it's a routine sight for straight couples, but not gay couples. Of course, other countries may be different, but I hope everything will gradually change.
You recently tweeted your support for your trans fans. Aside from a minor English miscommunication, which you handled gracefully, why did you feel it was important to address the trans community?
Since making my debut, I've met people with all different identities. I was surprised to finally have a chance to hear the stories of people who are transgender. I was also surprised by my own ignorance. It was a big shock to learn about the lack of acceptance for people who are trans, and the great efforts they've gone through to change that.
I know I certainly have fans who are trans, and what I can do is listen to their stories and communicate with them constantly. Some of my fans are straight, but I want to learn more about [the queer community at large], because I have friends and fans who are gay, asexual and trans.
You always put your fans first, and you're so engaged with them on social media. What do they mean to you?
I can only be where I am now thanks to my fans. It's the fans who increase the value of Holland's existence as a music project. It's true! I'm so grateful for those who have always believed in and supported me. My fans are my motivation, and I try hard to make them proud. I love you guys!
You recently had fans vote to choose a fandom name, and they chose Harling. What does that name mean?
It was a name fans made shortly after my debut. I didn't know it at the time, actually. It was a fandom name that I set aside temporarily, but now it's become a formal name. Basically, Harling is a compound word of Holland and Darling. Darling is Wendy's family name from Peter Pan. Isn't that cool?
In your opinion, what is it about Korean pop music that has captured global hearts over the past few years?
It seems to me that Korea is really developing rapidly in various fields. Culture is one of them. That's why Koreans are very sensitive to trends; our consumption culture is leveled upwards. In my opinion, K-pop is loved for this reason — the music videos and songs are obviously cool, so who couldn't love them?
Last month, you retweeted BTS' powerful United Nations speech. Do you hope someday you will also be able to take that type of platform?
Their speech was really cool. Someday, I'd like to be able to go to the U.N., too, but there's no way I would have been [as calm as] RM. I would have been so nervous that I would have fainted with my eyes open!
What I always say to my fans is, "Love yourself." I have a lot of friends who say they are tired and have lost confidence because of their sexual identity and sexual orientation. I don't think it's a problem for me, but I think children are hurt by society. I think that any person who knows how to love oneself... that's the most wonderful thing. Then, no matter how he or she looks, everyone will respect then. I think having this attitude in life is really important. So don't doubt yourself. Don't worry, because you are so beautiful just the way you are.
Photos courtesy of Holland