Teyana Taylor is a busy woman. The 27-year-old has been an artist, dancer, actress and model since her teens, nailing that whole multi-hyphenate creative thing before she could take her first legal drink. She shot to mainstream fame with her jaw-dropping performance in Kanye West's video for "Fade" off The Life Of Pablo in 2016, but she's been signed to the rapper's G.O.O.D. Music imprint since 2012, releasing her debut album VII in November 2014.
Her highly anticipated follow up, Keep That Same Energy, is set to drop any moment and is the final seven-song album West has executive produced and dropped consecutively this summer, following Pusha T's Daytona, the controversial ye, Kid Cudi and West's collab Kids See Ghosts and Nasir by Nas. As one of the few women on West's label (and one of the younger artists), Taylor more than holds her own.
When we meet at her nail salon in Harlem, she's wrapping a long day of press and preparing for an evening flight to LA, but is as centered and grounded as any seasoned pro. She's also hosting an event with CÎROC Peach for which she's a brand ambassador, along with Cassie (Pineapple) and Karol G. (Summer Colada). We spoke as she got a pedicure (matte tangerine) about self-care, working with Kanye and why women across industries need to stick together:
PAPER: Busy as you are you've found time to be an ambassador for CÎROC Peach. Why was that important to you?

Teyana Taylor: I've always been a fan of CÎROC. They always show me love and vice versa, so it was definitely only right to do it. It was an empowering campaign, the first with all women, so to honor that is dope. This is the time for women.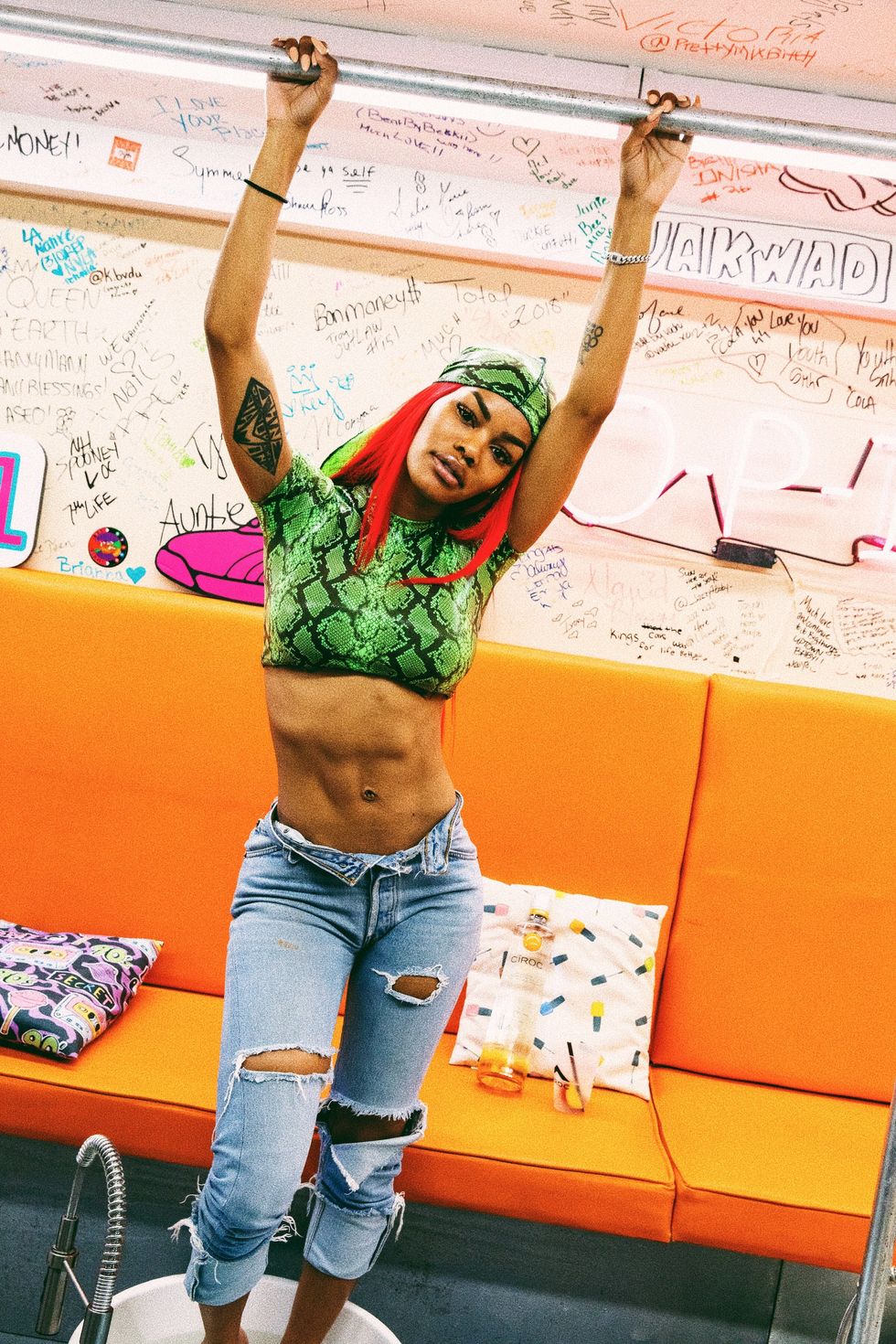 Things feel like they're finally changing in some ways.
Exactly, we're finally getting our just due.
Black women have always been originators in the beauty industry, and now brands like Fenty (and your salon that we're sitting in right now!) are examples of that just due.
It's not even just about me, though. It's about all women, and we're really shining through. Nobody needs to be singled out. It doesn't need to be about where I want to be, it needs to be about uplifting one another and all of us getting on together. There's enough room for everybody at the top.

There's the misconception that only one or two women can be at the top.
Exactly, and I think that's where it starts. People just thinking for self or talking for self, and not talking for us as a unit.

That's a conversation we see so much with women in hip-hop especially.
We have to stop pitting women against one another. Sometimes it's not even the fans. Do you, be happy, there's enough room for everybody. You don't have to beat each other to get to the top. All that is doing is letting a bunch of people instigate. You get in your own way and it's not cool.
I'm happy for everybody that's doing their thing. Cardi is getting everything she deserves. She's blessed and she's a star. The same thing with Nicki. You get what you deserve. If you're a star, it's because you were meant to be a star. What's for you is for you. Don't feel bad about that and don't let anyone strip you away from that.
Now, if you are negative person and you feel like you're not where you want to be, you're going to stay there because you put yourself there. It's two ways, either a negative person or a positive person. I just want to see everybody win. I want to see Cardi win, Nicki win, Azealia win, I want to see everybody win. At the end of the day I'm a whole mother and a whole wife, with my own shit that I have to put out. I don't get caught up in that, nor do I give people enough space to come at me and use me. I don't have time for that.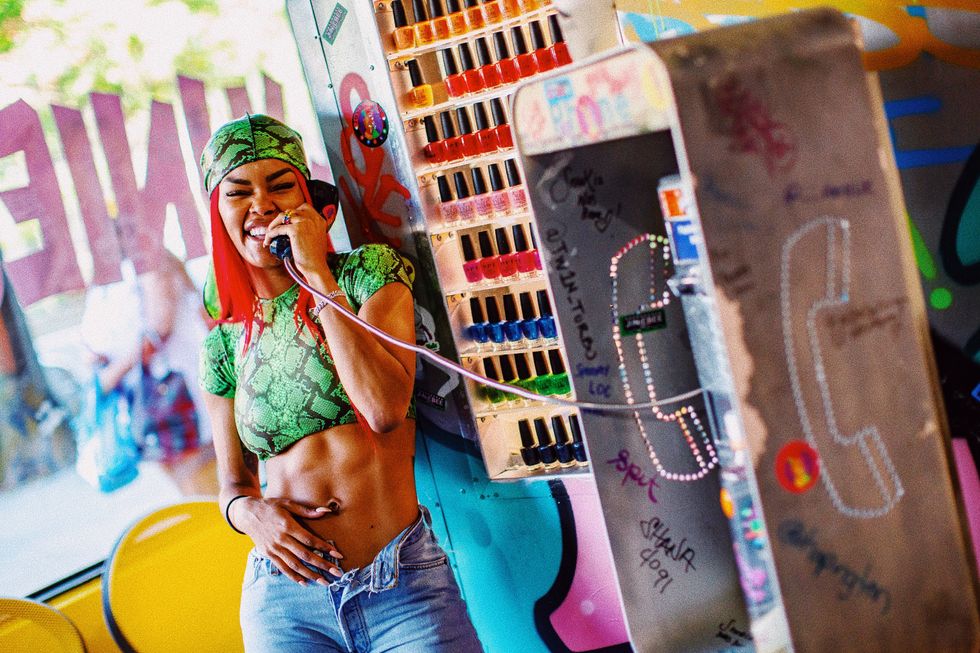 Do you have any advice for young people who are balancing multiple roles in their lives like you are?

Stay positive. Keep that positive spirit and positive energy. Without positivity you can let things drive you crazy. Balance is the key. Balance it out and prioritize what's most important. That's what we have numbers and bullet points for. What's your first bullet point? Your second, third, fourth? And you do it in that order.
It's been a while since you put out a full studio album. What was different for you this time?

I definitely changed a lot since the first album. I wasn't married or with a kid, so for this second album to be the complete opposite it's a different level of growth and maturity. My voice has grown so much, my mental has grown so much, so it's going to be dope.
I know Pusha had to really be convinced to just do seven songs, how did you feel about it?
I was like, Oh my god, seven songs. My fans were like we want more, we want more!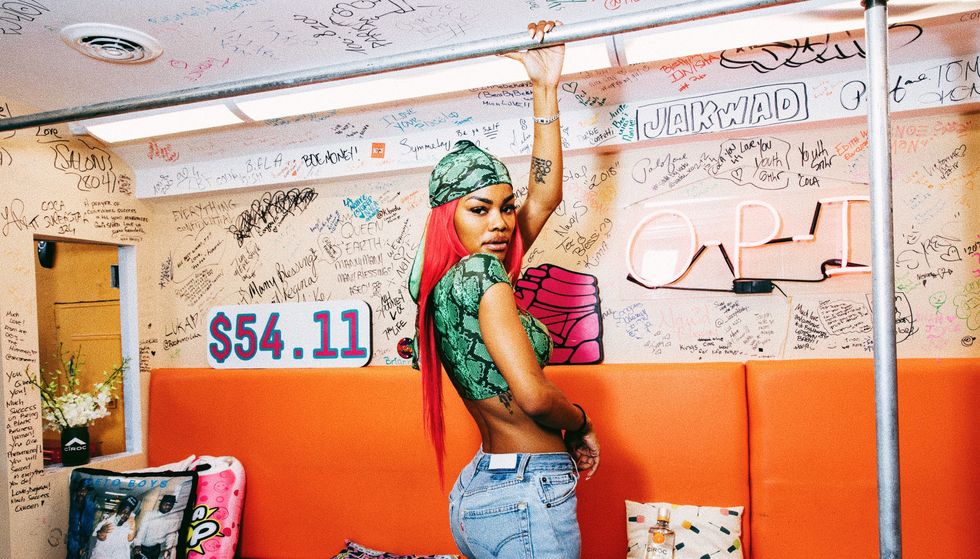 Obviously Kanye has been a mentor to you. What's it been like to be making music with him during this time and watching what he's been going through?
I honestly don't get into other people's business. Especially my friends, I just give them their space to figure it out. Greatness is for you. Once you're great, you will always be great, and you're going to always figure it out. I had to do the same thing; I had to figure it out on my own.
We give some people room to make mistakes and others not so much.
We don't and I think that's the part that's very unfortunate and unfair. What is for you is for you and what is your blessing is your blessing and ain't nobody higher up than God. What he has planned for you is going to come into fruition regardless, and that's just what I live off of. People are always like, this person only got that because of this and that, and I'm like no she got that because that was for her. Period.
Photos by Benjamin Lozovsky/BFA