The annual Met Gala has become a space where the year's most influential stars feel safe taking fashion risks, and 2018's Heavenly Bodies theme inspired our favorites to really go there. While celebrities like Rihanna and Katy Perry took the evening's religious overtones quite literally, breakout artist SZA pulled on Catholic imagery more subtly for her red carpet look.
Related | Headpieces Ruled the 2018 Met Gala
The Ctrl singer/songwriter wore a gorgeous pale pink gown by Atelier Versace, with a layered tulle bottom and intricately embellished top. She worked with stylist Dianne Garcia and hairstylist Randy Stodghill to pair the dress with a handcrafted halo by designer Chris Habana of New York-based brand CHRISHABANA. To evoke the iconic image of Mary's Tear, SZA also wore two golden tears, which was created by Habana in collaboration with Willy Chavarria.
PAPER caught up with Habana to talk about the halo's intense turnaround time, the headpiece SZA didn't end up wearing, and ways religion impacts CHRISHABANA.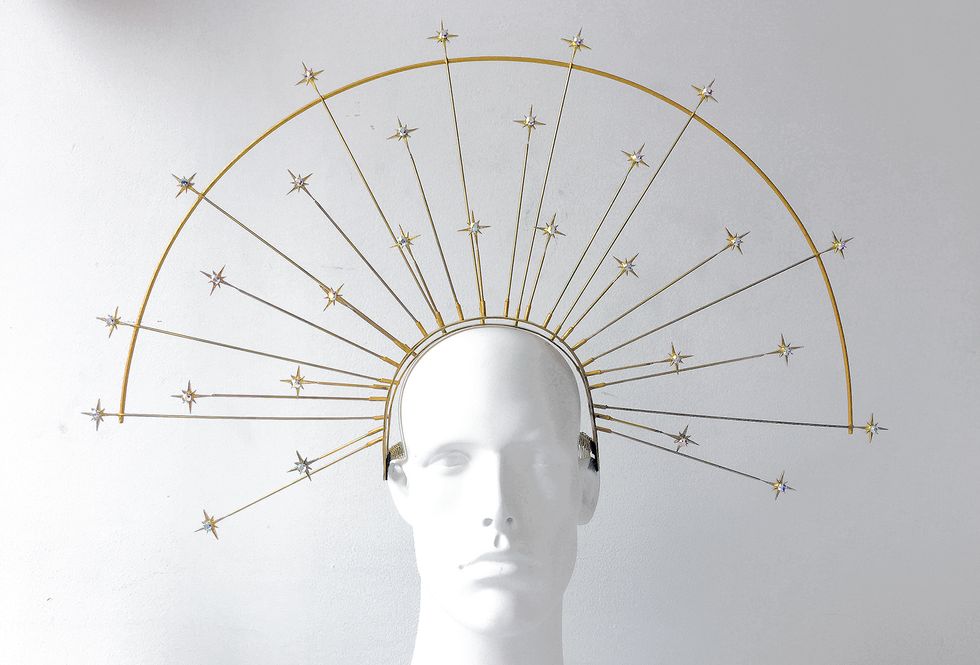 Describe the headpiece you created for SZA, and how it was constructed.
Well, we made two halos for SZA actually. It was cool because we were asked to come up with two fully realized but different halos for her and the team to choose the best one. The one we finally went with is a combination of cast brass pieces welded on brass rods tubes and bands that form the headpiece. The halo part is made of painted wood. It was a balancing act to construct the final piece, but it's so light and clean, I love it so much.
How do you feel your halo complements this year's Met Gala theme?
I'm really proud to say that we are very much in theme with the Heavenly Bodies concept. I also loved that it looked like her and fit her look so well. Dianne Garcia, SZA's stylist also used our collaboration Autumn/Winter Gold Tears with Willy Chavarria, which totally nailed the Mary Tear imagery.
Related | Willy Chavarria's Models 'Have More Fire In Them'
What were the conversations like with SZA's team?
It was all done virtually, but it all came together really well and seamlessly. We got the call from Dianne who wanted to see if we could do something like a halo for SZA and the Met Ball. SZA and Dianne were very involved in the process, with SZA specifically wanting something ethereal and light. After we saw the Versace dress they chose to go with, we rendered and sketched out ideas and decided to create two pieces for her to choose one on the day of. From there, Randy Stodghill, SZA's hairstylist and I spoke about the logistics of getting both halos on her and secure.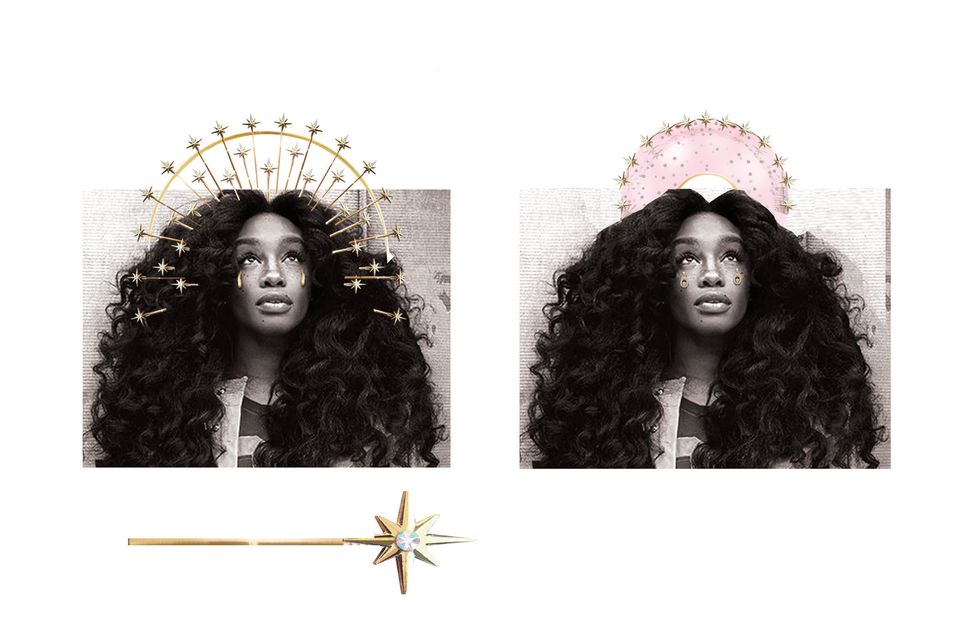 SZA wore your halo with Versace. Did you create the design inspired by the dress?
The dress definitely guided me in the sense that it really showed a lightness and air to it that we wanted to evoke in our piece. Actually, the halo that we didn't go with was a clear pink piece which complemented the pink of the dress. (See above)
How did you bring a Chris Habana edge to the halo?
While we wanted to make sure to create a nod to angelic halos with our headpiece, we wanted to add that minimalistic and sharp line to the piece. We were all in agreement with SZA that the piece had to be as thin and light as possible, and the cast stars had to be graphic. I also wanted to make sure the stars had aggressive points to them, but I like the sleekness most I think.
Related | PAPER Fashion: The Marriage
How long did it take you to create this crown?
Well, the timeline was nuts. We got the call from Dianne on Saturday, April 28th. We decided on two halos last Tuesday, and we literally finished them at 3:00 pm [on Monday, May 7th] before rushing them out and dropping them off. We didn't know what they picked until SZA posted her photo on Instagram a few hours later. My team really came together and pulled it off for this one. I want to thank them so much for all the work they put into this.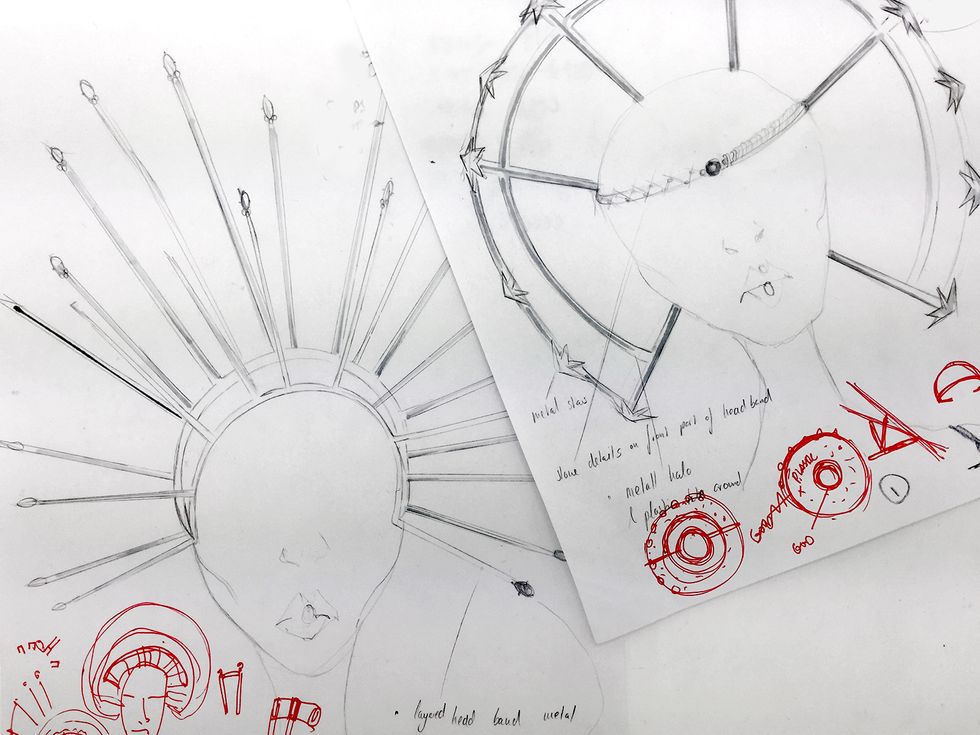 What do you love about SZA's work?
I'm always blown away when someone is really honest and bare in their work. I think that's how I feel about her songs is that it feels honest. She writes her music and lyrically it is amazing. I also like that you can't really tell what genre her Ctrl album is — it seems to transcend music categories. That album is so good, we have had that on loop at the studio for a while now.
Are you a religious person? In what ways does religion impact your designs?
While I was brought up Catholic in Catholic school in the Philippines, I am not religious, no. Yes, religion has actually impacted my work a lot, and continues to influence it. When the CHRISHABANA brand started in 2008, we had a decidedly goth and punk influence to our line. I played with crosses and catholic imagery in those early seasons. While we still have religious imagery in our collections and collaborations, I think the deeper influence religion has had on my work is this expression of punishing oneself. My silver line especially has a sharp and dangerous edge and evokes a sense of restraint or punishment, especially to the wearer. I've always been fascinated with that tension between restraint and freedom. I think it's in this way that religion has made its way into my work. It's this dialogue between what we can't do and what we want to do, and I love that.
"I've always been fascinated with that tension between restraint and freedom."


Where do you feel art intersects fashion? Do you see your jewelry at this intersection?
Art and fashion are synonymous, and I think now more than ever, both share a very open interpretation to what is considered art and fashion. They're more than intersecting, they're fucking and having babies! I don't know if our jewelry is one of those babies, but maybe one day.
Photos Courtesy of Getty/Chris Habana