Willy Chavarria's NYFW presentation provided an honest mirror to the world, as models walked against a blood-red wall, tears streaming down their faces with makeup that made their eyes look exhausted, overworked. The designer, who's queer and Chicano, aimed to project a feeling of vulnerability, underlined by his Fall '18 collection of dark, monotone hues and baggy, layered silhouettes.
The brand is best-known for its authentic approach to streetwear, with Chavarria designing specifically for an audience that's experienced more hardship than most. It's refreshing within the context of fashion, which is often drenched in playful superficiality, but it's also relevant under President Trump — a leader who's publicly ridiculed all marginalized Americans, and especially Latinx folk.
This season delivered commentary on both the Chicano migrant worker experience and injustices within America's incarceration system. To complement this, Chavarria collaborated with Chris Habana to create accessories inspired by religious iconography and its relationship with contemporary prison culture. Models wore necklaces with crucifixes, saint icons, coke spoons and shanks, purposefully bringing together cherished symbols with the taboo.
We caught up with Chavarria at his Fall '18 casting this weekend to talk about how he chooses his cast, and why his models "have more fire in them."
Starting at the very beginning, what's step one for sourcing your models?
By the time our samples are all merchandised, we are quite solidified on the season's concept. At this stage I begin to consider specific people in the clothing for a show or presentation. We normally begin casting much earlier than other brands. One reason is that I like to dress the models in looks they might actually wear — things they feel comfortable in and suit their personal character. I begin meeting people on Instagram I think are exciting or inspiring in a way that connects with me and my label. I also find people on the streets of New York, a city filled with the most magnetic people in the world.
Who do you collaborate with on this process?
I work with my friend Brent Chua, who is a terrific casting director and he is very connected with the people I gravitate towards. We often fight quite a bit about agency models he feels strongly about, but we always end up in a great place.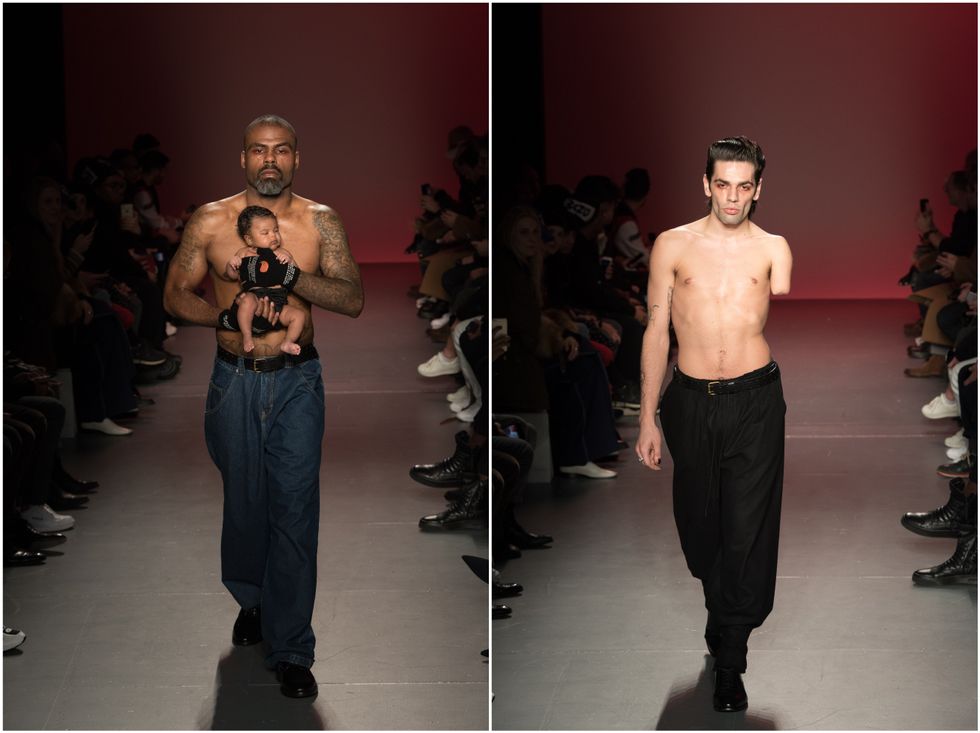 Willy Chavarria Fall '18 (Photo Courtesy Selwyn Tungol)
What type of model embodies the Willy Chavarria brand?
The model that embodies Willy Chavarria is strong and loving. It is someone who has been strengthened by life. Everyone on our team is a combination of tough and kind. We love the freaks. I look for strength in character. I look for a sincerity in attitude and self-awareness. I have no interest in beautiful people who haven't been challenged by life. I like people who have struggled and know what it is to fight.
He or she can be from anywhere, really, as long they are not an asshole and they can laugh as hard as they fight. They look like they belong in the clothes. We create the looks around the individual model, so that they are a part of the look and not just a body wearing the look.
For you, is diverse casting conscious or unconscious?
While I am a huge lover of diversity, I don't find my casting to be exceptionally diverse. I like to give attention to people I want to highlight as being beautiful. I gravitate toward the people I like. So in the case of my last shows, I have been quite focused around Brown people. I make a very conscious decision to create a cast of people who aren't always given an opportunity to shine on stage or on camera from a fashion or style point of view. But who knows, next season I may be using all overnight dudes. It is a goal of mine to do that.
There's been a big shift in accountability throughout fashion. What was it like when you first entered the industry, and how have you seen things change?
Well I first entered the fashion world by working at Ralph Lauren in the late '90s, so you can imagine what kind of accountability I saw in model casting. I think there has been a terrific wave of embracing diversity, challenging the negativity we see being hurled at the world from leadership and embracing people for who they are. It is really beautiful. It does get a bit less interesting when there is too much political correctness, so I prefer to keep an edge.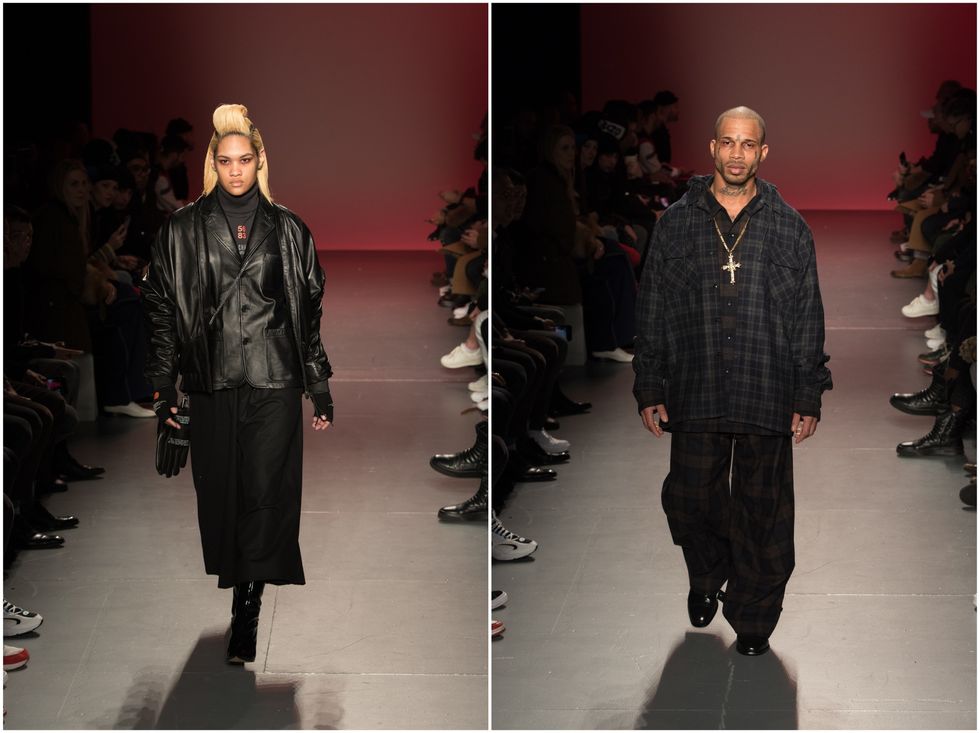 Willy Chavarria Fall '18 (Photo Courtesy Selwyn Tungol)
Are there a few models you work with frequently?
I do have models that I love to work with. They are actually friends. There is Marcus Correa, who is a Chicano and recently moved to New York from Colorado to study fashion. We met on Instagram. There is also Manny Rivera I met on the street. I would see him every day smoking a joint and walking down the 6th Avenue.
Who specifically are you most excited about featuring this season?
There are so many incredible people in my show this season. I've got a posse of short Mexican guys with shaved heads. I really want to use these guys because they look and feel like family to me. I also love to show them looking so high-fashion, while The White House continues to paint Mexican immigrants as criminals. I've also made a new friend Luc Bruyere, who is sheer brilliance _ statuesque and full of confidence regardless of public attitude. I love him.
Why is inclusive casting important to your brand, and the greater fashion conversation?
Whether I'm doing fashion or film or food, I want to make people think differently. And if I can do that while creating an awareness of beauty that is not always recognized, then I have succeeded. So much of what we call fashion today is the idea of what we buy rather than the garments themselves. We are selling concepts and ideas, so it is a terrific space to use for some good purpose. In a capitalist-driven industry, we will do ourselves good to keep humanity in mind as we push forward our art and commerce.
Your casting also notably addresses the LGBTQ community and ableism.
People who have endured some serious shit have more depth. They have more fire in them, so I love to embrace diversity in sexuality and sexual identity. Personally I am little bored by the trend of "gender fluidity" in fashion. I have people in my show who are trans or gay or whatever, but it is not at all a focus. I am ready now for the day when we do not have to call it out. So I have both men and women in my show. Regardless of preference or sex organ, they are presented as what they feel and who they are.
What was the inspiration for Fall '18, and how do your models feed into that?
My collection this season is a rather dark story of our search for truth and human connection in a dark digital age. I want to reflect what I feel is a collective state of sadness. I want to show our belief in ourselves as good — our belief in ourselves to carve out beauty in the world and our future. I have selected people who can identify with this sadness and are willing to share their feelings on the runway. These people are all very brave, and they all wear the clothing with the same confidence for which it is designed.
Check out polaroids from Willy Chavarria's Fall '18 casting, below.