The story of Sizzy Rocket and Rossi began with an "instant connection" sitting next to each other in cycling class. "I think we were both wearing glitter," Rocket remembers, which isn't surprising if you've followed the two Los Angeles artists' careers — both have a penchant for the type of DIY glamour that usually involves something shimmery on a body part it's not intended for.
So it's only fitting that the pair would join forces for a song like "Freak U Out," their new "slutty, lovesick party banger" that doubles as an anthem "about unapologetic self-actualization," Rocket says. "It's an ode to fearlessly expressing yourself, shaking things up, fucking the system and creating your own space" — which both are well-versed in doing.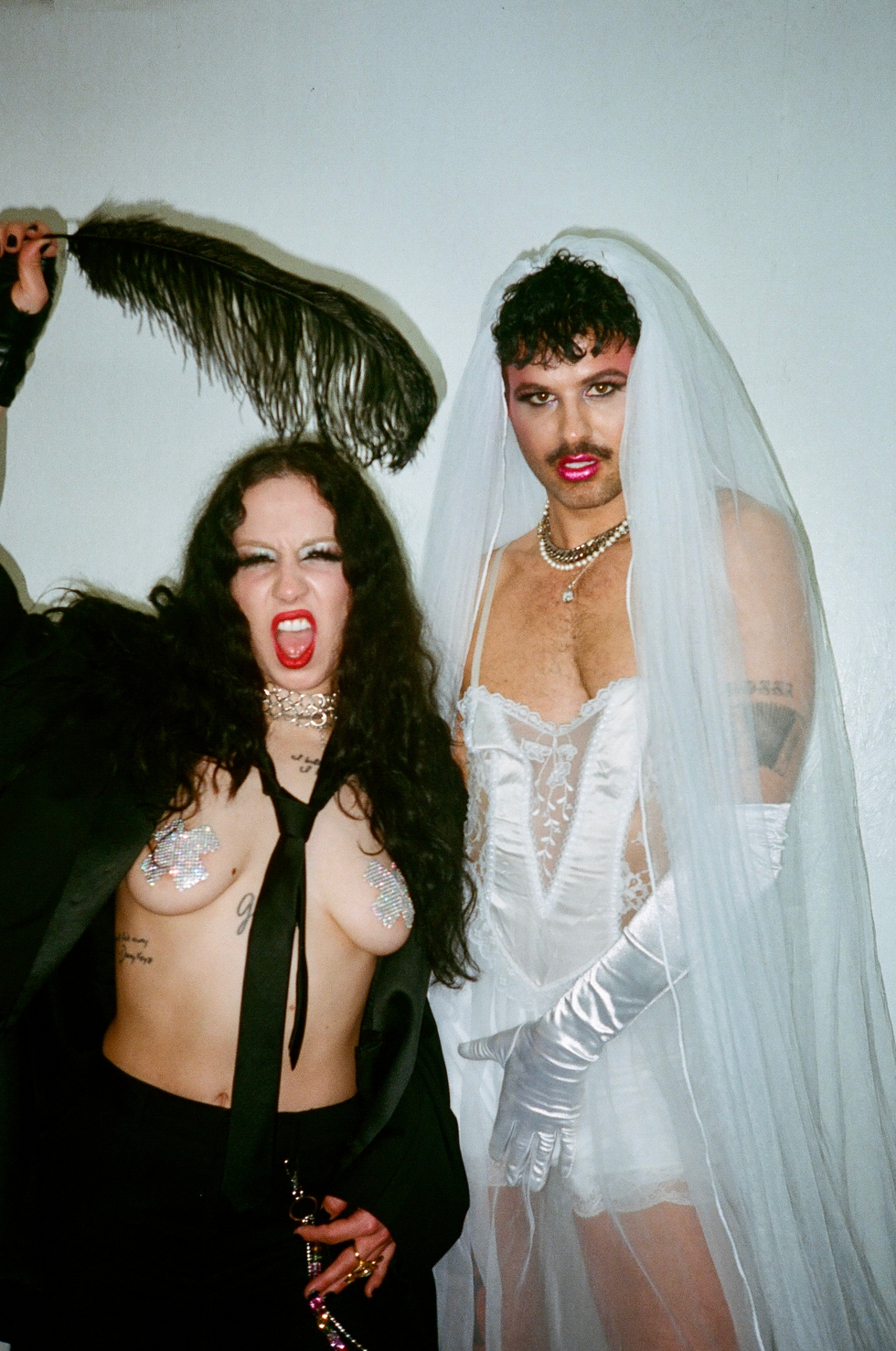 Gritty and grinding, "Freak U Out" brings Rocket's rebel yell to Rossi's signature camp, featuring tongue-in-cheek lines like "You make me extra naughty/ Cause you're a hot tamale." They roll through all the classic symbols of an "all American reject," from fishnets to Marlboro reds, and ultimately tell the listener, "I wanna freak you out," with a sprinkling of evil laughter.
The visualizer, premiering today on PAPER, is shot entirely in red light, and depicts Rocket and Rossi as a couple getting married — only with reversed gender roles. They staged a fake wedding, Rocket as groom and Rossi and bride, and fed each other cake before running manically out of the chapel together.
Rossi says he wanted to create a version of himself that might be considered drag to the general public, considering all the talk of drag bans across the U.S. "To all the people that are so terrified of a male-presenting person in a dress, then I guess I freaked you out." He concludes, "To everyone else, enjoy the song and dance like there's nobody watching, or better yet, dance like everybody's watching."
Watch "Freak U Out," below, and catch Sizzy Rocket on tour next month in New York, Chicago, Dallas and Los Angeles.
Photos courtesy of Worst November