Since 2015, Kanye West has been working hard to be seen not just an astounding musician and producer, but a bona fide high fashion designer. No one denies that the twenty-one time Grammy Award winning artist can dress, but--four fashion shows in--there's still room for debate if the clothes he designs hold any real merit. Today, he will be showcasing his fifth Yeezy collection, despite doubts after 6 months of non-stop attention from his wife's robbery, meetings with President Trump, and his hospitalization and cancelled tour dates. But, through years of controversies and setbacks we have learned that the most important thing to remember about Kanye is that there is nothing and no one that can prevent Kanye from creating.
So in preparation for Yeezy Season 5, Kanye expert Malcolm-Aimé Musoni breaks down the previous Yeezy collections and give us his predictions for Season 5.
Yeezy Season 1
The stakes were high. Very, very, very high. This was Kanye's first collection and partnership with Adidas. He had to show that when he is given the resources that he can create the greatness he wants us to believe we deserve.
The results were surprising. It wasn't like his first attempt at a fashion line Pastelle, the 2008 line that seemed to mimic Billionaire Boys Club and Bape with the bright colored hoodies and letterman jackets. It wasn't like his second attempt at a fashion line, DW Kanye West, the 2012 line that served as the blueprint for what his then-girlfriend Kim Kardashian would wear. It wasn't even a hybrid between the two. I was expecting maybe something that would be a nod towards his tour merch at the time, but the collection and the presentation went very minimalistic--different but a true continuation of his current aesthetic.
Celebrities like Beyonce, Jay Z, Justin Bieber, Diddy, Cassie and all 657 Kardashians watched while he debuted a collection heavy on spandex and monochromatic looks and intentionally distressed sweaters that looked like a crazy ex went through and cut holes in their clothing as revenge. His models were also vastly more diverse than the traditional fashion week cast, standing still in a Vanessa Beecroft-designed presentation.
The highlight of the presentation (besides North West crying) was the incorporation of new music from his unreleased album, The Life Of Pablo, with tracke "Wolves" beginning to play towards the end of the show.
Yeezy Season 2
This collection could be titled "Yeezy Season 1.5." It seemed more like a continuation of the previous one--with improvements in presentation and overall look--than its own unique creation. Kanye scaled back with even fewer colors, focusing on more nude-colored ensembles. He upped the ante by live-streaming the show at several theaters around the world for fans to watch.
Critics, like New York magazine's Cathy Horyn and the Daily Beast's Justin Jones didn't waste time and took the second season as an opportunity to diss West's designer dreams, with cutting reviews like "this second round of drab, broken-down basics proved he can't be taken seriously as a designer" and "maybe West really should stick to his day job."
The models again did their artsy Vanessa Beecroft presentation thing and again a new song was premiered. At this point, The Life Of Pablo is being called SWISH and the new song was "Fade" featuring Post Malone and Ty Dolla $ign and its incorporation did receive raves.
Yeezy Season 3
The third collection was part of an epic show at Madison Square Garden where he also debuted The Life Of Pablo. The entire show was livestreamed on Tidal and everyone, whether they like fashion or not, tuned in at some point to watch the presentation, listen to the debut of the album and watch a trailer for a still unreleased video game dedicated to his late mom--because when Kanye is doing something we all watch. No matter what.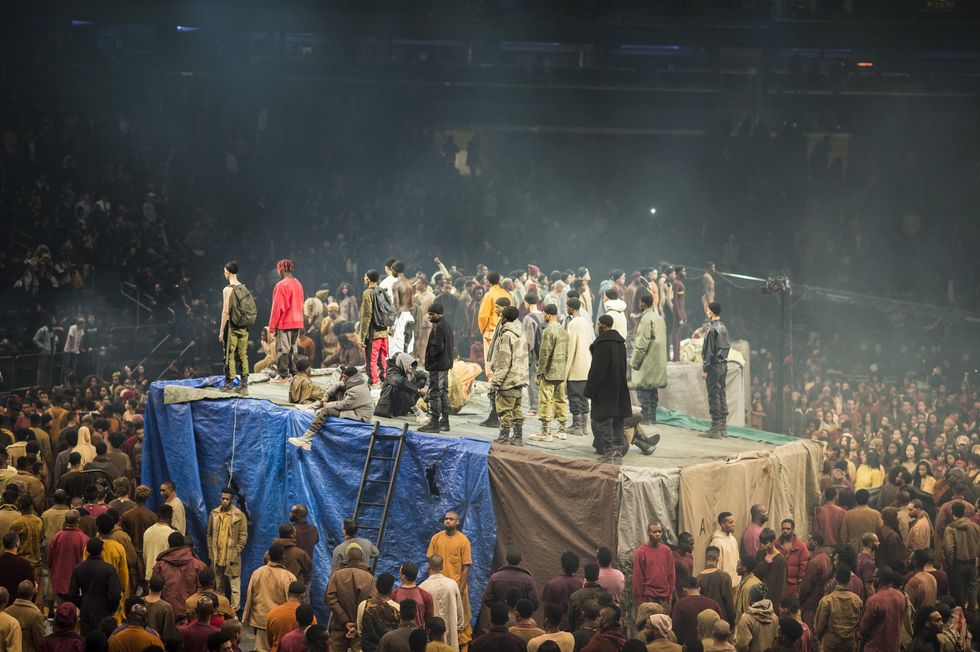 Julien Boudet/BFA.com
There was still confusion on what exactly Adidas's involvement was with the collection. Kanye posted this on twitter with the hashtag #YeezySeason3 before the premiere of the presentation but then there were reports that he was trying to raise $100 million to fund the line. Whomever cut the check, it is very very clear that it was put to good use.
Clothing-wise, there was an evolution from from earlier Yeezy presentations to 3. The nude colored spandex was still there, but this time there were a variety of colors and silhouettes. Lots of leather, as well as yellows, oranges, reds and camo. Kanye also took the time to debut a more expansive shoe line, with an updated version of the extraordinarily popular Yeezy Boost 350 sneaker, new Yeezy Boost 1050 Boots, thigh high sock heels and clear-heeled boots for women.
The models were still doing their artsy Vanessa Beecroft thing (controversially taking inspiration from the Rwandan genocide) but this time Naomi Campbell and Lil Yachty were included. As expected, all 657 Kardashians were there, this time wearing custom Balmain altered to Kanye's whims.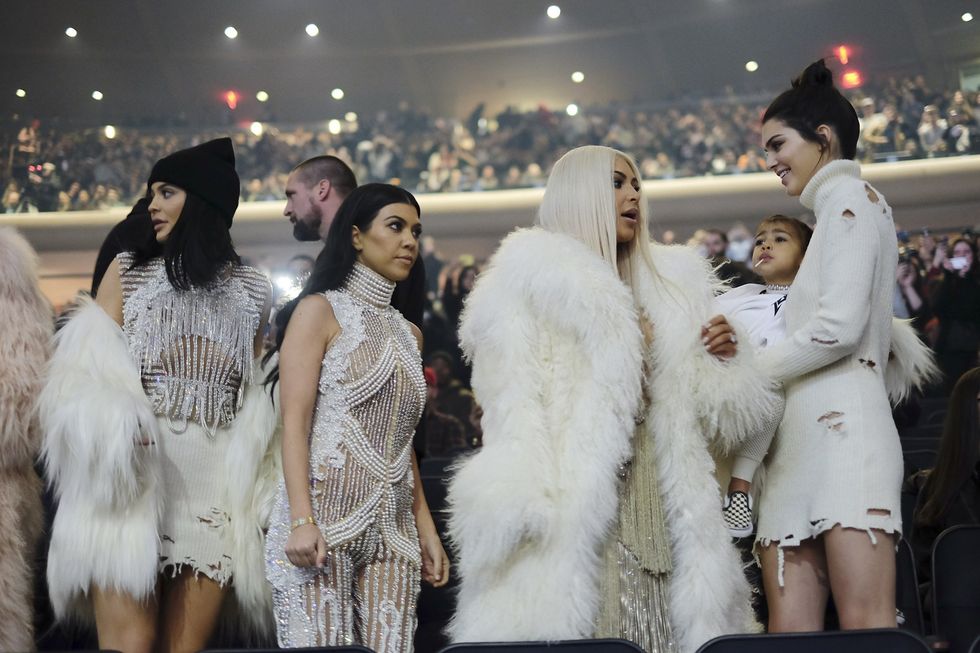 Tracy Bailey Jr/BFA.com
If we are being honest, the show was less of a fashion show and more of a time for Kanye to pull a "Hey I'm Kanye West taking over Madison Square Garden and I want to show you everything I have been working on" flex and there is absolutely nothing wrong with that. As PAPER noted in our recap of the show, Season 3 "transcended the petty fashion squabbles and jealousies and delivered a powerful message about race and creative passion."
Yeezy Season 4
Months before the collection's presentation, Adidas decided to expand their partnership with Kanye. The expansion would include a new line of Yeezy branded clothes, shoes and accessories as well as stores centered around the Yeezy line in what could be the biggest deal Adidas had ever made with a non-athlete.
Coming into season 4, I expected there to be some sort of reflection of the new athletic wear future of Yeezy (or maybe even shirts that said "Fuck Zara" as a clapback against their ripoff of the Yeezy aesthetic a few months prior).
What we got instead was more models doing their artsy Vanessa Beecroft thing and all 657 members of the Kardashian family present at Roosevelt Island. Except, this time controversy had started bubbling around the show before a single model ever hit the catwalk.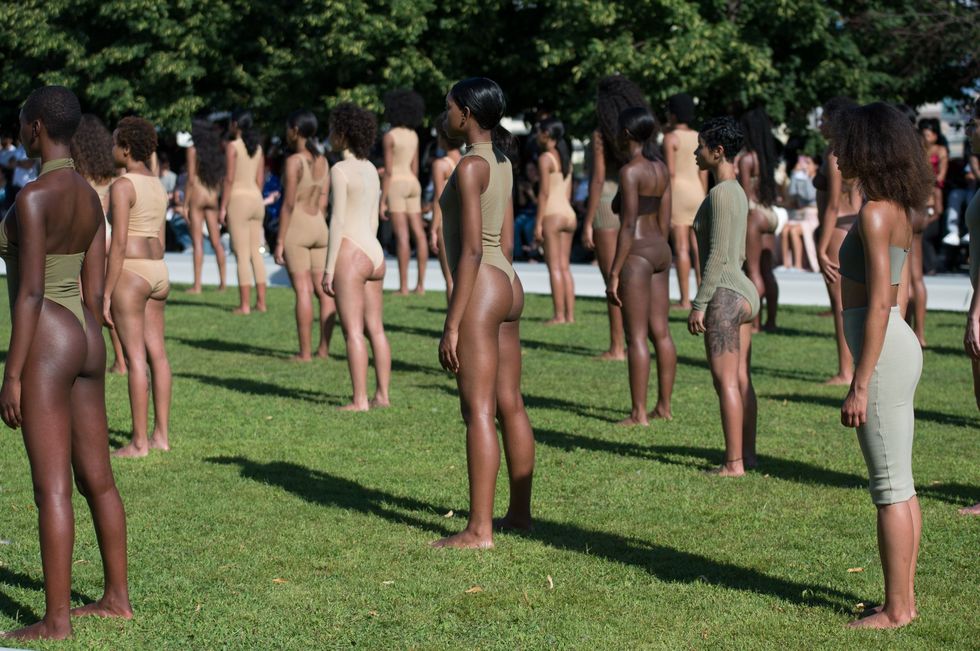 Julian Boudet/BFA.com
It began with the casting call, where West called for "multiracial women only," causing protests and conversations about colorism and traditional beauty standards. Once the show started, there was more controversy. Some models standing in their artsy Vanessa Beecroft way spent hours in the heat and fainted as a result. Some models were not able to complete walks down the runway in their heels. Where a lot of people raved about the Beecroft/West collaboration at MSG despite the questionable references, this time the fashion world roundly condemned it and the show served as 'Ye's fall from the high fashion graces.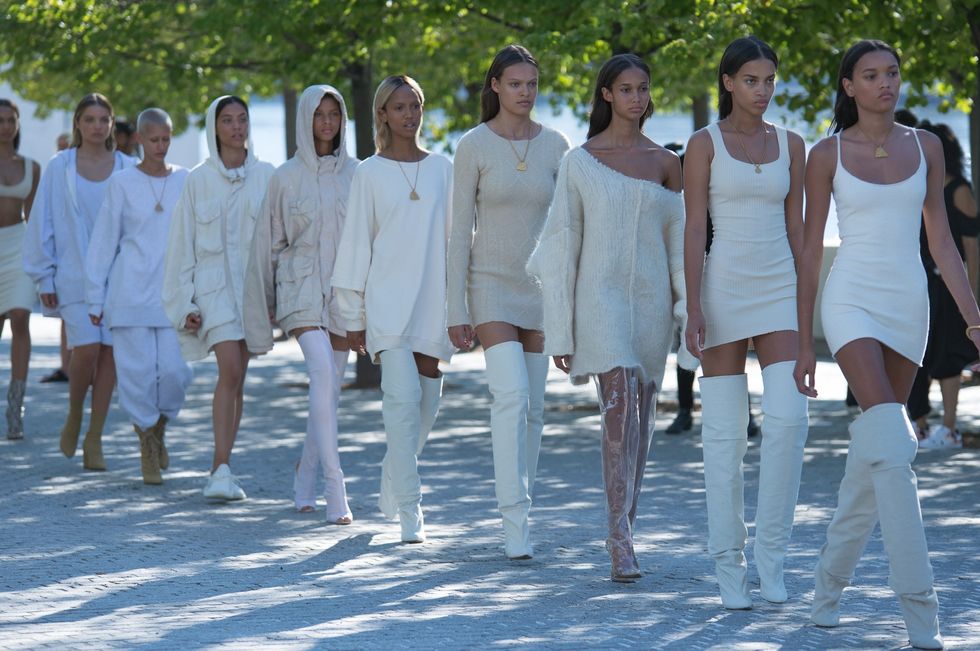 Julien Boudet/BFA.com
Whether you agree with the critics and the controversy, it's obvious to see that at least on the runway improvements were made. This time Yeezy focused on women--there was not a single male model walking--and the collection seemed made for women who are on a run, turning athleisure into high fashion moments ready for the 'gram.
Yeezy Season 5
At this point, Kanye could have everyone come out wearing garbage bags and everyone would say it's revolutionary or crazy or awful or derivative. He is at that point in his career where it doesn't matter what he puts out because everyone will talk about it regardless, and that's a scary level to reach.
All 657 members of the Kardashian family are going to be in attendance. That's not going to change. But, it would be nice if he took a break from Vanessa Beecroft for this presentation. Hopefully Season 4's failure will motivate him to find someone new to collaborate with or some other way to present. The Pier 59 venue also isn't going to give him the space to do anything on the scale he did at Madison Square Garden or at Roosevelt Island. As leaks continue to trickle out--word on the street is model Halima Aden will walk wearing her hijab--anticipation builds.
Hopefully, he will throw back to old shows and incorporate music from one of his upcoming works. His collaborative album with the GOOD Music crew, Cruel Winter, is expected to drop soon. and his next solo effort Turbografx 16 has been teased for the past year. And rumors are swirling that a collaboration with Drake, titled Lost Hills, will be debuted today.
Clothing-wise, I'm not sure what I want from Kanye. He's shown us he has a distinct design aesthetic and, more importantly, he's shown us that the clothes he creates impact culture and influence style (no matter what critics will say about them). But, what's next at this point? I have absolutely no idea what I want from Kanye and I think that's the genius of his artistry and creative skills. We never really know what exactly it is that we want from him until he gives it to us.
Splash photo by Billy Farrell/BFA.com

Sign Up For The Morning PAPER
Music
Photography by Grace Scuitto / Story by Jade Gomez / Makeup by Marla Vazquez / Hair by Abraham Esparza / Styling by Heather Picchiottino