Where to begin. After a feverish week of questionable tweeting, many album title changes and frenzied rumors, Kanye West kicked off Fashion Week with a thunderous presentation of his third Yeezy collection for Adidas combined with a listening session for his new album, The Life of Pablo. And although Kanye's Yeezy presentations in the past have been met with dismissal and lukewarm reviews from fashion critics and designers alike, tonight's showing was of such epic magnitude that it transcended the petty fashion squabbles and jealousies and delivered a powerful message about race and creative passion.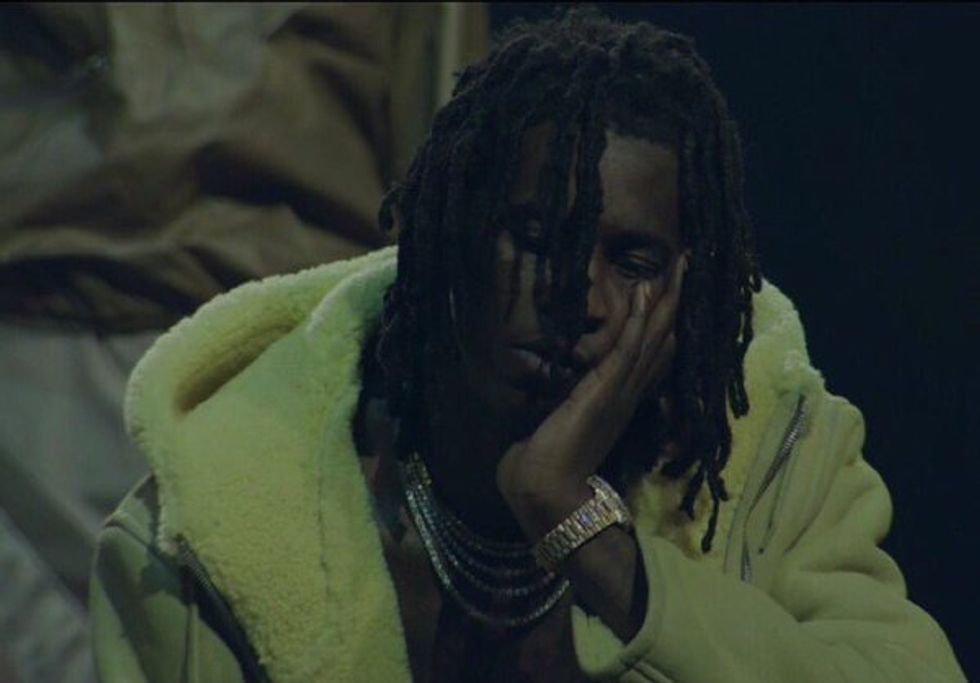 While Kanye has previously shied away from speaking about the #BlackLivesMatter movement in the press, the Vanessa Beecroft-directed presentation undeniably evoked the spirit and ideals of the movement, along with simultaneous images of black pain, empowerment and excellence. Featuring a dystopian tableau of what was said to be 1,200 models -- nearly all of whom were models of color and that, at one point, included a glorious Naomi Campbell, Veronica Webb, Liya Kebede and Alek Wek -- the scene included some models weeping, others standing stone-faced with their eyes fixed ahead, and still more descending to the arena floor to face Kanye with their fists held over heir heads in a black power salute.

Naomi Campbell slays for #YeezySeason3 pic.twitter.com/qz5RYh1Npf
— Hunger Magazine (@HungerMagazine) February 11, 2016
Talking about the collection, Kanye reiterated his desire to make his clothing more affordable and accessible to the public; his eleventh hour announcement that more tickets were available to the show, so as to allow as many fans into the presentation as possible (not to mention the livestream on TIDAL, which supposedly had 20 million people watching), was a democratizing gesture of sorts in an industry with very few of them. It also solidified his stance as the ultimate subverter -- an outsider determined to make the arts a level playing field by fundamentally altering it from the inside.
pic.twitter.com/y9uUi1wrpD
— PAPER Magazine (@papermagazine) February 11, 2016
The sheer scale of it all also meant that both the audience -- and the viewers watching online -- were oblivious to whatever opinions or facial expressions front-row fashion elites were making. This show was not about them. It was about Kanye, yes, but it was also about his fans, about his community and, perhaps, most importantly, his family. Before the presentation began, the lights went out and a spotlight shone on the Kardashian-Jenner clan (Kim, North, Kris, Caitlyn, Kendall, Kylie, Kourtney, Khloe and Lamar Odom), who made an epic entrance to their seats wearing custom Olivier Rousteing-for-Balmain outfits. And throughout the night, Kanye made several tributes to his family in the crowd, along with his family missing from it. Towards the end, he showed clips from a video game he'd made that depicted his late mother, Donda, flying through the gates of heaven (disappointed that it didn't invoke a bigger reaction from the crowd, he played the clip twice ) and merch stands included air-brushed "In Loving Memory of Robert Kardashian" t-shirts with the late lawyer's face emblazoned across the back.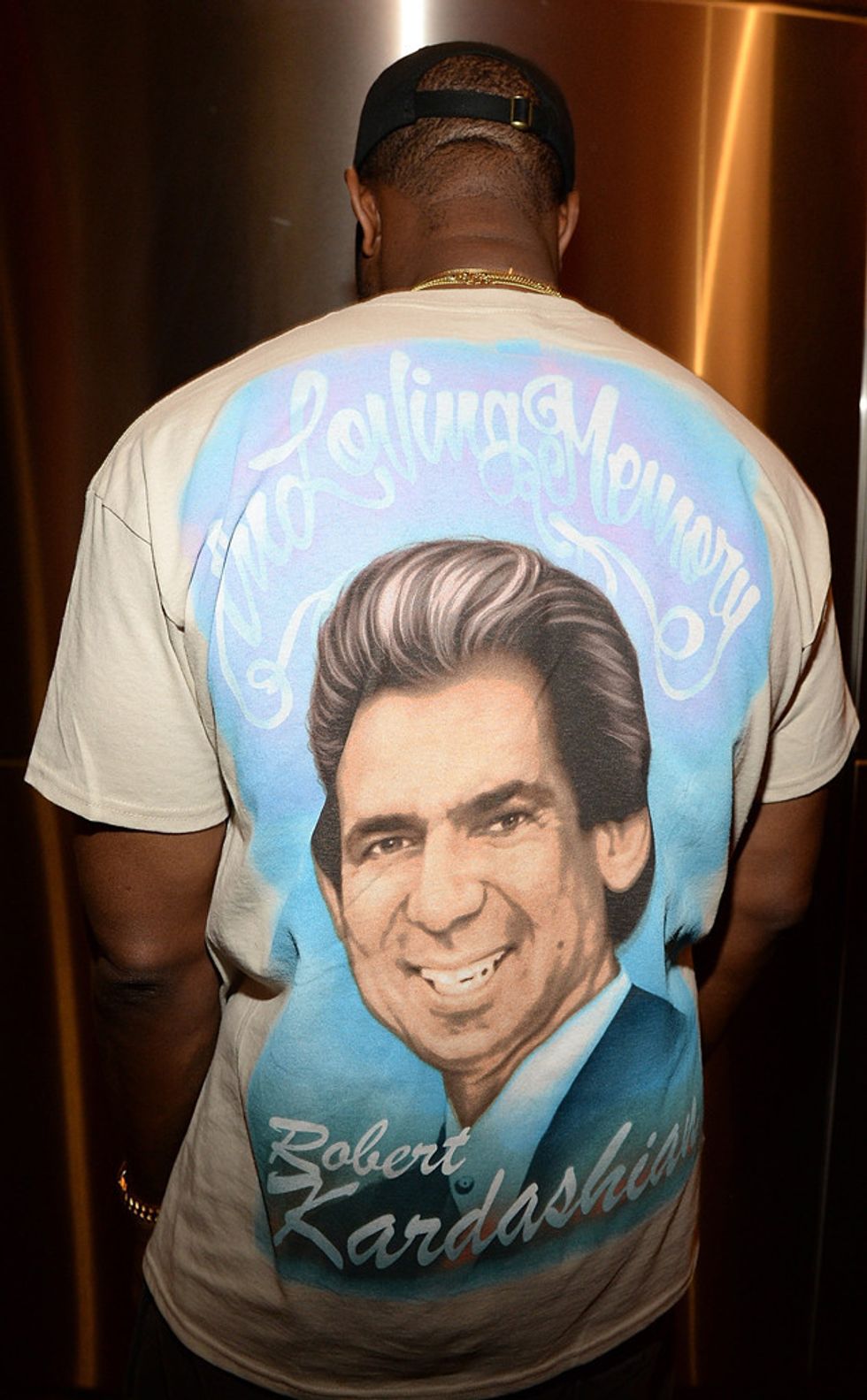 The family at #YeezySeason3 pic.twitter.com/hPPj9atWba
— Kardashian Navy (@KardashianNavy) February 12, 2016
And then there was the album, which Kanye described to the crowd as "gospel music." With features from Rihanna, Chance the Rapper, Frank Ocean, Kid Cudi and more (not to mention a quick Taylor Swift shoutout), the record was blasted at a bone-rattling volume over the Madison Square Garden sound system, making the experience feel like something between a house party and the world's biggest listening session. Amidst the craziness of the moment, there was also something intimate about the event, watching Kanye dancing around a DJ booth with friends and affiliates like Virgil Abloh, Vic Mensa, Jay Z and Pusha-T, plugging in his phone and playing tracks off Soundcloud that made it feel like you were just kicking it with the homies. It was an aura helped by a buoyant and excitable West, who for the entirety of the performance talked about realizing his dreams, in the most earnest of ways.
Squad turn ⬆️ #YeezySeason3 https://t.co/j9xGV93ieZ
— Vine (@vine) February 12, 2016
At various points throughout the afternoon, Kanye also described his struggles to break into the fashion world (and the San Francisco tech scene) and though it's hard to consider someone with his level of celebrity as an outsider, that underdog mentality has allowed him to take risks in fashion that designers attached to more traditional houses and huge brands can only dream of. So much of Fashion Week is about glorious spectacle and it's hard to imagine, even with seven days left, that we'll encounter another show with the same impact.

You May Also Like