Self-love has always been at the core of Lady Gaga's brand, apparent across her decade-long music career and charity efforts like the Born This Way Foundation. So when the performer — known for her dramatic red carpet transformations — announced she's launching her own beauty brand, it came as a pleasant but highly anticipated surprise.
Haus Laboratories, which is already garnering rave reviews from fans and beauty experts alike, thrives on Gaga's own determination to shake up a truly volatile industry. That is combined with the artistry of the brand's unassuming and powerful co-founder Sarah Tanno, a seasoned makeup artist and Global Artistry Ambassador at Marc Jacobs Beauty. As Gaga's longtime makeup artist, Tanno's been all over the beauty space and is also the talent behind some of the most notable celebrity figures, including Fergie, Gigi Hadid, Katy Perry, Kelis, and more.
After more than a decade in the industry working editorials for the likes of Vogue, Harper's Bazaar and Elle, Tanno says that makeup has become a part of her life and Gaga's. "We're not there to compete. We're not the type of people to really look around and go, 'Oh my God, so-and-so is doing this, so-and-so is doing that.' We really try to stay in our lane and carve it," Tanno says. "We've always been people that try to break mold, set the trend, and be on our own. I think there's so much out there, but what sets us apart is not just our messaging but the artistry in us. We're not just going to be pushing, but also sharing with the world. It's really inspiring for me."

In an exclusive chat with PAPER, Tanno talks creating a brand from scratch with Gaga, the inspiration, and how together they aim to challenge the beauty industry.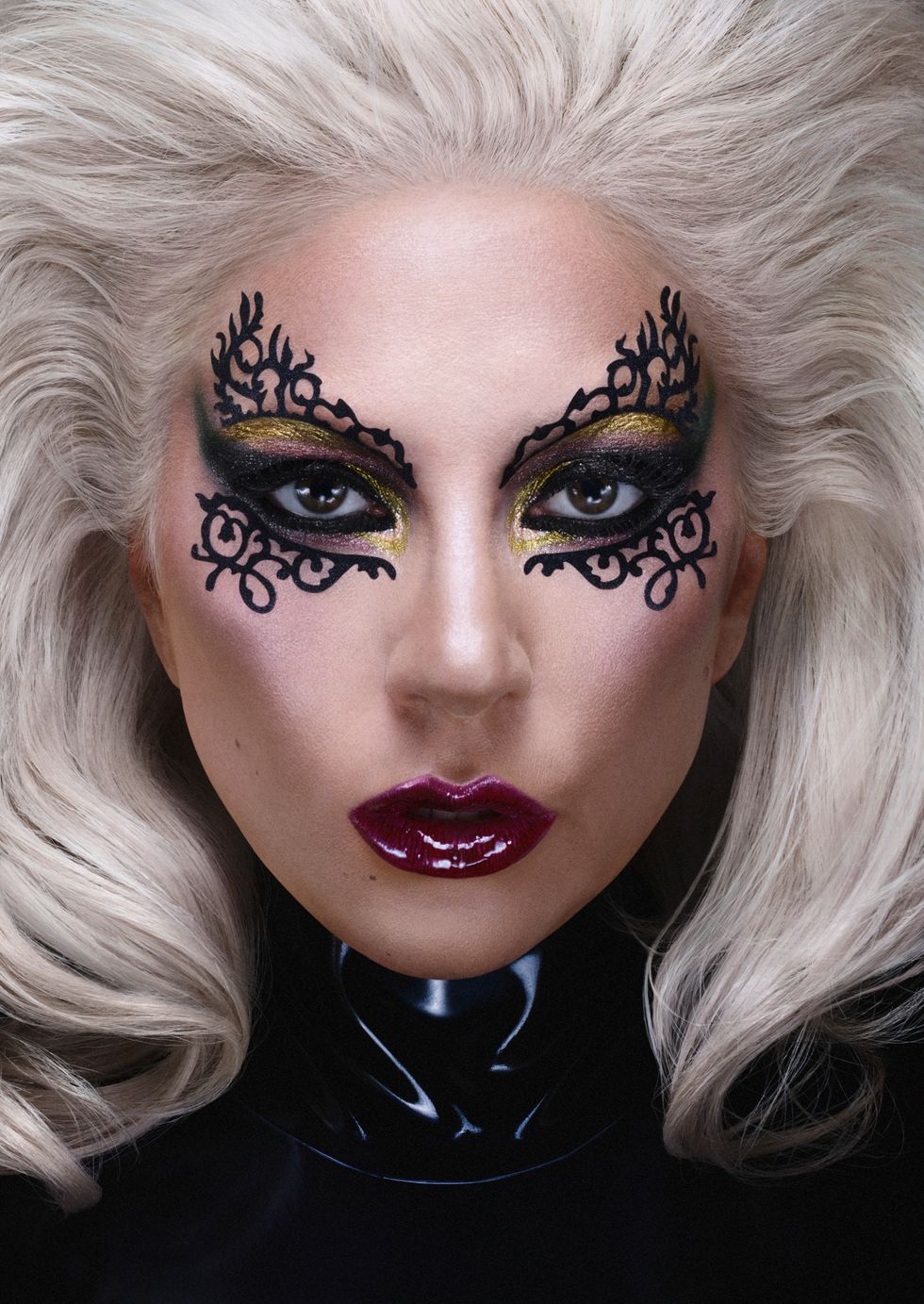 How did you end up launching your own brand and collaborating with Lady Gaga?
Her and I have had this long relationship as friends, working together for 10 years. Makeup is a huge part of our lives. I live it, I breathe it, I dream about it. Sometimes I dream of looks when I'm actually sleeping. Marc Jacobs taught me one time, that when you have these dreams in your head, to keep a notebook next to your bed and write them down. He actually does that. So, I started doing that because I literally am so obsessive that I can never get it out of my brain.
I don't consider Gaga like a client. This is something I'm doing with my views and my best friend. I can't believe it's here. We're birthing it.
I don't know if people realize, but this is a start-up. She didn't just put her face on some other brand's name. I remember sitting on the floor with just her and two of our product development people, and mixing everything from scratch and having these meetings at her kitchen table when there's four of us. So, we really did this on our own, completely from scratch.

What started the conversation? Did Gaga come to you with a vision or was it more collaborative?
It was super collaborative, like, everything that we do. Gaga didn't want everybody to get her makeup and try to look like her. This is something that we want you to sit in front of the mirror and learn your self-love ritual. It's about having fun with the makeup, to get messy with it, and stop thinking everything has to be so cookie-cutter and perfect and just be yourself. This is the love that you now need to give yourself. That's the message and I feel like that portrays what we're trying to do.

"We've always been people that try to break mold, set the trend, and be on our own."
Do you feel like it's something that's missing from the beauty industry?

We're not trying to force things down people's throat. We're not there to compete. We're not the type of people to really look around and go, 'Oh my God, so-and-so is doing this, so-and-so is doing that.' We really try to stay in our lane and carve it. We've always been people that try to break mold, set the trend, and be on our own. I think that there's so much out there, but what sets us apart is not just our messaging but the artistry in us. We're not just going to be pushing, but also sharing with the world. It's really inspiring for me.

People are telling me stories. "I was so scared to post a picture of myself. I was so scared to post me doing my own makeup, and how people would criticize me," they say. There's so much of that negativity. It drives me insane. I almost want to turn comments off sometimes, because they're so mean out there. To see that already we're giving people confidence to go there and push themselves, step outside their comfort zone a little bit, and feel good about that — that tells me we're already making a change.
What was it like creating a brand with Gaga from scratch?

We're both very visual, so it helps us keep our thoughts organized about what we're doing; we make sure everything hits every skin tone and that everything we're accomplishing is good and that we're showing people different ways to use things. She was basically sitting on my lap and creating looks for that first campaign. I have a picture where she's literally sitting next to me, going like, "What's the next look going to look like?" We literally did not sleep for weeks, before we did our first shoot and before we got the products. It was insane. We're connected at the hip.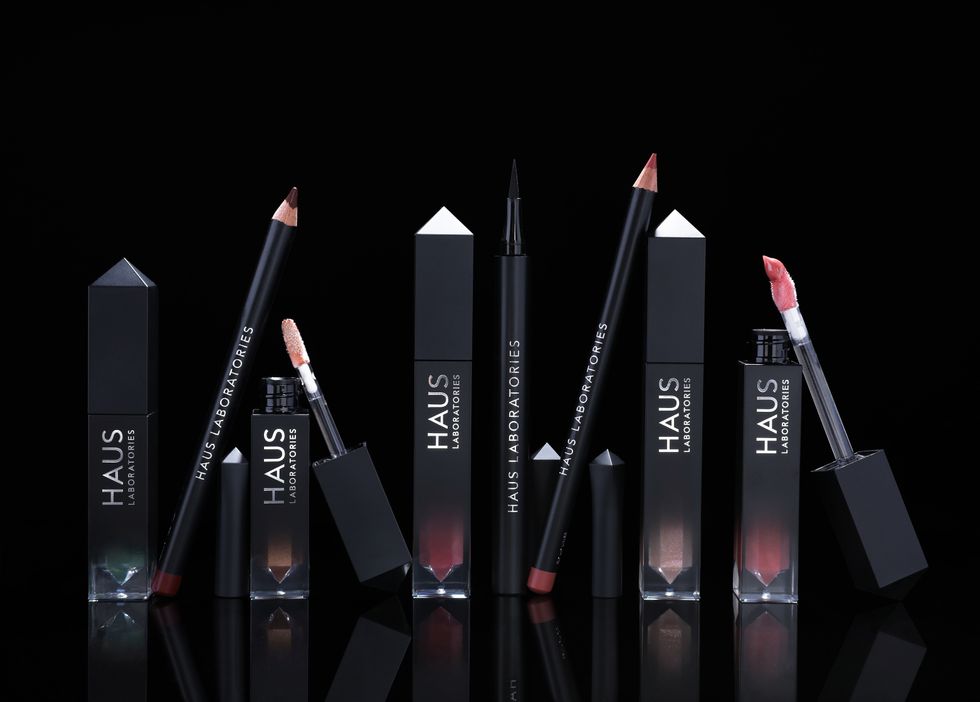 That must have been a really intense experience.

I don't think people ever realize how hands-on she is. Every single thing that I do, when I find it, it goes through my rigorous testing, but she sees and tries everything. Everything is tested on her face. I don't think other people do that. I'm also testing a lot of the products, when she's on stage — two hours singing, dancing, costume-changing. We have really high standards of makeup because we do so many different kinds of things. Not a lot of other people are performers, actresses, or go on TV or film. The products have to look just as good as on a red carpet, as they do on a stage.

I'll give you an example: Glitter is really one of the best things that you can use to achieve that from far away and have it look beautiful on clothes, monitor, or iMacs. The problem with glitter in high impact dancing is the fallout is crazy, especially when you're dancing or performing like her. And then, she spends 30 minutes in the chair after the show with me trying to remove it. Glam Attack is a liquid to shimmer powder, and it goes on in seconds, there's absolutely no fallout and you can remove it in a wipe. It's a true dream come true for anyone who is intimidated to use anything that's sparkly, or glittery because you don't have to live with it forever.
Why did you choose these specific products and what went into creating all of them?
We really wanted to start with color versus skin. Because color is so transformative and we really wanted to pioneer what color looks like. Glam Attack was such an incredible innovation in the world of products because it is all-over color. You can apply it as a blush, or as a highlight. You can also use it on your lips, if you want a cool chrome look.

We also wanted to give people a whole look. That's why we came up with the haus of collections. It's not to say we have to wear all these colors together. This is just a suggestion that we have because we like those colors together. Lip liner to us, is funny. The way that Gaga and I use lip liner is all over the lip as a lipstick, because we like the precision of the lip liner and we like our lipstick to stay on. But we couldn't find a formula that glides on perfectly smooth that when you cover your entire lip in, doesn't drag or feel really dry and uncomfortable throughout the day.
That is something as a makeup artist, I'm really proud of, because I know it's not out there. Makeup always goes in trends. It was so matte for so long, that now gloss has come to the forefront, and we wanted to create the most comfortable, hydrating, and beautiful gloss.
Gaga also wanted something where she can create a look in 10 minutes. And these are tools that let you do that. She's creating a smokey eye by herself, without her makeup artist, where she's just throwing on Chained Ballerina on in a minute. Her favorite one is from the Metal Head collection, called Ride, and it's a beautiful pink color. So a lot of time she'll fill her entire lip in with the lip liner and then she just throws a little bit on her cheek and blend it with her finger, because the formula is so creamy. She likes to do her makeup really fast. Now she can, and she doesn't need a makeup artist to do it.
Do you have a favorite color and a favorite product from the line?

My ride or die color is Myth from the Haus of Goddess collection. It's just a really great natural color. My favorite gloss is Entranced, it's from Haus of Rose Bitch, and it goes over every single color so beautifully. Hands down one of the most amazing, innovative things is Glam Attack. I love and die for Legend, which is the gold color in the Haus of Rockstar, because it is the most shiny, sparkly, incredible gold. I can't tell you how many makeup artists have hit me up just on Instagram from posting pictures like, "What the hell is that, and can you give it to me right now?"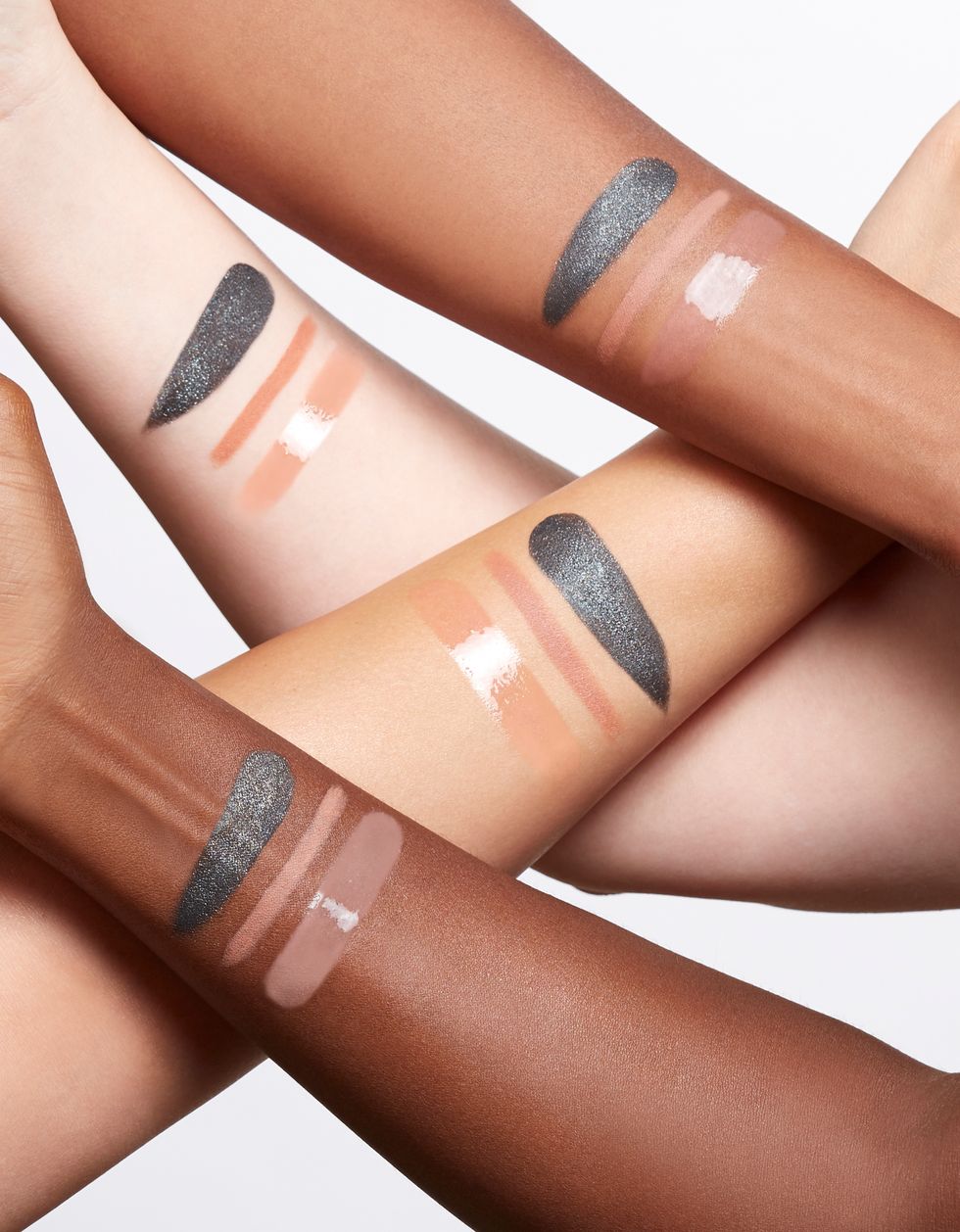 What was the hardest part of creating these products; what was the most challenging part?

All of it has been challenging. I would say the rigorous testing part was definitely the hardest, just making sure things are working to our standards, making sure products aren't creasing or falling out. We always have a hard time finding a really black matte liner and that's something that Gaga really loves, especially for stage. Actually, she taught me a trick a long time ago, that if you put eye shadow on top of a liquid liner, like a matte black eye shadow, that it has more dimension and looks better on stage.
So, we're launching first with a Matter Than Matte black liquid liner. It's a felt tip, so it's very easy to use with a super sharp point so you get this really beautiful Gaga wings. We also partnered with Face Lace. I would have to change Gaga's makeup in quick changes, like during that Jazz tour because she wanted these really crazy different liners for every outfit change. And I'm sitting there while she's getting wigs put on, trying to do liquid liner on her face, it was just not cutting it. So, I called Phyllis Cohen from Face Lace and we started designing things together, where it's easy stick-on makeup that looks absolutely perfect.

It's a perfect winged liner in two different sizes that works on all eye shapes that you can stick on the end and then color in the lines with the liquid liner. That way, one side doesn't get bigger and you're not walking around with asymmetrical wings. It's perfect, you'll never know it's a sticker.
"We're not trying to make you look like everyone else. We want you to be you, and that's the important message."
Do you have a beauty or skincare routine?
With skincare, I'm pretty psychotic about it. Same with Gaga. Right now, I'm pretty heavy with Dr. Barbara Sturm. So I use her hyaluronic acid for darker skin tones, because she taught me that the darker skin tone products actually are better if you have melasma, which I do have, for age spots. So I use that and the brightening serum. From SkinCeuticals I use a product called C E ferulic acid, which is incredible if you want really glow-y skin. It plays well with other products, because you have to make sure you're giving your serums a break in-between when you put them on, so they don't fall off. So during the day, if I'm doing a makeup look, I actually really like Youthquake by Marc Jacobs Beauty because it exfoliates the dead skin cells before hydrating the skin. At night, I use Barbara Sturm's Blood Cream. I'm really spoiled, but I love it. I'm really into skin treatments too. I also like to do radio frequency treatments.
For that, I go to Dr. Emer's office, and then there's this woman, Joomee Song who does this really cool massage technique that helps the with lymphatic drainage and it helps tremendously because I have TMJ. She will release my jaw so my face almost looks 10 pounds skinner because I hold so much pressure there. She's like the anti-aging massage wizard. And she's here in L.A. As far as makeup, for myself, I'm pretty low-maintenance but I love the Marc Jacobs Beauty Velvet Noir Mascara.
Gaga too, it's her favorite. I also like their accomplice concealer. I just use the accomplice concealer, because I actually use that all over my face as a foundation instead of using foundation. I also love Surratt, who does a really beautiful job with having a cool artistry line, and for the most part I have pretty prestige taste, I use a lot of Dior, Armani Tom Ford, NARS. Danessa Myricks is a brand that I don't think a lot of people know about. She's a makeup artist. It's not really in my beauty regiment, I don't use them every day for myself, but her products are something that I use a lot for stage makeup.

What are your thoughts on the current state of inclusivity in beauty?

I think that every brand should have a voice and should be inclusive to everybody, but that's something that was a natural conversation for us when creating this brand, because that's who Gaga is. It's not like following a trend. Even if that is a trend, I just believe that every makeup line, if you're putting out things, it should work for people and not just for one person.
When you see the current state of makeup, even if you're looking at your feed on Instagram, almost everything looks the same. With us, it's kind of like, these are your rules, do what you want to do, and that goes further than inclusivity. We're not trying to make you look like everyone else. We want you to be you, and that's the important message.
Photos courtesy of Haus Laboratories