Is it just me or was this the most emotionally fraught reunion in Drag Race herstory? Sure, there were moments of levity, but most of the season ten reunion was drama, mama — and not the fun, catty kind. There were many shocking situations — of course we're going to talk about the queen who walked offstage — but we were able to narrow it down to the 10 most gag-worthy moments, in no particular order.
Related | The World According to RuPaul
The Vixen vs. RuPaul (and like, everyone else)
It was clear as soon as Ru began the segment on The Vixen's various clashes with the Queen throughout season 10 that she was not being sympathetic. She repeatedly told The Vixen that the Chicago queen had the choice to remain silent and not rise to the bait when someone provoked her. While some queens were clearly in her corner — namely Asia O'Hara, but we'll get to that later — it must feel awful to have the literal host of the show call you out and refuse to see your side. Which leads us to...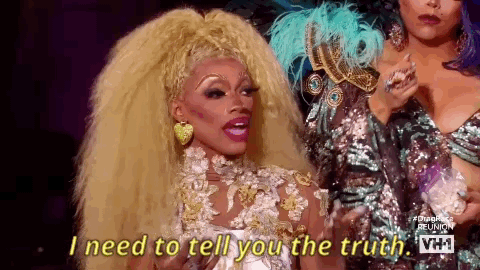 The Vixen Walks Off
Clearly unwilling to continue the Marist I've of her being a combatant instigator, The Vixen chose to remove herself from the situation, walking offstage halfway through the reunion and refusing to come back.
RuPaul Reads The Vixen
Even after The Vixen's exit, Ru wasn't done. Him camera-ready facade seemed to crack and he seemed the most human we've ever seen him. While he seemed to sympathize with The Vixen because of their similar upbringings, he refused to accept her narrative. "I have been discriminated against by white people for being black, by black people for being gay, by gay people for being too fem," said RuPaul. "Did I let that stop me from getting to this chair? No."
Asia O'Hara vs. RuPaul
After The Vixen left, Asia got incredibly emotional, insisting that if any of the queens had attempted to ask her to stay, she would have. She broke down into tears, saying that especially during Pride month they shouldn't have let one of their own feel like she didn't have the support of her sisters. It was shocking to see her talk to RuPaul as an equal rather than paying him deference — it's about time, to be honest.
The Eliminated Queens Pick Their Winner
At the end of the reunion, RuPaul asked each of the eliminated queens to share who they thought deserved the crown. One by one they named Aquaria, Eureka and Asia as their choice — not a single queen chose Kameron. Kameron's face crack as the camera panned to her each time her name want said was priceless.
Assorted Musings:
Cracker truly had all the jokes in the reunion: "I'm built like R2D2, I'm like a trash can on wheels." Also, "Aquaria and I are like real sisters in that we resent each other."
Best looks: Asia, Aquaria and surprisingly Dusty.
Monique Heart is a national treasure and she was robbed this season. All Stars 4?
Eureka looked like a plus size Glinda in a regional production of Wicked.
Kalorie and Kameron eating popcorn during the particularly dramatic moment — I'm kackling! Kalorie is the true MVP for having it in a ziplock bag — we love a queen on a budget!
The deleted scene revealing that Monet X Change confused Andre Rannels for Jonathan Groff was so relatable.